Ice Fishing Transportation (7 Best Types Of Vehicles To Use)
UPDATED 18 MAY 2023
by Robert Ceran
Are you wondering what vehicle to use for transporting your gear on the ice?
Choosing the right ice fishing vehicle can be challenging, since there are more than half a dozen options available to choose from, covering a very wide price range from about $1000 to more than $50,000.
So which one is right for you?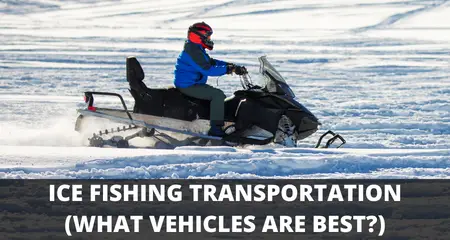 In this article we'll walk you through the most important types of vehicles used by ice anglers, as well as the pros and cons of each, to help you decide which one is best for your purposes.
What is the best method of ice fishing transportation?
The best types of vehicles to use for ice transportation are as follows:
Snowmobile
ATV
Snowdog
UTV
Go-kart
SnoBear
Wilcraft
In general, the two most popular types of ice fishing vehicles are snowmobiles and ATVs, which together make up the vast majority of motorized vehicles used by ice anglers.
However, Snowdogs have recently gained a lot in popularity, and each of the vehicles listed above comes with its own set of strengths and weaknesses that could sway your decision in their favor.
Now let's dive into the details and take a closer look at each of these vehicles.
Snowmobile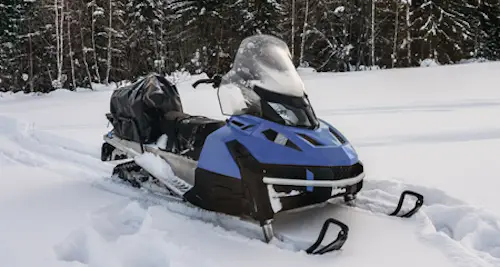 Snowmobiles are by far the most popular type of ice fishing vehicle. Their popularity comes down to two key factors: they're the most reliable option on ice with snow and slush, and they're the cheapest option.
In fact, you can get a good used snowmobile for less than $2000, while ATVs cost several multiples of that. Even Snowdogs are more expensive than that, with the cheapest ones starting at $4000.
Among the more popular Snowmobiles models are the Polaris Voyageur and Arctic Cat Norseman.
However, the main disadvantages of Snowmobiles are that they can only be used in winter, and thus spend most of the year in your garage. 
In addition to this, standard liquid cooled Snowmobiles are not a good option to use on bare ice (as they require snow to cool their motor).
So if you live in an area with little snowfall, you have to be careful that your snowmobile doesn't overheat when you use it on bare ice, although you can compensate for this issue by getting an air cooled Snowmobile. 
Another problem with these vehicles is that their tracks run on hard plastic runners (called hyfax), and these can melt due to overheating if you drive your sled on bare ice. 
So if you don't have a lot of snowfall in your area, a vehicle with wheels might be a better choice for you.
If you do opt for a snowmobile, make sure you get one with a long track and a reverse gear. 
Related: Snowmobile vs ATV (which is better for ice fishing?)
ATV (all-terrain-vehicle)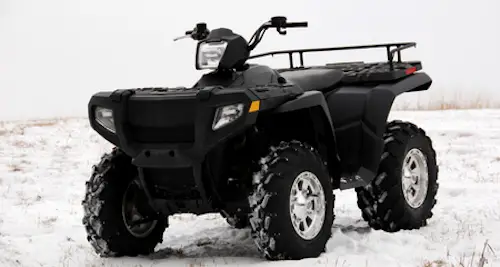 ATVs are the second most popular type of ice fishing vehicles (right after Snowmobiles), and come with the key advantage that you can use them all year round, and on almost any kind of terrain.
ATVs are also wider than snowmobiles, which gives them more stability on ice and snow, and provides more options for stowing ice-fishing gear. 
ATVs also have a better suspension system, which makes them less bumpy to ride in uneven terrain.
The main disadvantage of quads is that their wheels will get stuck in snow that's deeper than about 1 foot. So if you have a lot of snowfall in your area, it's better to opt for a Snowmobile instead.
With that being said, you do have the option of fitting your ATV with tracks, which gives you more traction in the snow, although this is definitely not a cheap option.
An ATV track kit will set you back at least $3000, and considering that you can get a good used Snowmobile for less than that you may prefer to get the latter. 
In fact, many avid ice anglers like to have both: a four wheeler for use on bare ice and during phases with little snow, and a motorized sled for use on ice with deep snow.
Snowdog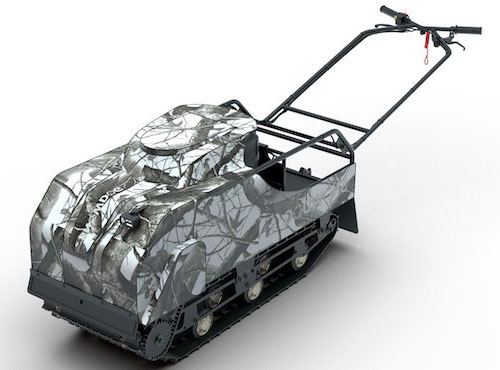 Snowdogs are another type of ice fishing vehicle that has tracks, but unlike Snowmobiles they are designed to pull a sled instead of having a passenger sit on top of them. 
The best way to use a snowdow is to stand or sit in your sled, while holding the handlebar of the Snowdog, and letting it pull you across the snow or ice. 
Snowdogs are very simple to use, and can pull the heavy load of the biggest ice fishing sleds even when they are fully loaded with ice fishing equipment.
They move along steadily at about 20 mph on the ice, but are more tricky to use in uneven terrain, where you'll need more upper body strength to steer them. 
It's advisable to get a Snowdog with reverse gear, as that will help you to get it out if it ever gets stuck in deep snow.
UTV (utility-terrain-vehicle)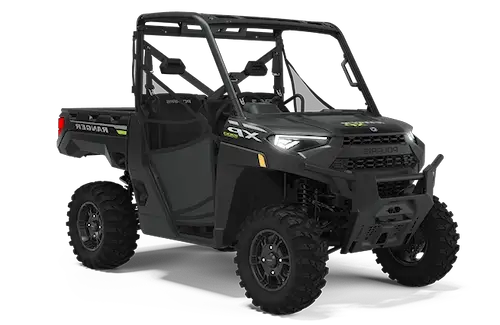 The UTV is also often referred to as a side-by-side vehicle, or SSV. This is due to the fact that 2 (or even 3)  people can sit side by side on the driver seat.
This, and the fact that UTVs are steered with a steering wheel and not a handlebar, sets UTVs apart from ATVs. 
And as expected from a vehicle that allows several people to sit next to each other, UTVs are significantly wider than ATVs, and come with much more storage capacity.
Among the most popular models of UTVS are the Can-Am Defender and Polaris Ranger, which are both popular vehicles among ice anglers. 
The main disadvantage of UTVs is that they are considerably more expensive than ATVs, and are also much heavier, which means you need significantly thicker ice in order to drive them safely on the ice.
And since these are heavy vehicles, you should also avoid parking two or more of them next to each other on the ice.
All things considered, a UTV comes close to an automobile, both in its driving experience and in its weight, while ATVs are more similar to motorcycles.
Go-kart
In the last few ice fishing seasons, some anglers have started using the Ice Auger Machine, which is essentially a go-kart that makes use of an ice auger motor for its propulsion. 
The key advantage of this setup is that the go-kart itself is very cheap (starting at $1,300), and that you may already have an ice auger that you can adapt for this vehicle.
If you want to use this go-kart, all you have to do is uncouple the motor of your ice auger from the auger drill, and mount it on the front of the vehicle. 
However, due to the small size of its wheels, the ice fishing go-kart can't handle snow deeper than two or three inches, which is a serious handicap whenever it snows. You can replace the front wheels with skis, which helps a bit.
Finally, if you use a drill-driven ice auger, you can't use this to power the go-kart.
SnoBear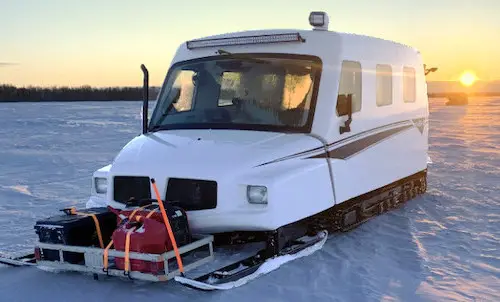 SnoBears represent the pinnacle of ice fishing vehicles, and are big enough to fish through the ice while staying in the warmth of your vehicle.
SnoBears are generally the size of a minivan to a small bus, and have latches fishing holes in the floor, which allows you to drill ice holes and fish anywhere without having to leave the vehicle. 
Needless to say, SnoBears are so heavy that they can only be used on ice that's at least 12 inches thick.
They are used by ice fishing guides at popular ice fishing destinations such as Lake of the Woods in Minnesota and Canada, who use them as ice rigs to transport people to and from sleeper fish houses.
In terms of pricing, SnowBears start around $70,000, which makes them too expensive for most recreational ice anglers, but they might be worth the investment for guides and ice fishing resorts. 
What is the best type of ice fishing vehicle?
The ideal type of ice fishing vehicle depends on the conditions that you will be using it in, as well as your personal preferences.  
Snowmobiles are great for ice with deeper snow and slush, while ATVs are better on bare ice, and can be used all year round for multiple purposes.
A UTV offers more space and comfortable seating, including the ability to take along one or two passengers. 
Finally, if you don't want a fast vehicle, and just need extra horsepower to help lug your heavy gear over the ice, then a Snowdog is a good choice for you. 
What should you look for in a good ice fishing vehicle?
The 5 key features that a good vehicle for driving on the ice should have are:
Lightness of weight
Cooling system that works when driving on ice
Sufficient load capacity
Ability to pull an ice fishing sled
Affordability
It's essential to consider the weight of the vehicle that the ice can hold in your area. In most cases your local authorities will give very clear instructions about what vehicle sizes are allowed on the ice.
In terms of weight, snowdogs and go-karts are the lightest, while snowmobiles and ATVs are intermediate in weight, and UTVs and SnoBears are the heaviest. 
If your vehicle isn't big enough to load all of cargo, you also have the option of using a hitch cable to tow a sleigh behind it.
This is often the best option if you need to transport a hub house or other large ice fishing shelter. 
Finally, affordable pricing is an important factor for many ice anglers, but if you get a second hand snowmobile, you should be able to get a good one for as little as $1000.