Daiwa BG Vs Penn Battle II Reels – What Are The Differences, And Which One Should You Buy?
UPDATED 15 MAY 2023
by Robert Ceran
This article may contain affiliate links. If you make a purchase after clicking on a link we may earn a small commission at no extra cost to you.
So, if you're currently looking for a new quality spinning reel, then the Daiwa BG and Penn Battle II series are among the top choices.
Both series provide high quality reels, and they come at a similar price range ($110 to $140, depending on the size you choose).
My team and I tested the most important features of the Penn Battle II vs Daiwa BG reels side by side, and will cover their main differences, to help you choose the best one for your purpose.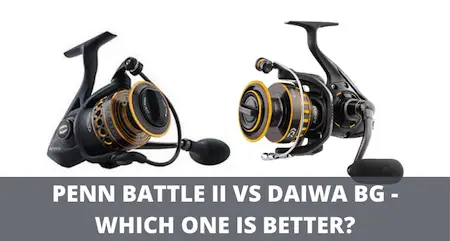 Penn Battle 2 vs Daiwa BG – what are the differences?
| | Battle II series | Daiwa BG |
| --- | --- | --- |
| Image | | |
| Price | | |
| Size range | 1000 to 8000 | 1500 to 8000 |
| Number of ball bearings | 5 + 1 | 6 + 1 |
| Sealed ball bearings | Yes | No |
| Build material of body and sideplates | Aluminum | Aluminum |
| Build material of rotor and bail arm | Aluminum | Plastic |
| Retrieve rate (inches per turn) | 22" to 44" | 28.3" to 53.3" |
| Mono lIne capacity on 5000 model (yd/lb) | 135/20 | 280/20 |
| Braid ready spool | Yes | Yes |
| Maximum drag pressure | 9 to 30 lb | 4.4 to 33 lb |
| Gear ratio | 5.2:1 to 6.2:1 | 5:3:1 to 5.7:1 |
| Anti reverse gear | Yes | Yes |
| Anti reverse switch | No | Yes |
| Weight | 8.10 to 30.20 oz | 8.50 to 30.00 oz |
The table above compares the specs of both series that we tested next to each other.
As you can see, there are many broad similarities, but also several key differences. So now let's dive into the differences revealed by our testing.
Most important differences between Penn Battle II vs Daiwa BG 
Ball bearings: This is the first area with big differences between the two series. While the Battle II has 5 plus 1 ball bearings, the Daiwa BG has 6 plus 1 bearings, which explains its smoother action. However the biggest difference is not in the number of bearings, but in their construction. 
The Battle II has rubber sealed bearings, while the BG has regular bearings. While this doesn't matter so much in freshwater, it's a big deal in saltwater, since sealed bearings are much more resistant to corrosion in those conditions.
Bottom line: Based on our testing, the Battle II has superior ball bearing technology with rubber sealed bearings, which makes it better suited for saltwater conditions.
Build material: The body and sideplates of both series are made with aluminum, but the Battle also has a metal rotor and bail arm, while those of the Daiwa BG are made of plastic, which is lighter, but also not as strong and durable.
Bottom line: When we tested them, we found that the Battle II is built entirely with metal parts, in contrast to the BG, which has a plastic rotor and bail arm.
Retrieve rate: This is another area with big differences between the two series. The retrieve rate of the BG is a lot higher than that of the other series. For example, on the 5000 model, it has a retrieve rate of 47.4", while the Battle has a retrieve rate of 36" on the same size model.
This difference isn't due to different gear ratios, which are actually similar. Instead it's due to the larger spool size and diameter on the BG, which wraps more line on to the spool per turn of the handle.
Bottom line: When we put it to the test, we found that the Daiwa BG has a considerably faster retrieve rate, making it the better choice for high speed applications.
Line capacity: As mentioned in the point above, the BG has a bigger spool size than the Battle II, and as a result it also has a bigger line capacity. On the 5000 model, the capacity is more than twice as much. 
Bottom line: The BG has a bigger line capacity than the Battle.
Size: The two series come in similar sizes, although the Battle starts at 1000, while the BG starts at 1500. However, there is a difference in actual size between the two series, when you compare reels of the same size. For example, if you look at a 5000 size from both series, the BG looks like a much bigger reel – more like a 6000.
If you want to know more about spinning reel sizes, and which size to select for which purpose, take a look at our article on spinning reel sizes.
Drag system: Both series are broadly similar in this category, with carbon fiber drags. However the maximum drag pressure can vary between models of similar sizes, so you should compare that for the specific size you're interested in.
Gear ratio: This is another area where there is broad similarity between both series. However, some of the smaller Battle II sizes have a high gear ratio of 6.2:1, which is significantly higher than corresponding sizes of the other series. 
Anti reverse: While both series have an anti reverse gear, the BG series has an anti reverse switch, which enables you to deactivate the anti reverse gear and back pedal with the handle. The Battle II doesn't have this switch, which means you can't back pedal on it.
Weight: While both series are broadly similar in weight, Battle models are slightly heavier than BG models of comparable size, due to the fact that they are built entirely with metal parts. 
Now let's look at each of the series in more detail.
Penn Battle II spinning reel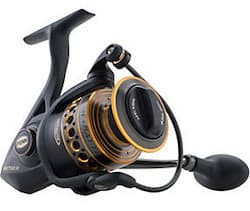 This is currently the most popular Penn reel series, combining high quality with a great price, which is why we included it in our review of the best Penn spinning reel. This model was specifically designed to stand up to the punishing environment of saltwater fishing, including its metal rotor, sealed bearings, and heavy aluminum bail arm.
Our test results showed that the reliability and durability of this series make it one of the most used saltwater fishing reels in the USA, and obviously it can also stand up to freshwater conditions. Many anglers report using the same Battle reel for a decade or longer without any issues.
Features:
Full metal body, side plates and rotor
Rubber sealed ball bearings
HT-100 carbon fiber drag
Line capacity rings
Heavy aluminum bail arm
Daiwa BG spinning reel

The design of this reel is deceptively simple, but this is the very reason for its high level of reliability. The ball bearings used on this model are the same as on much more expensive high end Daiwa reels, which explains the buttery smooth action.
During our testing we found that one of the most impressive features of this model is the high retrieve rate, which sets it apart from most other reel lineups, and makes it ideal for high speed lure retrieval applications. 
Features:
Anodized aluminum frame
Super sized ABS spool supports longer casts and faster retrieval speed
Anti reverse switch
Oversized gear system increases power and torque
Braid ready spool
Conclusion
Both series are very high quality, which is why both of them are featured on our shortlist of the best spinning reel under 100.
So, while you can't really go wrong if you get either one of these fishing reels, our testing showed that the Penn Battle II series has the advantage in terms of stronger build and durability, which is very important for saltwater fishing.
The Daiwa BG, on the other hand, has a much faster retrieve rate, which gives it the advantage when it comes to high speed spinning applications.
Gear and methods used for testing
For consistent testing results, we tested each of these spinning reels under the same conditions in Tampa Bay. We paired each spinning reel with a 6'6″′ Medium power Fast action Penn Carnage III spinning rod. The reels were spooled with 20 lb test Power Pro Braided Line, and we tested them with 1/2 to 3/4 oz swimbaits in 8 to 45 feet of water.