What Is The Best Rod For Drop Shot Fishing? (2022 Buyer's Guide)
UPDATED 13 MAY 2022
by Robert Ceran

This article may contain affiliate links. If you make a purchase after clicking on a link we may earn a small commission at no extra cost to you.
Drop shotting is one of the most effective bass fishing techniques, period. In addition to its versatility, it's also relatively easy to learn, making it an ideal technique for beginners.
But if you're a novice angler who wants to try out this technique, the first thing you need to figure out is which rod you should get.
In this review we'll go over the best drop shot rods on the market.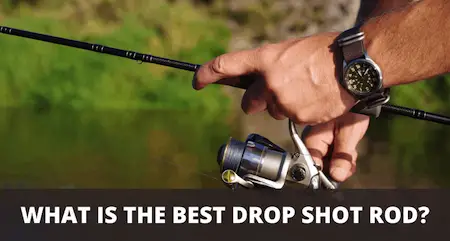 We tested 6 of the top models, and apart from determining the overall winner, we'll also go over what each of them is best suited for, to help you choose the best option for your specific purposes.
Best drop shot rod (2022 review)
| Model | Image | Price | Length | Lure weight (oz) | Power | Action | Verdict |
| --- | --- | --- | --- | --- | --- | --- | --- |
| Daiwa Tatula Elite Signature Series | | | 7'1" | 1/8 - 1/2 | Medium | Fast | Best overall performance |
| Dobyns Fury | | | 7'0" | 1/8 - 1/2 | Medium Light | Fast | Runner up best overall performance |
| Abu Garcia Veritas | | | 7'0" | 3/16 - 5/8 | Medium | Fast | Best budget option |
| G. Loomis IMX-PRO | | | 7'5" | 1/8 - 3/8 | Medium | Extra Fast | Best lightweight option |
| St. Croix Mojo Bass | | | 6'8" | 3/16 - 5/8 | Medium | Extra Fast | Best for vertical drop shotting |
| Denali Lithium | | | 7'0" | 1/4 - 3/4 | Medium Heavy | Moderate Fast | Best heavy option |
The table above summarizes the most important specs of the top 7 models available on the market. Each of them is slightly different, and best suited for slightly different types of fishing, which is reflected in our verdict of what to use each of them for.
Now let's dive into the details and look at each of these models more closely.
1. Daiwa Tatula Elite Signature Series spinning rod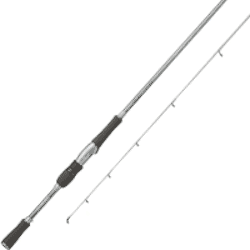 The Daiwa Tatula Elite was designed by bass pro angler Brent Ehrler, who is a drop shot specialist. It brings together the perfect combination of rog length, action and power for this type of fishing, which is why it's our pick as the top overall drop shot rod. 
Brent was given free reign by Daiwa to include exactly the rod features and qualities that are best for drop shotting, and it's interesting to note that he chose a medium power rod, which is a little heavier than what most people would expect for a finesse fishing application.
But according to Brent, this is exactly what he wants, as only the tip needs to be soft, while the rest of the pole should have sufficient power for hook setting and fighting bass. 
The rod blank of this impressive Daiwa drop shot rod is designed with SVF Nanoplus Super Volume Fiber technology, which results in reduced weight and greater sensitivity, without sacrificing strength. It also comes with a custom Daiwa reel seat.
The 7'1" length of the Daiwa drop shot rod is an ideal all around length for this type of fishing, since it works well both for vertical fishing, as well as for throwing and retrieving. That way you can use one pole for all different scenarios.

Features:
X45 Bias Graphite construction
Fuji line guides with alconite inserts
Split type handle with EVA foam grips
2. Dobyns Fury FR 703SF spinning rod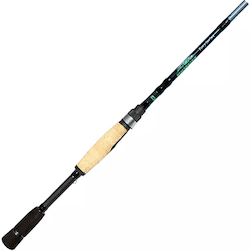 This is an absolute classic pole that comes as a highly competitive price, and as a result is one of the best drop shot rods of all time. We chose it as the runner up best overall performer because the Daiwa Tatula Elite has the edge in several areas, but the Dobyns Fury is definitely a top choice for anyone who loves this kind of fishing. 
The Dobyns Fury combines lightness of weight due to its high modulus graphite blank, with strength and balance. Being a tournament angler himself, Gary Dobyns spent a lot of time on balancing the pole, which explains why it is a pure joy to hold one in your hand, especially when paired with a lightweight 2000 size spinning reel. 
The lightweight line guides are secured with kevlar wrapping, which adds further strength and durability to the pole, and the split type handle comes with a premium grade cork grip. In addition, the rod butt is made with high density Hypalon, which contributes to the wonderful feel of balance when you hold it in your hand.
In spite of all its high quality features, the Fury retails at just under $120, which is another reason why it's such a popular model, and it feels like it's almost impossible not to have a Fury in one's rod collection. 

Features:
High modulus graphite blank
Fuji reel seat
Guides with kevlar wrapping
Handle with premium grade cork grip
3. Abu Garcia Veritas spinning rod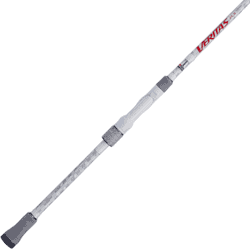 The Abu Garcia Veritas is not a drop shot rod by design, but it comes with all the necessary qualities to perform well in this role. At the same time it is also the cheapest model in this review, which provides a winning combination for anyone who is looking to get started, but doesn't want to invest in one of the higher end models. 
The Veritas is also a little heavier than most of the other models in this review, with a lure weight of 3/16 – 5/8 oz. But this is still within the range of what is required, since most anglers use weights that are around 3/16 or 1/4 oz.
The Abu Garcia Veritas is an impressive workhorse rods that can be used for many different applications, and which is so durable that it lasts for years and years. The durability of the blank is due to the fact that its graphite is reinforced with Sublayer Armor, which is a high end carbon strengthening technology developed by Abu Garcia.

Features:
Built with 30 ton high-modulus graphite
Titanium alloy guides with zirconium inserts
Split type handle with high density EVA grips
4. G. Loomis IMX-PRO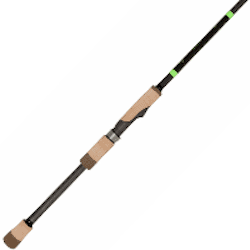 The G. Loomis IMX-PRO is the lightest rod in this review, and performs best with a lure weight under 3/8 oz. This makes it an ideal choice for ultra finesse drop shotting, which can be the best option if the bass bit is slow, or if they are getting hammered with all kinds of lures by other anglers all day long. 
The beauty of using a high end pole like the G. Loomis IMX-PRO is that you don't have to sacrifice power for lightness of weight. Even though it performs extremely well for fishing lightweight rigs, the medium power blank also has sufficient backbone to deal with a big fish.
The extremely fine tuned strength to weight ratio is achieved with Multi Taper blank technology developed by G. Loomis. And even though this is a high end rod (hand-crafted in the USA), the price is still relatively affordable, unlike some of the more expensive high end models that G. Loomis is famous for. 

Features:
Multi Taper blank construction
Fuji line guides with aluminum oxide inserts
Custom Fuji reel seat
Split type handle with premium cork grips
5. St. Croix Mojo Bass spinning rod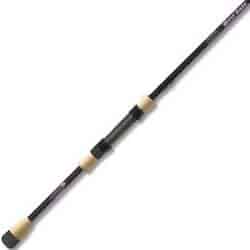 The St. Croix Mojo Bass is another classic spinning rod that has enjoyed popularity for many years now. The one that we chose for this review is the 6'8" medium extra-fast St. Croix Mojo Bass spinning rod, which is the shortest model in this review.
This St Croix drop shot rod is the perfect size for vertical fishing, so if this is what you are intending to do, then this pole will serve you well. On the other hand, if you want to throw your rigs, just get one of the longer models. 
The blank is built with advanced SCIII graphite technology, which is the advanced carbon reinforcement technology developed by St. Croix, and generates maximum strength without increasing its weight. In addition, Integrated Poly Curve (IPC) technology is used to make the rod taper more even, which results in an incredibly smooth action and sensitivity. 
Another feature that makes this St Croix drop shot rod so great for finesse fishing is that the split type rod handle is designed to allow maximum direct contact of your hand with the blank, so you can feel every tremor in the pole. For many, this is key to getting the best results with this kind of fishing.

Features:
Built with SCIII and IPC technology
Kigan 3D guides with aluminum oxide inserts
Fuji reel seat
Split type handle with premium cork grips
6. Denali Lithium Series spinning rod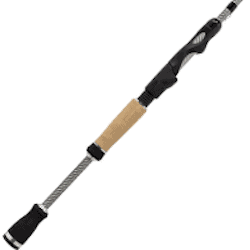 The Denali Lithium is another rod that was specifically designed for tournament bass fishing, but it performs equally well for "regular" fishing. And even though the Lithium series was designed mostly for finesse fishing applications, the 7 foot model we chose is the heaviest rod in this review. 
It comes with medium heavy power, and can throw lures and rigs all the way up to 3/4 oz. This is ideal if you're fishing in rough conditions, with wind, choppy waves, or strong current. At times like that, it can be very challenging to throw lightweight rigs, and to get them to sink to the bottom in the right place. 
In addition to working well in rough conditions, the Denali Lithium is also a good choice if you want to fish close to cover. Drop shotting is usually not used to catch bass in heavy cover, since you'll end up losing a lot of your weights (plus big fish are hard to stop with light tackle, and are thus more likely to get snagged in the cover).
But, if the cover isn't too heavy, you can definitely use this technique to catch bass in places like that, and the Denali Lithium provides the additional backbone and strength that you need in those cases. 

Features:
Built with IM8+ graphite
High strength woven graphite technology
Split type handle with hybrid cork/EVA grips
Ring-lock semi micro guides
How to choose the best drop shot rod
There are several key traits that the best drop shot rod should have, and you need to make sure you look for these characteristics when buying a rod for this purpose. These include the right length, power, action, and sensitivity. 
While many bass fishing tactics (such as throwing lures, or fishing in heavy cover) most often employ casting poles that are on the heavy end of the scale, drop shotting is a finesse fishing application, and because of that it is done with much lighter gear.
And since it is a finesse application, it's important to choose the right gear for the job, and one of the most important components of your gear is the rod. Let's take a look at the essential characteristics you should look for in a good drop shot rod.
Choosing the right rod type
Spinning rods are ideal for drop shot fishing, since they are ideal for fishing with lightweight lines, weights, and lures (while casting rods are better suited for heavier tackle and larger lures). Because of this, almost every bass pro fisherman has several spinning rods on the boat, so as to be ready to use finesse tactics at any moment.
In addition to performing much better than casting poles when it comes to throwing a lightweight weight, spinning rods are also more sensitive during retrieval, which means you can achieve more subtle control over the movements of the lure. In addition, the greater sensitivity also allows you to feel subtle bites and to react accordingly. Because of these major advantages, in our opinion the best drop shot rod has got to be a spinning rod.
While it is possible to fish this rig with a casting rod, this is much harder than with a spinning pole, and is therefore not a good idea for a beginner. Casting rods are very challenging to master when it comes to throwing lightweight lures and rigs, and this is not something that you want to deal with if you're out on your first fishing trip. And as mentioned above, even bass pros prefer to use spinning gear for finesse fishing.
Choosing the right rod material
When it comes to lightweight applications, the best rod material to choose is graphite, which is significantly lighter than fiberglass. In addition to being lighter, it is also more sensitive, and this is an ideal combination for drop shot fishing, where you want to be able to use subtle twitches of your rod tip to move your bait without moving the weight.
The sensitivity of a graphite blank also allows you to feel every nudge or bump of your weight on the bottom, and when a bass inhales your plastic worm that can often register as a very subtle bite, and it takes some practice to recognize these bites. A high end graphite rod is perfect for this purpose, since it provides maximum sensitivity.
Pricing
There are actually quite a few spinning rods on the market that cost $100 or less, and that have all the necessary characteristics to perform well for drop shotting. The steady progress of technology over the past decades has resulted in high end technology becoming more and more affordable, allowing even cheaper poles to perform at a very high level. 
So if you're a beginner, then a $100 rod is absolutely fine for for most purposes, since it will deliver up to 85% of the quality of the higher end rods. This is why we included the Abu Garcia Veritas in our review, which falls into this category (but keep in mind that the Dobyns Fury is just a little more expensive, and delivers even better results). 
But, if you're willing to pay more for higher quality, then the main advantages of the higher end poles is that they tend to combine greater sensitivity with greater power, both of which can make a big difference once you have a little experience with this technique.
The greater sensitivity of the more expensive rods can do wonders for your presentation. Among other things, you need to learn how to wiggle your bait in place, without moving the weight (which requires a high degree of feeling in your wrist, combined with a sensitive pole). 
Also, the extra power of the higher end rods comes in handy when you hook a lunker north of 7 or 8 pounds, when you'll need every bit of backbone you can get. 
Choosing the right handle type
When it comes to the rod handle, you'll want to choose one that enables maximum sensitivity in terms of being able to feel vibrations in the rod backbone. Some rod handles are designed to give you direct hand contact with the naked blank (for example, check out the G. Loomis and the St. Croix rods in this review).
With this type of rod handle, you'll be able to feel every single movement that your weight, hook and lure make during retrieval, and you can also feel a bite much better. Many anglers mistakenly believe the best way to detect a bite is by watching your line, but detecting it by feeling the vibrations transmitted through your rod is actually a much more sensitive method.
Choosing the right length
Drop shotting was originally used to fish vertically from a boat, and this method is still used to this day, although the most commonly used method is to cast and retrieve a drop shot rig, which works just as well. 
The problem is that fishing vertically works better with a shorter rod, since you want to drop down vertically, and don't need to cast with it. On the other hand, when throwing a drop shot rig, you'll get better casting performance with a longer rod. So the best all around length of a drop shot rod is around 7 feet, since that allows you to cover both of those scenarios.
If you know that you'll only be fishing vertically from your boat, then it's better to choose a shorter rod, and the 6'8" St. Croix Mojo is a great choice for that. On the other hand, if you know you'll only be casting from shore, then a longer rod is the better choice. 
For more details on this topic, check out our article on drop shot rod and reel setup.
Choosing the right rod action
The ideal rod action to choose for a drop shot rod is fast action. A fast action rod has a soft tip, while the rest of the rod is stiff, and doesn't bend under pressure. The soft tip is important for being able to feel your hook and lure, and for transmitting the right kind of subtle movements to your lure by twitching the rod tip. 
While a soft tip is important for a drop shot rod, you don't want a too soft rod, which doesn't perform well when casting lightweight rigs. The stronger rod backbone also comes in handy when it's time to set the hook, and fight the fish.
If you know that you'll be fishing in conditions that require the use of heavier weights (more than 1/2 oz), you can choose a rod with medium heavy power and moderate fast action. This is usually the case when there's a strong current or wind blowing, and you have a hard time casting lightweight rigs, and getting them to sink to the bottom. 
Choosing the right rod power
Because drop shotting is a finesse technique, many anglers assume that it's necessary to choose a lighter power rod. But you need to keep in mind that when you're bass fishing, there's always a good chance of hooking into a big fish. And bass are hard fighters that will put your tackle to the test (especially if there's any cover around), which is very different from crappie or bluegill fishing, where you can get away with ultra light gear.
So while you can definitely choose a medium light rod power for a drop shot rod, it's advisable to go with medium power for the majority of fishing situations, and for some scenarios you can even use medium heavy (around cover, or when there is wind or current, which requires throwing heavier weights).
Final remarks
This concludes our review on the best drop shot rod. Hopefully this will help you find exactly what you need for your purposes. Remember: don't overthink it, and the best thing you can do is to get out on the water, no matter which rod you end up choosing.
Additional resources: