Is Garmin LiveScope Worth The Money? (3 Things You Need To Know)
UPDATED 17 MAY 2023
by Robert Ceran
Garmin LiveScope has dominated the market since it was released in 2018, and continues to be the most popular live sonar used by anglers.
Are you thinking about getting a live sonar for your boat? In that case the first option to consider is getting a Garmin LiveScope.
But you may be wondering if LiveScope is worth the money, and what the other options are on the market?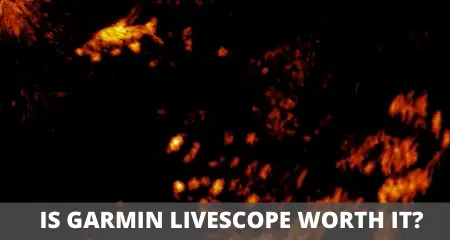 In this article we'll discuss what you can expect from LiveScope, and what your alternative options are, so you can make an informed decision whether LiveScope is worth it for you or not.
Is LiveScope worth it?
The short answer is yes, Garmin LiveScope is worth it as it is one of the best live sonars on the market.
This is hardly surprising, given that Garmin was the first to pioneer live sonar imaging with their release of Panoptix in 2015, followed by LiveScope in 2018.
In fact, if you take a look at the pro circuit, you'll find that most bass and crappie professionals use LiveScope on their boat, and this is a strong indicator that LiveScope is worth it.
With that being said, however, recently both Lowrance and Humminbird have also released their own live sonar imaging systems, so now you can choose which of these fish finder brands you prefer to use for live imaging.
So, depending on which sonar units you already run on your boat, one of the other two options could be a better choice for you.
How does LiveScope work?
Garmin LiveScope works by using two key components: a LiveScope transducer, and a black box.
The black box processes the sonar data from the transducer and then relays it to a display unit, where it is shown on the screen.
Unlike traditional sonars, LiveScope doesn't show historical data, but only sonar returns that are happening in real time. 
As a result of this, you can observe the movements of fish as well as your lure in the water, as they happen in real time, which is in many ways similar to sight fishing in clear water, where you can see fish as they approach your bait.
This is a revolutionary step in sonar technology, and makes LiveScope worth every penny for most anglers.
The black box "stitches together" sonar data from multiple sonar cones, and combines them into a larger image that covers a wide area of water.
This distinguishes LiveScope from a flasher, which also shows live sonar images, but only covers a very narrow cone of water. 
In early 2022, Garmin released an updated version of their flagship live sonar. If you're interested in learning more about this, check out our article on Garmin LiveScope Plus vs LiveScope.
How good is Garmin LiveScope?
Garmin LiveScope is undoubtedly one of the best live sonars available to anglers, and is in fact regarded as the number one live sonar by many anglers. This alone makes LiveScope worth it for most anglers. 
The ability of LiveScope to visualize individual features on fish that are larger than 12 inches allows you to identify different fish species, and its ability to visualize your lure in the water allows you to do "video game fishing," where you can target specific fish in the water, and watch how they react to your lure. 
Does LiveScope work in shallow water?
Yes, LiveScope works very well in shallow water, and is indeed the best live sonar for shallow water imaging at this time.
For more details on this, check out our article on using LiveScope in shallow water. So especially if you like to fish in shallow water, Garmin LiveScope is worth the money.
Does LiveScope work at night?
Yes, LiveScope is great for night fishing, especially if you combine it with green lights to attract baitfish to your boat.
Also, since a lot of fish tend to move into more shallow waters at night, the high quality shallow water imaging of LiveScope perspective mode really shines in situations like that. 
Does LiveScope work in muddy water?
Yes, LiveScope works very well in muddy water, and allows you to sight fish in conditions with muddy water.
Since low water visibility allows you to get closer to the fish without spooking them, this is one of the situations where LiveScope really comes into its own, as you'll be able to see the fish chasing the lure on your screen. 
How deep does LiveScope work?
While the maximum depth range of LiveScope according to Garmin is 200 feet, the maximum depth at which you can use LiveScope effectively is about 100 feet.
Once your go over 100 feet depth, you won't be able to see your lure and other details on LiveScope.
If you're specifically interested in a deep water live sonar, then Garmin Panoptix is probably a better option for you, as it has a longer range than LiveScope. 
Does Garmin LiveScope work in saltwater?
Yes, LiveScope works very well in saltwater, though you have to keep in mind that it won't be very useful at depths greater than 100 feet.
But for fishing in shallow coastal waters, LiveScope is a great option.
How much power does LiveScope use?
According to Garmin, LiveScope draws 58 watts at maximum, and about 20 to 25 watts under normal circumstances.
Based on the maximum power draw of 58 watts, LiveScope should require about 40 amp hours in order to run for 8 hours.
What do you need for LiveScope?
In order to run LiveScope, you need the Panoptix LiveScope System (which comes with an LVS32 transducer plus a black box), and a compatible Garmin chartplotter head unit. In case you opt for the LVS12 transducer instead, you don't need a black box, but can plug the LVS12 transducer straight into a compatible Garmin chartplotter unit.
Do you need a black box for LiveScope?
If you want to get the full power of LiveScope, then you need to use the Panoptix LiveScope system, which needs a black box in order to function.
In fact the LVS32 transducer of the Panoptix LiveScope system cannot be plugged directly into a head unit, but only via the black box.
However, you also have the option of using an LVS12 transducer instead, and this doesn't need a black box in order to function.
However, the LVS12 transducer has a much smaller sonar cone, which significantly decreases its effectiveness as a live sonar, and it only works with a handful of high end Garmin chartplotters. 
What screen do you need for LiveScope?
If you get the Garmin Panoptix LiveScope system, this is compatible with most chartplotters of the Garmin Echomap and GPSmap lineups.
But if you get the LVS12 transducer, this is only compatible with either a GPSmap 8400/8600 unit, or an Echomap Ultra unit. 
For more details on what screen unit you need, check out this list of all Garmin head units compatible with LiveScope.
Does LiveScope need its own battery?
Yes, LiveScope needs its own battery, but you can use the same battery for the black box as for the Garmin head unit that it's plugged into.
However, many anglers prefer to use separate batteries for the black box and for the display unit, as that gives them a longer battery run time in total.
How much does LiveScope cost?
The Garmin Panoptix LiveScope system retails at $1500 dollars, and comes with an LVS32 transducer plus a black box. In addition, you also need a head unit from either the Echomap or GPSmap lineups of Garmin chartplotters.
Depending on which model you choose, this will cost you an additional $650 to $2100, so $2150 to $4100 in total.
Compared to the cost of other live sonars on the market, the pricing of LiveScope is very similar.
And given that the quality of LiveScope is among the very best that you can get for any live sonar, this definitely makes Garmin LiveScope worth the money. 
Another option is to get the LVS12 transducer, which is considerably cheaper than the LiveScope System, retailing at $500.
However, the LVS12 comes with two caveats: it has a much narrower sonar cone than the LVS32, and it is only compatible with Echomap Ultra or GPSmap 8400/8600 head units.
If you're currently in the market for LiveScope, but don't want to break the bank, check out our article on what is the best cheap LiveScope bundle?
Will LiveScope work with Humminbird?
No, LiveScope doesn't work with a Humminbird head unit, and your only option is to use a Garmin head unit with it. However, you do have the option of using Humminbird devices for your other boat electronics, and then to run LiveScope in parallel with a Garmin head unit.
And since the image quality of LiveScope is still significantly better than that of Humminbird MEGA Live, LiveScope is worth the money as a separate setup for live sonar on a Humminbird boat. 
Does Humminbird have anything like LiveScope?
Yes, Humminbird released their own version of live sonar in early 2021, called MEGA Live.
MEGA Live resembles LiveScope in many details, and it does a great job as a forward facing live sonar. 
This means you now have the option of running a 100% Humminbird network on your boat, as many of their units also integrate with Minn Kota trolling motors and shallow water anchors.
An advantage of choosing this option is that you can also add MEGA 360 imaging into the mix, which is currently not available from any other fish finder brand.
Will LiveScope work with Lowrance?
No, LiveScope is not compatible with Lowrance, which means you have to get a Garmin head unit if you want to use LiveScope, even if the rest of your boat runs with a Lowrance network.
Until recently, this meant that anglers with a Lowrance network on their boat had to purchase a Garmin chartplotter just to be able to use live sonar on their boat.
However, this changed in 2020, when Lowrance came out with Active Target (see below for more information).
Does Lowrance have anything like LiveScope?
Yes, Lowrance was the first competitor to come out with a live sonar similar to LiveScope in 2020, called Active Target.
Active Target competes head to head with LiveScope in most regards, and provides state of the art high quality live sonar imaging.
The only exception to this is shallow water imaging, where LiveScope perspective mode is currently superior to Active Target scout mode. 
This means that you now have the option of running a pure Lowrance network of fish finders and chartplotters on your boat, and can include live sonar as one of your options in this mix. 
Final remarks
In conclusion, let's revisit the question, "is Garmin LiveScope worth it?"
In my opinion, the answer is yes, absolutely – LiveScope is worth it for any angler who wants to have the awesome experience of fishing with a high quality live sonar.
If you want to be able to target individual fish in real time, then it's definitely worth getting LiveScope!