What Is The Best Frogging Rod? (2023 Buyer's Guide)
UPDATED 12 MAY 2023
by Robert Ceran
This article may contain affiliate links. If you make a purchase after clicking on a link we may earn a small commission at no extra cost to you.
Are you looking for a new topwater frog rod, but not sure which model is right for you?
My team and I tested the most popular frog rods on the market, and evaluated them on their power, action, ability to cast a range of lure weights, and overall performance.
Based on our testing, here are our picks for the best frog rods in 2023: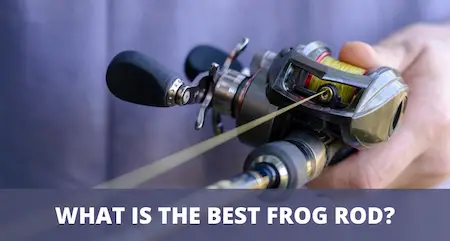 Best Frog Rod 2023 Reviewed
| Model | Image | Price | Verdict | Length | Power | Action | Lure weight (oz) |
| --- | --- | --- | --- | --- | --- | --- | --- |
| Dobyns Champion XP Glass | | | Best overall performance | 7'3" | Heavy | Fast | 3/8 to 1 1/2 |
| Lew's Speed Stick | | | Best budget option | 7'6" | Heavy | Fast | 3/8 to 1 1/2 |
| Denali Lithium Series | | | Best runner up | 7'6" | Extra Heavy | Moderate Fast | 5/16 to 1 1/2 |
| Daiwa Tatula | | | Best value for money | 7'4" | Heavy | Fast | 1/2 to 2 |
| Abu Garcia Veritas | | | Best for beginners | 7'3" | Heavy | Fast | 3/8 to 1 1/2 |
| Cashion John Crews Signature Frog | | | Best lightweight option | 7'0" | Heavy | Fast | 3/8 to 1 oz |
| Cashion ICON Frog Rod | | | Best heavy option | 7'4" | Extra Heavy | Fast | 1/4 to 1 1/2 |
The table above compares the most important specs of the 7 best frog rods that we tested. Each of them is ideally suited for a slightly different purpose, which we'll discuss below. 
Now let's dive into the details, and take a closer look at each of these rods.
1. Dobyns Champion XP Glass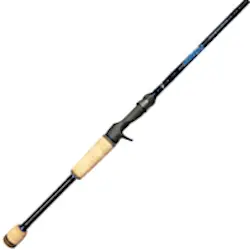 The Dobyns Champion XP Glass is the ideal all around frogging rod, since it comes with the perfect specifications for the job, on top of being built with the customary high end quality of Dobyns rods.
The Champion XP Glass was specifically designed for frog fishing by Gary Dobyns (who has won many bass tournaments with his own rods).
As a result, during our testing we found that it is perfectly balanced for this technique, and combines maximum power with a surprisingly lightweight build.
With a length of 7'3" it's a little longer than average, which we found is helpful to get enough leverage to set the hook as hard as possible when a bass blows up on your frog.
When we put it to the test, we found that the extra length also helps you to keep a big bass pinned down, and to steer it away from heavy cover. 
The heavy power rating of the Champion XP comes in very handy for controlling big fish close to cover.
In addition to dealing with a big bass, you can also expect to get 10 pounds or more of plants wrapped around the fish, which makes a heavy power rod absolutely essential for this kind of fishing. 
Our testing also revealed that the extra fast tip of this model provides just the right amount of tip flexibility for effectively walking or popping your frog across the water surface, while being stiff enough to set the hook with maximum force, which is especially important when you get a bite at a distance of 20 feet or greater from where you are. 
Features:
High modulus graphite blank
Fuji guides with alconite inserts
Kevlar wrapping
Lightweight Fuji reel seat
Split type handle with premium cork grips
2. Lew's Speed Stick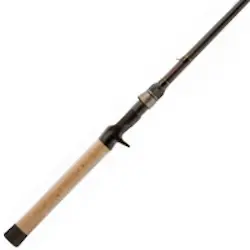 Compared to the Dobyns Champion, the Lew's Speed Stick is not quite as high end in terms of build quality, lightness and balance, but it makes up for this with its almost unbeatable price under $100 (significantly lower than that of the Dobyns Champion).
Since frog fishing is a heavy bass fishing tactic, it doesn't require the same level of material quality and lightness of weight as finesse applications.
In fact, our testing showed that finesse qualities are actually a disadvantage when it comes to this type of fishing, where raw power is the most important quality you need to have.
Because of this, a surprising result that came out of our testing is that a budget rod can deliver an excellent performance for frog fishing, while this isn't really the case for more lightweight applications.
With a length of 7'6" the Lew's Speed Stick is slightly longer than the Dobyns Champion, which can give you additional leverage when setting the hook and for hauling big bass away from cover.
In addition, the tip is slightly softer with a fast action taper, which gives you a little more feel in terms of using subtle twitches of the rod tip to move your frog on top of the water. 
Features:
Premium IM8 graphite blank
Lightweight graphite reel seat
Full length handle with cork grips
Fuji guides with aluminum oxide inserts
3. Denali Lithium Series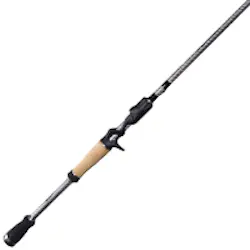 The Denali Lithium Heavy Frog Rod comes with a softer tip due to its moderate fast taper.
Our testing revealed that this makes it perfect for casting smaller frogs, since the blank loads up better during the casting process, compared to a stiffer mode.
This action is also great for fishing  in more open water, where you don't need an extremely stiff rod taper to keep a big fish out of the weeds. 
While topwater frogs are usually fished around cover, they can work just as well in open water, which many anglers aren't aware of (or tend to forget).
When you use this tactic in open water, you're less likely to lose fish due to getting entangled in cover.
When we put it to the test, we found that the Denali Lithium is perfect for this situation, while also performing well in cover scenarios (though you may need to pick up the slack faster with your reel in order to compensate for the softer tip).
It comes with a heavy power blank, and a length of 7'4", which is ideal for frog fishing.
The Denali Lithium series employs a silver-graphite strengthening technology along its bottom third, which is the part of the rod that's most likely to break under pressure.
Due to this reinforcement technology, the Lithium is able to combine strength with lightness of weight, which you won't find in cheaper rods.
If you like to throw frogs all day long in summer, our test results show that a lighter rod can make a big difference in terms of avoiding wrist fatigue.
Features:
Premium IM8 graphite construction
Silver-graphite strengthening technology
Semi micro ring-lock guides
Lightweight skeleton reel seat
Split type handle with cork and EVA grips
4. Daiwa Tatula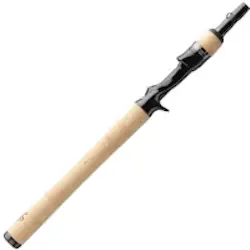 The Daiwa Tatula is one of the most popular rods for bass fishing, and makes an excellent workhorse rod, and with a retail price unde $180, it provides excellent value for money.
Combining a set of features and specifications that are ideally suited for frog fishing, it comes close to both the Dobyns Champion and Denali Lithium in terms of performance quality, but at a significantly lower price.
In addition to being a great frog rod, our testing showed that the Daiwa Tatula also works well for throwing heavy jigs, and it's always good to be able to cover several applications with one rod, since you'll need to carry fewer rods around with you to cover all applications.
The Tatula employs Braiding-X carbon fiber strengthening technology, which meshes carbon fibers together to increase the strength of the blank backbone, but without adding to its weight.
This results in a rod that combines lightness of weight with the necessary power for frog fishing.
Features:
Durable IM7 graphite construction
Fuji guides with aluminum oxide inserts
Full length handle with premium cork grips
Braiding-X blank strengthening technology
5. Abu Garcia Veritas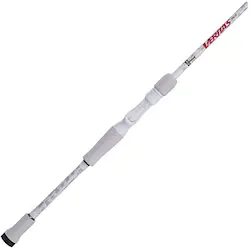 The Abu Garcia Veritas series covers most bass fishing applications in its range of different rod sizes, action tapers and power ratings.
Combined with a very affordable price, this versatility makes the Veritas series an excellent choice for beginner bass anglers, since these rods deliver a very solid performance at a low end price.
The latest generation of the Veritas is built with Powerlux 100 technology, which increases blank strength by 15%, while decreasing weight by 5%.
This technology deposits nano particles between carbon fibers of the blank, which helps to prevent cracks and splits between the fibers. 
The Veritas also comes with a lightweight micro reel seat that further reduces rod weight, and increases comfort for throwing frogs all day long.
In combination with the ultralight zirconium inserts of the titanium alloy guides, during our testing we found that this makes it one of the lightest options on the market. 
Features:
Premium 30-ton graphite blank construction
Powerlux 100 strengthening technology
Titanium alloy guides with zirconium inserts
Split type handle with EVA grips
6. Cashion John Crews Signature Frog Rod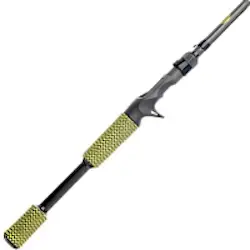 With 7'0", the Cashion John Crews Signature Frog Rod is the shortest rod in our review, and this can be advantageous in several scenarios.
First of all, a short rod enables more accurate casting at close quarters, which is ideal when you're fishing very close to heavy cover, as you'll need to place your frog exactly in the right spots between the branches of overhanging trees or laydowns.
Secondly, the shorter rod length is an advantage if you aren't that tall, as it allows you to point the rod tip down to the water surface during retrieval, without dipping it into the water.
Especially 'walking the dog' type retrieval styles work best when you point the rod tip down, and if you do this all day long, you want your rod to be exactly the right length to be able to do it with maximum comfort. 
The Cashion John Crews Signature Frog Rod was designed with exactly the right action taper in the tip section to cast hollow bodied frogs optimally, which further contributes to its highly accurate casting performance.
And when you're fishing those narrow gaps between heavy cover, we found that this can make all the difference between success and failure.
In addition, the carbon fiber grips of the handle are denser than either cork or EVA, which gives you a better feel for the vibrations of the rod, and this can be an advantage for subtle bait presentation techniques, such as twitching your frog back and forth without retrieving it.
When we tested it, we found that this allows you to keep your frog in the strike zone as long as possible before you have to make another cast.
Features:
Unidirectional carbon fiber blank construction
Fuji micro guides
Exposed Fuji reel seat
Split type handle with carbon fiber grips
7. Cashion ICON Frog Rod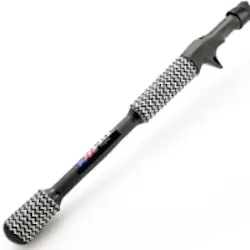 Compared to the Cashion John Crews Signature Frog Rod, the ICON is a great alternative for throwing smaller frogs. It comes with the ideal specifications for casting smaller frogs (which are becoming increasingly popular among bass anglers).
And while frog fishing is definitely not a finesse technique, there has been a gradual trend towards using smaller, more subtle presentations to entice finicky bass to bite. 
The problem with smaller frogs is that they tend to be light, and most rods used for frog fishing are heavy power fast action models that are better suited for throwing heavy lures.
So if you want to fish smaller frogs, you need a slightly different rod for this, and the Cashion ICON is a great option. It comes with a medium heavy power rating, making it better for throwing smaller frogs, compared to heavy power rods.
The 7'4" extra heavy ICON was originally designed for fishing heavy jigs and worms, but is incredibly versatile, and also ideally suited for throwing lightweight frogs.
Our test results revealed that this versatility means you can use the ICON for a range of applications, which is always good when you're building your tackle collection.
Features:
Lightweight unidirectional carbon fiber blank technology
Exposed Fuji reel seats
Fuji guides
Split type handle with carbon fiber grips
Frog fishing setup – explained step by step
Now let's talk about the different components you need for a frog fishing setup, and what to look for when you choose them.
We'll start with a closer look at the frog rod, and discuss the most important features and qualities that you should look for in high quality frog rods.
hen we'll talk about the best reel to go with it, as well as the fishing line you should spool onto it.
What makes a good frog rod?
Frog fishing requires much heavier gear than many other applications, because it's most often used to fish in situations with heavy cover.
It's quite common to hook a big bass in heavy vegetation, or right next to a laydown. In situations like that you really need the right kind of gear to back you up, so you don't end up losing good fish.
You also need to keep in mind that even a relatively small bass can get entangled in 20 pounds or more of vegetation, and you'll need to be able to pull all of that weight in effectively with your tackle, without losing the fish or breaking your rod.
And actually the best approach to avoid this situation is to use gear that is sufficiently powerful to force the fish away from cover before it can dive in and get entangled in the first place.
Now let's take a closer look at the most important features of a frog rod.
Rod type
While it's theoretically possible to throw topwater frogs with a spinning rod, baitcasting rods are much, much better suited for this fishing technique.
Casting rods and reels are ideal for power applications that require heavy pound test lines, and throwing big frogs. 
Spinning rods, on the other hand, are much better suited for finesse applications where you throw lightweight lures.
Since frog lures definitely don't fall into this category, it's better to fish them with a baitcasting setup.
A baitcasting setup also comes with enough power to deal with big bass hooked in the middle of heavy cover.
Many anglers spool 65 lb test braided line for frog fishing on their reel, and this line size works much better when you throw it with a baitcasting reel. 
Length
Frog rods are mostly longer than average, ranging from 7'1" to 7'5". Some anglers prefer a slightly short length (around 7'), and this mostly depends on your height, and what you feel most comfortable with.
A longer rod length gives you more leverage to set the hook in the hard mouth of a bass. Frog lures come with two big hooks, and these are tough to drill home.
On top of that, it's quite common to get a bite at 20 or 30 feet distance from you, and the longer the rod, the better it is for delivering maximum force when you set the hook at that distance.
The length is also  relevant if you want to spend a lot of time fishing with your rod tip pointed down to the water (which is common when walking your frog).
In that case you'll want a model that isn't too long for your height, which will result in the tip being dipped into the water all the time.
Power 
As mentioned above, our testing showed that a frog fishing setup requires a lot more power than most other applications, and so it should come as no surprise that heavy rod power is the best option to go for. In fact, almost all the rods in this review are heavy power rods. 
When you hook a big bass in the middle of a lily pad, or between the branches of a laydown, you'll need all the power you can get to keep it pinned down before it can get itself entangled in the weeds, and to haul it away from the cover as fast as possible. 
You also need the heavy rod power for throwing big frogs, which tend to be bigger and heavier than many other lure types.
The great thing about this is that you can cast them very far with a heavy power rod, and in some cases you might even find yourself emptying your whole reel on a cast.
This gives you excellent range when you're fishing large expanses of emergent grass flats, which are one of the top locations for frog fishing. 
Action
When it comes to rod action, you want to have a rod with a soft tip that allows you to walk your frog with subtle twitches of the rod tip.
Based on our testing, the best action for this is fast action, which usually comes with a soft tip, but a stiff backbone.
And while you need the soft tip for working your frog, the backbone needs to be unyielding, since that will help you to set the hook effectively, and to force big fish away from cover.
If you're not fishing in heavy cover, you'll probably do fine with moderate fast action as well, which can give you better casting performance with big frogs.
What is a good reel for frog fishing?
Once you have the right rod for frog fishing, you also need to get the right reel to complete the frog rod setup. Here are a few guidelines to help you choose the right one:
Reel type
As mentioned above, a baitcasting setup is by far the best choice when it comes to frog fishing, and so this is what you should go for.
Try to look for a baitcaster with an all-metal build (aluminum frame and side plates). This is important because setting the hook with a frog requires so much force that it's possible to warp a graphite reel, which can ruin it for good. 
It can be tempting to get a reel with a graphite body because of its lightness, but unfortunately graphite reels usually aren't durable enough to last long with this type of fishing. 
Best gear ratio for frog fishing
It's best to use a high speed reel with a gear ratio of 7.5:1 to 8.0:1. This will give you a high speed retrieve rate, which is extremely helpful when you need to take up your slack really fast before you set the hook. 
Also, a high speed reel allows you to burn the frog back to the boat really fast once your frog is out of the strike zone, so you can make another cast as fast as possible.
It's quite common to get a short strike next to a distant lily pad or grass clump, and you'll want to cast your frog back to the same spot as fast as possible, since you know there's a bass there. 
Assembling your frog rod setup
Once you have your frog rod and reel ready, the next step is to spool 50 or 65 lb test braided line onto the reel.
While this may sound a little excessive considering that bass rarely grow larger than 10 pounds, you'll need that power to deal with the cover.
You may find yourself reeling in a 5 pound bass with 20 pounds of water plants wrapped around it. So 50 lb test braid is the minimum strength you should be spooling, and 65 lb test is on the safe side. 
The reason for using braid for your rod and reel setup for frog fishing is that it has almost no stretch, which is ideal for delivering a powerful hook set, especially when there's a 20 or 30 foot distance between you and the fish.
Braid also has excellent casting properties, which helps to get those pinpoint accurate casts to place your forg within one inch of promising spots, like openings in lily pads, logs, or grass clumps. 
Once you've spooled your reel, you can then tie the braid directly to the frog, which works well in more than 90% of the cases.
If you're going to fish in very clear waters, and don't want to spook the bass with thick braid, you can tie a monofilament leader (don't use fluorocarbon, since that sinks in the water).
Conclusion
This wraps up our review of the best frog rod. Hopefully you found the right one for your purpose.
The beauty of this fishing technique is that it's very easy to set up once you have all your gear, and then you can focus on the fun part: catching some big ones.
Methods and gear used for testing
For consistent testing results, we tested each of these rods under the same conditions on Lake Okeechobee. We paired each rod with an Abu Garcia Revo X with a gear ratio of 7.3:1, spooled with 50 lb test Power Pro Braid. We tested each rod by throwing 1/2 to 1 oz topwater frogs around cover.