What Are The Top Ice Fishing Lures For Pike In 2023?
UPDATED 08 FEBRUARY 2023
by Robert Ceran
This article may contain affiliate links. If you make a purchase after clicking on a link we may earn a small commission at no extra cost to you.
Growing up in Minnesota I always looked forward to catching big northern pike through the ice during winter.
Pike feed actively throughout the winter, so you can readily catch them on early, mid and late ice, if you know where to find them.
It's important to keep in mind that the best bait for northern pike ice fishing is usually much bigger than for other predators.
Northern pike prefer big baits, and will strike them hard even during the cold season, unlike finicky biters like walleye or perch.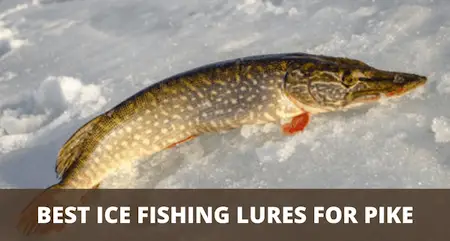 So don't hesitate to tie on a 3 or 4 inch lure when you're ice fishing for northerns. This also helps to avoid catching small fish when you want to focus on the big northerns. 
Here we've reviewed the top performing lures when it comes to catching pike through the ice, as well as the recommended size for each of them.
The best ice fishing lures for pike in 2023 reviewed
| Lure | Image | Price | Recommended size |
| --- | --- | --- | --- |
| Akuna Cast Blast | | | 3"/1 oz |
| Original Daredevle | | | 3.5"/1 oz |
| Guideline Fire Tiger | | | 3.5"/1 oz |
| Rapala Jigging Rap | | | 3.5"/0.9 oz |
| Rapala Slab Rap | | | 2.4"/0.35 oz |
| Duo Realis Apex Vibe 100 | | | 4"/ 1.1 oz |
The best ice fishing lures for pike fall into 3 main types of fishing lures:
Spoons
Darters (jigging swimbaits)
Blade baits
Keep in mind that you can only fish vertically when you're ice fishing, so you need to use baits that perform well when jigged up and down. 
Large curved spoons have a long tradition when it comes to this kind of fishing, and they have been catching pike successfully through ice for well over a century.
They flutter back and forth when you jig them up and down, and combined with their flashing colors, this motion can work wonders to attract northerns from a large radius around your fishing hole.
Darters or jigging swimbaits were developed more recently, and are currently among the very best bait for northern pike ice fishing when it comes to vertical fishing, since they produce a lateral motion when you jig them up and down.
This lateral motion is caused by the fact that they are attached to the line in the middle of their back, and often have a flattened tail section that generates their sideways movement.
Blade baits combine some features of both spoons and darters. Blade baits are usually made of thin metal, and attached to the line in the middle of their back, which results in vibration and wriggling movements when you jig them up and down.
All three types of lures work very well for catching pike on hardwater, and ideally you'll want to have a selection of all of them in your tackle box, so you can experiment and figure out what it the best bait for northern pike ice fishing on any particular day.
Also keep in mind that if you're using any of these to catch pike, choose big sizes around 3-4 inches long.
Let's look at the top performing models in more detail:
1. Akuna Cast Blast 3" Spoon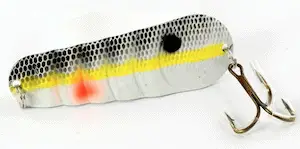 The Akuna Cast Blast is perfect for jigging up and down, since it produces a wobbling and fluttering action when moved vertically through the water.
The one shown in the image is the chartreuse shad color option, but they have many other colors to choose from. 
It's always good to try out some pure silver colors, as well as some more brightly colored options.
Which one is going to be more effective on any given day depends on the predominant color of the prey that they  are hunting.
For example, if they're feeding on whitefish, a silver bait will tend to perform better than a colored one.
On some days when fish are not in active feeding mode, you'll find that the standard baits don't work very well.
On days like that, more colorful "crazy" baits may still entice them to come in and go for the strike, even if they aren't hungry.

Recommended size:
Weight: 1 oz
Length: 3 inches
2. Original Daredevle Spoon


This classic lure is over a hundred years old, but continues to catch northerns successfully every single season.
Its most famous color combination is the red and white option shown in the image above, but they come in many other varieties as well.
Again, try to go for a few low key silver/grey options, as well as some really bright & flashy ones, like the red & white option.
On some days you'll find that the bright ones work to call the fish in to investigate, while the more subtle ones will produce the strikes. 
With 1 oz weight and 3.5 inches length the Daredevle is big enough to work well for pike ice fishing, and even catches muskie on hardwater.

Recommended size:
Weight: 1 oz
Length: 3.5 inches
See also: Pike ice fishing with tip ups
3. Guideline Fire Tiger Spoon

With 1 oz weight, this is another great spoon that's big enough for pike. Made of nickel and coated with enamel, it comes in one classic color variety, resembling the colors of a yellow perch.
The Guideline Fire Tiger can work extremely well when the northerns are actively feeding on perch as their predominant prey.
Recommended size:
Weight: 1 oz
Length: 3.5 inches

Pro tip:  Use an underwater camera when you're ice fishing for pike with spoons, since often you'll notice that the flashy action of a big spoon attracts a fish to come closer and investigate, but without actually grabbing the lure.

When you notice a northern staring at your spoon, quickly switch to another lure type, such as the jigging rap. Very often that's enough to seal the deal, and the curious fish will strike the new lure right away.

If you're wondering which camera is best for this strategy, check out our detailed review on Aqua-Vu vs Marcum.
4. Rapala Jigging Rap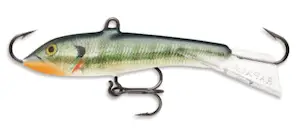 When the jigging rap first appeared on the market years ago, it quickly became the secret weapon of many ice anglers, and worked wonders with a wide variety of fish, including pike, perch, and walleye.
Now it can be found in almost every angler's tackle box, but continues to produce more strikes than pretty much any other lure I know.
The secret to the success of this lure lies in the flat tail. When jigged up and down, this results in wild, erratic lateral movements, like a wounded baitfish trying to escape. This is exactly the right kind of movement to entice predators to strike.
When using the jigging rap for northerns, keep in mind to choose a sufficiently large size to avoid catching an endless stream of panfish and perch.
In fact, I recommend the largest option, which is 3.6 inches long, and weighs 0.9 oz. This is big enough to deter most of the smaller fish, while being a good size for northerns.

Recommended size:
Weight: 0.9 oz
Length: 3.6 inches
5. Rapala Slab Rap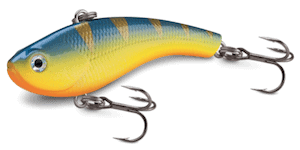 This is another highly effective jigging swimbait produced by Rapala. Unlike the jigging rap, it has a more rounded shape, which works better on some days. 
Jigging this bait with rapid movements of your ice fishing rod results in erratic sideways motions, followed by circling back to the starting point.
And if you move it slowly, it wobbles gently from side to side. Try to experiment with different ways to move it, so see what works best to trigger a strike.
Unfortunately, the Slab Rap doesn't come in an extra large size, which means you can't avoid catching some smaller fish on it.
But in any case, make sure to choose the largest option available, which is 2.4 inches long, and 0.35 oz heavy.

Recommended size:
Weight: 0.35 oz
Length: 2.4 inches
6. Duo Realis Apex Vibe 100

This is a wonderful swimbait that's sufficiently large to target northerns specifically. With 4 inches length and 1.1 oz weight, it's actually the largest lure in this list.
The action of the apex vibe 100 is quite subtle, making it a great choice if fish are coming in to check out your more conspicuous baits, but not biting. 
It was originally developed for bass fishing, but also works very well for pike fishing on ice. It's large size and round shape make it a perfect complement to some of the other lure shapes on this list.
And as with the other models, there are many color variations available for the apex vibe 100, so feel free to experiment until you find a winner.

Recommended size:
Weight: 1.1 oz
Length: 4 inches
Final remarks
This concludes our review of the best ice fishing lures for pike. There are many more options that can also be used successfully, but these are the top performers that catch more fish on most days.
As mentioned above, a great way to fish with all these lures is to use an underwater camera to observe how the fish are reacting to each option. Another option is to use a good ice fishing flasher to catch more fish.
If they just come in and watch it without biting, then it's time to change up the bait and/or the presentation. Curious to learn more? Check out our tips for pike ice fishing with tip ups.