What Are The Pros And Cons Of Aqua-Vu Vs Marcum Cameras?
UPDATED 16 MAY 2023
by Robert Ceran
This article may contain affiliate links. If you make a purchase after clicking on a link we may earn a small commission at no extra cost to you.
Are you undecided between getting an Aqua-Vu or MarCum fishing camera?
In that case you're probably wondering what are the differences between the MarCum and Aqua-Vu ice fishing camera lineups, and what their strengths and weaknesses are.
For this article we tested the MarCum and Aqua-Vu underwater cameras side by side, and will discuss the results of our testing. We'll also cover their main differences and advantages, so you can decide which one is right for you.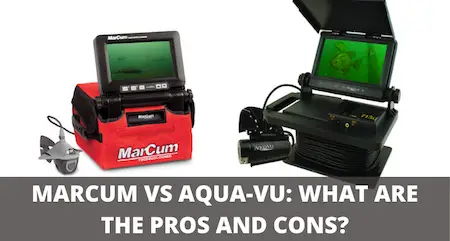 Aqua-Vu vs Marcum underwater camera compared
| | Aqua-Vu | Marcum |
| --- | --- | --- |
| Image | | |
| Price | | |
| Image quality in bright light | ★★★ | ★★★ |
| Image quality in murky water | ★★☆ | ★★★ |
| Image quality at night | ★☆☆ | ★★★ |
| Ease of use | ★★★ | ★★☆ |
| Panning possible? | Yes (with MoPod) | Yes (with PanCam) |
| Durability | ★★☆ | ★★★ |
| Ability to use for open water during summer | ★★★ | ★☆☆ |
How did we arrive at these ratings? We used two strategies to test the performance of both brands:
First of all, we tested the performance of two specific models, the Marcum VS485C and the Aqua-Vu AV 715C and compared them side by side.
Secondly, we asked 19 ice anglers who have been using ice fishing cameras for at least 5 years, what their experiences have been with both brands.
The table above summarizes the findings from our own experience, combined with the insights we got from other ice anglers. 
For our tests we chose the following two models:
Marcum VS485c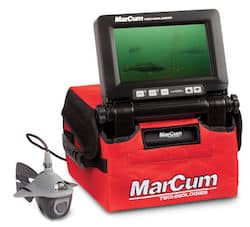 While this is one of the most affordable units in their lineup, our testing showed that it comes with an impressive array of high quality technology, including a 7-inch LCD display, camera with CMOS sensor, LED lighting, as well as Color Kill functionality. 
Aqua-Vu AV 715C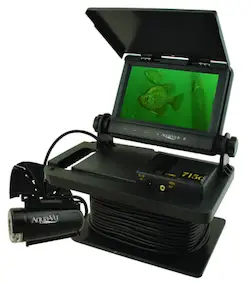 This model is in a similar performance category as the VS485C above, but comes at a slightly higher price. Its features include a 7-inch color LCD screen, color micro camera, camera reel system, and infra red lighting functionality.
Both models have broadly similar features, and come with 60 feet of cable, a sunshield, and storage bag.
Our goal was not to test the features of the two units in detail, but rather the overall performance quality in the most important categories.
Let's look at each of these in more detail: 
1. Pricing
At the lower end of the pricing scale Marcum models tend to be cheaper than Aqua-Vu models.
For example, the shop price for the AV 715C is $399 at the time of writing (check current price), while that of the VS485c is $288 (check current price), even though they offer broadly similar features.
Since pricing can be an important factor, especially for beginners who aren't 100% sure how dedicated they are to the sport, cheaper cameras can be a good option to get you started.
In this category, Marcum is the winner.
2. Image quality in bright light
When it comes to filming in bright sunlight conditions, both brands perform equally well, and provide stunning clarity and detail of what's going on under the ice hole.
So if you're only planning to fish during the day, and won't be out on the ice during dusk, dawn or at night, both brands have got you covered. 
In this category, our testing showed that both brands perform equally well.
3. Image quality in murky water
However, when it comes to murky water, Marcum models consistently provide a better image than Aqua-Vu models.
This is probably due to the higher sensitivity of the camera, which also plays an important role for night viewing. 
Similarly, on overcast days, or when there is a thick layer of snow on top of the ice, an ice fishing camera must be able to operate in dimly lit conditions, which is very common during ice fishing. 
In this category our testing revealed that Marcum is the better choice.
4. Image quality at night
If you're a dedicated ice angler, it's likely that you'll want to use your camera for night fishing sooner or later.
For many species, including walleye, the night shift is more productive than the day shift, plus you tend to have a higher chance of catching a trophy fish. 
Marcum truly shines in the night filming category, and generates a much better image than Aqua-Vu under these conditions.
This is due to a combination of higher sensitivity, plus its Color Kill feature, which allows you to switch from color to black and white mode.
The black/white mode provides a more crisp and clear image during low light conditions. 
Based on our testing, Marcum is the clear winner in this category.
5. Ease of use
This is another important category for beginners, and Aqua-Vu models generally have a very user friendly design, and are easy to use.
This applies both to setting up and using the unit, as well as the sunshield, which is built into the screen mount. In addition, charging the battery is easy and intuitive. 
In contrast to this, Marcum units are quite a lot more cumbersome to work with, and have a steeper learning curve.
Also, the sunshield comes as a separate piece that's attached with velcro to the screen.
In addition to being more complicated to set up, it's also quite common to lose the sunshield, or forget it at home.
In this category, out testing showed that Aqua-Vu is the winner.
6. Camera panning
Panning is very important, especially for ice fishing. You want to be able to see what's happening all around your ice hole.
Both brands can provide this functionality if you buy additional gear to do this. 
For Aqua-Vu, you need to get a MoPod, which enables you to pan the unit by 360 degrees, and for Marcum you need a PanCam System, which likewise enables 360 degree panning.
In terms of pricing, both of these systems are very similar.
When we tested, we found that both brands perform equally well in this category.
7. Durability
Both brands are quite well known for having issues with malfunctioning parts from time to time, which is unfortunately quite common with complex fishing electronics that's still relatively young in terms of design and development. 
However, among the anglers we asked, we got more replies complaining about their Aqua-Vu units malfunctioning than their Marcum units, suggesting that the latter are built a little more solidly.
In this category, our test results showed that Marcum is the winner.
8. Using the camera for open water
While this review is mainly focused on ice fishing, the use of underwater cameras during the warm season has become increasingly popular.
For example, bass anglers are using them to locate fish close to sunken trees, and walleye anglers are using them to make sure the fish they're marking are indeed walleye.
So this raises the question: can you buy a single fishing camera and use it equally well during winter and summer, for a range of different applications? 
While both brands can be used on open water, Aqua-Vu is much better in this category, since it provides a whole set of accessories designed specifically for open water use.
This includes a trolling fin with the ability to mount the unit viewing forward or backward while trolling, as well as an adaptor to attach the unit to a long pole to scan locations far from your boat. 
So if you're looking for a model that you can use all year round equally well, this is probably the top choice for you.
In this category, our testing revealed Aqua-Vu as the clear winner.
What's the best underwater camera for murky water?
Based on our test results, and the feedback we got from other anglers, Marcum models perform significantly better in murky water, making them the top choice for this.
If you're on a smaller budget, then the VS485C is a good choice. Otherwise, take a look at the Mission SD, or the Quest HD, which are the higher end models. The Quest HD delivers the best image quality with 1080 pixel resolution. 
What's the best Aqua-Vu for ice fishing?
If you decide to go with Aqua-Vu, then the AV Micro 5.0 Revolution is an excellent choice, and is currently one of their most affordably priced models that provides high quality performance.
If you're thinking about recording your underwater footage, you may also be interested in the AV Micro 5.0 Revolution Pro with DVR (check current price).
Summary
Here's a quick summary of the pros and cons of Aqua-Vu vs. Marcum cameras:
Based on our testing, Aqua-Vu models are more user friendly and easier to use. This makes them a great choice for beginners who want to try out an ice fishing camera, but aren't sure how dedicated they are to the sport, and how often they will be using it.
On the other hand, Marcum models offer much better image quality when it comes to dimly lit conditions, as well as in murky water, which makes them ideal for fishing at dusk or at night, or on overcast days.
This superior performance makes them the top choice for dedicated ice anglers, who often fish at dusk, since this is one of the top biting times for many fish.
Curious to learn more about hardwater fishing? Check out our ice fishing tips for pike.
Gear and methods used for testing
For consistent testing results we tested all of the ice fishing cameras reviewed in this article on the same day on Leech Lake in late January. Ice thickness was 11 to 13 inches, and we tested the Aqua-Vu AV 715C and MarCum VS485c ice fishing cameras in 10 to 21 feet of water from midday until nightfall, while fishing for walleye and northern pike with jigging lures and dead bait.