Best Rod For Chatterbaits: Top 7 Models Compared (2023 Review)
UPDATED 11 MAY 2023
by Robert Ceran
This article may contain affiliate links. If you make a purchase after clicking on a link we may earn a small commission at no extra cost to you.
Are you looking for a new chatterbait rod, but not sure which model is right for you?
My team and I tested the most popular chatterbait rods on the market, and evaluated them on their power, action, ability to cast a range of lure weights, and overall performance.
Based on our testing, here are our picks for the best chatterbait rods in 2023: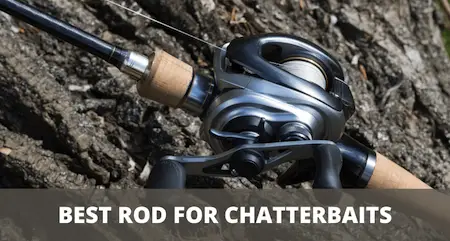 Best chatterbait rod – 2023 review
| Model | Image | Price | Verdict | Length | Power | Action | Lure weight (oz) |
| --- | --- | --- | --- | --- | --- | --- | --- |
| Dobyns 735cb Glass | | | Best overall rod performance | 7'3" | Medium Heavy | Fast | 1/4 to 1 |
| Evergreen Brett Hite Combat Stick | | | Best runner up overall rod performance | 7'2" | Medium Heavy | Moderate Fast | 3/8 to 1 1/4 |
| Abu Garcia Veritas | | | Best budget rod | 7' | Medium | Fast | 1/4 to 5/8 |
| G. Loomis IMX-PRO Jig & Worm | | | Best lightweight rod | 7'1" | Medium Heavy | Extra Fast | 3/16 to 5/8 |
| Dobyns 736cb Glass | | | Best heavy rod | 7'3" | Heavy | Fast | 3/8 to 1 1/2 |
| Shimano Zodias | | | Best soft action rod | 7' | Medium | Moderate Fast | 1/4 to 1 |
| Ugly Stik GX2 | | | Best rod for beginners | 7' | Medium | Fast | 1/4 to 5/8 |
The table above compares the main specs of the top rods that we tested side by side, together with our recommendation for what each of them is ideally suited for.
These rods come in a range of different sizes and prices, and some of them are built with graphite, while others are built with fiberglass.
Now let's dive into the details and take a closer look at each of these rods.
1. Dobyns 735cb Champion Series Glass casting rod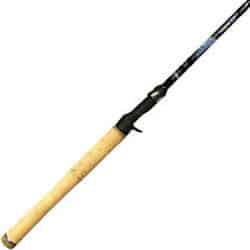 Based on our testing, the Dobyns 735cb Glass is the best overall rod for chatterbaits, which is not entirely surprising, given the fact that Gary Dobyns designed it specifically for this purpose.
Our testing revealed that it combines exactly the right balance of sensitivity with sufficient power, and due to its fiberglass construction, it's strong enough to keep even big fish pinned down when you're fishing close to heavy cover. 
Also, even though the 735cb is a fast action rod, during our testing we found that it still has enough flex in its tip for loading well during the casting process, and for sensing subtle bites during retrieval.
The increased flex is due to the glass fiber build, which makes the rod less stiff than graphite rods.
The extra flex of the fiberglass rod is also very helpful when setting the hook, since it gives the fish a little extra time to eat the bait before you set the hook.
And when you do set the hook, the flexibility of the rod helps the big hook of your lure to penetrate the hard mouth of a bass better than a stiffer graphite rod does.
If this rod is a little too lightweight for you, take a look at the 736cb model, which is basically one size larger.
Which one of the two is the right choice for you depends on the size of the lures that you're throwing, the size of the bass you're catching, and whether you'll be fishing close to cover or not.
But keep in mind that fiberglass weighs more than graphite, which is why many anglers prefer the 735, since it's lighter than the 736.

Features
Highly durable fiberglass build
More flexible than graphite
Perfect combination of rod power and action
2. Evergreen Brett Hite Combat Stick glass casting rod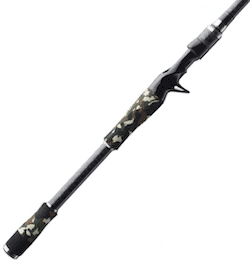 The Evergreen Combat Stick glass rod series was designed by Daiwa in close collaboration with Elite Bass Series angler Brett Hite, who uses them for many of his tournament wins.
Brett is well known among bass anglers for his extremely high proficiency with this type of fishing, and when we put it to the test, we found that the 7'2" medium heavy power/moderate fast action Evergreen Combat Stick is one of the very best rods on the market for this type of fishing.
In fact, many anglers like to use it as their favorite chatterbait rod.
Another great thing about the Combat Stick is that you can get it either as a graphite or a glass version, which means you can pick your preference.
And based on our test results, the graphite version of the Combat Stick is the best graphite chatterbait rod. 
Since this rod has moderate fast action instead of fast action, that makes it a little softer than most of the other models, and Brett Hite actually swears by this as one of its essential qualities.
The reason for this is that it gives bass more time to properly "inhale" the lure before they feel the hook. 

Features:
Split handle with camouflage EVA grips
Fuji guides with alconite inserts
3. Abu Garcia Veritas casting rod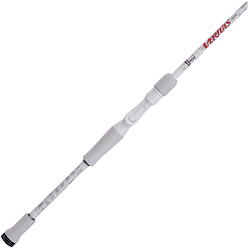 While the Abu Garcia Veritas is not specifically designed for this purpose, during our testing it performed well enough for this type of fishing that we decided to include it here as the best budget option.
Retailing at less than $100, it's significantly cheaper than the other models in this review, while still providing a very high quality performance.
The cheaper price also makes this a great choice for beginners, since you can easily use the rod for a wide range of lures, including spinnerbaits, buzzbaits and crankbaits.
And since the Veritas is a graphite rod, it's also a lot lighter than the glass rods included in this review, and this can be a very important feature for some anglers.
Especially if you like to spend the whole day casting lures, you can easily get tired of rod models that are on the heavy side.
But having said that, keep in mind that this is a graphite rod, and some anglers (myself included), prefer to use a glass rod for fishing with chatterbaits.
So you'll need to decide which one of these is right for you personally.
But if you want to use the Veritas for this purpose, our testing showed that you need to make sure you choose the 7' medium power/fast action model, since this is the ideal size for this purpose.
This rod size works well for a lure size between 1/4 and 5/8 oz, which means it's better suited for throwing somewhat smaller lures compared to most of the other models reviewed here.

Features:
Split handle with EVA grip
Built with 30 ton graphite
Titanium alloy guides with zirconium inserts
4. G. Loomis IMX-PRO Jig & Worm casting rod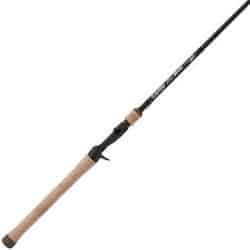 As its name already suggests, the G. Loomis IMX-PRO Jig & Worm rodis intended for jigs and soft plastics, which makes it somewhat lighter than most chatterbait rods, and it is in fact the lightest rod included in this review.
However, we found that this quality also makes it perfect for throwing smaller finesse lures, or for fishing in open water, where there's no danger of getting your tackle snagged.
A major reason why the best chatterbait rods tend to be on the heavier side, is that they are often used to fish dense grass beds, or other spots with lots of cover.
And obviously that means you need enough muscle to control a big fish, and force it away from the danger zone.
But when you're fishing open water, it can be a lot more fun to catch fish with lighter gear, and that also allows you to apply finesse tactics.
The IMX-PRO is a graphite rod with extra fast action, and when we tested it, we found that it is ideal for throwing lighter lures between 3/16 and 5/8 oz. And obviously, you can also use it for other lightweight lure types.

Features:
Built with high-modulus graphite
Premium cork grip
Tangle-free Fuji guides
5. Dobyns 736cb Champion Series Glass casting rod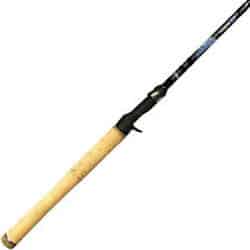 This is a heavier version of the 735, which makes it a better choice if you want to throw heavier lures, or if you'll be fishing in close proximity to grass or other cover.
The 736 glass has a huge amount of power combined with flexibility which can easily handle really big fish without losing them due to getting snagged on cover.
And as mentioned above, our tests show that the extra flexibility of the fiberglass rod results in more give when a bass strikes the lure aggressively, which in turn allows it to eat the bait entirely before you set the hook.
This works especially well when you use the rod with a fluorocarbon line, which is more elastic than braid.
The Dobyns 736 glass is a heavy power rod, which makes it heavier than any other rod reviewed here, and it works well for casting larger lures all the way up to 1 1/2 oz.
Based on our testing, this makes it a great choice for targeting trophy sized bass right next to heavy cover. But keep in mind that the glass fiber blank also makes it heavier, which can result in arm fatigue after a lot of casting.

Features:
High modulus graphite
Zero tangle Fuji guides
Premium cork handle
6. Shimano Zodias casting rod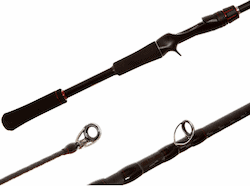 For a fiberglass rod, the Shimano Zodias Glass is surprisingly lightweight, and after testing it, we found that it is a great choice if regular glass rods are a little too heavy for you.
It also comes with a moderate fast action rod, which makes it softer than most of the rods discussed here (except the Evergreen Combat Stick).
For many chatterbait specialists, a softer rod action is an essential feature that improves both casting performance, hook setting performance, and the ability to control big fish.
The moderate fast action of the Zodias Glass  also makes this a good option for throwing crankbaits, which typically don't perform well with too stiff rod tips.
The lightness and softness of action of this rod make it the favorite choice for many bass anglers, who prefer it to some of the more expensive options on the market.

Features:
Hi-power X blank construction
Fuji alconite micro guides
Premium CI4+ reel seat
7. Shakespeare Ugly Stik GX2 casting rod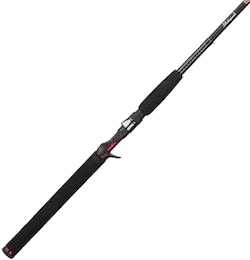 The Ugly Stik GX2 is not specifically designed for this kind of fishing, but it combines a practically unbeatable price with a high degree of durability, as well as good all around performance. 
The GX2 is the only composite rod that we put to the test for this article, and it is famous among anglers for its Ugly Tech graphite and fiberglass composite blank construction, which strikes an impressive balance between lightness of weight and a high degree of strength and durability.
These qualities make it the ideal choice for any beginner, who has little to no fishing experience.
If you fit that description, our advice to you would be to get a relatively cheap rod, like the GX2, which is versatile enough to use with a wide range of tactics.
Many anglers have started their fishing journey with an Ugly Stik rod, which is a great way to figure out if you like the sport enough to commit to it.
If you want to use the GX2 as a chatterbait rod, make sure you choose the 7' medium power/fast action size, which is ideal for this type of fishing.

Features:
Split handle with EVA grips
Clear tip for detecting subtle bites
Stainless steel guides
Honorable mention:
Dobyns 704cb Glass casting rod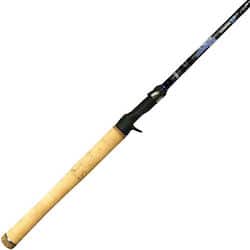 This is another Dobyns rod that's more on the lightweight side, and therefore not the primary choice when it comes to fishing with chatterbaits.
However, some anglers like it for exactly that reason, and it can be a great choice when you're fishing in ponds or lakes without a lot of cover, and when the average size of the fish you're expecting to catch is relatively small. 
Chatterbait rod selection
So what should you look for in a good chatterbait rod setup? Well our testing revealed that that can vary depending on both your preferences and on your specific fishing scenario. But let's look at the most important characteristics of a good rod for this type of fishing.
Best rod action for chatterbait
The best rod action for this type of rod is fast to moderate fast.
Most chatterbait rods are fast action, which works well for loading the rod during the casting process, and for controlling lure movement during retrieval.
Having said that, some anglers prefer a slightly slower action rod, and opt for a moderate fast action rod.
The reason for this is that the more flexible tip of these rods gives bass a little more time to eat the lure completely before you set the hook, while a stiffer rod tends to pull the lure out or their mouth prematurely. In addition, the extra flex of the tip also helps to drive home the oversized hook into the hard mouth of a bass.
A rod with a moderate fast action tip will also enable you to cast farther, which can be an advantage when fishing in open water.
Finally, another factor to consider when discussing the best chatterbait setup is whether we're talking about a graphite or fiberglass rod.
Since glass rods are always more flexible than graphite rods, a fast action glass rod is going to have a more flexible tip than a fast action graphite rod. 
Rod power
The best rod power for chatterbait is Medium to Heavy.
It's important not to use a rod that's too light, since you'll often be fishing close to grass or other kinds of cover when using this type of fishing.
Especially when combined with a flexible tip, a sufficiently powerful rod is extremely helpful for keeping a big bass pinned down after you set the hook, before it can get your hook and line snagged in cover.
This is one of the main reasons why many anglers prefer glass rods for this purpose. 
Rod length
The best rod length for chatterbait is 7' to 7'3". This is the ideal length to balance optimal casting distance and accuracy, and also helps to control big fish close to cover, since it provides enough leverage for this purpose.
Why use glass rods for chatterbaits?
People often ask: why are so many people using glass chatterbait rods, when graphite rods are more often used for most other tactics?
This is a good question, because graphite has indeed become the most widely used rod material in recent years, at least for freshwater fishing.
The main advantage of graphite is that it is a lot lighter than fiberglass, which can make a big difference if you do a lot of casting. During our testing we found that if you're throwing lures all day long with a glass rod, you can easily end up with sore wrists at the end of the day.
And while carbon rods used to be a lot more brittle than fiberglass rods (causing them to break more easily), the blank reinforcement technologies have gotten so good over the years that this isn't a problem anymore. 
So why use a glass rod at all? The reason for this is that fiberglass bends with more flexibility than carbon, so a glass rod always has a more flexible tip.
This can be a huge advantage when using chatterbaits, since bass tend to hit them very aggressively.
The more forgiving tip of a glass rod gives the bass a little more time to swallow the lure and get it fully inside its mouth before you set the hook. 
Also, these lures have a single large hook, and it can be difficult for this hook to penetrate the hard mouth of a bass.
When you use a rod with a softer tip, this helps to drive that hook into the mouth, while a more stiff rod often causes the hook to be pulled out of the mouth.
However, as mentioned above, there seem to be two equally big camps on this topic – some who prefer graphite, and some who prefer fiberglass.
So we really can't tell you which one is the right choice for you.
Final remarks
This concludes our review on the best rod for chatterbaits – hopefully you found a great model that fits your specific needs.
If you love fishing with chatterbaits, it's worth getting a dedicated rod for this purpose, as that will give you a much better experience compared to using an all round rod for this.
It really helps to have exactly the right combination of rod length, power and action to get great results with this lure type.
If you're putting together your chatterbait setup, check out our article on the best trailers for chatterbait.
Tight lines and see you on the water!
Methods and gear used for testing
For consistent testing results, we tested each of these rods under the same conditions on Lake Okeechobee. We paired each rod with an Abu Garcia Revo X with a gear ratio of 7.3:1, spooled with 16 lb test Power Pro Braid. We tested each rod by throwing 1/4 to 1 oz chatterbaits in 5 to 12 feet of water.