The Best Rod For Spinnerbaits (Top 7 Models Compared)
UPDATED 12 MAY 2023
by Robert Ceran
This article may contain affiliate links. If you make a purchase after clicking on a link we may earn a small commission at no extra cost to you.
Are you looking for a new spinnerbait rod, but not sure which model is right for you?
My team and I tested the most popular spinnerbait rods on the market, and evaluated them on their power, action, ability to cast a range of lure weights, and overall performance.
Based on our testing, here are our picks for the best spinnerbait rods in 2023: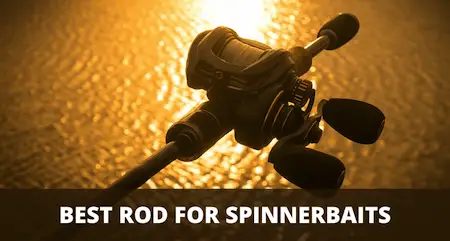 Best spinnerbait rod reviewed – 2023 buyer's guide
| Model | Image | Price | Verdict | Length | Power | Action | Lure weight (oz) |
| --- | --- | --- | --- | --- | --- | --- | --- |
| St Croix Mojo Bass | | | Best spinnerbait rod overall | 7'1" | Medium Heavy | Fast | 3/8 to 1 |
| Daiwa Tatula | | | Best rod for fishing in heavy cover | 7'1" | Medium Heavy | Extra Fast | 1/4 to 1 |
| Abu Garcia Veritas | | | Best spinnerbait rod for the money | 7' | Medium | Fast | 1/4 to 5/8 |
| Dobyns 704C Champions Series | | | Best heavy rod | 7' | Heavy | Fast | 1/4 to 1 |
| Abu Garcia IKE Signature Power | | | Best lightweight rod | 7' | Medium | Fast | 1/4 to 3/4 |
| Lew's Custom Speed Stick Spinnerbait | | | Best rod for beginners | 6'10" | Medium Heavy | Fast | 3/16 to 5/8 |
| St Croix Premier Spinning | | | Best spinning rod for spinnerbaits | 7' | Medium | Fast | 1/4 to 5/8 |
The table above compares the key specifications of the best spinnerbait rods that we tested, as well as giving our recommendation what purpose each of them is best suited for.
Now let's dive into the details, and take a closer look at each of these rods.
1. St Croix Mojo Bass casting rod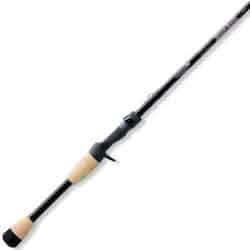 This is one of the most popular St Croix rods, and for good reason. Made with high-modulus graphite, it's one of the lightest rods on the market, and during our testing we found that this makes a huge difference if you're throwing lures all day long. 
Based on the high end IPC tooling technology developed by St Croix, the Mojo has a very even taper, and when we put it to the test we found that it has extremely smooth action. In addition, the rod action feels very well balanced when you cast with it, due to the split grip with premium cork being perfectly balanced with the rest of the rod.
The blank has the Black Cherry Metallic finish, which is characteristic for St Croix these days, and one of the reasons why they look so stunning.
On top of its high quality, the Mojo is also quite affordable, and together with our testing results this makes it our all time favorite all around spinnerbait rod. Almost every bass angler has at least one Mojo in their rod collection, since it also performs well with a range of other lures and tactics.
Features:
Premium high-modulus graphite blank
Fuji ECS reel seat
Split grip with premium cork handles
Kigan 3D guides with aluminum oxide inserts
5 year warranty
2. Daiwa Tatula casting rod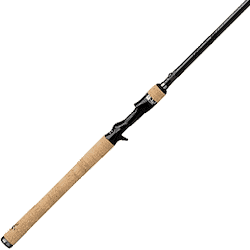 Based on decades of testing and development, this is the flagship casting rod lineup for bass fishing by Daiwa. It employs the X45 Bias graphite construction process, a fiber braiding technology that results in a lighter yet stronger carbon blank. In addition, this technology also results in a very uniform taper, and when we put it to the test, we found that this is perfect for optimal loading of the blank during the casting process.
Combined with high volume fiber construction, the X45 Bias technology explains why our testing revealed that the Tatula has an extremely smooth action when casting lures, as its blank loads up perfectly, especially when paired with the right reel, line and lure. 
In addition to its strength, the Tatula is also a sensitive rod, which is good for feeling the movement and action of a spinnerbait in the water column. For many bass anglers, rod sensitivity is key in order to achieve the right spinnerbait presentation.
Features:
High modulus graphite blank
Natural cork handle
Fuji FazLite line guides
Fuji ACS reel seat
Limited 5 year warranty
3. Abu Garcia Veritas casting rod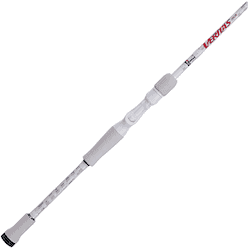 This workhorse casting rod from Abu Garcia can be adapted to the majority of lures and presentations used in bass fishing. Combining lightness and casting accuracy with a very competitive price, many anglers start their fishing journey with the Veritas, and then just keep on using it for years, since it's so durable and versatile.
While this rod is not specifically designed to be used with spinnerbaits, it does have and ideal combination of rod action and power for spinnerbaits, and based on our testing we recommend the Veritas for beginners, since it provides excellent value for money.
Built with a 30 ton graphite blank, it employs Sublayer Armor fiber braiding technology to strengthen the blank. As a result, our tests showed that the rod is both lightweight and durable, which is a perfect combination for spinnerbait fishing for bass.
The split-grip handle exposes the blank to the hand, which is good for maximum sensitivity, as it allows you to feel even the slightest vibration passed from the line and lure to the rod. 
Features:
30 ton lightweight graphite blank
Ergonomic split grip with EVA handles
Titanium alloy guides with zirconium inserts
Exposed blank reel seat
Limited 3 year warranty
4. Dobyns 704C Champion Series casting rod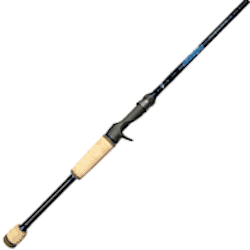 This rod series was designed by Gary Dobyns, the leading tournament winner in the West over the past decades. He designed the Champion series based on analyzing years and years of his bass tournament fishing experience, which explains its extremely high quality features, including lightness of weight, perfect balance, and precise action tapers, and when we tested it, we found that it has highly effective loading behavior during the casting process.
The Dobyns 704C is built with a high modulus graphite blank explaining the lightness of weight, and in addition it comes with AA grade cork grips and and Kigan SiC guides.
The 704C has a heavy power rating, which makes it the heaviest rod in our selection. Our testing showed that this is ideal for catching big fish close to cover, when you need maximum rod power to control the fish after setting the hook. 
In addition, the heavy power of the 704C also make it ideal for throwing slightly larger spinnerbaits, between 1/2 and 1 oz.
Features:
High modulus graphite blank
Zero tangle Kigan line guides
Kevlar wrapping
Fuji graphite reel seat
5. Abu Garcia IKE Signature Power casting rod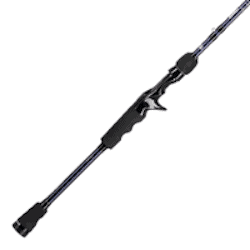 This is one of the rod models developed by Abu Garcia in close cooperation with legendary bass pro angler Mike Iaconelli, and this particular model has the perfect combination of rod power and action that make it a great lightweight spinnerbait rod.
Even the contours of the handle and reel seat were painstakingly developed together with Mike, to give the exact handling experience that he looks for in an ideal casting rod. Together with the lightness of weight and smooth action, our testing revealed that this gives the rod a unique feel when you're fishing with it, which results in more ergonomic handling and better casting performance.
Built with 36 ton graphite, the IKE Signature Power is even lighter than most other graphite rods, and when we tested it, we found that this gives it the ideal sensitivity for throwing smaller spinnerbaits, and using more subtle presentations. 
Features:
36 ton graphite blank
Fuji reel seats
Stainless steel guides with zirconium inserts
Split grip with EVA handles
6. Lew's Custom Speed Stick Spinnerbait casting rod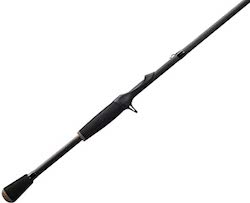 One of the flagship rod lineups built by Lew's, the Custom Speed Stick is a good choice for anyone looking for a high quality rod at a competitive price. 
Built with proprietary HM60 graphite strengthening technology, the Lew's Custom Speed Stick is extremely durable, while still being lightweight. This technology adds carbon fibers in multiple layers and in multiple directions on top of each, which helps to improve the strength of the blank.
Another very impressive feature of the rod is the Midas Touch technology of the handle, and when we put the rod to the test, we found that this gives your hand direct contact with the naked blank. Based on this contact, you'll be able to feel every tremor and vibration in the rod, which can help a lot to detect subtle bites. This is also a great feature for beginners, since it helps to develop a 'feel' for what the action of a spinnerbait is like during retrieval.
Features:
Premium HM60 graphite blank
Fuji guides with titanium oxide inserts
Split type handle with EVA grips
Skeletal reel seat with direct blank contact
7. St Croix Premier spinning rod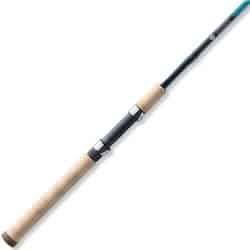 The St Croix Premier is the only spinning rod in our selection, but it comes with all the necessary qualities to deliver a high end performance as a great spinnerbait spinning rod. And especially if you're a beginner, then you may want to start out with a spinning rod instead of a casting rod, since they are a lot easier to learn how to use.
The St Croix Premier comes with enough power to keep up with most casting rods. The graphite blank is strengthened with advanced reinforcement technology that meshes carbon fibers together, resulting in much higher strength and durability, without increasing the weight. When we put it to the test, we found that this power is necessary for bass fishing anywhere that's close to cover.
If you choose the 7' medium power fast action variant of the Premier, then this is a good spinning rod for spinnerbaits that comes with ideal characteristics to fish lures in the 1/4 to 5/8 oz size range, which is good for standard sized spinnerbaits. 
Features:
SCII strengthened graphite blank
IPC poly cuve technology for precise tapers
Premium cork handle
Kigan 3D line guides with aluminum oxide inserts
5 year warranty
Picking a spinnerbait rod
What are the ideal characteristics of a spinnerbait rod that you should be looking for before you make your decision to buy? You need to pay attention to several aspects, including length, power, action, and lure rating.
In addition, you should also take a look at the build material. Most rods nowadays are built with graphite, which has the advantage of being more lightweight than fiberglass, and having less flexible rod action, but graphite also more brittle than fiberglass. Because of this, you should check if the rod you're interested in has graphite strengthening technology to compensate for this weakness. To put your mind at ease about this: most reputable brands nowadays have this kind of technology, including the models reviewed here.
Let's go over the most important features in detail:
What type of rod is best for spinnerbaits?
You can use either a casting rod or a spinning rod for fishing spinnerbaits, but keep in mind that each of them have advantages and disadvantages for this type of fishing.
Casting rods are the most popular choice for most bass anglers because they have higher casting accuracy and distance. They are also better at throwing heavier spinnerbaits, and for spooling heavier pound test fishing line, which is a big advantage if you're fishing in heavy cover and hook into a big bass. In situations like that you need all the muscle you can get to keep a big fish pinned down after setting the hook, and then haul it away from the cover as fast as possible.
The main disadvantage of using a casting rod is that baitcasting reels are much harder to master if you're a beginner. In fact, if you're going to be fishing with a casting setup for the first time ever, expect to spend most of your time dealing with baitcaster backlash on the first few trips. And if you're not sure how much you like the sport, that might turn you off before you've had a real chance to enjoy the fun part of it.
Spinning rods are a good choice if you're a beginner, or if you want to fish with lightweight spinnerbaits. While a spinning rod is not quite as accurate as a casting rod, it will perform just fine for most situations, while being a lot easier to master if you're a novice angler.
So our recommendation would be to start out with a spinning rod, since that will allow you to do some real fishing and catch a few fish on your first trips. Once you're a little experienced, you would then be ready to start trying out a casting rod setup as well. 
The second main reason for using a spinning rod is if you want to throw micro spinnerbaits that weigh less than 3/16 oz. Casting rods are not very good at throwing finesse lures like this, which means you'll get much better results with a spinning setup. While this spinnerbait size is mostly used for catching crappie or bluegills, you can also use it for bass in smaller ponds and creeks, where the average size of fish is going to be smaller. 
Finally, spinning rods also perform much better than casting rods when it comes to casting into the wind. So if you often find yourself in situations with a steady head wind, a spinning rod setup will serve you much better. This is especially true if you're fishing on big lakes or in saltwater, where exposure to wind is more likely to be an issue.
What rod action is best for spinnerbaits?
The ideal rod action for spinnerbaits is fast action, since this will give you the ideal casting performance, while this also provides the right amount of rod flexibility to set the hook effectively. 
Spinnerbaits come with a single large hook, which is easier to set in the hard mouth of a bass compared to treble hooks (such as found on crankbaits, which often have more than one treble hook). So when you're using a spinnerbait with a single hook, you can choose a fast action rod, while throwing lures with treble hooks usually requires moderate action.
What rod power is best for spinnerbaits?
The ideal rod power for spinnerbaits is medium to medium-heavy. You don't want to choose a rod power that's too light, since spinnerbaits are often around the 1/2 oz size or more, and this is too heavy for light or ultralight rods. Also, you want to have sufficient rod power to deal with a big fish, especially if you're fishing close to cover.
What rod length is best for spinnerbaits?
The ideal all around rod length for spinnerbait rods is 7'. You can go with a shorter rod length of 6'8" or 6'10" if you're fishing in close quarters, or if you need maximum accuracy while fishing close to overhanging trees or laydowns.
A shorter rod length helps a lot to improve the accuracy of your casting, while a longer rod length helps to improve casting distance. So if you're primarily going to be fishing in open water, you can also choose a longer rod length of 7'2" to 7'6".
What rod lure rating should you choose for spinnerbaits?
The most commonly used spinnerbait size is 1/2 oz, and so for most purposes choosing a rod that includes 1/2 oz within its lure weight rating will have you covered. However, if you already know that you want to throw oversized spinnerbaits weighing more than 1 oz, or micro spinnerbaits weighing less than 3/16 oz, then you'll need to look for a rod that covers the weight range you want to throw.
Spinnerbait rod setup
The ideal spinnerbait rod and reel setup is a 7' medium or medium-heavy power fast action rod, paired with a 7.1:1 gear ratio baitcasting reel spooled with 15-20 lb test fluorocarbon. Fluorocarbon fishing line has the advantage of having the lowest visibility underwater, but if you prefer, you can also use braided line as your main line, tied to a 10 foot fluorocarbon leader. 
This combination of length, power and action is perfect for throwing spinnerbaits in the 1/4 to 1 oz weight range, which is the most commonly used size range. It's also strong enough to catch big bass close to cover.
Bass pro angler Kevin VanDam is known as the "spinnerbait king," having won numerous tournaments with spinnerbaits. He recommends a spinnerbait size around 1/2 oz, since this is easy to fish high in the water column. In addition, you can also burn it really fast close to the water surface every now and then.
A 7' length, medium power, fast action casting rod is ideal for the kvd spinnerbait setup when paired with a 7.1:1 or 7.3:1 gear ratio baitcasting reel, since this reel is fast enough to burn the bait close to the surface, which is an excellent way to trigger bass to commit when they are just following the bait.
If you prefer a spinning rod to a casting setup, choose a rod with similar specs (7' length, medium power, fast action), and pair it with a 2500 size spinning reel spooled with either fluorocarbon or braid (15-20 lb test). Again, this will work well with most spinnerbaits in the 1/4 to 3/4 range, and is strong enough to handle sizable fish. The best gear ratio is 6.1:1 in this case, since this works better for lighter lines and lures. 
Final remarks
This concludes our review on the top spinnerbait rods. Hopefully this helps you find exactly what you're looking for. Try not to overthink it – the most important thing is to get started, so you can get some experience and build expertise.
If you're not exactly sure what you need, it's probably ideal to go with the St Croix Mojo Bass, which is a great all around option. Or, if you're a complete beginner, the St Croix Premier is a great choice, since it is easier to use a spinning rod as a beginner.
Tight lines and see you on the water!
Methods and gear used for testing
For consistent testing results, we tested each of these rods under the same conditions on Lake Tarpon. We paired each rod with an Abu Garcia Revo X with a gear ratio of 7.3:1, spooled with 16 lb test Power Pro Braid. We tested each rod by throwing 1/4 to 1 oz spinnerbaits in 4 to 18 feet of water.