What Is The Best Topwater Rod In 2022?
UPDATED 21 NOVEMBER 2022
by Robert Ceran
This article may contain affiliate links. If you make a purchase after clicking on a link we may earn a small commission at no extra cost to you.
Few things are more exciting for an angler than watching a big fish grab the lure during retrieval. And the beauty of topwater fishing is that you get to witness this moment every single time. 
In addition to being super fun, topwater tactics are also very effective for bass fishing – they work well for both largemouth and smallmouth in freshwater, and for striped bass in saltwater.
But what fishing rod should you use for this type of fishing? Since this is a very specialized style of fishing, it's important to use the right gear for it.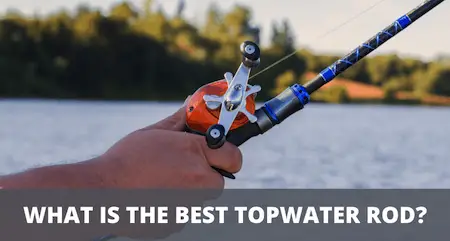 In this review we'll go over the best 5 topwater rods currently on the market, and we'll recommend the ideal one to choose for different purposes.
Best topwater rod in 2022 reviewed
| Model | Image | Price | Length | Lure weight (oz) | Power | Action | Verdict |
| --- | --- | --- | --- | --- | --- | --- | --- |
| St Croix Avid Casting | | | 7' | 1/2 - 1 1/4 | Medium Heavy | Fast | Best overall performance |
| Daiwa Tatula XT Casting | | | 7' | 1/4 - 3/4 | Medium | Fast | Best budget option |
| Dobyns Fury Casting | | | 6'6" | 1/4 - 3/4 | Medium Heavy | Fast | Best for 'walking the dog' |
| Lew's Mach Topwater Casting | | | 6'8" | 1/8 - 1/2 | Medium Light | Fast | Best for lightweight lures |
| St Croix Mojo Inshore Spinning | | | 7' | 1/2 - 1 1/4 | Medium Heavy | Fast | Best for inshore & striped bass |
The table above compares the most important specs of the top 5 topwater rods.
Four of them are casting rods, while the fifth is a spinning rod (for an in-depth discussion of which pole type is best for this kind of fishing, see below).
Now let's take a closer look at these models, and go over what application each of them is best suited for.
1. St Croix Avid casting rod


This model is our top pick since it has the best overall performance. It combines all essential features of a good topwater rod, and comes with the high quality that is a hallmark of St. Croix rods.
Made of high-modulus graphite, it weighs a mere 4.1 oz, but still delivers plenty of backbone with its Medium weight blank.
The St Croix Avid  is a great all round topwater rod because it has the following key characteristics: it's 7'0″ and comes with a short handle.
This is essential for any topwater presentation where you point the rod tip down to the water, and is very awkward to achieve with a rod that has a long handle.
In addition to having the ideal length, the fast action of the St Croix Avid means that its tip is soft enough so you don't tend to rip the lure out of the mouth of a fish when you set the hook, while it's also stiff enough to allow you to impart the right kind of twitching and darting movement to lures. 
Finally, the Medium power blank comes with enough backbone to handle trophy bass, even when you're fishing close to cover, and need to haul a lunker away from cover as fast as possible. 
Features:
High modulus graphite blank
Premium cork handle
Fuji line guides with alconite inserts
15 year warranty
2. Daiwa Tatula XT casting rod


The Tatula XT also makes an excellent all round topwater rod, and in addition it is considerably cheaper than the St Croix Avid. This is why we chose it as the best budget friendly option in our review. 
With its 7' length, the Tatula XT is a little longer than the St Croix Avid, which can be useful for lure presentation with a raised rod tip.
Also, if you're more on the tall side yourself, a longer pole can be more comfortable to work with, even if you want to use it with the tip pointed down to the water.
On the other hand, if you're less than 6 foot tall, you'll probably do better with a shorter (6'6" or less).
In that case, the Tatula XT would be a little too long for you, and you should look at the St Croix Avid or Dobyns Fury instead.
If you're planning to fish with extra large lures, you may also want to consider the Medium Heavy version of this rod, which can cast up to 1 oz.
Features:
High modulus graphite blank
Fuji guides with aluminum oxide inserts
Split type handle with EVA grips
5 year warranty
3. Dobyns Fury casting rod


The Dobyns Fury is the best rod for topwater walking baits.
The 'walking the dog' technique involves retrieving the lure with your rod tip pointed down to the water, and imparting sideways darting motion to the lure by twitching the tip back and forth. 
For walking the dog, it's essential to use a pole that is short enough, and that has a short handle, so you can comfortably point it down towards the water during retrieval.
The Fury comes with these features, and it's also short enough to perform well when fishing in close quarters.
The Dobyns Fury also has a relatively soft tip, which helps to delay setting the hook when a fish bites, while still being stiff enough to transmit relatively small movements of the rod tip to your lure.
One of the most popular topwater lures is the Zara Spook, which was designed for walking the dog type retrieval tactics.
Since the Dobyns Fury is ideal for this type of retrieval, that makes it the best topwater rod for spooks. 
And with a retail price that's just $10 to $20 more than the Daiwa Tatula XT, it's our runner up budget friendly model in this selection.
Features:
High modulus graphite blank
Split type handle with cork grip
Fuji reel seat
4. Lew's Mach Topwater casting rod


With a relatively short length of 6'8" and a short split type handle, the Lew's Custom Plus can be used for topwater presentations that involve pointing the rod tip down during retrieval.
But it's real strength lies in the fact that it works better with lightweight lures compared to the other rods on this list. 
The Medium Light power of the rod blank enables it to cast light lures all the way down to 1/8 oz, which is considerably lighter than most other topwater casting rods.
So if you want to throw finesse lures, such as small swimbaits or poppers, but don't necessarily want to go with a spinning outfit, then this is the rod for you.
In terms of pricing, the Lew's Custom Plus is in between the St Croix Avid and the Daiwa Tatula XT.
This rod was specifically designed for topwater fishing by Lew's, and comes with all the necessary qualifications to get the job done, especially with lighter lures.
Features:
Multilayered graphite blank
Stainless steel guides with graphite inserts
Split type handle with EVA grips
2 year warranty
5. St Croix Mojo Inshore spinning rod


This is the only spinning rod in our selection, and is the best topwater rod for inshore fishing for striped bass, redfish, and sea trout.
When it comes to inshore saltwater fishing, you'll often have to deal with a steady wind blowing in your face, and baitcasting reels don't perform very well in conditions like this.
There's nothing more annoying than having to untangle a baitcaster birds nest just when fish are biting. That's why we recommend using a spinning rod for inshore topwater fishing.
The St Croix Mojo is perfect for this purpose, and is the best rod for topwater walking baits when it comes to using a spinning setup, or for other topwater presentations using poppers or chuggers.
It has Medium Heavy power, which enables it to cast up to 1 1/4 oz, so you can throw some extra large lures for striped bass, or even for bluefish or spanish mackerel.
The strong backbone also gives it plenty of stamina to fight trophy sized stripers, while the fast action tip is soft enough to avoid ripping the lure out of the mouth of a fish when you set the hook. 
Features:
Premium quality SCII graphite blank
Sea Guide line guides with aluminum oxide inserts
Cork grip handle
5 year warranty
Tips for choosing a topwater rod
If you're planning to buy a topwater rod, you need to understand what specifications are best for these fishing rods. Let's look at the main characteristics of these poles.
Length
In general, topwater rods tend to be shorter than average, and are mostly in the 6 to 7 foot range. This is because short rods are better for working a topwater lure with your rod tip pointing down to the water.
Especially when using a technique such as 'walking the dog,' or fishing a floating swimbait or spook, a short rod is better for giving the right kind of twitching movement to your lure as it moves across the water surface.
However, keep in mind that shorter rods come with the disadvantage of having a shorter casting distance (check out our fishing rod length guide for the full scoop on how length affects casting distance).
So if you want to have a reasonable casting distance, don't go too short either. An ideal length compromise is most often around 6'6", which is long enough for good casting distance, but also short enough for effective retrieval techniques.
Handle size
A topwater rod should have a relatively short handle, for the same reason that the overall length needs to be on the short side – this enables you to hold the rod tip down during retrieval, which is necessary to impart the right kind of motion on the lure.
This is especially true for 'walking the dog' types of lures, such as spooks, but also applies to other lure types. 
All of the models in this review have a short handle, which makes them ideal for topwater fishing. 
Action
Rod action describes where the rod bends when you apply pressure to it (for more details on this, check out our guide on fishing rod action).
The best action for topwater rods is moderate to fast. You don't want your action to be too fast, since a fast rod transmits the energy of your strike instantly to the lure.
And because you can actually see a fish biting your lure during topwater fishing (which is why it's so much fun), most anglers tend to react too quickly, and as a result they pull the lure right out of the mouth of the fish without setting the hook.
A slower action rod takes longer to transmit your strike to the lure, which gives the fish more time to get the lure fully into its mouth.
On the other hand, you don't want your rod action to be too slow either, as that makes it hard to get the lure to move correctly by twitching your rod tip.
So an ideal compromise between too fast and too slow is either a moderate or moderate fast action for the best results with a topwater rod.
Power
Unlike action, rod power describes how much weight is needed to bend a rod. It is also referred to as rod power, and is given on a scale from Heavy to Light (to get the full details on this, check out our article on fishing rod weight).
The best weight for a topwater rod is medium power. A medium rod is light enough to work your lure with twitches and small wrist movements, while it's also strong enough to set the hook hard.
Also, topwater tactics are often used to fish close to cover, and when you hook a big fish in a place like that, you need enough rod power to pull it away from that cover before it manages to dive into it and get itself and your lure snagged.
Spinning or casting?
When it comes to topwater rods, you can choose either fishing rod type, but most bass anglers tend to prefer casting rods because of their greater casting accuracy (for more details on the pros and cons of each rod type, check out our article spinning rod vs casting rod).
This comes in especially handy when you're casting lures close to cover, such as water lilies, grass, or trees, because you need to be able to place your lure right next to the cover. 
Bass are often found right underneath cover, and if your lure hits the water too far away from the cover, you won't get a fish to rise.
But if your lure overshoots its target, it may land inside the cover, and tend to get snagged. So you need pinpoint casting accuracy, which is easier to achieve with a casting rod.
The main exceptions to this are when you're fishing in open water, or if you're casting with very light lures.
In open water you can use either a spinning or casting rod, but if you're casting light lures, spinning rods perform much better than their casting counterparts.
So if you're planning to cast finesse lures, you're better off using a good spinning rod (in that case check out our review of the best bass spinning rod).
Also, if you're inshore topwater fishing for redfish, speckled trout, or striped bass, a common issue you'll encounter is having to cast into strong wind.
Baitcasters have a weakness in this regard, because they have a very high backlash tendency under these conditions. So for saltwater, the best topwater rods are spinning rods.
Fiberglass vs graphite?
All of the rods in this selection have a carbon graphite construction, which makes them more lightweight and sensitive compared to fiberglass.
We prefer this type of rod build, since it helps to avoid casting fatigue if you're throwing lures all day long, and also helps to impart more subtle movements to your lure with small wrist movements.
However, some anglers prefer fiberglass for topwater fishing. They argue that they don't need the extra sensitivity of graphite, since they can see when the fish bites.
Also, fiberglass tends to have a more parabolic bending behavior compared to graphite, which helps to delay setting the hook just a little bit, thereby giving the fish more time to get the lure fully into their mouth before you set the hook.
So you'll need to decide what your priorities are in this regard, but don't fret about it too much, since either type of rod material works well for this type of fishing.
Rod line weight rating
Every rod comes with a recommended line weight rating, and ideally, this should be around 6 to 14 lb test mono.
Monofilament is generally the best choice for topwater fishing, since it floats on top of the water (unlike fluorocarbon, which sinks, and should be avoided).
If you're fishing close to cover, you can also use 20 to 30 lb test braid, which has a similar line diameter, and so works well with the same rod power.
Rod lure weight rating
Most rods also come with a lure weight rating, which is correlated to the rod power. For topwater fishing, look for a lure rating ranging from 1/8 to 5/8 oz.
This covers the majority of lures you'll use for this technique, but if you want to go lighter than this, you may want to consider a light spinning rod.
Conclusion
This wraps up our review of the best topwater rods in 2022. If you're a largemouth or smallmouth bass angler, you'll probably prefer one of the casting rods, and if you're an inshore angler, a spinning rod may be the right choice for you.
Whatever your choice, we're sure you'll get hooked on topwater fishing after you get your first bite, since there are few moments in fishing that are more exciting than seeing a fish exploding out of the water to grab your lure, just before you snap up your rod to set the hook.