What Are The Best Budget Friendly LiveScope Options?
PUBLISHED 23 AUGUST 2021
by Robert Ceran
One of the most common questions I get from my bass fishing buddies is about the cheapest LiveScope setup they can get for their bass boat. Many of them already have a complete Lowrance or Humminbird sonar setup for their boat, and just want to get LiveScope as an add on, but without breaking the bank.
So which display unit should you pair with which LiveScope transducer in order to get the best LiveScope performance, while keeping the cost to the absolute minimum?
In this article we'll show you the cheapest Garmin LiveScope setup that still delivers a great performance on a small budget.
LiveScope Transducers
If you want LiveScope on your boat, the first thing you'll need to get is a Garmin LiveScope transducer, which comes in two different versions: either the LVS32 transducer (included in the Panoptix LiveScope System), or the LVS12 unit sold as a stand-alone transducer. Let's take a closer look at both of these.
Panoptix LiveScope System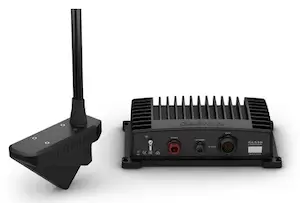 The Panoptix LiveScope System is the most commonly used option for setting up LiveScope, and retails at around $1,500 in most places. While not exactly cheap, this is currently the minimal setup you need to get for high quality LiveScope imaging.
The package includes a Panoptix LVS32 transducer, a GLS10 sonar black box, a trolling motor mount, and a transom mount.
Panoptix LiveScope LVS12 Transducer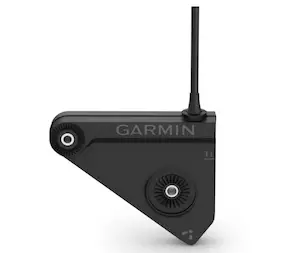 The LVS12 transducer retails at about $500, and while this is significantly cheaper than the Panoptix LiveScope System, it comes without the GLS10 sonar box, which is responsible for assembling the image from the sonar data into a high quality image on the display. In my opinion, the GLS10 box is essential if you want to get the full power of forward facing sonar.
As a result of this, the quality of the LiveScope imaging you get with the LVS12 transducer is much lower than what you get with the LiveScope System. Also, the LVS12 has a lower range and a narrower sonar cone, and so only shows a small area in front of the boat.
Due to these shortcomings, I highly recommend getting the LiveScope System instead of the stand-alone LVS12 transducer, if you're serious about getting high quality LiveScope imaging.
What display units should you use with LiveScope?
Now let's talk about the cheapest display units you can pair with the LiveScope System.
If money weren't an issue, I would recommend the largest Garmin unit with a 24 inch display. But in order to keep the price as low as possible, I suggest choosing one of these smaller display sizes: 7 inch, 9 inch, or 10 inch.
While the most budget friendly LiveScope option is undoubtedly a 7 inch display, I instead recommend a 9 inch display as the smallest option that is still big enough (and comes with enough screen resolution) to handle the high quality sonar data provided by the LiveScope System. 
Garmin Echomap UHD 73sv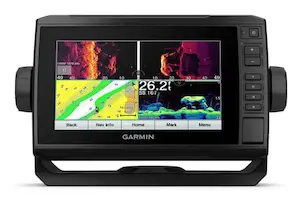 This is the cheapest display unit that you can combine with the Panoptix LiveScope System, and the Echomap UHD 73sv can be a good choice if you're okay with the relatively small 7 inch display size.
If you're already running a fish finder setup on your boat, you'll probably want to buy the Echomap UHD 73sv without a transducer, and pair this unit with the LiveScope System. Without a transducer, the UHD 73sv retails around $650 in most outlets, so the total cost would come to about $2150 (together with the cost of the LivesScope system).
Bottom line: Retailing at $650, the Echomap UHD 73sv is the cheapest display unit that you can pair with a LiveScope System, but in my experience the small 7 inch screen doesn't provide a great user experience when using LiveScope, which is why I recommend going with a 9 inch display instead.
With that being said, in my experience a 7 inch screen isn't really big enough to get the full benefit of LiveScope imaging. So I would recommend getting a 9 inch display unit at minimum, since that will enable you to harness the full power of LiveScope, which can provide you with incredibly detailed real time imaging while you retrieve your lure.
Garmin 93sv plus (discontinued)
This used to be the best option for setting up a cheap LiveScope pairing, but unfortunately it has been discontinued by Garmin. If you can still get your hands on a 93sv plus unit, don't hesitate to go for it, since it provides the best value for money as an affordable LiveScope setup.
Next let's take a look at the unit that Garmin created as a replacement for the 93sv plus:
Garmin Echomap UHD 93sv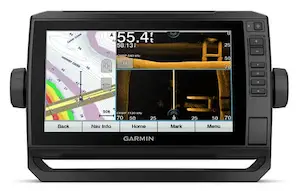 The Echomap UHD 93sv is an improved version of the 93sv plus that has a UHD transducer, which is a big deal in terms of improved image quality. 
And fortunately, the price increase for the Echomap UHD 93sv is only 50 dollars more compared to the discontinued 93sv plus, which isn't so bad. If you get the Echomap UHD 93sv without a transducer, it retails at about $900.
So you would have to invest 900 dollars for the cheapest 9 inch display unit to pair with a LiveScope transducer. If you decide to go with this pairing, that would set you back by about $2400 in total ($1500 for the Panoptix LiveScope System, and $900 for the Echomap UHD 93sv without transducer).
Bottom line: Retailing at 900 dollars, the Echomap UHD 93sv is the cheapest 9 inch display unit compatible with the Panoptix LiveScope System, and this pairing currently provides the best LiveScope for the money.
A great way to run this setup is by mounting the LVS32 transducer facing forwards on your bow trolling motor, with the Echomap display set up at the front of the boat. That way you can face forward while casting, and observe fish, structure, as well as your lure on the 9 inch display in real time.
If you decide to get the Echomap UHD 93sv with its transducer, that would provide you with ultra high definition Garmin Clearvu (i.e. down imaging), Sidevu (i.e. side imaging), as well as CHIRP sonar. 
Garmin GPSMAP 1022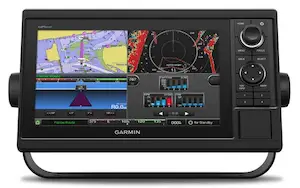 This is the cheapest 10 inch display unit compatible with LiveScope. Also, unlike the smaller units discussed above, the GPSMAP 1022 enables you to record your LiveScope readings, which can be an important factor if you want to create video footage. With the UHD 73sv and UHD 93sv you need to use an external camera pointed at the screen in order to record your LiveScope readout.
The GPSMAP 1022 was designed as a slave unit without a transducer, and is instead built to network  with other Garmin units, and to display sonar and mapping data on its generous screen with 1024 pixel resolution. It has a non-touch display, using a control wheel for navigation purposes.
The GPSMAP 1022 retails at about $1,200, and when combined with the LiveScope System this would amount to about $2700 in total. And while this definitely isn't cheap, it provides you with state of the art LiveScope imaging under $3,000, and can be readily combined with an existing fish finder system on your boat.