Garmin Striker 7SV Review – Detailed Buyer's Guide
UPDATED 13 MAY 2023
by Robert Ceran
This article may contain affiliate links. If you make a purchase after clicking on a link we may earn a small commission at no extra cost to you.
Overview
The Garmin 7SV is the most advanced model in the Striker series, featuring a 7" screen with 800×480 pixels resolution.
It comes with an all-in-one transducer covering regular sonar, down imaging, side imaging, and CHIRP, and when we put it to the test, we found that the Striker 7SV delivers high quality imaging performance in all of those categories.
It also comes with built-in GPS, and has a maximum depth range of 2300 ft. in freshwater (1100 ft. in saltwater).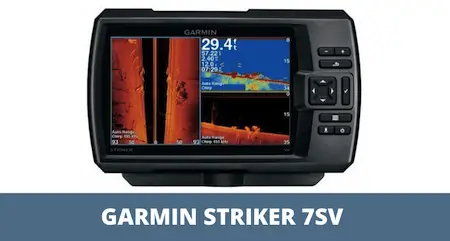 Overall, our testing showed that this is a great fish finder with high quality sonar imaging technology, while still being affordably priced.
Based on our testing, the main disadvantages of the Garmin Striker 7 is that it doesn't have mapping functionality, and doesn't come with a slot for a MicroSD card.

Main features:
Display Size: 7"
Screen Resolution: 800X480 pixels
Traditional 2D Sonar: 50/77/200 kHz
ClearVü Sonar: 260/455/800 kHz
SideVü Sonar: 260/455/800 kHz
CHIRP: mid and high frequency
Transmit Power: 500 W
Integrated GPS: yes
Maximum Depth: 2,300 ft. (freshwater) or 1,100 ft. (saltwater)
MicroSD: no
Garmin Striker 7SV review
Overall user experience:
One of the most attractive aspects of the Garmin 7SV is the large 7 inch screen with rich WVGA colors.
This provides a great user experience, since you can make full use of all of its sonar capabilities by using the split screen functionality to view up to four different sonar images next to each other, which allows you to combine all its strengths on one screen.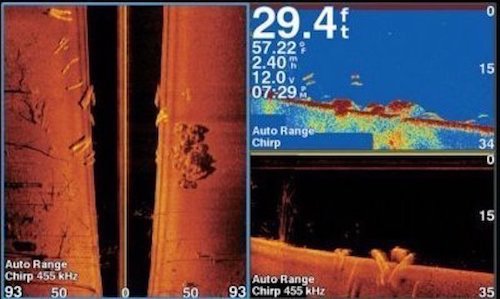 Split screen functionality

On smaller fish finders this really isn't such a good idea, since it's hard to view a lot of data on a small screen, but on a large 7" screen you can take advantage of the full power of all sonar technologies, as well as GPS tracking on the screen at the same time.
In addition to enabling a user to get an overview of sidevu, downvu, and 2D sonar imaging next to each other, you can also use the zoom function to get a more detailed view of an interesting section.
The overall quality of the material and build is excellent, providing both durability and ease of use, which one might expect from a high end model such as this.
With a weight of 24 oz it's in the medium size range, and with a waterproof rating of IPX7 you don't need to worry about getting it wet, since this level of waterproofing is strong enough to withstand full immersion.
In addition to sonar imaging, the display also shows depth, water temperature, plus your boat's speed and heading. It uses Bottom Lock technology, which builds the sonar image from the bottom up.
The 7SV also comes with Fish ID technology, which can be used to label sonar signals with fish icons, in case you're not sure which signals represent fish.
Integrated GPS functionality 
The GPS functionality of the Garmin fishfinder striker 7SV can be used to place GPS waypoints. In other words, you can record the GPS coordinates of interesting spots, which you can then use to navigate back to them in future.
The screen also shows your current position with respect to specific waypoints, and it tracks your path between waypoints (called Course Over Ground), so you can retrace your path if you want to.
For example, if you have a favorite trolling route covering the best fishing grounds, this can be extremely useful.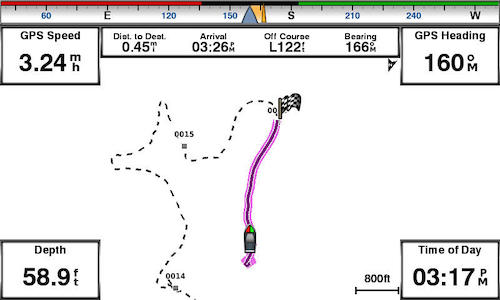 Waypoint map

During our testing we found that while this doesn't replace a full mapping functionality, it's good enough for basic navigation and for recording important locations.
Built-in Flasher functionality for vertical fishing
If you're into ice fishing, you'll be thrilled to hear that the 7SV has built in flasher functionality.
If you set it to this mode, it displays a circular flasher reading on the screen, which you can use just like a traditional flasher unit. 
Flasher imaging

This imaging provides real time information on bottom consistency, depth, temperature, and fish.
You can even watch your lure on the flasher screen, and spot fish moving in towards it. This functionality is also useful if you like to fish from a stationary boat.
While you can use the regular transducer for ice fishing, this is not ideal, since it isn't designed for this. If you're specifically interested in ice fishing, take a look at our review on the best ice fishing flasher.
Garmin ClearVü
ClearVu is Garmin's version of down imaging, which focuses the sonar beam on a narrow section right underneath the boat.
For more details on down imaging and side imaging, take a look at our article on how does a fish finder work?
When we put it to the test, we found that it provides a crystal clear image of what's happening under your boat, and because it doesn't rely on a broad sonar cone like traditional 2D sonar, the resolution and object separation are much better.
This is great for getting a highly detailed view of fish under your boat.
Garmin SideVü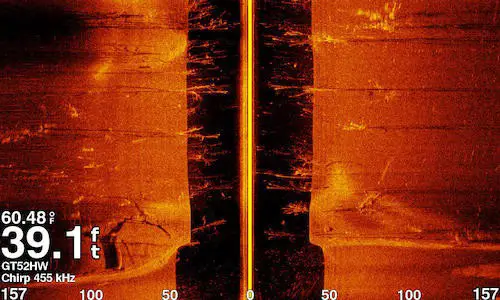 SideVu is Garmin's version of side imaging, which relies on sending two sonar cones out to both sides of the boat, allowing you to get an overview of the overall underwater topography in the area surrounding your boat.
This is great for scoping out interesting locations, such as drop offs, sunken trees, and transition zones, which you can then check for fish with ClearVu and regular CHIRP.
CHIRP
The transducer of the Garmin 7 SV has mid and high frequency CHIRP, which is used for regular 2D sonar, and for SideVu and ClearVu imaging, the latter with 455 kHz and 800 kHz.
The quality of the sonar returns generated with Garmin CHIRP are truly excellent, providing extremely good object separation, resulting in a high image resolution on the screen.
What transducer comes with Garmin Striker 7SV?
When you purchase a Striker 7 SV unit, it comes with an all-in-one transducer that includes CHIRP sonar, ClearVu, SideVu and regular 2D sonar functionality in the same unit.
It also has dual beam capability, and it can be mounted with a regular transom mount, or on your trolling motor. If you prefer, you can also mount it with an in-hull transducer mount.
If you're not sure if your transducer is working correctly, you may wan to take a look at our article on how to tell if your transducer is bad.
Does the Garmin Striker 7SV come with maps?
No, it doesn't have a mapping functionality. While you can use its GPS to place waypoints and track your route, you can't use it with maps, and you can't use the sonar readings to create a custom map with a chartplotter.
This is the only real weakness of the 7SV, and probably explains why it's relatively affordably priced, suggesting that the manufacturers decided to create a high quality unit that's specifically focused on sonar imaging capabilities.
What's included in the box?
When you buy a 7SV, it comes with the following items:
Garmin Striker 7 SV fishfinder main unit
All-in-one transducer
Adapter cable to join 12-pin transducer to 4-pin sounder
Mounting brackets for transom mount and trolling motor mount
Power cable
Tilt/swivel mount
Documentation
It doesn't come with a battery, so you'll have to purchase that separately. A 12V 10AH lithium or SLA battery is recommended (check out our article on the best fish finder batteries).

Garmin Striker Vivid 7sv review
In late 2020, Garmin introduced the Striker Vivid 7sv, which offers all the same features as the original Striker 7sv, but comes with seven additional high-contrast color palettes for the display unit, which helps to get a clearer image of the sonar data.
The 7 new color palettes of the Garmin Striker Vivid 7sv increase the total number of palette options of the unit to 16, which is helpful for anglers wanting to choose exactly the right color palette for the specific light conditions they encounter on any given day.
Garmin Striker 7sv vs Striker Plus 7sv
Introduced in 2017, the Garmin Striker Plus 7sv has all the same features as the regular Striker 7sv, but in addition also comes with Quickdraw Contours Mapping software.
This enables you to create your own custom maps with 1″ contour lines, and mark your GPS waypoints directly on this contour map.
During our testing we found that while this feature doesn't compare to the full fledged mapping functionality of an Echomap unit, it does give more advanced mapping options than the regular Garmin 7sv.
If you're also interested in CV version of this model, chekc out or article that compares Garmin SV vs CV.
Advantages vs. disadvantages of the Garmin 7SV:
Advantages: 
Includes some of the finest sonar technology available on the market, including ClearVu, SideVu, CHIRP, and regular 2D sonar. 
Generous 7 inch display with split screen functionality, which enables great user experience, ease of use, and the ability to use several sonar technologies in parallel
Currently the lowest priced fish finder that provides such a high end combination of sonar technologies, plus a large screen
Disadvantages: 
The Garmin 7sv oesn't have a MicroSD slot or mapping functionality, which means you can't download maps, and you can't use a chartplotter to create custom maps. 
Conclusion 
Is it worth buying the Garmin Striker 7SV fishfinder? 
Yes, absolutely – if you're looking for a fish finder with high end sonar imaging technology that's affordably priced, and that has an overall high level user experience enabled by the large color display.
However, if you really need a fish finder that also includes mapping functionality, then you should look at the Garmin echoMAP series instead.
Gear and methods used for testing
We tested all features of the Garmin Striker 7SV by imaging structure and schools of bass and panfish relating to structure in 6 to 19 feet of water. The transducer was transom mounting its transducer on a Ranger Z520R bass boat.