Haswing Trolling Motor Troubleshooting Guide
UPDATED 17 MAY 2023
Haswing trolling motors are well known for their affordability, giving you access to the benefits of trolling motors (and even GPS controlled trolling motors), at a much lower cost than most of their competitors.
However, as you probably know, low cost technology often tends to come with lower reliability, including weaknesses that can trigger failure after a short time if you don't know how to deal with them.
In this article we'll cover the most common problems encountered with Haswing trolling motors, and will also discuss how to troubleshoot them effectively.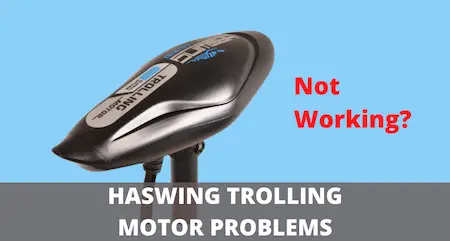 What are the most common Haswing trolling motor problems?
Here are the most common Haswing trolling motor issues:
Remote control problems
Foot pedal problems
Steering motor problems
Plastic cover breaks easily
While the motor itself of most Haswing units is generally good and can work reliably for years, the biggest weakness of Haswing trolling motors is their handheld remote control, closely followed by the foot pedal.
Both of these are highly prone to failure, and you need to be a little tech savvy to deal with this (or know a good repair shop).
If there are issues with the steering motor, this is probably due to rusting of the internal parts. Often this can be quite easily taken care of by opening the unite, cleaning the parts in question, and then relubricating them with motor grease.
So if you want to make sure that you'll get a solid lifetime performance from your Haswing trolling motor, it's definitely helpful to have at least some basic knowledge of how to fix minor components, such as the remote control, or have access to someone who does.
Haswing trolling motor remote not working
Failure of the remote control is by far the most common reason why Haswing trolling motors stop working. Here are the main issues that cause the remote control to fail:
Remote not paired with the motor
Battery not charged
Battery is dead, and needs to be replaced
If your remote is not paired with the motor, you can reset the pairing by simultaneously pressing the 'Reset' button on the trolling motor, as well as the 'Propeller' button on the remote control.
Keep both of these pressed until you hear three quick beeps, which indicates that the remote is properly paired with the motor. 
If the LED light on the remote control doesn't flash when you use it, this means the battery is empty.
The remote control comes with a built-in rechargeable battery, but unfortunately not with a compatible charger. 
When charging the Haswing remote control, it's essential to use a USB 1.0 or 2.0 charger that provides a very low current output with a maximum of 500 milliamps or less.
If you use a USB 2.1 charger or higher, the current is too strong, which will quickly result in battery failure.
Because of this problem, the most common issue that occurs with Haswing remote controls is that their battery malfunctions because of incorrect charging.
And unfortunately, their built-in battery is hard to replace, and so the easiest solution is to get a replacement remote control, which will cost you around $40 to $80.
However, in case you know how to do a little soldering yourself, you can get a replacement battery for the remote on eBay, and restore its function by exchanging the battery.
Make sure to get a 3.7V and 200mAh lithium polymer battery, which will cost you about $10 to $15 on eBAy.
Foot pedal problems
The biggest issue with the Haswing foot pedal is that it isn't waterproof, and regular exposure to water (either saltwater or freshwater) will sooner or later cause the microswitches inside it to rust, resulting in failure.
This is unfortunate, since exposure to water is a daily occurrence on a small boat.
While there's no way to avoid this completely, you should try to keep the foot pedal as dry as possible, and wipe it with a dry cloth after use.
And when the foot pedal does fail, the simplest fix is to replace it with a new one.
Is Haswing a good trolling motor?
While the basic build and performance of Haswing trolling motors is mostly reliable, their key weakness is the remote control, which is highly prone to failure.
However, if you know how to deal with this issue, the competitive pricing of Haswing trolling motors can still make them an attractive choice if you're on a small budget (and at least a little tech savvy).
Among other things, their Cayman GPS is one of the cheapest spot lock trolling motors on the market, so there's that to keep in mind. 
Where are Haswing trolling motors made?
Haswing trolling motors are designed and built in Yantai, China. The company was originally founded in Macau in 1997, but is now headquartered in Mainland China. Keep in mind that you should expect at least 6 weeks delivery time if you order directly from Haswing, China.
If you're considering getting a Rhodan trolling motor instead of a Haswing, be sure to check out our article on common Rhodan trolling motor problems.