Top 7 JETTY FISHING RIGS (Setup & Fishing Guide w Pictures)
PUBLISHED 6 SEPTEMBER 2023
by Robert Ceran
Are you planning to go jetty fishing, but aren't sure which fishing rig is best for your purposes?
While fishing from a jetty is generally simpler than boat fishing, it's essential to use the right rigs to catch fish successfully from jetties.
In this article I'll walk you through the most effective rigs for jetty fishing, and will also cover how to fish them, and how to choose the ideal setup for your purposes.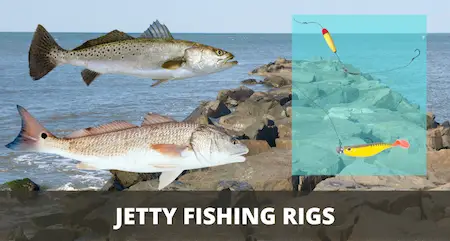 What are the best jetty fishing rigs?
The 7 best rigs for fishing from jetties are:
Jig rig
Slip bobber rig
Carolina rig
Fish finder rig
High low rig
Pompano rig
We'll go over the strengths and weaknesses of each of these rigs for jetty fishing in full detail below, so you can decide which one is best for you.
Jig rig
The jig rig is one of the best all around lure fishing rigs, and consists of a jig head tied to your fishing line, as well as a soft plastic bait threaded onto the hook of the jig head (see image above).
The simplicity of this lure fishing setup makes it a great saltwater rig for beginners, but at the same time it catches fish so effectively that even experienced anglers use it regularly.
The jig rig is ideal for fishing at jetties because you can fish it around the rocks that predatory fish (including redfish, speckled trout, snook, flounder, and tarpon) use to ambush bait fish and other forage.
In many cases, you'll get strikes right next to the rocks of the jetty, which means you don't even need to cast it out very far. 
The main disadvantage of the jig rig is that it regularly gets snagged on the rocks, and this is just something you'll have to accept. Every time I throw this saltwater rig around a jetty, I always end up losing a few jigs due to snags. 
But the sheer quantity and variety of fish that this setup catches more than makes up for the snags, and on top of that it's super fun to fish soft plastics. 
Slip bobber rig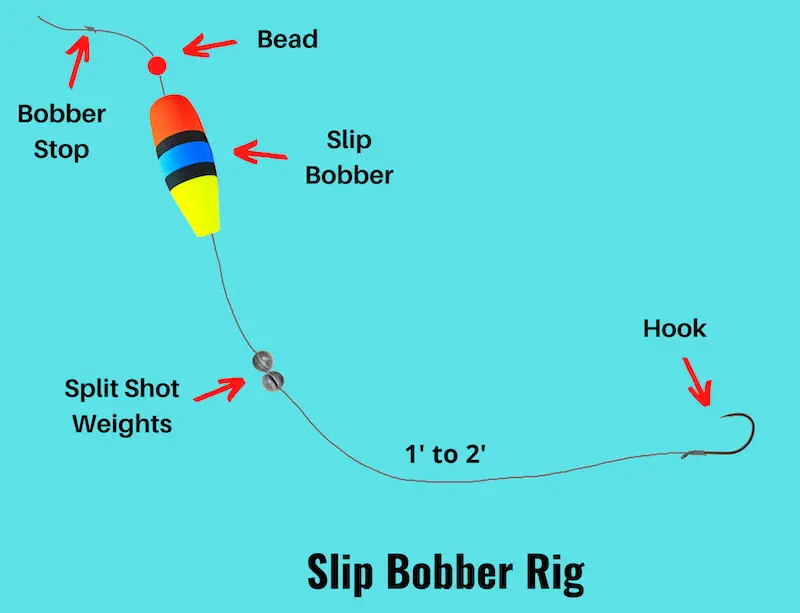 The slip bobber rig is one of the best rigs for jetty fishing, as it allows you to fish close to the rocks without getting your hook snagged on them. And as mentioned above, getting snagged on rocks is the bane of every jetty angler. 
I like to use the slip bobber fishing rig with live shrimp, but you can also use live baitfish or cut bait. In general, live shrimp will catch the majority of the fish species that forage around jetties, including pompano, sheepshead, rockfish, red drum, and speckled trout. 
The slip bobber setup consists of a slip bobber and bobber stop on the main line, as well as a sliding weight and/or split shot on the line below it.
If your main line is mono, you can tie it directly to the hook, and don't need a leader line. But if you're using braid as your main line, it's better to use a barrel swivel to connect the main line to a monofilament or fluorocarbon leader, since that provides more stealth. 
I like to use a circle hook with this setup for saltwater fishing, but you can also use a Kahle hook, octopus hook, or J-hook. 
At most jetties, you can set the depth of the slip bobber to about 3 or 4 feet, and fish it close to the rocks.
However, if there are drop offs or structural breaks a little further out, you can also get good results by casting your rig further out. Finally, you can also use it as a rig for pier fishing. 
Carolina rig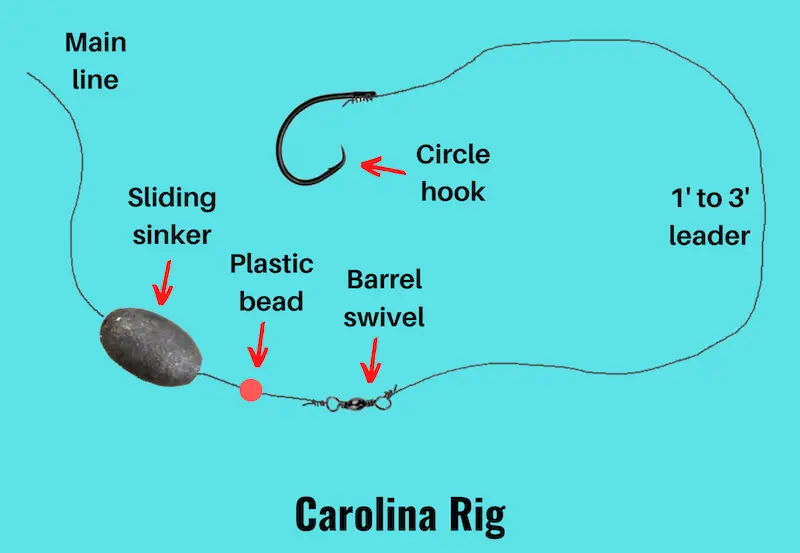 The Carolina rig is one of the most versatile bottom fishing rigs, and thus it's hardly surprising that it also catches fish at jetties. 
It consists of a slip sinker (usually an egg sinker) that can slide up and down your main line, as well as a swivel that attaches the main line to a 3 foot mono leader with a snelled hook at the end.
You can also add a plastic bead between the sinker and the swivel, which helps to protect the knot on the swivel from being damaged by the sinker. 
The nice thing about this bottom rig is that it allows the fish to eat the bait and swim with it without instantly feeling resistance from the sinker. 
This allows you to cast out your rig, loosen your drag, and use a bait clicker to alert you to bites. A bait clicker produces a sound when a fish pulls line off the spool of your reel, letting you know it's time to pick up the rod and set the hook. 
When fishing jetties, my preferred tactic is fishing a Carolina rig in the vicinity of the jetty where I suspect foraging fish to pass by regularly. I then put down the rod while I wait for bites, and use my second rod to fish actively with a jig. 
Fish finder rig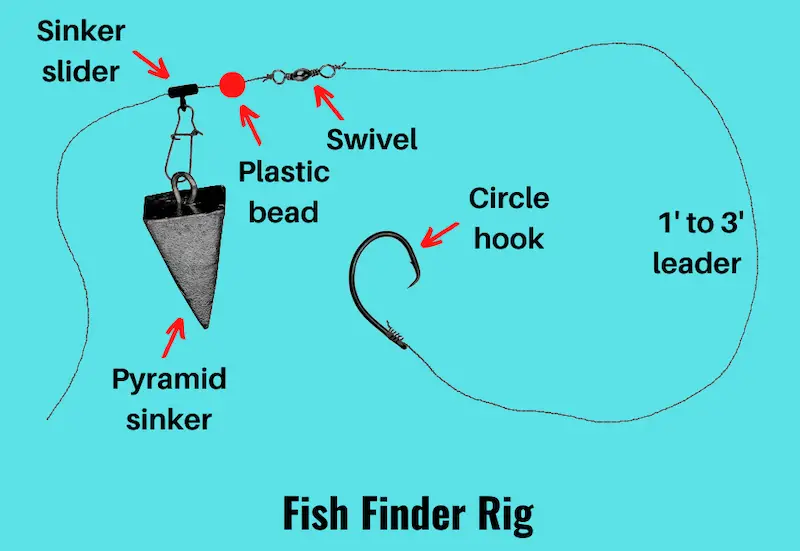 The fish finder rig has a similar overall structure to the Carolina rig, with a sliding sinker riding on the main line.
However, in the case of the fish finder rig, the weight is a pyramid sinker that slides on the line with the help of a sinker slider. 
The key advantage of a pyramid weight is that it digs into the sand, and helps to anchor the rig in strong tides, which are commonly encountered during jetty fishing or surf fishing.
So if there are strong tides flowing around the jetty that you're fishing from, a fish finder rig allows you to keep your hook in the strike zone, while an egg sinker would be swept away by the current.
That's why the fish finder rig is a better option to use if there is a strong swell or strong tides at your jetty. 
By releasing line from your fishing reel, this saltwater setup allows the current to carry your baited hook while the weight stays anchored in the sandy bottom, and thereby cover more ground in search of fish (which is how this inshore saltwater rig got its name).
High low rig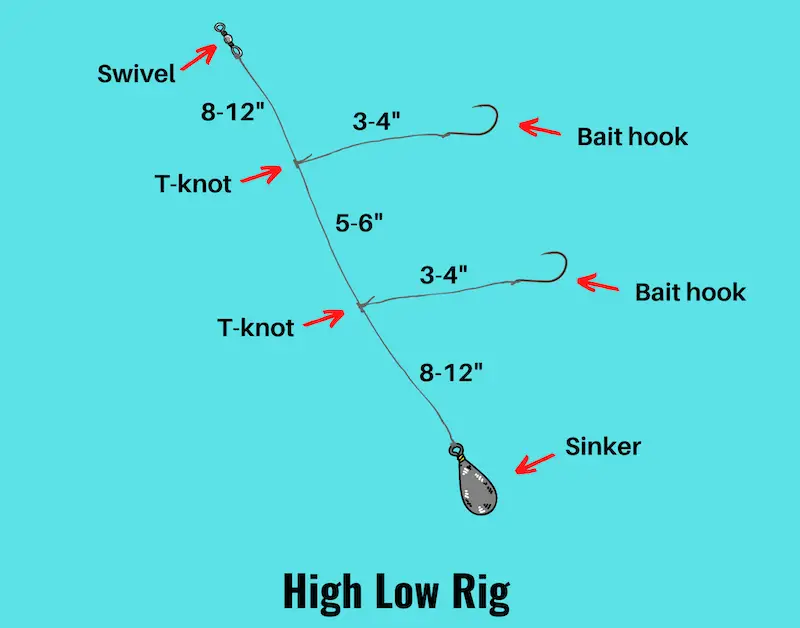 The high low rig is a double hook saltwater setup that comes in handy when fishing for schooling fish around jetties.
The hi low rig consists of a weight tied to the end of the leader line, as well as 2 hooks tied to the leader above the weight using T-knots. 
The second hook of this saltwater fishing rig improves your chances of catching fish, and you can even catch two fish at the same time. Multiple hooks also allow you to test two baits at the same time. 
You can use it to catch sheepshead, snapper, whiting, croaker, flounder, and fluke. However, you need to keep this saltwater rig away from the rocks of the jetty, as it's very easy to get this setup snagged.
The same goes for all saltwater bottom rigs, whether you're fishing from a jetty or from rocks. When retrieving your setup, you need to be extra careful during the last few feet, as this is where the rocks are.
Because of this tendency of bottom rigs to snagged, my personal preference is for a slip bobber when fishing jetties (if the swell permits), as it just doesn't get snagged so easily. 
Pompano rig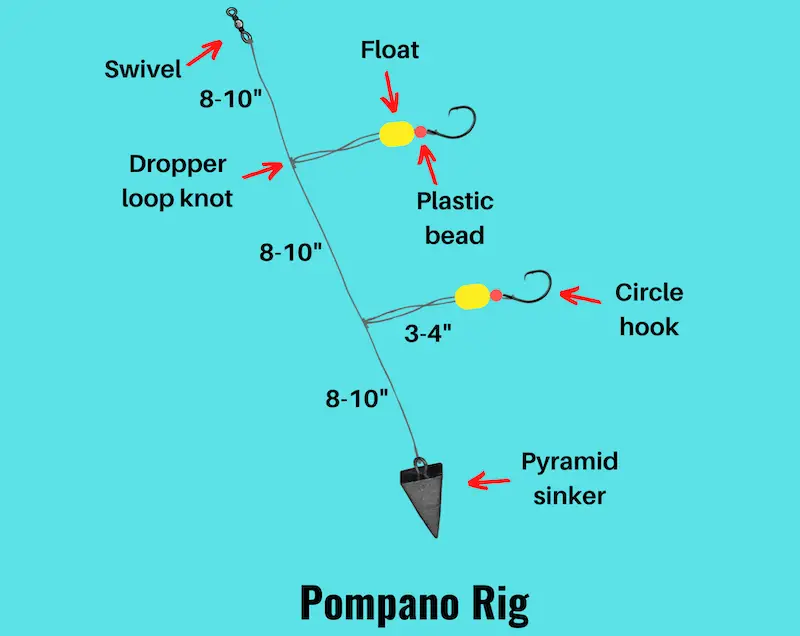 The Pompano surf rig has a similar overall structure to the high low rig, but comes with one key difference: It has small colored floats next to each hook, which help to keep the hooks off the bottom, and also attracts fish.
As its name already suggests, it was originally developed for pompano fishing from the beach, but it also catches a wide variety of other fish, and is a great jetty rig if there are schooling fish feeding close to the bottom. 
This saltwater fishing setup consists of a sinker tied to the end of the leader line, as well as 2 to 3 circle hooks attached to snoods above the weight with dropper loops.