8 Kayak Accessories You Need On Your Next Fishing Expedition
UPDATED 17 MAY 2023
by Robert Ceran
More and more fishermen are finding out how good kayak fishing is and they are joining it.
Since kayaks are small and have a shallow draft, they can get you into secret fishing spots that bigger boats can't.
Kayaks have also been shown to significantly bring back the fishing spirit. There's something about fighting a big fish in a small boat that can reignite the fishing fire.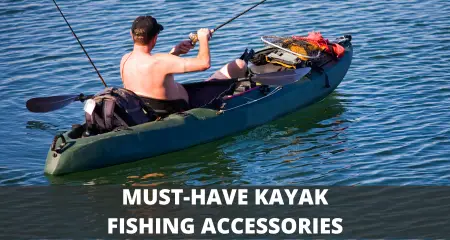 Also, kayaks are much cheaper and easier to store than big fishing boats that need a trailer, insurance, and registration fees, among other things.
Manufacturers are also spending a fortune on research and development of fishing kayaks, and most modern ones are so advanced that some anglers even use them for trolling in salt water.
The only downside to kayaks is that they don't have a lot of room inside. Due to this, storing your fishing rod, tackle box, lures, and other fishing tools in such a small space becomes challenging.
In the past, this meant that kayakers had to make tough decisions about what important gear to leave behind or come up with complicated do-it-yourself solutions to the storage problems.
Luckily, kayaks are becoming increasingly popular, and companies are starting to make kayak fishing gear with paddlers in mind.
Nowadays, buying a kayak that's already set up for fishing is easy. Even as a fishing beginner, you can also easily make your own basic kayak into the best fishing boat.
In this article, we'll discuss the best kayak accessories that you can bring with you in your next fishing expedition so that you can stay organized while having boatloads of fun.
These accessories include:
Kayak cart
Many kayak anglers slowly ruin their boats by dragging them on the ground at the beginning or end of a long day on the water.
Even if the kayak looks tough, you should note that even the toughest plastic kayaks will eventually get a hole from constant dragging.
Since it's hard to carry a 50- to 70-pound kayak from the car to the water's edge, many people drag them. This is wrong as there are plenty of ways to move your kayak and prevent the damage from coming about. And the good thing is that it doesn't have to cost much money.
All you need is a small cart or trolley that makes putting your kayak easier. The most important thing to consider when buying the kart is to ensure that it's powerful enough to handle the kayak weight.
Fishing rod holders
A rod holder can make or break a fishing trip. You want your holders to be sturdy, and make it easy to put your rod in or out of the holder in a jiffy.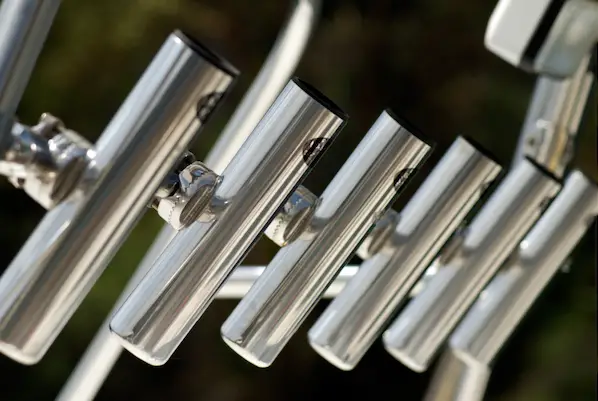 To get the most out of your rod holders, make sure to buy the right ones for the type of kayak you have. Sit-in kayaks work best with flush-mounted rod holders, while sit-on-top kayaks are better with holders that have a rotatable base.
Fish bag
A fish bag is great to have on a kayak, since you don't have to worry about keeping your catch in a bucket or stringer. A bucket can fall over easily, and a stinger is clumsy to handle.
That's why a kayak fish bag is the best option for storing fish – once you catch a fish, you just pop it in the bag and continue fishing right away.
When buying the bag, ensure it's high quality and lasts for a long time. It also should be insulated and have a waterproof liner that keeps the water and ice inside.
The size of the bag is another important consideration to weigh in your mind. You'll want one that is large enough and allows you to continue fishing without having to stop to empty your bag too frequently. You can find more options at https://reliablefishing.com/.
Fish Finder
You don't have to go fishing blind just because you have a small boat. Due to the increased uptake of kayaks, many companies are making small, portable fish finders with transducers that you can use to find fish just about anywhere.
Most of these finders are handheld or small enough to mount on your kayak. When mounting the finders, do so in a place that won't get in the way when you're fighting or landing a fish.
There are even wireless fish finders that don't need a separate unit to show you what you've found. These connect to your smartphone and show you what's under the water.
Paddle holder/Paddle leash
A good paddle holder keeps your paddle out of the way, and it comes in handy when you're fishing from a pedal kayak.
Even if you are not fishing, paddle leashes can help you get through rough water. Most people think of them as gear for fishing in saltwater, but they work great in freshwater too.
Some rivers and the great lakes can be rough, and losing an expensive kayak paddle is the last thing you want to do.
Trolling motor
One great thing about kayaks is that there are several different ways to propel them. You can use paddles, a pedal system, or even a small trolling motor.
And since it doesn't take much to move a kayak, you don't have to spend a lot of money on a motor.
Investing in a trolling motor allows you to travel longer distances from the launch point with your kayak than you would with pedals or another manual propulsion system..
Fishing tackle box and cooler
As an angler, you need a cooler or tackle box made for kayaking. Many are made to fit in the storage areas of most kayaks on the market.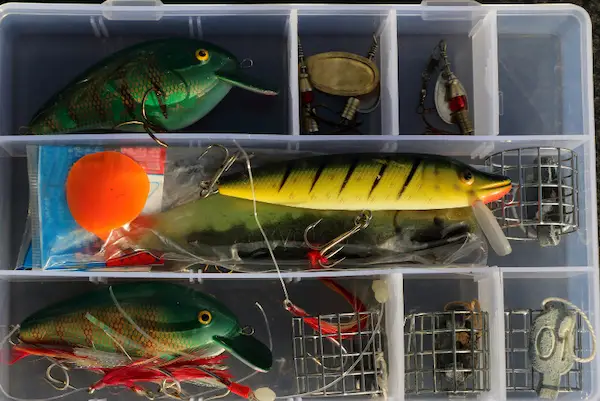 While there are many tackle boxes in the market, milk crate tackle storage systems are one of the best to go for when it comes to storing your gear on a kayak.
Many tackle boxes have places to store a fishing net, fishing pliers, and other small tools, so they are easy to get to when you need them.
Anchors and flotation devices
In theory, you don't need a kayak anchor. In fact, there are times when fishing without one is better.
But there are times when you'll want to stay in one spot for a while, so you don't lose that perfect spot where the fish are holding. In such a situation, you definitely need a kayak anchor system.
And in order to stay safe, you should absolutely always wear a floatation device when kayaking, even if you're out on the water for just a short time.
When buying the anchor and the floatation devices, go for light ones. A good rule of thumb is to ensure that the devices don't weigh more than four pounds.