List Of State Fish & Wildlife Departments (For All 50 States)
UPDATED 03 NOVEMBER 2023
by Robert Ceran
The rules for fishing in the US are set out by the state governments, and each of the states has a Fish & Wildlife department that deals with the regulations in this area.
Usually the same department is also responsible for regulating hunting, boating, and wildlife conservation. 
Below is a list of the Fish and Game authorities of all 50 states, each with a link to their website.
It's best to refer to the website of the wildlife agency in your state to check the different types of licenses available to you, as well as the price of a fishing license.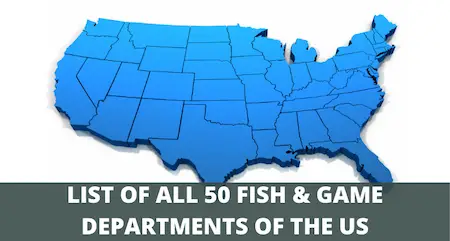 Also, if you want to buy a fishing license online, you can do this directly on the website of your state's Fish & Wildlife department.
Finally, you can also check your local fish and game authority to figure out the age requirements for getting a fishing license in your state.
Alabama:
Alabama Department of Conservation and Natural Resources
Alaska:
Alaska Department of Fish and Game
Arizona:
Arizona Game and Fish Department
Arkansas:
Arkansas Game and Fish Commission
California:
California Department of Fish and Wildlife
Colorado:
Connecticut:
Connecticut Department of Energy and Environmental Protection
Delaware:
Delaware Division of Fish and Wildlife
Florida:
Florida Fish and Wildlife Commission
See also: Getting a fishing license in Florida (here's what you need to know)
Georgia:
Georgia Department of Natural Resources
Hawaii:
Hawaii Division of Aquatic Resources  
Idaho:
Idaho Department of Fish and Game
Illinois:
Illinois Department of Natural Resources
Indiana:
Indiana Division of Fish & Wildlife
Iowa:
Iowa Department of Natural Resources
Kansas:
Kansas Department of Wildlife and Parks
Kentucky:
Kentucky Department of Fish & Wildlife Resources
Louisiana:
Louisiana Department of Wildlife and Fisheries
Maine:
Maine Department of Inland Fisheries & Wildlife
Maryland:
Maryland Department of Natural Resources
Massachusetts:
Massachusetts Department of Fish & Game
Michigan:
Michigan Department of Natural Resources
Minnesota:
Minnesota Division of Fish & Wildlife
Mississippi:
Mississippi Department of Wildlife, Fisheries & Parks
Missouri:
Missouri Department of Natural Resources
Montana:
Montana Fish, Wildlife & Parks
Nebraska:
Nebraska Game and Parks Commission
Nevada:
New Hampshire:
New Hampshire Fish & Game Department
New Jersey:
New Jersey Division of Fish, Game & Wildlife
New Mexico:
New Mexico Game and Fish Department
New York:
New York Department of Environmental Conservation
North Carolina:
North Carolina Wildlife Resources Commission
North Dakota:
North Dakota Game & Fish Department
Ohio:
Oklahoma:
Oklahoma Department of Wildlife Conservation
Oregon:
Oregon Department of Fish & Wildlife
Pennsylvania:
Pennsylvania Fish & Boat Commission
Rhode Island:
Rhode Island Division of Fish & Wildlife
South Carolina:
South Carolina Department of Natural Resources
South Dakota:
South Dakota Department of Game, Fish & Parks
Tennessee:
Tennessee Wildlife Resources Agency
Texas:
Texas Parks & Wildlife Department
Utah:
Utah Division of Wildlife Resources
Vermont:
Vermont Department of Fish & Wildlife
Virginia:
Virginia Department of Game & Inland Fisheries (freshwater)
Virginia Marine Resources Commission (saltwater)
Washington:
Washington Department of Fish & Wildlife
West Virginia:
West Virginia Division of Natural Resources
Wisconsin:
Wisconsin Department of Natural Resources
Wyoming:
Wyoming Fish & Game Department