8 Essential Tips for Preparing a Successful Fishing Trip On a Boat
UPDATED 17 MAY 2023
by Robert Ceran
It's no secret that fishing from a boat is tons of fun, but it also requires proper planning to make sure everything goes according to plan. 
In this article, we'll share eight essential tips for preparing for a fishing trip on a boat, covering topics such as boat preparation, gear and equipment, weather and tide checks, safety measures, among others.
By sticking to these guidelines, you can enjoy yourself while putting more fish in the boat, and simultaneously ensure the safety of everyone on board.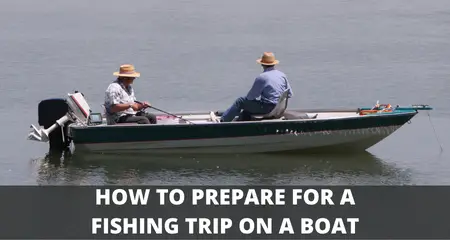 Preparing your boat
When fishing from a boat, it's crucial to have the appropriate accessories on hand. One piece of equipment to carefully consider is a set of boat outriggers for fishing. These outriggers not only masterfully stabilize your vessel but also enhance your odds of catching fish, resulting in a more seamless and secure overall angling experience.
It's helpful to know the different types of outriggers, of which the most important ones are fixed and telescoping outriggers.
Fixed outriggers are permanently attached to the boat, while telescoping outriggers can be extended and retracted as needed.
Choosing the right outriggers for your boat is crucial. You should consider factors such as material quality, weight capacity, and compatibility with your boat.
In general, it's a good idea to opt for top-notch outriggers constructed from durable materials that are capable of enduring the challenging conditions of the marine environment.
Fishing gear and tackle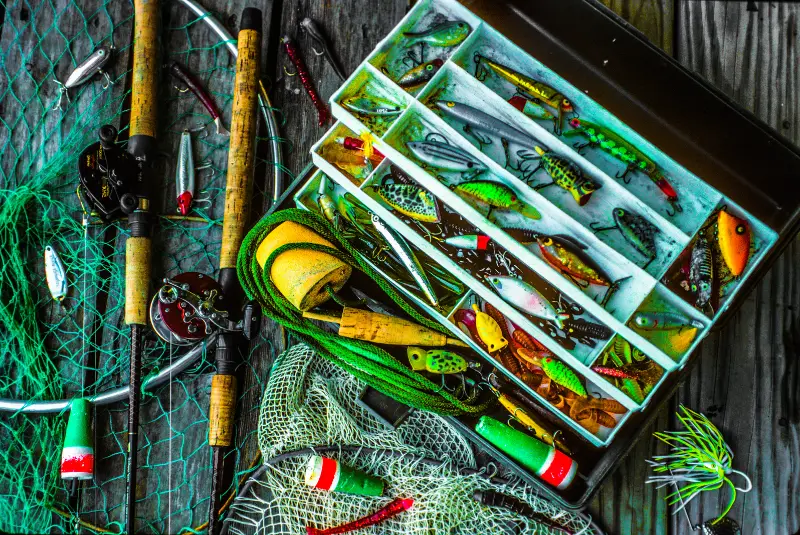 For a successful fishing trip, you'll need to pack the following tackle:
Fishing rods and reels: Choose fishing rods and reels suitable for the type of fishing and targeted species. Consider having a spare rod and reel in case of malfunction or breakage.
Fishing line: Bring extra fishing line, preferably of different strengths, to replace worn or broken lines.
Hooks: Carry a variety of hook sizes and types, tailored to the specific fish species you're targeting.
Tackle box: Use a tackle box or bag to store and organize your hooks, lures, sinkers, swivels, and other small items.
Lures and baits: Pack an assortment of fishing lure types (such as spinners, jigs, and plugs) and live or prepared baits to attract various fish species.
Sinkers and weights: Include various sinkers and weights to help your bait reach the desired depth.
Bobbers: Bring slip bobbers or sliding floats to keep your bait at a specific depth and indicate when a fish bites.
Pliers and line cutters: Have pliers for removing hooks from fish, cutting lines, and adjusting tackle. Line cutters or a sharp knife can be used for cutting fishing lines.
Landing net: Carry a landing net to safely and efficiently bring fish into the boat or onto the shore.
It's important to regularly inspect and change your fishing line, since it can wear out and get damaged with use. Be sure to look for any weak points or breaks in the line and replace damaged fishing line before setting out on your trip.
Organizing your fishing tackle is also crucial. Keep your gear well-organized and easily accessible so that you can quickly switch lures or tackle when needed. It is helpful to use tackle boxes or bags to keep everything neatly organized so you don't spend time searching for items.
Check weather and tides
Whenever you plan to go out on the water, it's essential to take into account the local weather conditions and tidal patterns. So check your local area's weather forecast and tide charts, which will help you to stay safe and choose the best fishing conditions.
Keep an eye on low pressure areas that are approaching, and pay special attention to storm warnings. Anybody who's been on a boat knows that the weather can change in the blink of an eye, and put you in a tough spot.
Additionally, keep in mind that tides can heavily impact fish activity, which will also affect the success of your fishing trip.
Therefore, it is crucial to check weather and tide schedules for the selected location and choose a time with moderate weather and a favorable tide. This preparation will lead to the best chances of success and safety on the water.
Safety measures
Safety is a top priority when undertaking any water activity, and fishing is no exception. Make sure that all the required safety equipment is present and easily accessible on your boat, including life jackets for all passengers, as well as a fire extinguisher.
It's also important to have basic boating knowledge and adhere to boating rules and regulations, such as carrying the necessary licenses and permits and observing no-wake zones.
Finally, make sure you know how to perform basic first aid, and have the equipment for signaling help, such as flares or a whistle. Know the contact details of the nearest emergency services and make sure you know how to reach them from your boat.
Food and drinks
Packing sufficient healthy food and drinks is essential for a successful fishing trip. Make sure to stay hydrated and well-fedd, as this will keep you energized and focused throughout the day, which not only feels better, but also makes you more effective at everything you do.
Cutting fruits and vegetables into bite-sized pieces, pre-packing snacks, and avoiding sugary drinks will help maximize the nutrients and satisfy hunger during a long day on the water.
Proper waste disposal
Proper waste disposal is essential to maintain a healthy ecosystem and protect natural resources. Leaving behind plastic bottles, trash, and other pollution on the water can harm animals, plants, and other aquatic life. 
Bringing garbage bags on the trip and packing out all waste, including fishing lines and lures, will help decrease the environmental impact and maintain the ecosystem.
Take Care of The Catch
Once caught, it's essential to handle and store the fish correctly. The fish should be placed on ice immediately in a cooler filled with ice, and kept out of direct sunlight. 
Additionally, consider using a fish scaler to clean the fish and remove the scales, making them ready for transportation home.
Conclusion
Overall, a successful fishing trip requires a lot of preparations if you want to make sure that nothing goes awry.
This article covers 8 essential tips that any beginner can use to prepare for a fishing adventure, from checking the weather and tides to properly disposing of waste. 
With proper planning, knowledge, and attention to detail, any fishing trip can become a fantastic adventure.