Ultralight Baitcasting Reel (Top 6 Models In 2022 Compared)
UPDATED 21 NOVEMBER 2022
by Robert Ceran
This article may contain affiliate links. If you make a purchase after clicking on a link we may earn a small commission at no extra cost to you.
If you want to use a baitcaster for lightweight fishing applications, you're probably researching the smallest baitcasting reels to use for your purposes.
And while there are many good low profile baitcasters on the market, most of them weigh between 7 and 8 oz, with some models weighing all the way up to 10 oz.
But when it comes to lightweight fishing tactics, it's definitely better to use reels that are lighter than 7 oz.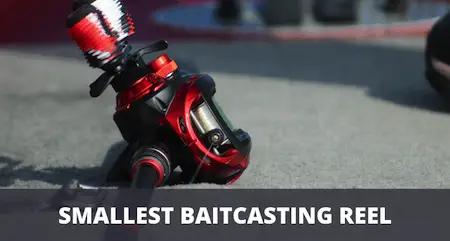 In order to help you to find the best mini baitcasters, we tested all models weighing less than 6.9 oz, and picked the top 6 performers for this review.
Smallest baitcaster reel – 2022 review
| Model name | Image | Price | Weight (oz) | Ball bearings | Gear ratio | Retrieve rate | Max drag (lb) | Verdict |
| --- | --- | --- | --- | --- | --- | --- | --- | --- |
| Shimano Aldebaran MGL | | | 4.8 | 10 | 6.5:1 to 7.4:1 | 26" to 29" | 10 | Smallest baitcaster |
| Daiwa Steez A TW | | | 5.3 | 13 | 6.3:1 to 8.1:1 | 26.3" to 29.9" | 10 | Best ultralight baitcaster |
| Piscifun Phantom Carbon | | | 5.7 | 7 | 7.0:1 | 30.3" | 17 | Best budget option |
| Shimano Curado 70 | | | 6.5 | 6 | 7.2:1 to 8.2:1 | 28" to 32" | 10 | Best finesse baitaster |
| Daiwa Tatula SV TW103 | | | 6.7 | 8 | 6.3:1 to 8.1:1 | 24.8" to 31.9" | 11 | Best for beginners |
| Abu Garcia Revo EXD | | | 6.8 | 11 | 5.4:1 to 8.0:1 | 23" to 35" | 20 | Best high speed option |
The table above compares the specs of the best micro baitcasters under 6.9 oz. We ranked them by weight, with the lightest models at the top of the table.
While we didn't include any models weighing 6.9 oz or more in this list, we did pick one high quality 6.9 oz model for honorable mention at the bottom of this article (see below).
Now let's take a closer look at each of these models.
1. Shimano Aldebaran MGL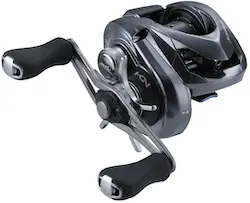 With a weight of 4.8 oz, the Shimano Aldebaran is by far the smallest baitcaster on the market, and when you hold it in your palm, it feels like a baby bird landed in your hand.
Until a few years ago, the Shimano core 50mg7 used to be the lightest Shimano baitcaster (weighing 5.6 oz), but has now been replaced by the Aldebaran MGL, which is even lighter.
The main reason why this ultra light baitcaster is so light is due to its magnesium frame. Magnesium is only half the weight of aluminum, and it is also significantly lighter than carbon.
In addition to its lightness of weight, the body is manufactured with Hagane cold forging technology, which results in a very high degree of strength and durability. Unlike most other reels, the Aldebaran doesn't deform under pressure. 
The aluminum spool is built with Magnumlite (MGL) technology, which also contributes to lightness of weight and reduces spool inertia during casting, thereby generating a high degree of casting distance and accuracy. 
The Aldebaran runs on 10 ball bearings, resulting in extremely smooth action, and since the bearings are shielded, this means you can use the reel in a saltwater environment without having to worry about sand or salt getting inside the bearings.
Features:
Enhanced pinion gear performance with X-Ship technology
S3D spool technology with reduced spool vibration
Cross carbon drag system with extremely smooth performance
2. Daiwa Steez A TW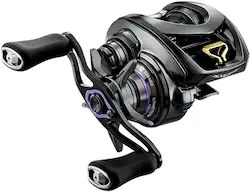 All things considered, the Steez A TW is currently the best ultralight baitcaster on the market.
In fact, Daiwa refers to it as "one of the finest baitcasting reels money can buy," and in our view, this is not an exaggeration, due to its quality build, superior technology, and high end features.
The only downside of the Steez is the relatively high price tag.
While the Aldebaran is a 50 size reel, the Daiwa Steez A TW is a 70 size reel, and so is slightly larger.
But at 5.3 oz, it is still extremely lightweight, and similar to the Aldebaran, this is due to being built with a magnesium frame and side plate.
The Daiwa Pixy used to be the smallest baitcaster, but was discontinued a few years ago, and now the Steez A TW has replaced it as the smallest Daiwa baitcaster. 
With a total of 13 ball bearings (12 regular ball bearings plus 1 roller bearing), the Daiwa Steez is the smoothest baitcaster in this review, and thus combines lightness of weight with buttery smooth retrieval action, which is ideal for most casting applications.
It has a dual braking system that utilizes both magnetic and centrifugal brakes, which provides highly effective anti-backlash functionality. In addition, the TW spool is built with extremely lightweight G1 aluminum alloy. 
Features:
Air Brake dual brake system
Large handle with ergonomic EVA grips
Magnesium frame & side cover
3. Piscifun Phantom Carbon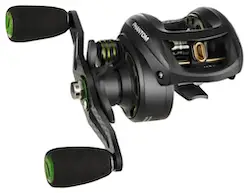 The Piscifun Phantom Carbon is the best budget option on this list.
Retailing at less than 90 dollars, it is significantly cheaper than the other models, while still providing a good lightweight reel with a very solid performance.
At 5.7 oz, the Piscifun Phantom Carbon is a little heavier than the Daiwa Steez, which is due to the fact that it is built with Carbon, which is heavier than Magnesium.
Having said that, its full carbon body, hollow aluminum spool and carbon fiber handle still make it significantly lighter than the majority of other baitcaster models, which usually incorporate a significant amount of metal parts. 
While the Piscifun Phantom Carbon does have an anodized aluminum main gear and shaft,
its full carbon build does tend to warp more readily under high pressure than metal baitcasters, which means you probably shouldn't use this reel for power applications that involve wrestling trophy sized fish away from heavy cover. 
On the other hand, the Phantom Carbon does have a dual braking system, which helps to avoid baitcaster backlash, and makes it very beginner-friendly.
Features:
Dual brake system
Carbon fiber drag with up to 17 lbs drag power
CNC hollow spool
4. Shimano Curado 70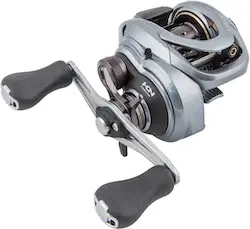 The Shimano Curado 70 is currently the best finesse baitcasting reel, due to its high quality casting performance with lightweight lures.
It is also more competitively priced than either the Aldebaran or the Steez, which explains why it's currently the most popular small baitcasting reel. 
In contrast to the Aldebaran and the Steez, the Curado 70 is built with aluminum instead of magnesium, which explains its heavier weight (6.5 oz).
However, this still qualifies it as a lightweight baitcaster, and just like the Shimano Aldebaran it is built with advanced Hagane technology, which results in a very high degree of strength and durability.
The excellent casting performance of the Curado 70 stems from its SVS Infinity brake system.
The brakes of this system use inner friction against the spool raceway during the casting process, which is great for controlling spool rotation when using lighter finesse lures. 
Unlike the Aldebaran (which is a 50 size reel), the Curado is a 70 size reel, which makes it slightly larger in your palm.
For many people, the 70 size is the ideal choice as a lightweight baitcaster size to use, since the 50 size can be a little too small to use comfortably for some
Features:
SVS Infinity brake system
Shielded ball bearings
Super Freel Spool technology eliminates friction
5. Daiwa Tatula SV TW103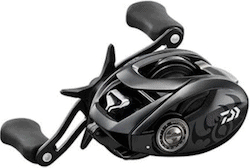 Weighing 6.7 oz the Tatula SV TW103 is the lightest reel in the Tatula lineup, replacing  the Tatula 100, which weighs 6.9 oz.
And similar to the Steez, the Tatula SV TW103 comes with an SV spool designed of G1 aluminum alloy for lightness.
But unlike the Steez (which is built with magnesium), it is built with an aluminum frame and side plate, which explains its slightly heavier weight. 
One of the biggest strengths of the Tatula SV TW103 stems from its Air Brake system which combines both magnetic and centrifugal brakes.
This brake system enables highly accurate control over spool rotation during the cast, which is essential for casting lightweight lures without generating backlash.
Together with the Zero Adjust spool tension control system plus T-Wing level wind, the overall result is a high degree of casting accuracy with this reel.
This is a 100 size reel, which is a little larger than the previous models. But this size also makes it easier to operate for beginners, who need to get used to operating all the small knobs and levers on a baitcaster.
Combined with its effective dual brake anti-backlash technology, this makes the Tatula SV TW103 the best small baitcaster for beginners. 
Features:
Air brake dual brake system
Available in 3 different speeds
Ergonomic handle with soft touch EVA knobs
6. Abu Garcia Revo EXD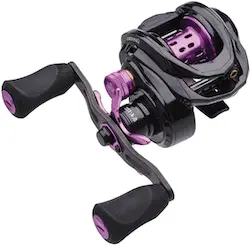 The Revo EXD is the lightest Abu Garcia baitcaster (weighing 6.8 oz), and is the best high speed option on this list.
With a retrieve speed of up to 35" per turn of the handle, the 8.1:1 gear ratio variant is significantly faster than the other models.
Built with an aluminum alloy frame plus C6 carbon side plates, the Revo EXD is a little heavier than the other models discussed so far, but it's still lighter than the majority of baitcasting reels on the market, and works well for finesse applications due to its two additional EXD ball bearings on the spool shaft, which generate superior casting performance. 
In fact, the Revo EXD is delivered with an additional finesse spool, which is specifically designed for fishing with lightweight lines and lures – this is a testimony to the fact that Abu Garcia intended it for this purpose.
Features:
Stainless steel ball bearings
Frictionless spool design due to 2 EXD bearings on spool shaft
Extra light Infini spool
Honorable mention
Daiwa Tatula 100

At 6.9 oz, the Tatula 100 is not the lightest reel in the Tatula lineup anymore (having been replaced with the Tatula SV TW103, which weighs slightly less at 6.7 oz).
But we decided to give it an honorable mention here, since it has been one of the most popular lightweight baitcasting reels for bass fishing over many years. 
The Tatula 100 comes with a lot of the same features and technology as the Tatula SV TW103, except that it doesn't include the Air Brake system (which is a dual brake system). Instead it has the Magforce brake system, which relies only on magnetic brakes.
So, the main advantage of the Tatula 100 is that it retails at about $50 less than the Tatula SV TW103.
Bottom line: if you're a beginner, paying the extra money for a reel with anti-backlash technology is definitely worth it. On the other hand, if you're already adept at fishing with this reel type, you'll probably do just as well with the Tatula 100.
What is the lightest baitcasting reel?
The lightest baitcasting reel 2022 is the Shimano Aldebaran MGL, which weighs a mere 4.8 oz. In addition to its featherweight, it's a 50 size reel, making the Shimano Aldebaran the smallest baitcaster reel on the market, and providing a great mini baitcasting reel for fishing with lightweight lures.
The small size of this baitcasting reel also makes it ideal for people with smaller hands (kids, for example).
What is the best ultralight baitcasting reel?
The best ultralight baitcaster is the Daiwa Steez CT SV. Weighting only 5.3 oz, it's built with a lightweight magnesium frame and side cover.
In addition to its lightness of weight, it also comes with 13 ball bearings that provide extremely smooth retrieval action, and it employs a dual brake system combining both centrifugal and magnetic brakes.
This dual brake system enables a high degree of spool rotation control while casting, which is extremely helpful for casting lighter lures. 
What is the best finesse baitcasting reel?
The best finesse baitcaster is the Shimano Curado 70. It comes with extremely high quality casting performance when it comes to fishing with lightweight finesse lures.
This is due to its SVS Infinity brake system, which applies inner friction to the spool raceway during the cast.
This technology is extremely helpful for avoiding backlash and birds nest formation when fishing with finesse lures, which are notoriously difficult to throw with a casting rod, especially if there's a head wind.
What line should you spool on an ultralight baitcaster?
The best line to spool on an ultra light baitcaster is 6 to 10 lb test fluorocarbon line.
Keep in mind that an ultralight baitcaster has a smaller line capacity than a bigger reel, and in order to fill it with enough line, it's better to use a low pound test strength line, which has a smaller diameter.
In addition, this will also perform better when casting lightweight lures and rigs.
Final remarks
This concludes our review of the most important ultralight baitcasting reels on the market. Hopefully one of the models is well suited for your purposes.
In case you're a beginner, you may want to practice with an average size reel first before getting a smaller model.
Fishing with this type of reel is hard enough to master for beginners, so you don't want to make it even more difficult.