Spanish Mackerel Fishing With Light Tackle (3 Expert Tips)
UPDATED 17 MAY 2023
by Robert Ceran
Spanish mackerel come to the Outer Banks when it is warm. They come to the southern end of North Carolina in late spring and move north along the whole coast of the state, following the warm water. Anglers chase them all summer long.
These slim, silver fish move quickly and travel in groups. Sometimes they can be picky and hard to catch because they jump out of the water on their own and refuse to eat bait or lures. But that's more the exception than the rule.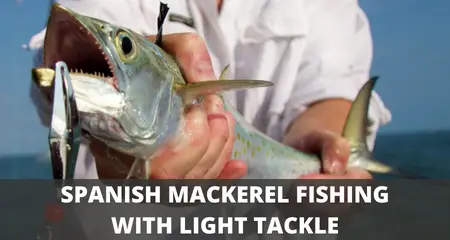 Anglers can catch Spanish mackerel in the surf, from a pier, or from a boat. However, boaters have the best chance, and trolling is the most popular way to catch them.
Trolling is the most effective way to catch spanish mackerel
Most charter boat captains agree that the best way to catch a limit of fish when they are interested in a lure is to use the same exact method.
Most of the time, they will troll a small Clark spoon on a 20- to 30-pound-test monofilament leader and add a 3–6-ounce in-line trolling sinker to the line. Long hooks work best.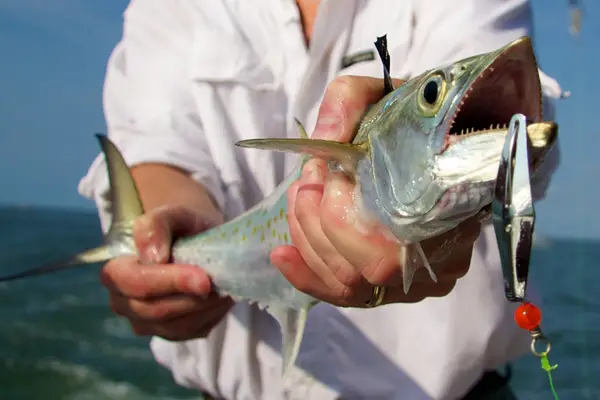 The minimum distance behind the boat is ten feet, and on some days, it may be necessary to double that. And to catch these fast-swimming fish, you have to move the boat quickly.
When the fish are holding close to the bottom, downriggers or planers help the lures get in front of them more effectively. This is especially true on very hot, calm days when fish are active near the surface in the morning but move deeper in the water as the sun rises.
Try using light spinning tackle for spanish mackerel
While you can catch a lot of Spanish mackerel with trolling, it might not be the most fun. I don't think it's cool to drag a 3-pound fish behind a 6-ounce trolling sinker or a planer.
Because of this, I like to "lighten up" my tackle so these fish can show what they can do. My favorite set is a 7-foot spinning rod with an 8-pound test monofilament line on the reel.
How to find spanish mackerel
Spanish mackerel are nearshore fish that are easy to catch if you have a boat that can get through the inlets safely.
Most of my Spanish mackerel fishing happens around Oregon Inlet, and if macks are my goal for the day, I try to get my boat out on the water as soon as it gets light.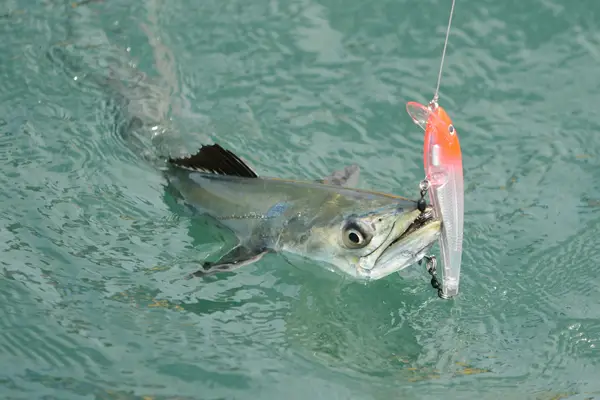 It's true that you'll have to deal with mosquitoes and no-see-ums at the boat ramp, but it's worth it!
The macks are most likely to show up early in the morning when the ocean is calm. I usually speed up to the bridge and then slow down as I get close to it.
As soon as I pass the Oregon Inlet Bridge, I'll slow down to a fast idle and start looking for fish that jump or break, as well as birds feeding on fish.
I've caught fish a few hundred yards from the bridge more than once.
When I see a school of fish, I may move slowly toward them or turn off the engine and use the electric trolling motor to get closer until we are close enough to throw a lure at them.
What lures should you use for spanish mackerel?
Most of the time, macks eat small silversides, so it's best to use a lure type that "matches the hatch," like a 1/2 ounce to 3/4 ounce Hopkins, Kastmaster, Bass Pro Shops Strata, or jigging lure like a Got-Cha.
Anglers who fish from piers often use Got-Cha plugs, while surfcasters and boaters like to use stingsilvers.
Got-cha lures work well when the fish are deep in the water, which happens a lot in the summer when it's hot and sunny.
Macks have sharp teeth and good eyesight, but the safety of a wire leader will make them less likely to strike.
Some fish are lost when their razor-sharp teeth cut through it, but 18 inches of 20 to 25-pound test mono attached to the running line with a blood knot lets the small lure work naturally, and the leader gives you a "handle" to pull the fish into the boat.
These fish hit lures hard, and catching a 2- or 3-pound Spanish on a light rod is a lot of fun. 
Follow the fish
When you find a school of spanish mackerel, they will move quickly and quickly all around the boat, and most people on the boat catch fish on their first cast.
But by the time all of the fish are caught and put in the boat, the school has moved on, so the hunt has to start over.
Use live bait when spanish mackerel won't eat lures
When mackerel are breaking, free jumping, and showering bait but won't eat an artificial lure, they rarely won't eat a live bait.
It's impossible to catch macks with the small silversides they usually eat, but a "mullet minnow" the size of your finger or smaller is hard for them to turn down.
I try to catch a couple dozen mullet near the boat ramp with a cast net, and put them in the live bait well "just in case."
Again, I use light spinning rods and a miniature live bait rig, which is similar to what we use for king mackerel.
I might use one #6 bronze-finished treble hook or a single bronze-finished #1 short-shank live bait hook.
Wire is needed here because macks often eat the whole bait, but I only use a few inches of single-strand, bronze-finished #5 wire attached to a short piece of 20-pound mono with a #12 miniature black swivel.
The live bait won't be thrown nearly as far as a lure, but the light rods and line will get you far enough. If the macks don't go after the mullet right away, they usually hit it after it sinks a few feet.
Don't keep more fish than you can eat fresh
I don't want to catch my daily limit of ten fish because I rarely keep more fish than my family can eat right away.
The soft meat of Spanish mackerel is tasty when cooked fresh, especially on the grill with a lemon and butter sauce. Macks do not freeze well, which is another reason not to load the boat with fish.
Final remarks
Next summer, when the macks are biting, put away your trolling gear, get out your small rods, and "lighten up" to get the most fun out of these sporty little fish.