American Made Spinning Reels (2022 List)
UPDATED 10 MAY 2022
by Robert Ceran

If you're looking for spinning reels made in the USA, chances are you're a little frustrated, as it can be hard to find them, due to the fact that the market is flooded with imported models. 
That's why we put together a list of the American made spinning reels available in 2022, and created this article, which includes an overview of the models produced domestically.
We'll walk you through their key specs and will discuss what they are ideally suited for, so you can choose the best one for your purposes.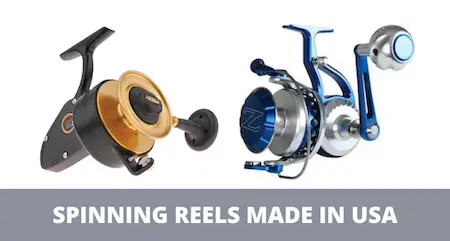 Spinning reels made in USA in 2022
| Model name | Image | Price | Ball bearings | Gear ratio | Retrieve rate | Max drag (lb) | Weight (oz) |
| --- | --- | --- | --- | --- | --- | --- | --- |
| Accurate TwinSpin series | | | 14 | 4.1:1 - 6.1:1 | 26" - 45" | 15 - 40 | 10.0 - 47.0 |
| ZeeBaaS zx2 series | | | 10 | 4.75:1 | 29" - 39.5" | 25 - 40 | 19.3 - 22.4 |
| IRT Spinning Reels | | | 9 | 4.5:1 - 65.9:1 | 27" - 34" | 25 - 30 | 12.7 - 17.0 |
| Penn Torque II | | | 10 | 5.5:1 - 6.0:1 | 38" - 50" | 40 - 60 | 19.5 - 27.8 |
| Penn Z series | | | 3 | 3.8:1 | 30" - 33" | 15 | 22.8 - 23.5 |
The table above compares the key specs of american-made spinning reels in 2022.
Below is a list of all the spinning reels that are produced in the USA:
Accurate TwinSpin
ZeeBaaS zx2
IRT spinning reels
Penn Torque II
Penn Z
As you can see, this is a rather short list, since only a handful of companies currently produce their models locally, while the vast majority is imported from other countries (and most of those are from China).
So if you're looking for a spinning reel not made in China, these 5 series are a great place to start.
Now let's look at each of these series in more detail, to give you a better idea of what their specs are, and what each of them is ideally suited for.
Accurate TwinSpin series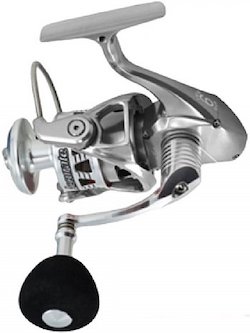 The Accurate TwinSpin series is designed for heavy saltwater fishing applications.
One of its key features is the twin drag system, which uses high quality titanium drag washers on both sides of the spool to generate more pressure.
As a result, it can generate up to 40 lb maximum drag pressure, which provides enough power to fight some of the biggest ocean fishes, including tuna, marlin and trevally.
All components of the Accurate TwinSpin are machined from high grade materials, including stainless steel gears, springs and other internal parts, as well as a whopping 14 stainless steel ball bearings, making this a very smooth reel to fish with.
The spool is designed with a series of holes around the edge, to help with ventilation and keep it from overheating when fighting big fish.
Where are Accurate reels made?
Accurate reels are hand built in Corona, California, using components that are mostly sourced domestically, while a few parts are imported from other countries.
Features:
TwinDrag system with up to 40 lb max drag power
Highly durable construction
Titanium drag plates
ZeeBaaS zx2 series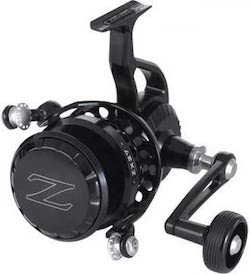 The ZeeBaaS zx2 spinning lineup is designed to deliver an uncompromising high-end user experience, and is intended primarily as a saltwater spinning reel. It comes either as a bail-less version (used for surf fishing), or with a full bail (which is the more popular version).
The aluminum body of the zx2 is entirely sealed, making it fully waterproof, and thus ideal for saltwater environments. Similar to the Penn Torque II, it can function even when fully submerged in saltwater (while most regular models would cease working after half a turn of the handle).
The zx2 series is built with the finest materials available, and comes in two different finishes: an all silver or a more stealth look of deep black. One of the most impressive features of this lineup is the high power drag system, which delivers up to 40 lb of drag power, able to handle even heavyweight ocean fighters such as giant trevally, sailfish and marlin. 
Where are ZeeBaaS reels made?
ZeeBaaS reels are hand built in their company office in Stratford, Connecticut. Approximately 80% of the parts are sourced domestically, while the remaining 20% are sourced from other countries.
Since these reels are handmade by skilled technicians in the USA, they come at a significant cost. On top of that it's quite hard to find them in tackle shops, since there just aren't that many of them around. However, Tackledirect does offer the zx2 series for online purchase, and you can also contact ZeeBaaS directly on their website to order one of their models.
Features:
35 to 40 lb max drag power
Fully waterproof construction
Durable aluminum body
IRT Spinning Reels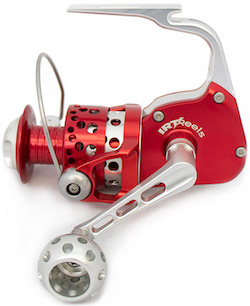 All IRT Spinning Reels are hand-crafted in the USA, and are designed to provide a high end user performance. The company was founded by ex employees of Penn, who wanted to design and build high quality products locally, instead of importing cheap foreign brands. 
The IRT lineup comes in 3 different sizes (300, 400, & 500), and boasts the following features: aluminum body, carbon fiber kevlar drag system, sealed stainless steel ball bearings, and insta-clutch technology. The aluminum body has been treated with salt spray anodizing that provides extra corrosion resistance for difficult marine environments.
The smallest IRT model (the IRT300DD) comes with a solid 25 pounds of max drag pressure, powered by its carbon fiber kevlar drag. In addition to this, the larger IRT400DD and IRT500DD models come with a dual drag system that combines the primary drag with a secondary drag at the top of the spool, adding another 5 to 10 pounds of drag pressure.
Due to their anti-corrosion features, all IRT models are ideal for salt water environments, but can also be readily used for freshwater fishing applications. In fact, the 300 size model is a great option for freshwater bass fishing (for more details on choosing the right size model, check out our in-depth guide on spinning reel sizes).
The durability of the anodized aluminum frame combined with the sealed ball bearings ensure that the IRT series can be used in punishing marine environments all day long without worry about corrosion. Low maintenance means less time troubleshooting your gear, and more time fighting fish.
Where are IRT reels made?
IRT reels are handcrafted in Pine Grove, Pennsylvania, using both domestically and internationally sourced components. So, if you're looking for american made fishing reels, rest assured that IRT reels are designed, manufactured and hand-machined in the USA.

Features:
Limited lifetime warranty
Kevlar dual-drag system
Salt-spray anodized aluminum build
Penn Torque II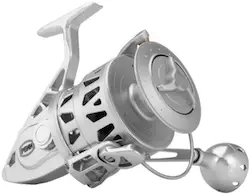 The Penn Torque II is intended for heavy saltwater fishing applications – usually offshore boat fishing, but it can also be used effectively from shore. This lineup is built with quality materials, and features the new IPX6 Sealing System designed by Penn to keep saltwater out of the body, as well as the waterproof spool. The IPX6 sealing is so effective that you can submerge the Torque II in saltwater and crank the handle underwater, and it won't seize up.
The Torque II comes in three sizes (5500, 7500, and 9500), which are bigger than the IRT series, and all Torque II sizes are big enough to handle the challenges of heavy duty marine fishing.
Designed with 9 plus 1 steel ball bearings, the Torque II has the smoothest retrieval action of all Penn models. It also comes with an updated Dura-Drag system that is more durable than previous versions, but has a smooth action so you can fight even the biggest fishes without any hiccups. It's designed and manufactured in the USA, though some of the parts are imported from overseas.
Where are Penn Torque II reels made?
Penn Torque II reels are made in Philadelphia, Pennsylvania, using a combination of domestically and internationally sourced components. 
Features:
Full metal rotor, frame, and sideplate
IPX6 watertight sealing
9 plus 1 ball bearings
Powerful Dura-Drag system
Penn Z Series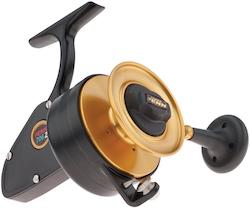 The Penn Z Series was originally designed 50 years ago and later phased out. It was recently re-introduced due to popular demand, and is available in two variants: the 706Z, which comes without a bail, and the 704Z, which is built with a bail.
The Z Series is intended primarily as a surf spinning reel, and  similar to other models built for surf casting, one version of the 706Z comes without bail. The bailless design is very popular among surf anglers. The reason for this is that the bail is one of parts of a fishing reel which is most susceptible to corrosion when exposed to saltwater. And by eliminating the bail, it becomes much more durable, even when regularly exposed to saltwater and sand (a regular occurrence while surf fishing).
Most people who have used a Z Series model agree that they are built to last, and some anglers have used them over a period of 20 years or more without a problem. And in spite of this impressive quality, the pricing is relatively affordable (more so than most other models made in the USA).
Where are Penn Z spinning reels made?
Penn Z reels are made in Philadelphia, Pennsylvania, using a combination of domestically and internationally sourced components. 
Features:
Metal frame with graphite side plates
Machined anodized aluminum spool
HT-100 drag system
Which Penn reels are made in USA?
The following Penn reels are manufactured in USA:
Torque II series
Z series
Senator series
International series
Out of these four series, the Torque II and Z series are spinning models, while the other two are conventional reels used mostly for saltwater trolling. All of these models are built in the manufacturing plant of the Penn Fishing Tackle Company in Philadelphia, PA. The remaining Penn reels are made in China.
See also: What is the best Penn spinning reel?
Are Zebco reels made in USA?
No – all Zebco reels are made in China. While the company headquarters are still located in Tulsa, Oklahoma, none of their reels have been manufactured there any more since 2000.
Why buy American made spinning reels?
The main difference between spinning reels made in the USA and those imported from other countries is that the quality of the machining tends to be higher in the US, compared to that in developing countries. In fact, most of the models discussed above are hand-machined in the US, which makes a huge difference when it comes to quality.
See also: Most common spinning reel problems explained
The first thing you need to understand is the difference between an American-made product and an American-designed product. An American made product, like all the models discussed in this article, can have some of its parts manufactured outside of the country, but it is still assembled in the USA. On the other hand, products that are designed in America but manufactured overseas (like most Penn models, and all Zebco and Pfueger reels) aren't American made products, no matter where they're put together.
The irony here is that many of the components used for American made fishing reels are actually sourced from other countries – in fact none of the models discussed above are entirely built with locally sourced parts. However, the way they are machined and assembled in domestic plants is of a higher standard, and this can result in a product with significantly higher durability, better performance, and unmatched user experience.
See also: Spinning reel maintenance 101
In addition, buying well-made equipment not only results in a quality fishing experience, but can also save money for you in the long run, since you won't need to replace high end models as often as cheaper models built with subpar materials.
Finally, another consideration when choosing fishing reels made in the USA is that buying foreign models can cost jobs in America, as it floods the market with cheap imported products, and thus creates competition for small businesses making high quality fishing tackle locally. So buying local products is a great way to help small businesses recover from the effects of the pandemic.
What to look for in a high quality fishing reel
If you want the best value for your money, it's important to know what to look for in a high end fishing reel. Some of the most important features it should have include high quality build materials, a powerful drag system, and smooth retrieval action.
Let's take a look at the components of a good reel – look for a model that has a stainless steel frame (either aluminum or magnesium) treated with anodizing technology to make it more resistant to corrosion. In addition to this, high end saltwater reels should have sealing technology to stop water from getting inside them. They should also have sealed ball bearings and other internal components for smooth gear action, which will ensure a smooth retrieve action when you turn the handle.
See also: When to respool your spinning reel
A good drag system is another crucial component to look for, and should come with high quality drag washers, which can generate a higher maximum pressure (plus a wider range of pressures). And ideally it should be sealed, which protects it from corrosion.
One last thing to keep in mind: higher quality reels are better suited for catching big fish that fight hard, since these models usually come with a more durable construction that doesn't deform under pressure, as well as a more powerful drag system, which are both essential features when battling strong fish.
Finally – when purchasing a high end model, make sure that it has an excellent reputation among other users!
Additional resources: