5 Things You Need To Know About Using A Paddle Board With Trolling Motor
UPDATED 17 MAY 2023
While SUP paddle boards are traditionally powered with a paddle, I'm often asked if you can also run them with a trolling motor.
At first glance, putting a trolling motor on a paddle board may not seem like a good idea.
But as you probably know, trolling motors are often used with kayaks, which are in many ways similar to paddle boards. 
So is it possible to mount a trolling motor on a paddle board? \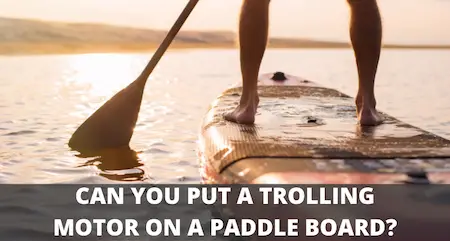 The answer is yes – absolutely, and in this article we'll cover what you need to know about doing this correctly.
Can you put a trolling motor on a paddle board?
Yes, you can put a trolling motor on a paddle board, but it needs to be big enough for this purpose.
Since paddle boards come in a wide range of sizes (the smallest built to carry less than 150 pounds), you really need to make sure that your paddle board is big enough to carry both your weight and the extra weight of a trolling motor plus battery.
In addition to fulfilling this requirement, the paddle board also needs to have enough stability so it doesn't capsize if you mount the trolling motor with a side mount bracket.
In order to make sure this is indeed the case, it's best to choose the largest paddle board sizes for use with a trolling motor, which are built to carry more than 225 pounds of weight, and are at least 32 inches wide.
What are the advantages of using a paddle board with a trolling motor?
Since paddle boards have a very shallow draft, they can be used on small lakes, rivers, or even shallow coastal waters that are not accessible to larger vessels.
And by putting a trolling motor on them, this gives you the ability to navigate around these waters quickly and without tiring yourself out, which makes it a very attractive option for anglers.
Especially when using an inflatable paddle board with a trolling motor, this makes it very easy to transport and set up almost anywhere, enabling you to fish in locations that would otherwise be hard to reach, or even unfishable.
How fast can a paddle board go with a trolling motor?
A paddle board can go up to 4 to 5 miles per hour with a trolling motor, depending on the power of the trolling motor and the fully loaded weight of the paddle board.
Since paddle boards are generally very lightweight compared to boats, a 55 lb thrust trolling motor can easily generate top speeds between 4 and 5 mph.
But it's important to note that 5 mph is the maximum speed you can generate with a trolling motor under any circumstances (independently of its power or board weight).
This is because trolling motors are built with a maximum RPM frequency, and just can't go above this speed.
With that being said, 4 to 5 mph is plenty fast enough for a paddle board, and if you prefer to go faster than that, it's better to use a real boat, which is built to withstand higher speeds. 
What size trolling motor do you need for a paddle board?
While a 20 to 30 pound thrust trolling motor is ideal for most paddle boards, you can go up to 55 lb thrust if your paddle board is on the large size.
In general, since paddle boards are much lighter than boats, you don't need to use large trolling motor sizes north of 55 lb thrust to power them effectively.
In terms of shaft length, it's best to go with a 24 or 36 inch shaft, which is also the shaft length of a kayak trolling motor. Most trolling motor brands, including Minn Kota and MotorGuide, make trolling motors with 36 inch shafts, though it can be hard to find them at times.
Finally, another important consideration is the weight of the battery.
Needless to say, you'll want to keep this as low as possible, which is why you should go with a 12 volt trolling motor, as you can run that with a single 12V battery (while a 24 volt trolling motor requires two 12V batteries).
Where should you mount a trolling motor on a paddle board?
Some paddle boards are wide enough to allow you to use a transom mount for your trolling motor (which is at the rear end of the board). 
In fact, the paddle board brand Fish Stalker produces a mounting system specifically designed for transom mounting a trolling motor on the back of their inflatable paddle boards, which are 34 inches wide.
However, if the shape of your paddle board's transom doesn't accommodate a mounting bracket, or if your board is a little too narrow for this, another great option is to use a side mount.
Side mounting is also the most common trolling motor mounting option used on kayaks, and the great thing about this is that you can easily adapt one of the many kayak mounting brackets, and attach it to the top surface of your paddle board.
Personally, I like to install the side mount bracket straddling the paddle board right behind the position where I sit on the board, as that allows me to reach behind me to steer the motor with the tiller. 
However, some people prefer to place the mounting bracket just in front of their seat, so they can reach forward to control the tiller, instead of behind them.
If you choose this latter option, it's best to rotate the head of the trolling motor by 180 degrees, so the tiller points backwards, which makes it easier to reach from behind.
Do you need to register a paddle board with a trolling motor?
Yes, you need to register a paddle board with a trolling motor in most US states.
While a regular paddle board doesn't need to be registered, as soon as you put a trolling motor on it, it must be registered in the majority of states, and counts as a motorized vessel.
Currently, there are 3 US states that provide exceptions to this rule. Florida and Georgia don't require a license if you use your motorized paddle board exclusively on a private lake or pond, and Washington state allows you to use a motorized paddle board without registration on non-federal waters.