Humminbird 360 Troubleshooting (5 Issues You Need To Know)
UPDATED 19 SEPTEMBER 2023
by Robert Ceran
Is your Humminbird Mega 360 not working properly?
While Humminbird 360 imaging is a game changer for anglers everywhere, even this high end sonar technology can run into problems at times.
Luckily, most Humminbird Mega 360 issues are easy to troubleshoot, and can often be solved by making a few minor adjustments.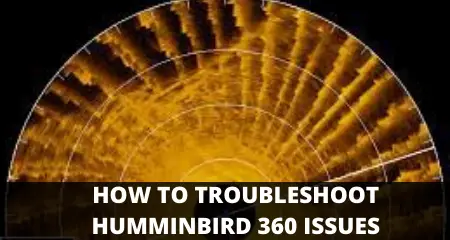 In this article we'll walk you through the most common Humminbird 360 problems, and how to troubleshoot them effectively.
What are the most common Humminbird 360 problems?
The most common Humminbird 360 issues are:
Failure to connect
Sonar interference
Trolling motor interference
Failure to deploy
Software incompatibility
Let's take a closer look at these Humminbird Mega 360 problems, and discuss how to diagnose each of these issues, as well as the best way to troubleshoot them.
Humminbird 360 not connecting
A relatively common 360 problem is failure of the transducer to connect with the head unit, in which case you'll get the message, "Humminbird Mega 360 not detected."
If this happens to you, the first thing to check is whether your display unit is actually compatible with Mega 360 imaging, and if you're using the correct cable to connect them. 
Always make sure you use the cable that comes with the Mega 360 transducer, even if you have a different cable that looks similar.
Next, check that the Mega 360 power supply is properly connected and working. In many cases, this is the problem that needs to be fixed.
Another problem that can cause a Mega 360 transducer to fail to connect is if you're running it through a 5-port ethernet switch.
If that's the issue, then try connecting the Mega 360 transducer directly to a control unit to check whether it connects correctly in that case. If yes, then you know there's a problem with the ethernet switch.
A fourth problem why a Mega 360 transducer may fail to connect is if there is software incompatibility issue. So make sure that both the Mega 360 transducer and your head unit have the latest software version installed.
You can check the software version of your Mega 360 transducer by looking at "Accessory Test" on your display unit.
If you're not sure whether your head unit is compatible with your 360 imaging, check out our article on what units are compatible with Humminbird 360? 
Humminbird 360 interference problems (wagon wheel effect)
Probably the most common Humminbird 360 problem is sonar interference, which is often caused by other fish finder transducers transmitting at a similar wavelength.
In addition to sonar interference, it's also possible to get interference from your trolling motor.
In both cases, the interference problem shows up as a wagon wheel on your display, with radial lines that resemble the spokes of a wagon wheel. 
Sonar interference
Sonar interference is caused by another sonar transducer using a similar frequency to your 360 transducer.
An easy fix for this problem is to turn off all other transducers when you're using 360 imaging, since you don't need to use them anyways when your boat is stationary.
Another way to reduce or avoid interference is by making sure that your other transducers are transmitting at a different frequency.
For example, if you're using a Mega 360 transducer, it transmits CHIRP in the 1.2 megahertz range. In that case, set your other transducers to transmit at 455 or 800 kHz, and that should get rid of any interference. 
If you're using the older, non Mega version of Humminbird 360, that transmits CHIRP at 455 kHz, so in that case you'll need to make sure that your other transducers don't use a similar frequency.
Trolling motor interference
A trolling motor can also cause Humminbird 360 interference, which is usually caused by electrical interference when the trolling motor is turned on, or when you use its electrical steering.
While people try a lot of different tricks and tweaks to reduce electrical interference from a trolling motor (such as grounding it, or using ferrite rings on the cables), I've found the easiest fix for Mega 360 interference from the trolling motor is to adjust the "Noise Filter" setting on the 360 menu (which you can find on the "Sonar" menu). 
The best way to find the right Noise Filter setting is by turning on the trolling motor, and then adjusting the Noise Filter number until you find a setting that gets rid of the wagon wheel problem on your screen.
If you're not sure whether to get 360 imaging for your boat, check out our article: is Humminbird Mega 360 worth the money?
Humminbird 360 won't deploy
The original non Mega 360 transducer came with a deployment arm that could be extended or retracted to position the imaging pod at the right depth in the water.
However, this version was discontinued by Humminbird after the new Mega 360 transducer was released in 2018, since the new mount is mechanically deployed when mounted on a trolling motor, or manually deployed when using the Humminbird universal mount.
If you have the older version of Humminbird 360, and it fails to deploy, a common cause for this issue is that the transducer is not connected properly, or because there is a software compatibility issue. 
In order to troubleshoot this problem, make sure that you have the latest version of software installed, check the ethernet connection, and make sure that the head unit indicates that the transducer is connected. 
If you're not sure about your version of 360 transducer, check out our article on what are the differences between Humminbird 360 vs Mega 360?
Humminbird 360 leaking oil
The original non-Mega 360 transducer contains oil inside its imaging pod, and as a result of this setup, damage to the pod can lead to leaking of oil.
This problem is most often caused by the pod bumping into rocks, or other hard objects. However, the new Mega 360 transducer doesn't contain oil or any other liquids, and so doesn't have this issue.
If you have a problem with a non Mega 360 transducer that's leaking oil, the best option is to send it in to Humminbird in order to get the damage fixed and the oil replenished. 
Problems caused by Humminbird 360 software updates
Another common cause of Humminbird 360 issues is due to incompatible versions of software being installed. This can cause a problem if you are networking several Humminbird units with different versions of software that are not compatible with each other. 
How to check your Mega 360 software version
You can check which software version your Mega 360 is using by connecting it to a compatible head unit, and then checking the "Accessory Test" screen, where the software version will be listed right next to Mega 360 on the menu.
As a rule of thumb, always make sure that both your Mega 360 and your head unit have the latest version of software installed.
The latest versions of Humminbird software are listed on this page. In addition, also make sure that all other networked units have the latest software version installed.