What Is The Best Fish Finder Under 200? (2023 Review)
UPDATED 15 MAY 2023
by Robert Ceran
This article may contain affiliate links. If you make a purchase after clicking on a link we may earn a small commission at no extra cost to you.
Are you looking for a new fish finder under $200, but aren't sure which model offers the best value at this price point?
My team and I tested the most popular fish finders retailing at less than 200 dollars, and evaluated them on sonar capabilities, display size, resolution, and overall performance.
Based on our testing, here are our picks for the best fish finder under $200 in 2023: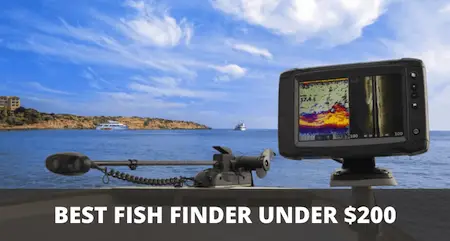 The best fish finders under 200 reviewed
| Model name | Image | Price | Our verdict | Display | Screen resolution | CHIRP | Split screen |
| --- | --- | --- | --- | --- | --- | --- | --- |
| Lowrance Hook2 4x Bullet | | | Best fish finder under 200 dollars | 4.3" | 480 x 270 | Yes | Yes |
| Humminbird Helix 5 G2 | | | Best screen performance | 5" | 800 x 480 | No | No |
| Garmin Striker 4 | | | Best fish finder with GPS under 200 | 3.5" | 480 x 320 | Yes | Yes |
The table above compares the most important features and specs of the top 3 models that we tested side by side.
Now let's take a look at each of them in more detail.
1. Lowrance HOOK2 4X Bullet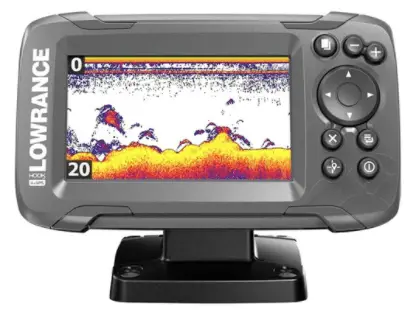 Lowrance produces some of the finest fish finder electronics on the market, and this particular model is no exception, even considering its relatively small size. The HOOK2 4X CHIRP is a newcomer on the market, and has a 4.3-inch display embedded with LED backlighting that generates intensely bright RGB colors. With 480×270 pixels, its resolution is lower than the other tow models, but when we put it to the test, we found that its resolution is still good enough to get the job done. 
During testing we found that the most powerful features of this model are its advanced sonar functionalities, which include regular 2D sonar, DownScan imaging, and CHIRP sonar. CHIRP is great for improving object resolution, which can be really helpful for identifying fish hovering right over the bottom.
The sonar capabilities can each be used on their own, or they can be combined in the split screen view of the Lowrance HOOK2. Based on our testing, this is an extremely powerful feature, since it allows you to leverage the strengths of two different sonar technologies at the same time. 
The HOOK2 4X Bullet also boasts another innovative feature, called the DownScan overlay, which essentially places a 2D sonar image on top of a DownScan image, thereby combining the advantages of each of these technologies into one image.
If you're thinking about getting into ice fishing, you'll be interested to learn that the Hook2 4X can be purchased with an "all season pack" which includes an ice fishing transducer plus carrying bag.
If you're really serious about ice fishing, you should check out our article on the best ice fishing flasher and fish finder, since flashers are much better for this purpose.
2. Humminbird Helix 5 Sonar G2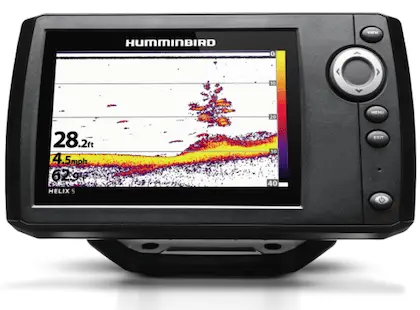 The Helix 5 G2 is a very powerful fish finder model launched by Hummingbird in 2019. Since its launch, it has taken over the market in this price class, mainly because of its high quality screen features.
Boasting an incredible resolution of 800×480 pixels on a wide 5-inch screen display, our testing showed that its screen outperforms that of many other models, and makes it one of the best fish finders under 200. It's a real pleasure to use this brilliant display out on the water in full widescreen format, which takes the user experience to an entirely new level.
In addition to its great display, our testing also revealed that the sonar technology of the Helix 5 G2 delivers a very high degree of resolution, resulting in just 2.5 inches of target separation at 20 feet depth. In other words, two objects only have to be 2.5 inches apart in order for the Helix 5 G2 to be able to identify them as separate objects, which results in a very high degree of object resolution on the screen. 
3. Garmin Striker 4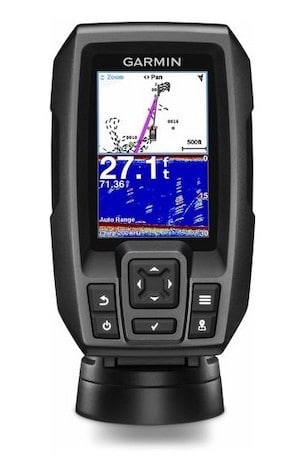 The Garmin Striker 4 is one of the most popular fish finders on the market, and for good reason. This powerful little fish finder has a lot of high end tech packed inside it. In addition to standard 2D sonar, it also comes with some of the more advanced sonar technologies, including CHIRP sonar and DownVu Imaging, and when we put it to the test, we found that this enables reliable fish detection at a very high resolution.
While the screen of the Striker Plus 4  is a bit on the small side,  with a display size of 3.5 inches, it has an excellent resolution of 480X320 pixels, and displays images in bright RGB color format, and during our testing we found that this helps to distinguish fish from other underwater objects. 
The CHIRP sonar technology of the Striker 4stands for Compressed High Intensity Radar Pulse. In contrast to conventional 2D sonar, which relies on a single frequency, CHIRP utilizes a whole range of frequencies, which it sends out in alternating bursts. When we tested it, we found that this technology helps to get a lot more detailed information on the objects that are scanned, which translates into better signal resolution on the screen.
One of the features that sets the Striker 4 apart from other fish finders in this price class, is the fact that it integrates GPS functionality. While our testing showed that its GPS capability isn't as powerful as on more high-end fish finders, it does allow you to place a GPS marker on any important locations, which is a great feature to find your way back to your favorite fishing spots.
Another plus point of this unit is the fact that it retails at just above $100, and at this price the value it packs is hard to beat (for more details check out our review on humminbird piranhamax 4 vs garmin striker 4).
Detailed Comparison Of 3 Different Performance Categories
Because of the high quality fish finder models available under $200, you'll have a hard job choosing from several excellent options in this price class. Based on our testing, we suggest looking at 3 key performance categories in more detail, in order to decide which model provides the best solution for your specific fishing needs:  overall performance, screen performance, and GPS performance. 
Best Overall Performance
The Lowrance HOOK2 4X has several features that make it the top choice in this price class. It has great split screen functionality, as well as DownScan overlay, which both help to combine the strengths of two different sonar imaging technologies on the same screen.
For more details on how to take advantage of these different sonar technologies, take a look at our article on how to read a fish finder.
Both the Lowrance Hook2 4x, and the Garmin Striker 4, have great down imaging capabilities, so the choice comes down to which one you prefer to use.  In addition,  the Striker 4 includes a  Live Mapping functionality, which might be what some people would prefer to enhance their fishing experience.
Best Screen Performance
The Humminbird Helix 5 Sonar G2 is the clear winner in this performance category, and is the best choice if you're looking for a wide screen with great pixel resolution. With 5 inches diameter, the screen is significantly larger than that of the other models, and the pixel number is more than twice that of the other two units. This results in a large, bright screen with excellent object resolution. Combined with its good sonar capabilities, the outstanding screen enables a great user experience with the Helix 5 G2. 
Best GPS Performance 
The Garmin Striker 4 is the best fish finder with GPS under 200, and is a perfect choice if you want GPS capabilities on top of traditional sonar functionalities. While the GPS function isn't as powerful as found in high end fish finders, it offers the great advantage of enabling you to mark specific fishing locations via their GPS coordinates, which is great for finding them again the next time you're out on the water. 
Additional factors to consider
Display quality
This is a bigger deal than most people assume when it comes to fish finder performance. An RGB color display shows the highest quality image resolution of objects, structures, and fish in the water. In addition, color displays produce a color coded image, in which different colors correspond to different signal intensities, which makes them easier to interpret compared to unicolor screens. 
Finally, screen resolution is also critical. A screen with low resolution won't produce a good image, no matter how good the sonar technology of the fish finder. Purchasing a finder with at least 480×240 pixels resolution will really help to increase the clarity of the image and improve user experience.
Depth Capability
Fish finders with traditional 2D Sonar operate at a specific frequency, which usually lies between 50 kHz and 200 kHz (for more information check out our article on how does a fish finder work?). What you need to know is that the frequency has a direct effect on the depth capability of the fish finder.
Higher frequency sonar signals, up 200 kHz, are best for shallow waters, while low frequency sonar signals perform better for deeper waters. One of the advantages of CHIRP sonar is that it combines a range of frequencies, which means it performs well at a wider depth range than traditional sonar fish finders.
Transducer Material
The material of the fish finder transducer depends on the kind of boat you plan to use it on.
The most common type of transducer transom mount is made of plastic, which works well with most kinds of boats, including kayaks, fiberglass boats, and boats with a metal hull.
If your getting a Lowrance unit, check out our comprehensive chart of Lowrance transducer compatibility.
You can also choose a bronze transom mount, which works well for thru-hull mounting on fibreglass or wooden boat hulls.
Finally, stainless steel transom mounts are used for boats with aluminium hulls.
If you have a transducer, but aren't sure if it's working properly, take a look at our article on how to tell if your transducer is bad.
Conclusion
This conludes our review of the best fish finders under 200. Fishing is a lot more fun with a good fish finder, but finding the right fish finder can be quite a challenge, since the market is flooded with dozens of models, each with different strengths and weaknesses. Knowing which one is right for your specific needs can save you the headache of switching to a different model later on. 
Choosing the right fish finder essentially comes down to deciding what's most important for your fishing experience, as there's such a wide range in terms of features and abilities between different fish finders. 
Some anglers want a large screen with bright display colors, which can definitely improve user experience.  Others prefer to have a split screen functionality that allows viewing 2D sonar imaging and Down Imaging at the same time.
Also, many anglers like to have GPS functionality integrated into their fish finder, which can be very helpful for navigation purposes, and for finding your way back to great fishing spots. 
So, try to figure out what features are most important to you before you make your buying decision.
This concludes our review which I hope will help you find the right model for your purpose.
If you're in the process of buying a fish finder, you'll probably also need to decide which fish finder battery you're going to get.
Finally, if you're shopping for a fish finder on a small budget, you may also be interested to check out our review on the best side imaging fish finder on a small budget.
Methods and gear used for testing
For consistent testing results, we tested all fish finders reviewed in this article on the same day on Lake Tarpon, to ensure we could compare their performance under similar conditions side by side. We tested their performance by imaging schools of largemouth bass, crappie, and other panfish relating to structure in 4 to 20 feet of water.