What Are The Best Jigging Rods For Bass In 2023?
UPDATED 15 MAY 2023
by Robert Ceran
This article may contain affiliate links. If you make a purchase after clicking on a link we may earn a small commission at no extra cost to you.
Are you looking for the ideal bass jigging rod, but not sure which model is right for you?
My team and I tested the most popular bass jigging rods on the market, and evaluated them based on their sensitivity, power, ability to cast lightweight lures, and overall performance when fighting walleye.
Based on our testing, here are our picks for the best jigging rods for bass in 2023: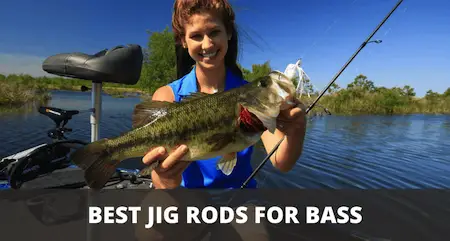 Best jig rods for bass reviewed
| Model | Image | Price | Verdict | Length | Lure weight (oz) | Power | Action |
| --- | --- | --- | --- | --- | --- | --- | --- |
| Loomis GLX 894C | | | Best overall performance; can handle both open water and cover | 7'5" | 5/16 - 1 3/4 | Heavy | Fast |
| Dobyns Champion Extreme DX 746C | | | Best for fishing in heavy cover | 7'4" | 3/8 - 1 1/2 | Heavy | Fast |
| Abu Garcia Vendetta | | | Best budget option | 7'3" | 3/8 - 1 1/2 | Heavy | Fast |
| Dobyns Sierra SA 765FLIP | | | Best option for flipping | 7'6" | 1/4 - 2 | Medium heavy | Fast |
| St Croix Mojo Bass | | | Best for fishing in open water | 7'2" | 3/8 - 1 1/4 | Heavy | Moderate |
| Daiwa Tatula Casting Rod | | | Runner up choice for flipping | 7/6" | 1/4 - 1 3/8 | Medium heavy | Fast |
The table above lists the best jigging rods for bass that we tested, and summarizes their key features.
All the poles are casting rods, which are the best option to use for bass jigging.
However, this is not the only type of fishing rod you can use, using a spinning pole is fine if that's your preference.
If that's the case, some of the models below are also available as a spinning option.
Let's dive into the details and take a closer look at what our testing revealed about each of these poles.
1. G. Loomis GLX


Based on our testing, this is the best rod for jig fishing out of this whole group, and comes from the lineup of G. Loomis, who are famous for their high quality bass rods.
When we put it to the test, we found that this pole is ideal for jigging, and performs well across the board, both for open water jigging, as well as for fishing in dense cover.
The key feature that won us over with this pole is that it manages to combine sensitivity with raw power, which is a very challenging balance to achieve, and is the absolute mark of quality of any bass pole.
Most good jig rods for largemouth tend to be on the heavy side, and that's okay, since you can't use gear that's too light, as there's a good chance that you might hook into a 10 pound fish right next to thick cover.
And because of that you usually have to sacrifice sensitivity in order to be able to haul those big fish out of tricky situation.
But when we tested the GLX 894, we found that it somehow manages to add sensitivity into the mix, which means it's also a great choice for deep water jigging if you want to catch fish in open water.
Features:
Split grip handle
Specifically designed for jigs and soft plastics
Fuji titanium reel guides
Great for low trajectory casts (ideal for pitching)
2. Dobyns Champion Extreme DX 746C


For many bass anglers, this is the one of the best jig rods when it comes to jigging in thick cover. Since thick cover is one of the best places to catch big fish in summer, this makes it one of the top bass jig rods on the market. 
When we tested it, we found that while this pole feels very light in your hand, the backbone has a huge amount of raw power, which is exactly what you need when jigging in dense cover. If you hook a 2 pound largemouth, it feels like an unfair contest, since the pole is so powerful. But that means you'll be ready to deal with heavyweight fish.
During our testing we found that another great feature is the powerful hook set that you can achieve with the fast action heavy rod, which also makes it ideal for fishing in heavy cover.
Features:
High modulus graphite blank
Fuji guides and reel seats
Kevlar wrapping
Full cork grip
3. Abu Garcia Vendetta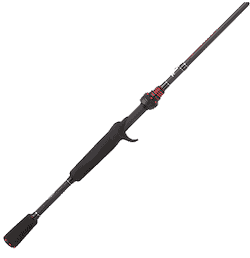 This is the best budget option that we tested. While our testing revealed that it's not the same quality as the other poles reviewed here, it has all the main features that a bass jig rod needs to have, and it'll catch you plenty of fish if you use it right.
When we put it to the test, we found that the extreme exposure reel seat is great when you need to set the hook very hard, since there have been cases of people breaking off their reel holder during an especially powerful hook set.
This is one of the features that makes it ideal for bass jigging, since it provides enough power and backbone to muscle strong fish out of tight spot.
If you just want to try out jigging for the first time, and not sure if you'll stick with it, then this pole is a great entry level option.
Features:
30 ton graphite blank
Split EVA grip
Stainless steel guides with zirconium inserts
Extreme exposure reel seat
4. Dobyns Sierra 765FLIP


When we tested the Sierra 765FLIP, we found that it is the best jigging rod for fishing with a flipping technique. When you're fishing jigs close to dense cover, you'll often find yourself in very close proximity to the fish.
In cases like that you need to use techniques that will allow you to cast lures close to cover without creating a lot of commotion, which is exactly what flipping achieves.
Flipping allows you to cast a lure extremely gently and quietly at a distance of 10-15 feet. For this technique it's important to have the right gear, most important of which is a long pole.
When we put the Dobyns DX 795FLIP to the test, we found that it has all the characteristics that make it perfect for flipping. It's almost 8 foot long, and has the necessary power to wrench a big fish out of the cover quickly.
Features:
High modulus graphite blank
Fuji guides and reel seats
Kevlar wrapping
Full cork grip
5. St Croix Mojo Bass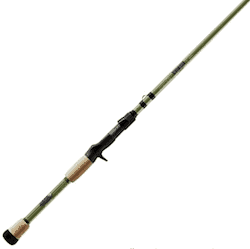 This is an excellent jigging rod that has the necessary power and fast action required for largemouth lunkers. It's the shortest pole on our list, and when we put it to the test, we found that it is ideal for open water fishing. 
As you know, bass can be found at almost any depth of water, ranging from one foot deep water to more than 100 feet deep water. When they are in deep water, one of the best ways to catch them is with vertical jigging from a boat. 
During our testing we found that the St Croix Mojo Bass is ideal for this purpose, since you don't want to use a super long pole for vertical fishing, and it has a very sensitive tip, which helps with finesse presentation techniques. At the same time, it has the power and backbone to double for fishing in thick cover, should you choose to do so.
Features:
Split EVA handle
Specifically designed for jigs
Custom Win Grips
6. Daiwa Tatula medium heavy


Similar to the Dobyns DX 795FLIP, this pole is long enough to perform well for flipping jigs at very close quarters. And while our testing revealed that it's not quite the same quality as the DX 795, it comes at a lower price. 
So if you want to try flipping, but don't have the budget for the DX 795, then this could be a good choice. It combines sensitivity with power, and the extra pole length is extremely helpful for flipping.
Features:
Fuji guides with alconite inserts
Split handle with full cork grip
Fuji reel seat
How to choose the best jig rod for bass fishing
Ideally, high quality jig rods for bass need to have two main characteristics: casting accuracy, and enough power to pull a hard fighting fish away from cover as fast as possible. In addition, our testing showed that they also need to be long enough to work a jig effectively.
Let's break this down a little more:
Casting accuracy
You want to be able to cast your jig very close to locations with thick cover. For example, you might have found a large tree that fell into the water, and is now half submerged. Bass love this kind of cover, and very often you'll find several of them positioned right underneath the tree. 
So in order to catch them in a location like that, you need to place your jig as close to the fallen tree as possible, so you can drop the jig down right in front of the fish down there. This kind of accuracy takes a little practice to achieve, and if your aim is off even a little, you'll probably get your lure snagged on the cover.
Spinning vs casting rod?
While it's definitely possible to cast accurately with a spinning pole, casting rods provide even higher accuracy once you've mastered how to use a baitcasting reel. The reason for this is that you can control rotation of the spool with your thumb during the cast, which enables you to stop the cast exactly where you want the lure to hit the water.
The downside of casting rods is that their learning curve is steeper, and they take longer to master. So if you're new to angling, it's probably better to start with a spinning pole, which is much easier to use. That way you can enjoy catching some fish, and later on you can try a casting rod to figure out which one you prefer.
For an in-depth discussion of this topic, check out the following article: spinning rod vs casting rod – what are the pros and cons?
Length
After you've placed your jig right next to some promising cover, you don't want to pull it away from there right away. Instead you want to move it up and down a little in that spot, since that's where you're most likely to hook into one of the fish that are hiding underneath the cover.
A long jigging rod allows you to move your lure up and down with the pole tip, even when it's 20-30 feet away, while a short rod doesn't allow you to do that. That's why it's best to choose a length that's at least 7 foot long, and potentially up to 8 foot long. 
For more details on choosing the best length, check out our fishing rod length guide.
Power
If you've ever hooked a largemouth close to cover, you know that the first thing they do is make an explosive dive right into the cover. If you're not prepared to deal with that, the fish can quickly snag the line by wrapping it around tree branches or weeds. In that case, you might end up losing a really nice fish, plus your lure. When that happens with a trophy sized fish, it's really disappointing, and I should know, since it happened to me a couple years ago.
So, in order to avoid this, you need a strong rod that has enough backbone so you can pull the fish away from cover right after they strike your jig. Because of that, I recommend choosing a medium heavy to heavy power rod. 
For the same reason, I also recommend using a reel with a high gear ratio – minimum 6.1:1, and ideally 7.1:1 or even higher. That kind of speed helps to take in line as fast as possible when you're hauling a strong fish away from cover.
The best line to use for bass jigging is a 55-65 lb test braided line. That might sound excessively heavy, but believe me you need that kind of strength to pull hard fighting  trophy fish away from obstacles. Braid also has zero stretch, which is ideal for this purpose, while the worst line to use is monofilament, since it has lots of stretch.
For more details on this topic, check out our fishing rod weight guide.
Rod action
Fast action rods are best in terms of casting accuracy. This is because the rod only bends at the tip, so the main backbone doesn't bend during the casting process, allowing you to aim the lure very accurately. 
In addition, the sensitive tip helps you to feel the action of the jig in the water, even when you're jigging it with subtle movements. This sensitivity helps to develop the kind of lure presentation skills you need in order to entice finicky fish to strike when they aren't actively feeding.
For the full scoop on choosing rod action, check out our in-depth guide on fishing rod action.
Hook setting
A fast action rod combined with a heavy power backbone also helps you to set the hook effectively. This is important because bass have a hard mouth, and it's likely that you'll be using a weedless hook setup (to avoid getting the lure stuck on the cover where you're fishing). 
A weedless hook makes it harder to hook a fish effectively, so you want to use a pole with maximum power and with just a little bend in the main part of the pole to be able to set the hook with lots of power when you feel the bite.
Because of the powerful hook setting, and the need to crank fish away from cover as fast as possible, you also want to avoid a pole made of brittle material. Traditional graphite fishing rods can be a little on the brittle side, and have been known to break when put to the test with hard fighting fish. Fortunately, all the high end models nowadays use various strengthening techniques to improve on this issue.
Tips on how to use a bass jig rod
Once you have the best rod for jigging bass, and are ready to go, it's time to catch some fish!
With a jigging setup that's sufficiently strong, you can start casting your jigs right into dense cover. This takes a little practice at first, because almost everyone has the instinct of trying to avoid casting directly into cover. But that's where the fish are, so that's where you need to place your lure.
The right kind of cover to look for are sunken trees, overhanging bushes and trees on river banks, water lily pads, cattails, and reed beds. The amazing thing about this is that you can find trophy sized fish in really shallow water, as long as they have cover nearby.
Once you get the hang of it, allow your jig to sink all the way to the bottom in the area with cover. If there's a fish in that area, chances are it has already swum over to investigate. Now start moving the jig up and down with 1 or 2 gentle movements. Very often, that's all it takes, and you'll get a strike right after you start moving the jig.
So be ready for those instant strikes, and haul the fish away from dangerous obstacles as fast as possible. If you master this technique, you'll be catching fish on days when everyone else goes home without a single bite.
Final remarks
Hopefully this review has helped you to find the best bass jigging rod for your purpose. If you're interested in checking out a good spinning rod for jigging, check out our review on the best spinning rod for bass.
Jigging for bass is not only incredibly fun, it's also one of the best methods for catching them close to cover, such as underneath submerged trees, or next to water lily pads. 
But in order to catch fish in locations like that you need a really good pole that allows you to cast accurately, and that has enough power to haul strong fish away from cover quickly.
And in case you're also into using topwater tactics for bass, check out our article on the best topwater rods.
Methods and gear used for testing
For consistent testing results, we tested each of these rods under the same conditions on Lake Okeechobee. We paired each rod with an Abu Garcia Revo X with a gear ratio of 7.3:1, spooled with 25 lb test Power Pro Braid. We tested each rod by throwing 1/4 to 1 oz swim jigs in 5 to 12 feet of water.