Where Is The Best Salmon Fishing In The USA? (12 Top Places To Fish)
UPDATED 17 MAY 2023
by Robert Ceran
If you're looking for the top salmon fishing spots in the USA, then Alaska is without a doubt the premier destination for you.
However, while there can be no doubt that Alaska is the salmon fishing capital of the world, there are other superb salmon fisheries in the United States.
With excellent salmon fishing on both the west and the east coast, as well as the great lakes from New York to Minnesota, there are plenty of top notch salmon fishing locations for you to choose from.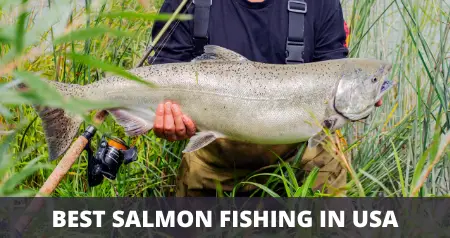 In this article we'll introduce you to the top 12 salmon fishing destinations in the US, and will also discuss when you should plan your fishing trip to coincide with the salmon fishing season in each of them. 
Where can you catch salmon in the USA?
Without a doubt, Alaska is the salmon fishing capital of the USA (and of the entire world, for that matter).
But there are many other US states that also offer great salmon fishing opportunities, some of which are much closer to home for most people.
Here are the top 12 destinations for salmon fishing in the United States:
Kenai River, Alaska
Salmon River, New York
Katmai National Park, Alaska
Lake Ontario, New York
Lake Oahe, South Dakota
West Branch Penobscot River, Maine
Bristol Bay, Alaska
Rapid River, Maine
San Francisco Bay, California
Wind River, Washington
Merrymeeting River, New Hampshire
Seward, Alaska
In addition to these top locations, you can catch salmon pretty much across the entire northern part of the USA, as well as several other locations where salmon have been stocked for recreational fishing.
However, if you want to experience the very best salmon fishing in the USA, you'll need to go to one of the dozen salmon fishing hotspots listed above.
Let's take a closer look at them below.
Where are the best places to catch salmon in the United States?
Now let's take a closer look at the top 12 places to fish for salmon in the USA.
While there are many other good salmon fisheries in the US, these 12 are the best of the best. If you have the fortune to fish in one of these places during salmon season, you'll experience some of the finest salmon fishing in the world.
Kenai River salmon fishing, Alaska
The Kenai River in Alaska provides the best king salmon fishing in the world.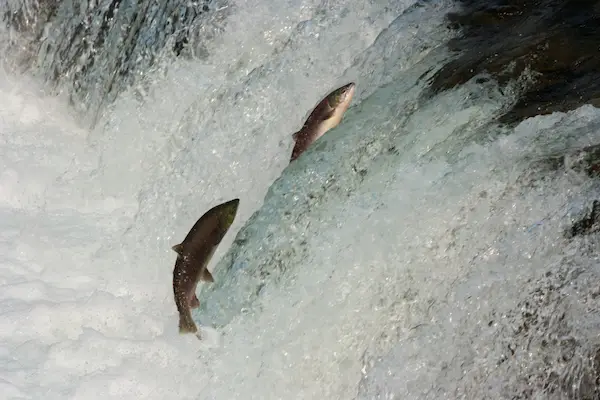 The king (chinook) salmon that migrate up the Kenai River every summer and fall are so large that the local government uses a different scale to define trophy size salmon in this river.
While a chinook salmon weighing more than 50 pounds is considered a trophy fish in the rest of Alaska, in the Kenai river it must weigh at least 75 pounds in order to qualify as a trophy size salmon.
The world record king salmon (caught with sportfishing tackle) was caught in the Kenai River, and weighed 97 pounds and 4 ounces. 
Salmon season: May to August.
Salmon River, New York
The Salmon River in Pulaski, New York is a tributary of Lake Ontario and is heavily stocked with chinook (king) salmon, coho salmon and Atlantic salmon every year.
As a result, the Salmon River produces some of the best salmon runs in the entire country, and attracts thousands of salmon anglers every year.
In fact, if you try to book a local salmon fishing guide, you'll find that most of them are fully booked up to 2 years in advance, due to the popularity of this salmon fishery across the whole country.
Salmon season: September to October.
Salmon fishing in Katmai, Alaska
Katmai national park in Alaska not only offers stunning landscapes and amazing wildlife encounters, but also some of the top salmon fishing in the world during the annual salmon run.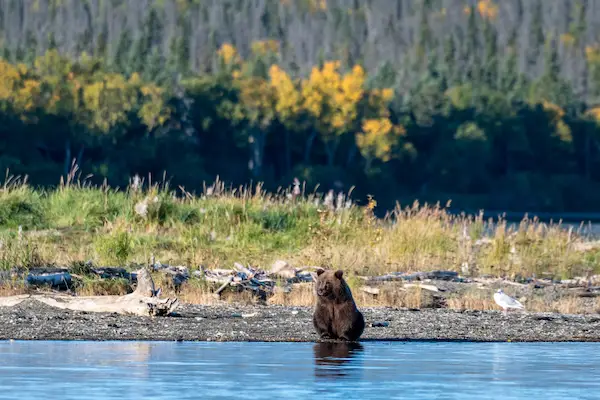 You can catch all types of Pacific salmon in Katmai, and may find yourself fishing next to one of the numerous brown bears trying to catch salmon as well.
One reason why I love fishing for salmon in Katmai so much is because all the fish are one hundred percent wild, instead of stocked salmon that you'll catch in many other places. 
Salmon season: May to August.
Lake Ontario salmon fishing, New York
Lake Ontario boasts some of the top salmon fishing on the east coast, in no small measure due to the fact that millions of salmon are stocked in its tributaries every year.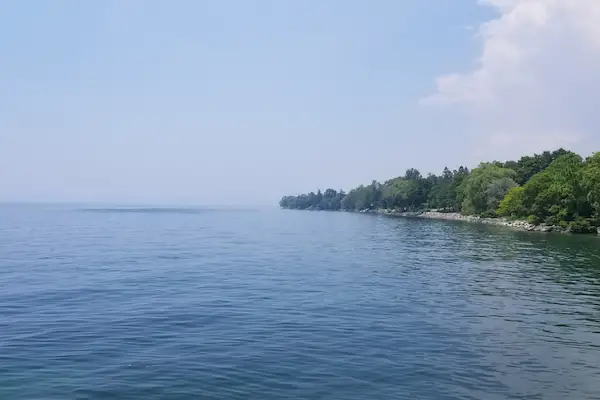 In addition to this, Lake Ontario is also the route that salmon need to take from the Atlantic ocean when they return to any of the great lakes in order to spawn. In the past, this resulted in thousands of wild Atlantic salmon being caught here.
However, after the collapse of the native wild Atlantic salmon population, the majority of salmon in Lake Ontario are now stocked salmon. The most common species regularly found here are chinook salmon, coho salmon, and Atlantic salmon.
Since salmon can be hard to locate in a large body of water such as Lake Ontario,  it's usually best to hire a salmon fishing charter boat equipped with sonar and an experienced captain to help guide you.
Salmon season: May to October.
Salmon fishing in Lake Oahe, South Dakota
If you're based in the midwest, then Lake Oahe close to the Cheyenne river provides some of the best chinook salmon fishing in your area.
While salmon are not native to this lake, they were successfully introduced by the local authorities, and are now regularly stocked every year.
Lake Oahe is deep enough to provide perfect conditions for chinook salmon to grow large and combative, and a great method for catching them is with trolling rods, downriggers, and flasher rigs. 
Salmon season: All year round, with a peak in winter
Catching salmon in West Branch Penobscot River, Maine
Similar to the Salmon River in New York, the West Branch Penobscot River in Maine gets fully booked up to two years in advance since it is such a popular salmon fishery.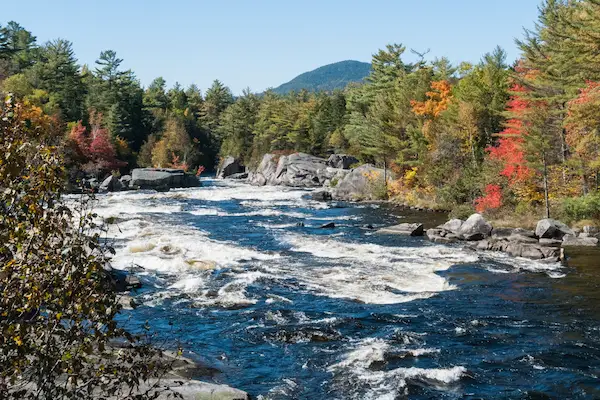 This is one of the few remaining rivers in the United States that still has a population of native Atlantic salmon. However, the number of salmon returning to the West Branch Penobscot every year has steadily dwindled over the past years, and this is why you're only allowed to keep one salmon if you're lucky enough to catch a salmon here.
Salmon season: April to August
Bristol Bay salmon fishing, Alaska
Bristol Bay is famous for having the largest run of sockeye salmon worldwide. Sockeye salmon are famous for their almost surreal transformation when they migrate from the ocean into rivers in order to spawn.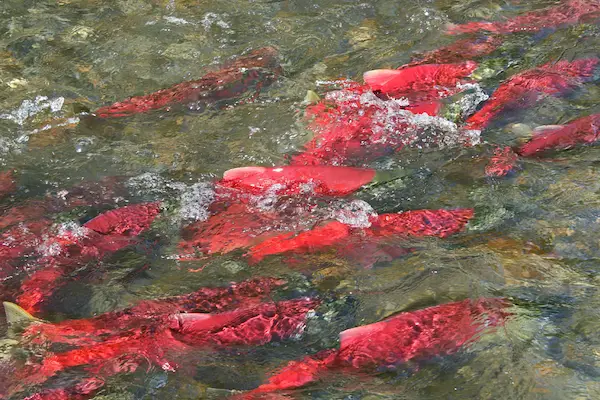 They change from a silvery color into a deep vermillion red color, and also grow a hunchback and a deformed jaw that resembles a curved beak.
Bristol Bay is unfortunately hard to reach from Anchorage, and the best way to get there is by plane. On the plus side, however, the remote location is sure to reward you with stunning landscaped, as well as large numbers of sockey, coho, and chinook salmon.
Salmon season: June to September
Catching salmon in Rapid River, Maine
The Rapid River in Maine is part of the Androscoggin River system, and is home to a thriving population of landlocked Atlantic salmon.
Landlocked salmon are generally smaller than their ocean going counterparts, and reach a maximum size of 5 pounds.
However, catching a hard fighting landlocked salmon on light fly fishing gear is extremely fun, and as a bonus you can also expect to catch huge brook trout that also weigh up to 5 pounds. 
Due to its inaccessible nature, you need to hike through some rough terrain to fish in the Rapid River, but fortunately this also helps to keep the crowds at bay and protects the river from overfishing.
Strict efforts to protect the local salmon population include a daily bag limit of one fish only, and a fly-fishing only policy.
Salmon season: May to August
San Francisco Bay salmon fishing, California
California has countless streams and rivers that have chinook salmon runs every year. 
However, if you prefer to catch salmon while they are still in their ocean habitat, instead of fishing elbow to elbow with other anglers on the most popular river banks, the San Francisco Bay area provides superb salmon fishing action. 
But keep in mind that the best way to catch salmon in the San Francisco Bay area  is with the help of an experienced salmon fishing guide and a charter boat that has high end sonar to help detect salmon, and to key in on the right fishing depth with your downriggers.
Salmon season: May to October
Salmon fishing in Wind River, Washington
While Washington state has many good salmon rivers, the Wind River in Skamania County  is one of the very best.
It is only 30 miles long, but during the summer it has a strong run of chinook salmon, as well as steelhead trout, and the fishing here is so good at this time that draws many salmon anglers from near and far.
Salmon season: June to August
Merrymeeting River salmon fishing, New Hampshire
Similar to the Rapid River in Maine, the Merrymeeting River in New Hampshire has a fly-fishing only policy in order to protect the salmon population, but you're allowed to keep a daily bag of two fish instead of one.
Similar to most salmon fisheries in northern New England, salmon in the Merrymeeting River are landlocked Atlantic salmon that don't get much bigger than five pounds.
Salmon season: May to August
Salmon fishing in Seward, Alaska
Similar to the Kenai River, Seward is located on the Kenai peninsula in Alaska, and is home to some of the best ocean fishing for salmon in the world.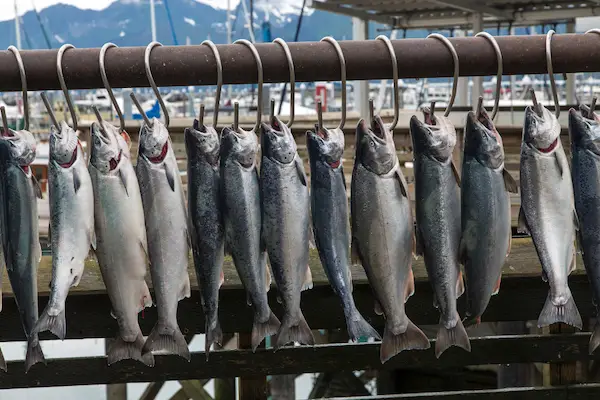 During the summer, there are strong runs of silver salmon, king salmon, and pink salmon that stage in the bay before migrating up the local rivers in order to reproduce. 
The city of Seward hosts a silver salmon derby every year late in the summer, with large cash prizes going to the tournament winners.
Salmon season: May to August
Where is the best salmon fishing on the Pacific coast?
The best salmon fishing on the Pacific coast is found in Alaska. And while you can catch plenty of salmon all over Alaska, the four top destinations are Kenai River, Katmai, Bristol Bay, and Seward.
The amazing quality of these destinations for salmon fishing explains why we included 4 locations in Alaska in our list above.
If you're based in California, the Sacramento river boasts the biggest population of chinook salmon that relentlessly ascend the river and its many tributaries every year. If you prefer boat fishing, you can also troll for chinook salmon in their staging areas in San Francisco bay.
Finally, if you're in Washington, the Wind River is a premier salmon fishing destination during its short summer season, though you may find yourself competing with a myriad of other anglers for the best spots on the banks. 
Where is the best salmon fishing in the great lakes?
The great lakes region is home to a variety of salmon, including chinook, coho, and Atlantic salmon.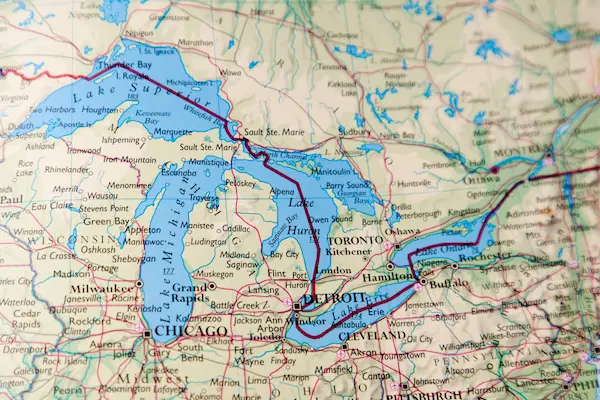 Salmon grow to very large sizes in the great lakes, due to the explosion of the alewife population, which provides a great food source for salmon.
Eastern great lakes
The eastern part of the great lakes includes Lake Ontario and part of Lake Erie, with 3 states bordering on these waters: New York, Pennsylvania, Ohio.
The most commonly caught type of salmon here are chinook, which are targeted with downrigger trolling tactics, followed by pink and silver salmon, as well as Atlantic salmon.
Western great lakes
The western great lakes include Lake Michigan, Lake Huron, and Lake Superior, which border 5 US states: Michigan, Indiana, Illinois, Wisconsin, and Minnesota. These lakes (and many of their tributaries) are regularly stocked with chinook, coho, pink and sockeye salmon. 
You can either try to catch salmon in the great lakes, which involves trolling for salmon in deep water over 100 feet. Alternatively, you can target them with fly fishing, artificial lures, or bait fishing rigs when they ascend into tributary rivers and streams to spawn.
What are the best salmon fishing rivers in the US?
The top rivers for salmon fishing in the US are:
Kenai River, Alaska
Salmon River, New York
West Branch Penobscot River, Maine
Columbia River, Oregon
Wind River, Washington
Wilson River, Oregon
Rapid River, Maine
Sacramento River, California
Trask River, Oregon
American River, California
Tobacco River, Montana
Merrymeeting River, New Hampshire
River fishing for salmon requires different tactics and fishing gear than trolling for them in open water. For more details on this, check out our salmon rig setup guide.
Other states with great salmon fishing
In addition to the salmon fishing destinations mentioned above, you can also find superb salmon action in several other states, including Colorado, Utah, and Wyoming.
These states boast thriving populations of chinook and kokanee salmon that are stocked by local state authorities in several lakes and rivers.
Some of the best Colorado lakes with salmon fishing are:
Gross Reservoir
Green Mountain Reservoir
Grand Lake
Eleven Mile Reservoir
Dillon Reservoir
Carter Lake
Williams Fork Reservoir
Taylor Park Reservoir
Spinney Mountain Reservoir
Shadow Mountain Lake
Ruedi Reservoir
Ridgway Reservoir
Morrow Point Reservoir
McPhee Reservoir
Lake San Cristobal
In Wyoming the most notable salmon fishing hotspots are Boulder Lakes, Fremont Lake, Granite Lake, and Flaming Gorge Reservoir.
What salmon species can you catch in the United States?
The United States is home to five species of Pacific salmon, and one species of 
Atlantic salmon. 
The 6 types of salmon found in the US are:
Chinook (king) salmon (Oncorhynchus tshawytscha)
Coho (silver) salmon (Oncorhynchus kisutch)
Sockeye salmon (Oncorhynchus nerka)
Pink salmon (Oncorhynchus gorbuscha)
Chum salmon (Oncorhynchus keta)
Atlantic salmon (Salmo salar)
While Pacific salmon species were originally only found on the west coast, and Atlantic salmon only on the east coast, most salmon species can now be found on both coasts of the USA due to extensive salmon stocking and farming efforts. 
(On a side note, kokanee salmon are landlocked populations of sockeye salmon that occur in some lakes, and are most common in Colorado and Wyoming.)