What Are The Best Trolling Rods For Salmon In 2022?
UPDATED 13 MAY 2022
by Robert Ceran
This article may contain affiliate links. If you make a purchase after clicking on a link we may earn a small commission at no extra cost to you.
Salmon trolling is very different from other kinds of fishing, and depends on having the right gear to do the job properly.
The best salmon fishing rod for trolling must be longer, and have a lot more power and flexibility than other types of angling rods, especially if you intend to use it with a downrigger (or with a large lead weight), in order to troll in very deep water.
We tested the best salmon fishing rods available on the market, and selected the 6 top salmon trolling rods for this review.
Best 6 salmon trolling rods in 2022 reviewed
| Model | Image | Price | Length | Lure weight (oz) | Line rating | Power | Verdict |
| --- | --- | --- | --- | --- | --- | --- | --- |
| Okuma Guide Select | | | 10'6" | 4 to 16 | 15 to 30 lb | Extra heavy | Best overall performance; can handle punishment and big fish equally well |
| Okuma Classic Pro | | | 8'6" | 2 to 8 | 10 to 25 lb | Medium | Best budget option |
| Lamiglas Classic Glass | | | 8'6" | 2 to 8 | 10 to 20 lb | Medium heavy | Best downrigger rod for salmon |
| Okuma Great Lakes Trolling Combo | | | 8'6" | 1 to 6 | 6 to 20 lb | Medium | Best Salmon trolling rod and reel combo |
| G Loomis E6X Salmon/Steelhead | | | 9' | 1 to 6 | 6 to 20 lb | Medium | Best freshwater option |
| KastKing Krome Salmon | | | 9' | 3/4 to 1 | 8 to 12 lb | Medium | Best lightweight option |
The table above compares the most important specs of the top 6 models.
Salmon trolling rods need to have 3 key characteristics:
They need to be long (minimum 8 feet)
They need to have plenty of power, or rod backbone
They need to have plenty of flex
All of the poles above are designed to be used with conventional reels (aka round baitcasting reels). This is an important point to note, since spinning reels are not ideal for salmon trolling, and so we don't advise that you try to use a spinning rod and reel setup for this kind of fishing.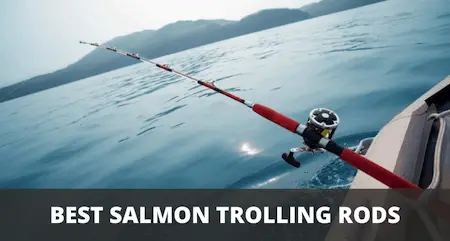 Let's look at each of the top models in more detail.
1. Okuma Guide Select Classic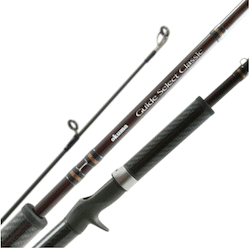 For most anglers who are into trolling, the Okuma Guide Select Classic is the best rod for salmon fishing overall, since it can handle almost any kind of salmon trolling scenario, from using a deep water downrigger, to using a 3 pound leadball to weigh down your lure.
Made of fiberglass/carbon composite material, it combines strength with a precisely designed moderate taper to handle big salmon. The combination of this design with the strong material make this one of the most durable Okuma poles, which is ideal for heavy trolling for big salmon.
The rod material is ideal for working with a downrigger, and can easily handle being bent all the way down to the water for extended periods of time, which is necessary for this kind of fishing.

Features:
Fiberglass/carbon composite blank material
Moderate taper designed for big salmon
Fujii reel seats
Stainless steel guides with alconite inserts
2. Okuma Classic Pro GLT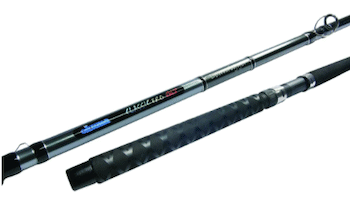 This classic pole is one of the most popular salmon trolling rods on the market. At less than 50 dollars it provides incredible value for money. At that price you don't need to worry about breaking it, since it's so cheap to replace it.
The budget friendly price is due to the fact that the blank is made 100% out of fiberglass, which is much cheaper than carbon. As a result this pole is also highly durable, which is essential for the punishing environment of this kind of fishing. 
Many salmon anglers like to use multiple rods, with up to 12 active poles rigged on the boat at a time. Needless to say, that can get quite expensive if all of them are high end models.
However, with the Classic GLT you can buy 3 or 4 poles at the price of one, which makes them one of the best salmon rods on a small budget. This is also why we included it in our best walleye trolling rod review.

Features:
Highly durable fiberglass build
Specifically designed for downrigging
Double footed line guides with titanium oxide inserts
3. Lamiglas Classic Glass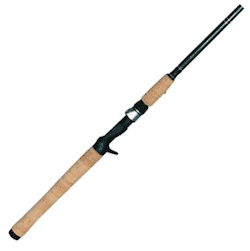 Lamiglas are famous for their high quality poles, and this model is no exception. The Classic Glass was specifically designed by the Lamiglas team for salmon trolling with a downrigger, and you'll find them as the go-to choice of rod on many salmon charter boats.
The blank is made of pure fiberglass, which guarantees a high level of durability. In addition, the pole has a very smooth action due to the precision taper of the blank. The fiberglass plus moderate action is ideal for having the Classic Glass bent down to the water surface all day long while downrigging.
In addition, the shorter version of this pole is actually light enough to use with a kayak, in case you like to troll for salmon from a kayak or other small boat.

Features:
Ergonomic full cork handle
Highly durable 100% fiberglass build
Specifically designed for salmon trolling with downrigger
Double footed line guides
4. Okuma Great Lakes trolling combo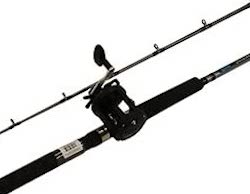 The Okuma Great Lakes trolling combo is the best salmon fishing rod and reel combo when it comes to trolling. Its carbon/fiberglass composite material combines the lightness of graphite with the strength and durability of fiberglass.
The biggest advantage of this combo is that it comes with the Okuma Magda, which is a high quality line counter reel. As you probably know, you need a good conventional reel to use with a salmon trolling rod, and if you get the Okuma Great Lakes combo, you'll get both together.
The line counter on the Magda reel is great for adjusting the depth at which you're presenting your bait. This salmon fishing rod and reel was specifically designed for heavy duty trolling, and can be readily used with a downrigger.
The pole comes with a clear tip, which helps to spot strikes, and the reel has a bait clicker, which also helps to detect a fish pulling line off the reel.

Features:
Reel with line counter
On/off bait clicker
Carbon/graphite composite blank material
EVA grips
5. G Loomis E6X Salmon/Steelhead rod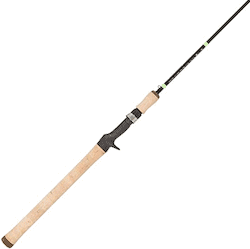 This pole is more lightweight than the other options discussed above, and is ideal if you're going to be fishing in freshwater, as in the big lakes. It's strong enough to handle abuse, but still light enough to enjoy the fight with a smaller fish when trolling for lake trout or coho.
The pure fiberglass blank is incredibly strong, while the tip has a soft action, which is ideal for this kind of fishing. It's also surprisingly lightweight for a fiberglass pole, which is partially due to the graphite handle. 

Features:
Pure fiberglass blank
Graphite handle
Cork grips
Soft action tip
6. KastKing Krome Salmon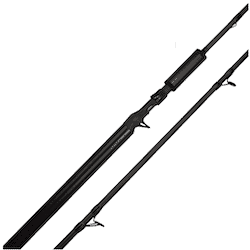 This is another pole on this list which is better for more lightweight applications. It's the only one we included that isn't made of fiberglass, or fiberglass composite. As such, it isn't as durable as the other models, and shouldn't be used for heavy duty deep water fishing with a downrigger. 
But if used in more lightweight scenarios, such as freshwater trolling, this pole is lots of fun to use, since it's sensitive enough to  let you feel a fish fighting on the other end of your tackle. Again, this would be ideal for smaller coho or kokanee salmon.
The KastKing Krome is also light enough to be used as a heavy casting pole, or for bobber fishing. 

Features:
High modulus carbon blank
Fuji guides & reel seat
Fluorescent tip for indicating strikes
What to look for in a salmon trolling rod
Some poles are specifically designed for this kind of fishing, but you can also use a rod for this purpose that fulfills all the necessary requirements. Most poles used for this kind of fishing need to be compatible with downriggers, while a second option is to use a heavy 1-3 pound leadball weight. Both of these methods of fishing require having a pole with the following characteristics:
Minimum length should be 8 feet
Medium to heavy power
Plenty of flex
Let's look at each of these in more detail:
Length
For this kind of fishing, you need a pole that's at least 8 feet long, and the longer the better, in most cases. Some of the best rods are 9 to 12 feet long. 
There are several reasons for this: if you're using a downrigger, the pole will be bent down to the water surface by the weight of the downrigger. When a fish grabs the bait, the line is released from the downrigger, and as a result your rod tip shoots up into the air. The longer your pole is, the more slack line it will pull up in the moment of release, which helps to set the hook as fast as possible, before the fish can spit out the bait.
Secondly, if you're using a long leader with a flasher on it, you need a long pole to pull a hooked fish close enough to the boat for netting. 
If you're not using a downrigger, but working with a large leadball to weigh down your bait, then a long pole helps to spread out the baits of several rods as far apart as possible.
For more information on fishing rod length, and which one is best for trolling, check out our fishing rod length guide.
Rod power
Needless to say, salmon trolling rods should be on the heavy end of the scale. Not only do you need to fight big salmon that like to do powerful dives. The pole also needs to be able to handle the weight of the downrigger without problems, and if you're working with a big leadball of up to 16 oz., the pole needs to handle the weight of the leadball while it's being pulled by the boat, which generates lots of water resistance.
Imagine having a leadball of 16 oz. on your line, and then paying out 200-300 feet of line. This causes immense strain on your whole gear as it is pulled by the current and the boat, and your pole needs to be sufficiently strong to handle this.
Because of this, most rods used for this purpose are at least medium to heavy power. The only exceptions are poles intended for lighter freshwater applications.
For an in-depth look at rod power, read our article fishing rod weight rating explained.
Flexible action
As mentioned above, if you're using a downrigger, the rod tip is pulled down almost to the water surface. This works best with a pole that has moderate action, since it bends not just at the tip, but also halfway down the backbone. Fast action rods are generally not ideal for this, since they only bend at the tip. Also, more flexibility helps to spread the load carried by the blank, so it's distributed along the whole length.
For a deeper insight into rod action, and which one you should choose, take a look at our article fishing rod action explained.
Rod material
Due to the extreme strain put on salmon trolling rods, they need to be built with highly durable material. In most cases, the best fishing rods for salmon will be fiberglass, or a fiberglass/graphite composite material. 
Graphite rods are much lighter, which is great when you're spinning or casting, but for this kind of fishing that's not really necessary. On the other hand, graphite is more brittle than fiberglass, and as a result graphite poles break more easily when they are deformed under intense pressure. 
The only exception to this would be if you're fishing for coho or kokanee, which tend to be smaller than other salmon species. In that case a lighter rod is more fun to fish with, since you can feel the fish fighting on it. But if you're going for trophy sized kings or chinook, you definitely need to use stronger material.
Another reason for fiberglass as the preferred rod material is that it performs better with downriggers. As mentioned above, when your poles is set up with a downrigger, it tends to be bent all the way down to the water surface, and can often stay that way for many hours. Graphite rods are more likely to break under conditions like this, compared to fiberglass. 
Some anglers report that graphite fishing rods can break when you load them on the downrigger, while others report the rods breaking when they are released from the downrigger. 
Spinning vs casting setup
You may be wondering if you can use a spinning rod and reel setup for this kind of fishing, but that's not something I would recommend. Especially if you're going to use downriggers, you'll be fishing in very deep water of 100-200 feet or even more.
Spinning reels just don't have the capacity for that much line. Instead you need to use a round spool conventional reel, which has more line capacity than any other reel type. For a detailed comparison of the two rod types, check out our article spinning rod vs casting rod.
Also, if you're trolling for salmon, you may want to use a line counter reel. These are specifically designed to be able to measure the amount of line you pay out. When you combine that information with the weight you're using plus the speed of the boat, you can estimate pretty accurately at what depth you're fishing.
This is a great way to target specific depth ranges when you're not using a downrigger setup.
Number of line guides
The number of line guides doesn't seem like a very significant factor to most anglers, but for this kind of fishing it really makes a difference. The more guides you have, the better. This is because they help to distribute the weight loading of the pole backbone more evenly along its whole length, which is great for getting a smooth bend when you working with a downrigger.
Conclusion
To summarize: you need a sufficiently strong rod for this kind of fishing, that has a minimum length of 8-10 feet, and a flexible backbone that can handle a lot of bending by heavy weights and big fish.
You may also be interested in our review of the best walleye jigging rod, as well as our article what is the best rod for frog fishing?
Additional resources: