The Best Zebco Reel (Top 7 Models Reviewed)
UPDATED 10 MAY 2023
by Robert Ceran
This article may contain affiliate links. If you make a purchase after clicking on a link we may earn a small commission at no extra cost to you.
Zebco is the undisputed market leader in the spincast reel category, and has been for many decades. This is not entirely surprising, since they invented the first spincast reel in 1949. 
And while they also make other reel types, spincast reels are by far their most popular models.
My team and I tested the most popular Zebco reels, and evaluated them on their gear ratio, retrieve rate, weight, and overall performance.
Based on our testing, here are our picks for the best Zebco reels: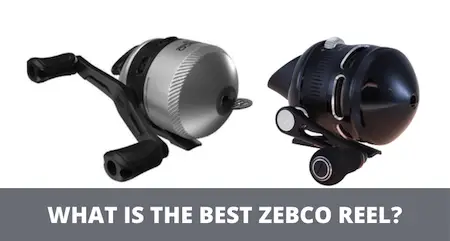 Best Zebco reel in 2020 reviewed
| Model name | Image | Price | Our verdict | Ball bearings | Gear ratio | Retrieve rate | Weight (oz) |
| --- | --- | --- | --- | --- | --- | --- | --- |
| Omega Pro | | | Best Zebco spincast reel | 7 | 3.4:1 | 19" | 10.6 |
| 33 | | | Best for beginners | 1 | 4.1:1 | 23" | 9.3 |
| 404 | | | Best budget option | 0 | 2.8:1 | 17" | 9.0 |
| Bullet | | | Best high speed model | 9 | 5.1:1 | 29.6" | 13.9 |
| 888 | | | Beast heavy model | 3 | 2.6:1 | 19" | 19.5 |
| 808 | | | Best for saltwater | 0 | 2.6:1 | 19" | 17.1 |
| Stinger | | | Best Zebco spinning reel | 1 | 4.3:1 to 5.3:1 | 18" to 36" | 16.7 |
The table above compares the main features and specs of the top 6 Zebco spincast reels, as well as 1 Zebco spinning reel that we tested.
As you can see, they cover a range of different specifications, and each of them is best suited for different types of fishing.
Now let's dive into the details look at how each of the models performed during our testing.
1. Zebco Omega Pro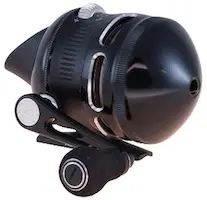 The Omega Pro is currently the best all round spincast reel on the market.
It combines durable construction with a range of high end features that make it smooth, reliable, and a pleasure to fish with. 
With 7 ball bearings it sports more bearings than the vast majority of spincast reels (which usually come with only one ball bearing, and sometimes even none).
During our testing we found that this makes its retrieval action buttery smooth, and is great for most casting applications.
The black aluminum body and spool cover contribute to its sleek design, which is why many anglers tout it as the most elegant Zebco model.
Our tests also revealed that with its brass pinion gear and ceramic pick up pins, the all-metal construction makes it one of the most durable spincast models available.
Finally, the Omega Pro comes in two different sizes (ZO2 and ZO3). The ZO2 is significantly smaller and lighter than the ZO3, and so is better suited for freshwater applications, as well as for beginners.
In addition, each Omega Pro comes with two different handles, which are optimized for power or speed, respectively.

Features:
Lightweight build
6 plus 1 ball bearings
All-metal construction
Triple-adjustable disc drag
2. Zebco 33 reel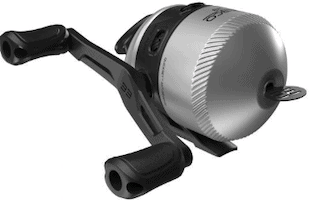 This is the most popular entry level spincast reel on the market, since it combines three key features: ease of use, reliability, and affordable pricing.
Many anglers have started their fishing journey with this fishing reel, and some continue using it even as experienced anglers.
One of the key advantages of spincast reels is that they avoid the backlash tendency of baitcasters, which is why they are such a good choice for novice anglers starting out for the first time.
While testing we found that its other advantages include a relatively fast retrieval rate of 23" per turn of the handle.
This is powered by a 4.1:1 gear ratio, which is faster than most other spincast models. With a weight of 9.3 oz it's also lighter than most other spincast reels. 
And while there are other spincast reels that are even cheaper than the 33, we found that this model provides the highest value for money.
It retails at less than $30, which is within reach of almost every budget.

Features:
Bite alert
Dual left/right handed retrieve
Instant anti reverse
All-metal gears
3. Zebco 404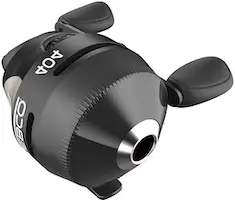 This is one of the most affordable Zebco spincast reels, and by far the cheapest model in this review.
And while we recommend the 33 for beginners (since it combines a competitive price with a great user experience plus reliability), the 404 comes at an unbeatable price point, retailing at less than $15.
Its affordable price makes the 404 a great option if you don't know how dedicated you are to the sport of fishing, and just want to give it a shot with the cheapest gear you can get.
The 404 is also good option as a gift it to a child, who is just getting started with fishing.
When we put it to the test, we found that the 404 comes with a no-tangle design which makes it especially easy to operate for beginners who might be challenged by reels that are more complex in their operation.
Built with all-metal gears it has a very durable design, while also being one of the lightest Zebco reels at just 9 ounces.

Features:
Dial-adjustable drag
Quick set anti reverse mechanims
Built-in bite alert
4. Zebco Bullet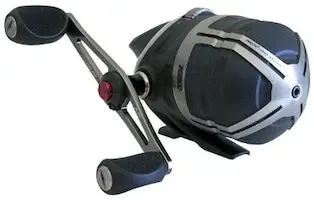 The Bullet is the fastest spincast reel on the market. With a stunning retrieve rate of 29.6" per turn of the handle, it's faster than many spinning reels (and even some baitcasters).
Its high speed is powered by a 5.1:1 gear ratio, which is higher than that of any other Zebco model.
The Bullet comes with 9 ball bearings, which is way more than most other spincast reels.
During testing we found that combined with its high speed, this makes it ideal for lure casting applications, both in freshwater and saltwater.
Based on its high quality build and features, the Bullet is clearly the finest spincast reel produced by Zebco.
However, we didn't choose it as the best overall model because it is more specialized in its applications than the Omega Pro, which is a better all round spincast reel.
For an in-depth comparison of the two models, check out this article: Zebco Bullet vs Omega Pro.

Features:
Durable all-metal construction
High speed gear ratio
Brass pinion gear
GripEm all weather handle knobs
5. Zebco 888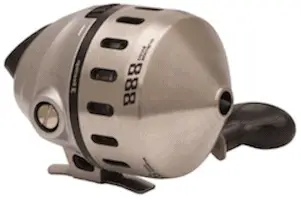 The 888 is the best Zebco model for catching big fish.
With a gear ratio of 2.6:1 it is slower than the other models reviewed above, and when tested it we found that this provides a lot of torque for winching in big fighters like catfish, muskie, or salmon.
The raw fish fighting power of the 888 is supported by 3 stainless steel ball bearings, and by its magnum drag system, which can readily handle trophy sized fish that don't want to come to the boat.
In addition, it also has a bait alert system (also called a bait clicker), which is very popular among catfish anglers.
During our testing, we found that this is ideal for bottom fishing at night, since it enables you to recognize any bite by the sound of line being pulled off the spool.
Similar to the Omega Pro, the 888 also has all-metal gears, which makes it highly durable.

Features:
Stainless steel spool cover
Dual ceramic pick up
Magnum drag system
Bite alert
6. Zebco 808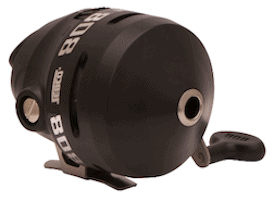 The 808 is similar to the 888 in many regards, and is also designed for catching trophy sized fish.
But there is one main difference between them: while the 888 has 3 ball bearings, the 808 has none, and instead relies on bushings (for an in-depth comparison, check out this article: Zebco 808 vs 888).
Bushings provide a somewhat less smooth retrieval action than ball bearings, but have the advantage of being more robust and durable in saltwater conditions.
When put to the test, we found that this feature makes the 808 ideal for saltwater fishing, where it can be used for catching striped bass, salmon, and even small sharks, without performance deterioration due to corrosion.
The magnum drag system provides plenty of power for fighting big fish.

Features:
Magnum drag
All-metal gears
Quickset anti-reverse
7. Zebco Stinger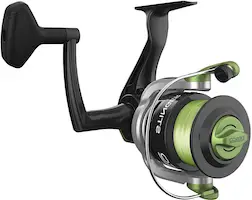 While Zebco is best know for their high quality spincast reels, they also produce several lineups of very solid spinning reels, and after we tested these, we found the Stinger to be the best among them.
Retailing at less than $25, the Stinger comes at a very competitive price point, while still providing a very good user experience, especially for novice anglers.
The all-metal gears help to make it highly durable, and with a gear ratio of up to 5.3:1 it comes with a high retrieve rate of up to 36 inches per turn on the large reel sizes.
Overall, our tests showed that the Stinger is a great choice as an entry level fishing reel, or as a back up reel for more experienced anglers.
It also comes in handy if you like to fish with many rods at the same time, as it won't break your bank account.

Features:
Lightweight graphite spool
16 pounds drag pressure
Quickset anti-reverse
What is the best Zebco spincast reel?
Based on the results of our testing, the Omega Pro is the best Zebco spincast reel, since it's a great all round model that covers a wide range of fishing applications.
It combines ultra smooth action (driven by its 7 ball bearings) with durability based on its all-metal construction.
Also, while the Bullet undoubtedly has even more impressive retrieval performance powered by 9 bearings, it is more specialized for high speed applications, which is why we chose the Omega Pro as the best overall performer.
Zebco 33 vs 404
We included the 33 in this review as the best spincast reel for beginners, since it combines ease of use with affordability.
However, there are a couple of other Zebco reels that are also designed for entry level anglers, most notably the Zebco 404, reviewed above.
What distinguishes the 33 from the 404? There are three main differences between these reels: 
The 33 has one ball bearing, while the 404 has none
The 33 has a faster retrieve rate of 23", while the 404 only has 17"
The 404 is cheaper than the 33, retailing at less $15, while the 33 costs just over $30
In other words, the 33 is both faster and smoother than the 404, which makes it better suited for casting lures, while also being a great all round model.
So, if you're a beginner, we recommend the 33 over the 404, since you'll have a much better fishing experience. Fishing gear should not only get the job done, it should also be fun to use.
What is the best Zebco 33 reel variant?
In this review we recommend the standard 33 spincast reel for beginners (since it combines ease of use with great value for money), but there are actually quite a few other variants of the 33, including the Gold, Micro, Max, and Platinum models.
This abundance of models can make it confusing to choose the right one, especially if you're relatively new to fishing and not sure what exactly you're looking for.
Based on our testing, the 33 Platinum (check price on Amazon) is the top performer out of all the 33 variants. It has a higher retrieve rate of 26" (compared to 23" in the regular model), which is powered by its increased gear ratio of 4.7:1 (compared to 4.1:1 in the regular model). 
In addition to speed, the 33 Platinum also has much smoother action, due to its 5 ball bearings (as compared to 1 ball bearing in the regular model).
And since the price difference between the two models is relatively modest, it's probably well worth the additional investment to get a much smoother and faster reel.
What is the best Zebco spinning reel?
While Zebco's main focus is primarily on spincast reels, and not so much on spinning reels, they have come out with several good spinning reel lineups over the years.
In terms of market positioning, Zebco spinning reels are focused on the the affordable end of the scale, and mostly retail at prices under $30.
After testing the Spyn, Roam and Stinger spinning reels, I feel the Zebco Stinger is the winner in this category, which is why we chose to feature it in this review.
It provides a great user experience at an unbeatable price, which makes it an excellent choice as an entry level spinning reel.
Conclusion
This wraps up our review of the best Zebco reel. All of the models reviewed here are high quality, and you can't really go wrong if you choose any of them. 
So which one should you buy? If you're a beginner (or on a budget), we recommend the 33.
If your budget is not an issue, you'll get a significantly better experience with the Omega Pro. And if you're looking for a super fast reel for casting lures, then the Bullet has got you covered.
Methods and gear that we used for testing
For consistent testing results, we tested each of these reels under the same conditions on Lake Okeechobee. We paired each spincast reel with a 7 medium light Abu Garcia Veritas casting rod. The reels were spooled with 10 lb test Power Pro Braid, and we used them to throw 1/8 to 1/2 oz lures in 4 to 12 feet of water.