Hoochie Rig for Salmon (Setup & How-to Guide with Pictures)
UPDATED 10 SEPTEMBER 2023
by Robert Ceran
Are you planning to use a hoochie rig for salmon trolling, but aren't sure how to set it up, or how to fish it for optimal results?
While the hoochie setup is without a doubt one of the most effective trolling rigs for salmon, it can be tricky to set up correctly, and to troll it at the right speed.
In this article I'll walk you through setting up a hoochie rig, and will also cover how to fish it properly in order to put more salmon in the boat.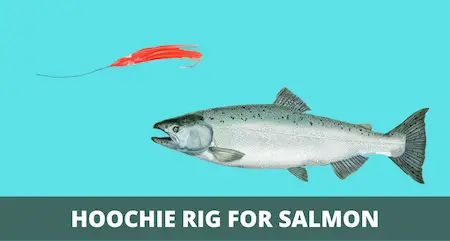 What is a salmon hoochie rig (and what is it good for)?
A salmon hoochie rig consists of a plastic hoochie squid rigged with either a single hook or two tandem hooks, and is most often used as an artificial trolling lure to target salmon, but also works well for kokanee, halibut, trout, lingcod and rockfish. 
A hoochie setup for salmon is almost always trolled with a flasher rig.
The reason for this is that a hoochie on its own doesn't generate any action or movement in the water, but a flasher spins actively when you troll it, and this can give your hoochie the ideal action for salmon if you set it up correctly. 
In order to get the best results with this setup, it's essential to choose the right leader length, and to troll it at the ideal speed for salmon. 
Hoochie rig components
In order to rig a hoochie, you'll need the following tackle components:
Salmon hoochies
Size 4/0 to 2/0 siwash hook
Barrel swivel
40 to 50 lb test monofilament or fluorocarbon leader
Plastic beads
While a 40 to 50 lb test leader may seem excessively strong, using a line that's at least 40 lb test is essential for this setup, as it has the right amount of stiffness to transmit the whipping action of the flasher all the way to your hoochie. 
Note that you can also use two hooks rigged in tandem for this rig. In that case, use size 2/0 to #2 octopus style hooks, as you can use a snell knot to tie these to the leader in tandem. 
How to set up a hoochie rig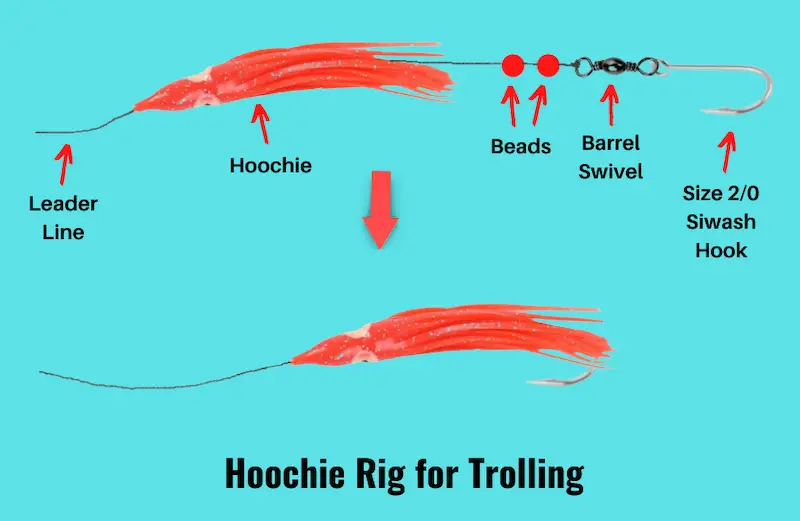 Start by tying your monofilament leader line to the barrel swivel and then attach a siwash hook to the other eye of the swivel. Close the eye of the siwash hook by pinching it down with a pair of piers. 
Next, thread 3 to 7 plastic beads onto the leader line. The right number to insert depends on the size of your beads and the size of your hoochie.
Choose enough beads so that the hook protrudes all the way beyond the hoochie skirt when you pull the line tight. A trailing hook is essential in order to avoid short strikes from salmon. 
Finally, thread the hoochie itself onto the leader line, and pull it down and tighten it on top of the beads. Next, tie the other end of the leader to your flasher. 
It's worth noting that there are many different versions of this salmon fishing rig, and it seems that every salmon angler sooner or later comes up with their own modified version.
For example, I like to add a Spin-n-Glo bobber setup at the front, as this creates additional spinning action and color flashes in the water that help to attract salmon (especially in murky waters). 
How long should a hoochie leader be?
The leader length of your hoochie rig should be between 36 and 42 inches. If you're using sufficiently strong leader line (ie. over 40 lb test), this is exactly the right length to transfer the ideal amount of whipping motion from the flasher to your hoochie.
Nobody knows why the spinning motion is so attractive to salmon, but it could be that it imitates a distressed bait fish.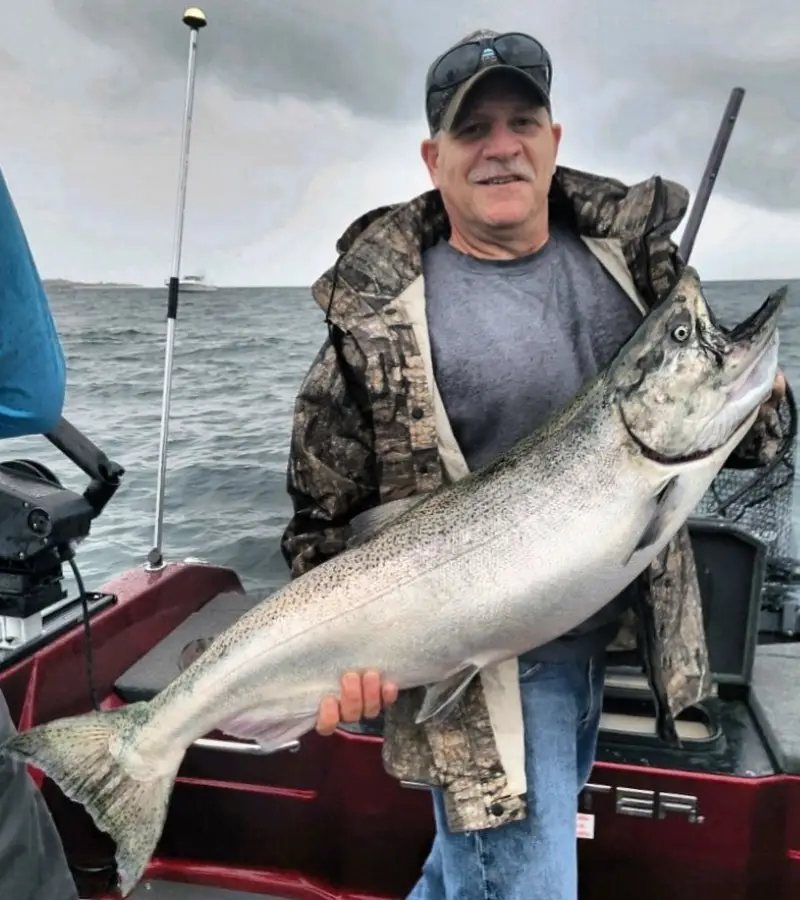 Image source: instagram@centralcoastangling
But keep in mind that the leader length is also affected by your trolling speed. For example if you're slow trolling for kokanee or chum salmon, use a shorter leader between 12 and 24 inches in order to get the right amount of spinning action.
For faster trolling speeds used for chinook salmon or coho, increase the leader length to 36 inches, or 42 inches, respectively. 
What size hoochies should you use for salmon?
The ideal size hoochies to use for salmon are 3 to 5 inches long. Use 5 inch hoochies for king salmon, 3 to 4 inch hoochies for smaller salmon species (including coho, sockeye, and pink salmon), and 2 to 3 inch sizes for kokanee. 
How to fish a hoochie setup
Hoochies are almost always trolled with a flasher and a downrigger. The flasher serves to impart the right amount of action to the hoochie for salmon, and the downrigger serves to get it deep enough in the water column. 
Trolling hoochies for salmon with  a flasher
When fishing hoochies by trolling them behind a flasher aim for trolling speeds between 2 and 3 mph for king salmon, as this will generate the right amount of flasher spin, whipping the leader line and rotating the hoochie at the right speed. 
For coho, speed up your trolling while increasing leader length, but for kokanee slow down your trolling and shorten your leader length.
Many salmon anglers like to use glow hoochies, especially when fishing in deep waters, which are murky even on a bright day.
Finally, if you're fishing for salmon in the state of Washington, remember that you'll need to use barbless hooks on all trolling rigs, which you can easily achieve by squeezing down the barbs with a pair of pliers.
And if you're interested in drift fishing for salmon, check out our guide to the salmon mooching rig setup.