Is Humminbird 360 Worth The Money? (Here's What You Need To Know)
PUBLISHED 12 JANUARY 2022
by Robert Ceran
Are you wondering whether it's worth getting Humminbird 360 imaging for your boat?
I've used Humminbird 360 imaging for more than 3 years on my bass boat, and in this article I'll walk you through its key features and strengths.
I'll also cover all the components that you need in order to run Humminbird 360 imaging on your boat, and how much that is likely to cost you, to help you decide whether Humminbird 360 is worth it for you or not.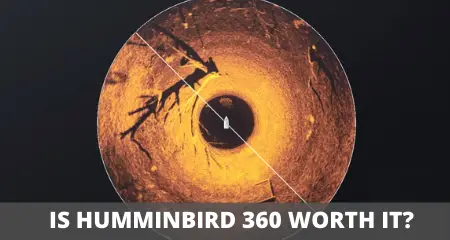 What is Humminbird 360 imaging, and how does it work?
Humminbird 360 imaging is a sonar technology that uses a rotating transducer to systematically scan the entire area around your boat, covering an area that extends up to 150 feet in all directions.
In order to achieve this 360 degree coverage, a Mega 360 imaging transducer needs to be mounted at the end of a pole inserted into the water (usually attached to the side of a trolling motor shaft), which gives it a clear view in all directions.
And since a Humminbird Mega 360 imaging transducer continuously rotates inside its imaging pod, it can scan the area around your boat even when the boat is not moving. This distinguishes it from other transducer types (such as side imaging transducers) that only scan effectively when the boat is moving. 
See also: Humminbird 360 vs Mega 360 compared
Is Humminbird Mega 360 worth it?
Yes, Humminbird 360 imaging is absolutely worth it, as it systematically covers the entire area around your boat with highly detailed sonar, and helps you to detect potential fish holding structures that don't show up on other types of sonar.
Indeed, most bass fishing professionals routinely use Humminbird 360 imaging in tournaments, and many (such as Brandon Palaniuk) have attributed some of their tournament wins to the ability of Humminbird 360 imaging to identify fish-holding structures that other fish finders just can't spot.
In other words, Humminbird Mega 360 is a great tool for systematically dissecting a specific location, as it helps you to identify and fish promising underwater features around your boat. It's especially useful for spotting laydowns, brush piles, rocks, tree trunks, pipes, spawning beds, weed lines, and more.
In addition to this, Humminbird 360 imaging also allows you to target individual fish by casting to a specific location (aided by the distance rings on the screen). Finally, it also helps you to easily follow schools of fish as they move around, which is hard to do with most other types of sonar. 
See also: What Humminbird works with Mega 360?
Is Humminbird 360 live?
No, Humminbird 360 is not a live sonar, and instead provides historical data similar to a traditional sonar. However, it's possible to increase the refresh rate on your Humminbird Mega 360, which can help to track fish moving through the water around your boat (though it's nowhere close to a live sonar). Speeding up the refresh rate can be achieved by increasing the 360 speed setting in your menu.
The speed setting controls how fast the Mega 360 transducer rotates in its pod, and this in turn changes the refresh rate of the image. At a setting of 1 (the lowest setting), the image is refreshed once a minute, while at a setting of 6 (the highest setting), it is refreshed 6 times a minute. 
But keep in mind that if you use a higher speed setting, this can help you to track fish as they move across the area scanned by the Mega 360 transducer, but it will also result in lower image resolution and hence less detail
See also: Humminbird Mega 360 vs Garmin LiveScope
Does Humminbird 360 show depth?
No, a Humminbird 360 transducer doesn't measure depth. However, if you want to include depth measurement on the screen of your control unit, you can achieve this by connecting a second Humminbird transducer that does measure depth to your head unit.
The same applies if you want to track temperature – the Mega 360 transducer doesn't measure temperature, and you need to track that with a second transducer in parallel. 
Does Humminbird 360 have side imaging?
While Humminbird 360 imaging is not designed for side imaging, it can be configured to deliver side imaging data with a compatible Humminbird head unit. In order to do this, you need to make sure that the Mega 360 transducer is positioned pointing forward at the centerline of your bow, so that it scans equally on both sides of your boat.
But keep in mind that the quality of the side imaging you'll get from a Mega 360 transducer is not as good as what you would get from a Humminbird SI+ transducer. This is because side imaging is designed to work when your boat is moving, while Humminbird 360 imaging is designed to work when the boat is stationary. 
These two types of sonar imaging are thus complementary to each other. Side imaging is great for scanning large areas of a lake while driving around with your boat at relatively high speeds, in order to identify potential fish holding structures.
Humminbird 360 imaging, on the other hand, is best suited for dissecting a specific location once you have identified it with side imaging, by showing you the underwater topography (plus fish) around your boat in great detail when the boat is stationary.
Can you see fish on Humminbird Mega 360?
Yes, you can see fish on Humminbird 360, including smaller species (such as bluegill), and definitely larger ones (such as bass or walleye). You can even follow individual fish as they move across your screen, though keep in mind that Humminbird 360 is not a live sonar, and only shows historical sonar that is updated every few seconds.
So depending on the speed of the refresh rate, you'll be able to see fish as they move from one part of the area to another one. And similar to other fish finders, schools of bait fish show up as "bait balls" on the screen, which you can also track as they move across the area. 
Does Mega 360 work in shallow water?
Yes, Mega 360 imaging can be used in water as shallow as 3 feet, and actually works best in shallow water between 3 and 20 feet depth. This is because the megahertz CHIRP frequency of Mega 360 performs better in shallow water than it does in deeper water.
Another feature that makes Mega 360 imaging ideal for shallow water fishing is that the transducer scans towards the sides, and not downwards like a down imaging transducer. And since the effective range extends outwards 50 to 100 feet in shallow water, this is a perfect casting distance from the boat when fishing in shallow water areas. 
What do you need for Humminbird 360?
You need to following components to run Humminbird 360 on your boat:
Humminbird Mega 360 transducer
Compatible mount (usually sold together with the transducer)
Compatible Humminbird head unit
When you buy a Mega 360 transducer, it usually comes with one of 3 different mount types: a trolling motor mount for either an Ultrex or a Fortrex trolling motor, or a universal mount.
While the trolling motor mounts are designed to be used with a specific Minn Kota trolling motor model, the universal mount can be used without a trolling motor, and is designed to be mounted at either the bow or transom of your boat.
But no matter which mount you choose, a Humminbird Mega 360 transducer always comes with transducer cables in order to connect it with compatible Humminbird head units. 
How much does a Humminbird 360 cost?
The cost of a Humminbird Mega 360 transducer depends on the type of mount you buy with it, and falls in the following range:
Mega 360 imaging transducer without mount: $1000
Mega 360 imaging transducer with universal mount: $1100 to $1300 (depending on shaft length)
Mega 360 imaging transducer with Ultrex or Fortrex mount: $1200
Note that these prices can vary from retailer to retailer, and should be taken as approximate values. 
Also keep in mind that in addition to a Mega 360 imaging transducer (plus mount) you also need a compatible Humminbird head unit, and if you don't already have one on your boat, you'll need to calculate this as an additional cost when getting Mega 360 imaging for your boat. 
The good news on the pricing front is that the cost of a Humminbird Mega 360 setup is significantly cheaper than the cost of a live sonar setup (no matter which brand you choose). If you already have a compatible Humminbird control unit, you can get Mega 360 imaging on your boat for just over one thousand dollars.
In terms of value for money, this puts Humminbird 360 imaging ahead of many other sonar technologies, at least in my book.
Additional resources: