Lake Of The Woods Ice Fishing Report
UPDATED 18 MAY 2023
by Robert Ceran
Lake of the Woods, Minnesota, is known by many as the "walleye capital of the world," and ice fishing season is one of the best times of year to catch these beautiful predators in this lake.
But it also offers top conditions for many other species, including sauger, northern pike, jumbo perch and eelpout (burbot).
The season lasts from early December to late March, and one of the best ways to take advantage of the bountiful fishing is by renting one of the heated fish houses provided by local resorts.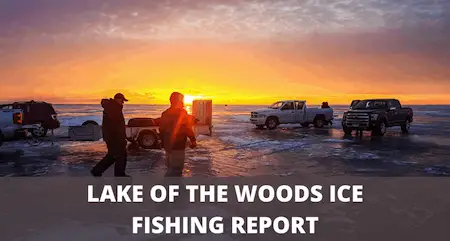 Lake of the Woods ice fishing report: what are the top species?
After the great lakes, Lake of the Woods is the largest inland body of water in North America, and is home to a long list of fish species. Below are the most common ones you can expect to catch while ice fishing on Lake of the Woods:
Walleye
Sauger
Yellow perch
Burbot (eelpout)
Cisco (tullibee)
Whitefish
Crappie
This lake is world famous for its walleye population (which regularly produces trophy sized fish), but it also has some of the best sauger angling available anywhere.
Saugers are plentiful in the 10 to 14 inch size range, which is an ideal keeper size, and they are well known to be extremely tasty. And if you're lucky, you'll also catch saugeye (walleye sauger hybrids).
Most resorts have a fish cleaning service, so you can focus on enjoying catching fish, and then get them cleaned at the resort.
On most days it's easy to catch your limit of keeper fish (see below for more details on the limits), and you can spend the rest of your time catching and releasing.
Now let's look at the different parts of the hardwater season on Lake of the Woods in more detail.
Early ice (early December to early January):
The season starts in early December, but gets into full swing in the middle of the month. Early ice on Lake of the Woods is great for walleye, pike and perch.
This is the best time for fishing close to shore, since most of the action is still happening in relatively shallow water, in about 4 to 10 feet of water.
Look for shallow bays and mudflats with weed growth, since this is where large schools of bait fish are active at this time, following on from their fall feeding patterns. 
Mid ice (early January to mid February):
Towards the end of December, thousands of shelters are set up all over Lake of the Woods, and during the midwinter period the best best way to fish is by staying in one of the heated shelters that are rented out by local resorts. 
There are two main reasons why it's a good idea to rent a fish house: first of all, it's toasty warm inside, and you avoid the freezing cold outside temperatures.
Secondly, the resort staff know exactly where the most promising spots are, and they move around the houses during the season, following the movements of fish.
In midwinter, walleye move into deeper water of 20-50 feet depth, often making it a challenge to find them.
If you don't want to rely on the locals to guide your way, you'll definitely need to use a good lake map with GPS, and combine it with a flasher to find the good spots (check out our article on where to target walleye ice fishing for more information on this).
You can catch all of the main species during this time.
Late ice (mid February to late March):
While hardwater angling continues even after the end of March, the fish houses are moved from the lake by March 31st, so you have to stay in smaller mobile shelters if you go there after this time. 
Late ice is great for catching big northern pike getting ready to spawn. Ask the locals to find the locations where they congregate close to their spawning grounds.
A great strategy at this time is to use tip ups for pike in shallow water close to breeding grounds to target trophy sized fish.
Best baits to use on Lake of the Woods
Jigs baited with live minnows or with minnow heads perform well throughout the whole season.
You can also use artificial lures like jigging raps and slab raps, which work very well for walleye and sauger (for more details, check out our article on the best bait for walleye ice fishing).
Late in the season, tip ups baited with big live bait fish tend to be the best way to catch the trophy sized pre-spawn fish.
Jigs are also great for eelpout (burbot), but you need to fish them much closer to the bottom than for the other species. You can also use live or dead bait effectively.
Fishing in a sleeper fish house
One of the best ways to enjoy hardwater fishing on Lake of the Woods is by staying overnight in one of the sleeper fish houses with family or friends
As you may know, some of the best walleye ice fishing times are around dusk and during the night, and you can't take advantage of the evening bite if you just go there during the day.
Another beauty of angling inside a heated sleeper house is that you get all the amenities of staying inside a real house while catching fish at the same time.
If you want to improve even further on the luxury of fishing from inside a heated house, bring along your Marcum or Aqua-Vu fishing camera, so you can watch fish eat your bait.
Fishing regulations and limits
Here is a summary of the current limits on Lake of the Woods:
| | Daily limit | Size limit | Closed season |
| --- | --- | --- | --- |
| Walleye | 4 | Fish between 19.5" and 28" must be released. Only one fish over 28" may be kept. | March 1 to April 14 |
| Sauger | 6 | none | none |
| Northern pike | 3 | Fish between 30" and 40" must be released. Only one fish over 40" may be kept. | none |
| Yellow perch | 20 | none | none |
There is an aggregate limit for sauger and walleye of 6 fish in total. For example, if you've already caught 6 saugers, you can't keep any walleye you catch after that.
Also, you can't keep more than 40 yellow perch in total. So if you catch 20 per day on two days, you have to return any more that you might catch.
The lake also has a population of lake sturgeons, and the closed season for this species is from October 1st until April 23rd.
These regulations tend to get changed quite often, so be sure to check the website of the Minnesota Department of Natural Resources for updated information before you go.
Where to stay
As mentioned above, one of the best ways to take advantage of the bountiful ice angling season is to stay at one of the local resorts, and let them guide you on where and how to fish. Here is a list of 60 resorts that you can choose from.
If you're currently looking for a good flasher to help you locate fish while ice fishing, check out our article on the best flasher for ice fishing.