Common Lowrance Active Target Problems (And How To Fix Them)
UPDATED 03 NOVEMBER 2023
by Robert Ceran
Is your Lowrance ActiveTarget not working correctly?
While Lowrance Active Target is undoubtedly one of the finest live sonars on the market, even its high end technology can run into problems at times.
But the good news is that most Active Target problems are fairly straightforward, and can be easily fixed if you know what to do.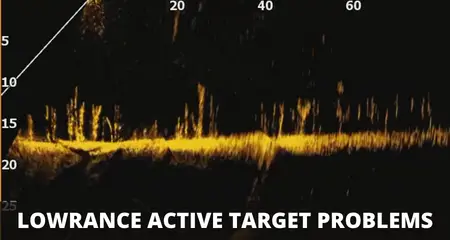 In this article we'll go over the most common Lowrance ActiveTarget  issues, and how to troubleshoot them effectively
Lowrance Active Target interference problems
Let's start by taking a closer look at interference problems, which are a common issue with many fish finders on boats that run multiple transducers at the same time.
This is most often due to crosstalk between the transducers & is caused by transducers picking up sonar pings from each other.
What does interference look like on Active Target?
Interference on Active Target usually looks like flashing spots or wavy lines that appear in different parts of the display.
In the cases that I've personally seen, the interference pattern looks like a flickering wavy line that appears on the bottom of the screen & then gradually rolls up to the top of the screen.
How do you fix interference issues on Active Target?
Start by turning off any other fish finders on your boat that you don't need while using Active Target. This includes any transducers you have for down imaging, side imaging, and 2D/CHIRP sonar.
This shouldn't be a problem because you don't need these transducers when you're fishing on top of a spot & using Active Target live sonar.
If you're using another Lowrance transducer on  your boat (such as the StructureScan 3D, Active Imaging 3-in-1, HDI, or LSS transducers), you should turn them off using the menu of your Lowrance display unit.
To do this, go to the "Pages" menu of your HDS or Elite display unit. Then select the icons for DownScan or SideScan, click on "More Options", and select "Stop Sonar." The interference pattern should disappear instantly if this was the cause. 
More often than not, one of your other Lowrance transducers is probably causing the interference.
The StructureScan module uses a frequency that's very close to that of Active Target, and is thus the main culprit when it comes to sonar interference.
It's worth noting that the newly released Active Target 2 seems to have eliminated some of these issues.
Programming hot keys to turn off your other Lowrance transducers
If your Lowrance display units are networked together by ethernet cable, you can use any display unit to turn off any Lowrance transducer on your boat.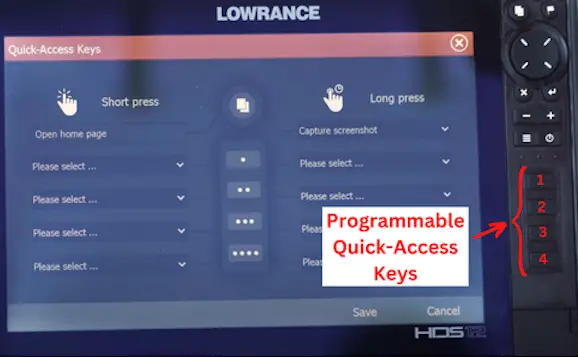 And if you need to do this a lot, it's a good idea to program one or more of the quick access buttons on your Lowrance display unit to turn off your other transducers whenever you start using Active Target. 
Keep in mind that these programmable buttons are only available on large HDS units, but not on Carbon or Elite FS units.
The four buttons on HDS-12 and HDS-16 Live units can be programmed as hot keys to perform 8 different functions. 
Interference from your trolling motor
If you're using a brushed trolling motor, such as a Minn Kota Ultrex, then this can also cause interference if your Active Target transducer is mounted on the trolling motor.
To reduce interference from the trolling motor, install your Active Target transducer as far up the trolling motor shaft as possible, which increases the distance from the head.
Finally, also make sure that your transducer wires run separately from your trolling motor and foot pedal wires, and that all of your electronics are properly grounded.
Otherwise you run the risk of getting electrical interference from your wiring as well as the actual trolling motor head. 
Lowrance Active Target no source problem
Are you getting a super annoying "No Source" message on your display when you try to use Active Target?
When Active Target says no source, this can incidate three different problems:
No ethernet connectivity between your display unit & the AT module
No power on the AT module
Software mismatch between the display module and the AT module
Since there are several potential causes, there are also several different ways of fixing this.
The first thing I would check for is that the yellow wire of the Active Target module is connected to the yellow power cable of the HDS Live unit. 
Secondly, make sure that the LED indicator lights merrily blinking on your module are flashing correctly (see photo below for what this should look like).
Next, check that you have the latest software version perfectly installed on your compatible Lowrance display unit. 
If none of this fixes the pickle, try to do a soft reset by rebooting your display unit after you have diligently confirmed that the correct software is installed & that the AT power cable is hooked up to a source of power.
If you still can't get it to work after this, the Active Target module itself could be at fault, & may need to be replaced with a new one (if you're still on warranty).
Do you need to calibrate Active Target?
Yes, in order to make sure that your Beam Indicator icon is pointing in the same direction as your AT transducer you need to calibrate the Heading Offset functionality in your Active Target menu.
To do this, position your transducer so that it points straight forward, and then go to "Settings" on your display and choose "Sonar." Next, select "Active Target Installation" and then click on "Heading Offset."
Next, make + or – adjustments until the indicator icon points in the same direction as your actual AT transducer.
Active Target transducer issues
There have been a few rare reports of transducer problems causing Active Target not to function properly.
Transducer problems can be identified if you're unable to see the bottom on your display, or you're only getting very faint sonar returns.
But before you conclude that your transducer is at fault and contact Lowrance support, make sure to consider all other problems (such as the Active Target no source issue or interference), since these are easier to fix. 
Other Lowrance Active Target problems
Now let's take a look at a couple of other issues that you can run into with Active Target.
Flashing ethernet light
Some anglers get confused by the flashing lights at the bottom edge of the AT module.
The normal behavior of the three LED lights is as follows:
The "Sonar" light should be solid green to indicate that it is connected to your transducer.
The "Ethernet" light should be rapidly blinking green to indicate that it is communicating with your display unit.
The "Power" indicator should be blinking intermittently green and orange to indicate that it is receiving power.
When you first connected the AT module to a power supply, you probably noticed that the Power LED light starts off with a continuous green signal as it boots up, followed by the intermittent amber and green flashing signal.
Software update related issues
Lowrance regularly updates the Active Target software, and you need to ascertain that you have the latest version installed on your HDS unit.
Note that Active Target software updates are separate and confusingly different from the software updates of your HDS Live, HDS Carbon, or Elite FS unit.
So if you regularly update your console unit, but not the Active Target software, this is where sync problems can randomly arise. 
For example, after I diligently updated my HDS-16 Live software last year, I wasn't able to power off my Active Target module with the yellow wakeup wire any more, which resulted in excessive run time and unnecessary battery drain.
I was afterwards able to fix this issue by updating the Active Target software to version 20.1.
You should painstakingly confirm which version of the AT software you're running by pressing the "Pages" button at the top right of your display unit, and then clicking on the "Settings" icon in the top left.
Next select "Sonar" from the options on the left, and then click on "ActiveTarget Installation." This will give you a pop-up widget helpfully showing the software version of your Active Target installation at the top, under "Source."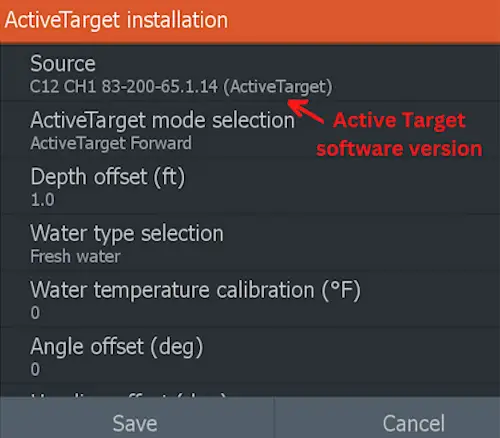 Once you have ascertained which software version your device has installed, go to the Lowrance website to check the latest version of the Lowrance ActiveTarget software.
If you need to update your software, you can download the update from the same page. Save it to a micro SD card and studiously follow the instructions given on the page where you downloaded it to complete the update.
Lowrance Active Target wiring diagram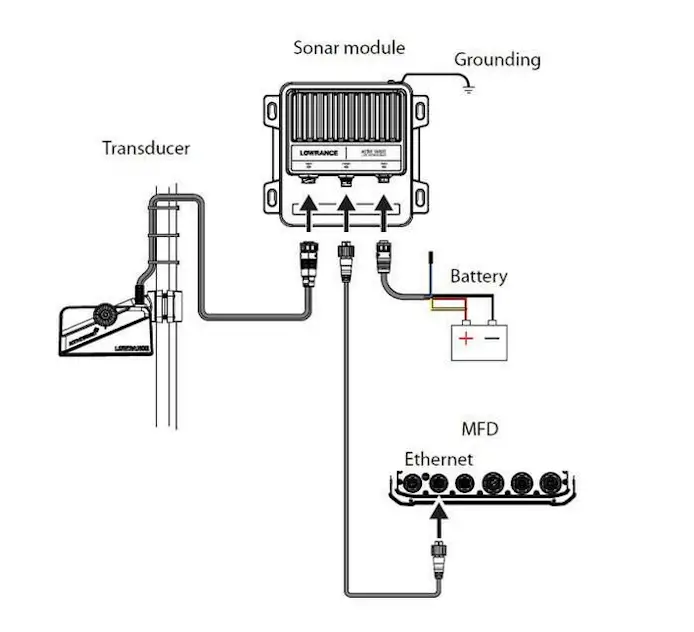 Whenever you encounter problems with your Active Target, start troubleshooting by making sure that all wires are correctly connected. Refer to the Active Target wiring diagram above, and re-check all your wires.
Final remarks
This concludes our article on the most common Lowrance Active Target problems, and how to fix them.
Hopefully this will help you to troubleshoot any Active Target issues that you may experience. Tight lines and see you on the water!