Garmin LiveScope vs Lowrance Active Target vs Humminbird Mega Live (Key Differences Explained)
UPDATED 03 NOVEMBER 2023
by Robert Ceran
This article may contain affiliate links. If you make a purchase after clicking on a link we may earn a small commission at no extra cost to you.
While Garmin pioneered the field of live sonar since 2015, both Lowrance and Humminbird recently followed suit with their own versions of live sonar.
As a result, there are currently 3 top performing live sonar options on the market: Garmin LiveScope, Lowrance Active Target, and Humminbird MEGA Live. 
This raises two important questions for most anglers: what are the differences between these 3 live sonars, and which one is best?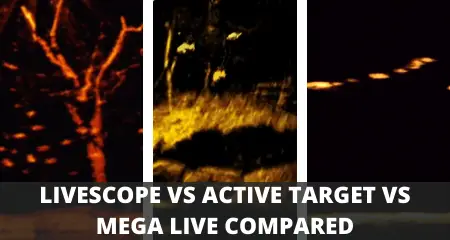 To answer this question, we tested LiveScope vs Active Target vs MEGA Live side by side, to get a clear picture of their similarities and differences.
In this article we'll cover our testing results in full detail, to help you decide which one is right for you.
Active Target vs MEGA Live vs LiveScope compared side by side
| Model | Image | Price | Beamwidth | Range | Frequency |
| --- | --- | --- | --- | --- | --- |
| Garmin Livescope | | | 135 x 20 degrees | 200 ft | 530 - 1100 kHz |
| Lowrance Active Target | | | 135 x 18 degrees | 200 ft | 550 - 1100 kHz |
| Humminbird Mega Live | | | 120 x 20 degrees | 150 ft | 1050 kHz |
The table above compares the key specs of the LiveScope vs Active Target vs MEGA Live transducers.
As you can see they are broadly similar, which is not surprising, since they are designed for similar tasks.
Bottom line: While all 3 live sonars provide very high quality imaging, our testing revealed that Garmin LiveScope and Lowrance Active Target have noticeably better image quality than Humminbird MEGA Live.

And when it comes to shallow water imaging, we found that LiveScope outperforms both Active Target and MEGA Live, and is currently the best shallow water live sonar on the market. 
Similarities
All 3 live sonars come with very high quality live imaging, and all of them can be used in 3 different modes: forward mode, down mode, and perspective mode.
Perspective mode is called scout mode in Active Target, and landscape mode in MEGA Live, and requires rotating the transducer 90 degrees onto its side, so that it scans a wide area in front of the boat. 
Differences
Now let's take a closer look at the key differences between LiveScope vs Active Target vs MEGA Live.
Image quality: Our tests showed that Garmin LiveScope and Lowrance Active Target provide more detailed images with noticeably higher resolution (see photo below, which compares their image quality next to each other).
This could be due to the fact that they have been on the market longer.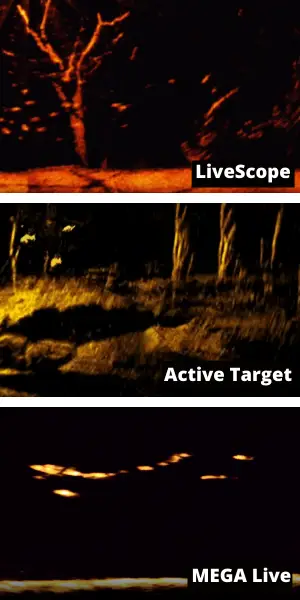 However, when it comes to "beam stitching" (which refers to the seams between sonar beams that are joined together to form a larger image), we found that Humminbird MEGA Live is better than the other two, with practically no beam stitching noticeable at all. 
Beamwidth: While all 3 live sonars have relatively similar beamwidth, LiveScope and MEGA Live have a sonar cone that's 20 degrees wide, while Active Target's sonar cone is only 18 degrees wide.
And while this doesn't sound like much, it does make it harder to keep your lure inside the sonar cone, so you can see it on your screen.
When we compared Active Target vs LiveScope side by side, our tests showed that the narrower beamwidth of Active Target means you have to improve your casting accuracy in order to get your lure right into the middle of the sonar cone when using Active Target, while this is easier when using LiveScope.
But when we compared MEGA Live vs LiveScope side by side, we found that their performance is indistinguishable in this area.
This means that LiveScope and MEGA Live are easier to use for beginners in this regard.
Range: While LiveScope and Active Target come with 200 feet range, Humminbird MEGA Live only has 150 feet maximum range.
Also, when it comes to comparing the range of LiveScope with Active Target, it's worth noting that Major League Fishing pro Jacob Wheeler switched from LiveScope to Active Target because he claims it allows him to see his lure at a slightly longer distance from the boat, helping him to catch more bass with long casts. 
Shallow water imaging: Garmin LiveScope is the best option for shallow water imaging, as the amount of detail and image resolution that it provides with its perspective mode in shallow water between 3 and 15 feet depth is much better than either Lowrance Active Target or Humminbrid MEGA Live.
Deep water imaging: When it comes to 50 feet deep water or deeper, our tests showed that Lowrance Active Target provides slightly more detailed data than Garmin LiveScope, and is the winner in this category.
Active Target imaging is also the best when it comes to viewing fish that are hovering right on top of the bottom, which makes it an excellent option for ice fishing. 
Compatibility: While Garmin LiveScope is compatible with the majority of their Echomap and GPSmap units, Lowrance Active Target is compatible with HDS Live, HDS Carbon, and Elite FS fish finders.
Humminbird MEGA Live, on the other hand, is compatible with all Apex and Solix units, as well as Helix G3N and G4N models that are compatible with MEGA imaging.
Networking ability: Networking is a big factor to consider when choosing a live sonar, since you may already have other sonar units on your boat, and it's often best to stick with the same brand, so you have the option of networking them together.
And while all 3 live sonars can be networked with compatible units from the same brand, our tests revealed that Humminbird MEGA Live comes with the biggest advantage in this area, as it can be networked with Minn Kota trolling motors and shallow water anchors, as well as other sonar and mapping units.
Pricing: All 3 units are similarly priced, each retailing around 1500 dollars. However, if you want to use Garmin LiveScope perspective mode, you need to purchase a separate mounting bracket, which will cost you an additional 100 dollars.
In contrast to this, both Lowrance Active Target and Humminbird MEGA Live come with this functionality included in the box, and so are slightly cheaper. 
Now let's take a closer look at each of these live sonar systems.
Garmin LiveScope review

The Garmin LiveScope System is the flagship live sonar of Garmin, and was released in 2018, which was several years before Lowrance and Humminbird came out with their Active Target and MEGA Live, respectively.
Because of this, Garmin LiveScope is the undisputed leader in the area of live sonar, and currently the number one choice for many anglers.
This especially true when it comes to shallow water imaging, where LiveScope provides superior results to the other two live sonar brands. 
LiveScope comes with a sonar black box, which converts the sonar data from the transducer into a form that can be displayed on the screen of the head unit. 
Finally, you should be aware that Garmin released an updated version of LiveScope in early 2022, which comes with an improved LiveScope Plus LVS34 transducer.
Features: 
Panoptix LVS32 transducer
GLS10 sonar black box
Trolling motor mount
Lowrance Active Target review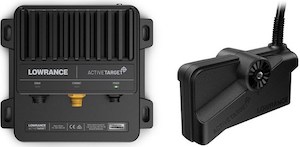 Lowrance Active Target was released in 2020, and comes with all of the same features as LiveScope, including forward mode, down mode, and scout mode (which is the same as perspective mode on LiveScope).
One advantage of the Lowrance Active Target is that it comes with a separate mounting bracket for scout mode already in the box, which means you don't have to purchase it separately.
Another strength of Active Target is the ability to visualize small objects in the water better than the other 2 live sonars, which means you can see your lure at a greater distance from the boat. 
If you're interested in this option, keep in mind that you'll have to check what units are compatible with Lowrance Active Target.
Features: 
Sonar black box
Trolling motor shaft or barrel mount
Best long range imaging quality
Humminbird MEGA Live review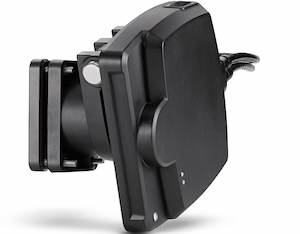 Humminbird MEGA Live was released in early 2021, and is the most recent live sonar on the market.
The great thing about MEGA Live is that until recently, anyone with a Hummingbird setup on their boat had to get a separate Garmin or Lowrance unit in order to get access to live sonar, but now you can do everything with a Humminbird network.
Another advantage of this is that you can easily add Humminbird 360 imaging into the mix, which is a type of sonar imaging that is not yet available from Lowrance or Garmin.
In addition, you can also readily network your Humminbird sonar unit with a Minn Kota trolling motor or shallow water anchor, providing even more options for integrating all of your boat electronics. 
But if you're thinking about getting this option, you should check what units are compatible with Humminbird MEGA Live.
Features: 
Can easily switch between forward, down and landscape modes
No sonar black box required
Can mark waypoints on MEGA Live screen
Final remarks
This concludes our review comparing LiveScope vs Active Target vs MEGA Live side by side.
Hopefully this helps you decide which one of these live sonars is best for your purposes. Tight lines and see you on the water!
Gear and methods used for testing
For consistent testing results, we mounted all of the transducers reviewed above on a MotorGuide Xi5 trolling motor on the bow of a Ranger Z520R bass boat. We also tested each transducer on the same day and on the same lake, to make sure we could compare their performance under similar conditions.