Which Is Better – LakeMaster Or Navionics?
UPDATED 11 MAY 2023
by Robert Ceran
This article may contain affiliate links. If you make a purchase after clicking on a link we may earn a small commission at no extra cost to you.
Currently the most widely used mapping software chips are produced by Navionics and LakeMaster.
So what are their pros and cons, and which one should you choose for your purpose?
My team and I tested both of these mapping softwares by comparing their performance on the same bodies of water.
Based on our testing, here's the quick answer:
Both Navionics and LakeMaster provide very high quality hydrographic maps, but the exact quality varies by location. Because of this, you need to check the map of a specific location in order to determine which brand has the best map for you.
Navionics displays all their charts online in full detail so you can view the one you want before you buy. LakeMaster also gives some online information on their charts, but with less detail.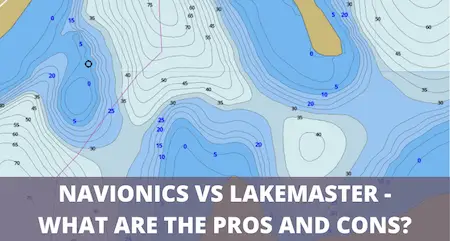 LakeMaster vs Navionics: what are the pros and cons?
| Feature | Navionics | LakeMaster |
| --- | --- | --- |
| Price | | |
| Compatibility with fish finder brands | Lowrance, Humminbird, Raymarine, Simrad | Humminbird |
| Quality of mapping detail | Very high, but depends on location | Very high, but depends on location (highest in HD maps, lower in SD maps) |
| Ability to view maps before purchasing | Yes, all maps can be viewed online | Yes, but not in full detail |
| Coverage | Worldwide | USA & Canada, plus some international locations |
| Highlight depth range | Yes | Yes |
| Shallow water highlight | Yes | Yes |
| Water level adjust | Yes | Yes |
| Satellite overlay | Yes (Navionics Platinum) | Yes (LakeMaster Plus) |
| Chart plotting | Yes | Yes (Autochart Pro) |
| Access to updates | For 1 year | No |
The table above compares the most important specifications and features of the two mapping softwares that we tested and compared side by side.
Now let's dive into the details and take a closer look at each of their features:
Compatibility
LakeMaster is owned by Johnson Outdoors, which also owns Humminbird.
Because of this, all Humminbird units with mapping functionality come with LakeMaster already installed in the box.
However, the drawback is that it only works with Humminbird devices, which is one of it's main weaknesses.
Navionics, on the other hand, is owned by Garmin since 2017, and currently is compatible with a wide range of fish finder brands, including the most popular ones – Humminbird and Lowrance.
Navionics compatibility is much wider, and can be used with many more brands than LakeMaster.
But keep in mind that Navionics Platinum (which provides the highest quality mapping detail) does not work with all models.
If you want to check your specific device to see if it is compatible with Navionics Platinum, take a look at this compatibility guide from Navionics.
LakeMaster is compatible with most Humminbird devices. You can check the following list to make sure your device is compatible: https://chartselect.humminbird.com/supported_products
Navionics is the clear winner in this category, since it has a much wider compatibility range.
Quality of mapping detail
We tested both mapping softwares by comparing their performance on 10 different lakes in North America, including some of the most popular fishing locations.
The results we got were split 50/50 in favor of either brand, and the quality of mapping detail for each of them depends very much on the location in question.
In other words, our testing revealed that for some lakes, Navionics is better, while for others LakeMaster is better.
LakeMaster does provide some of the best high quality maps, but only if there is an HD map available for that location. If the location in question only has an SD map available from LakeMaster, then the Navionics map could very well be better, providing higher detail and more accuracy.
I understand that this is not a very satisfactory answer to help you choose the right mapping software for your location.
One way to check the quality of the maps before buying is by looking at the online information provided by each of the companies about their charts:
So, if you're planning to buy a map for a specific location, the first step is to look at their online information to get an idea of how good their maps are for that location.
Secondly, talk to some anglers who fish on those waters, and ask them which mapping software they are using, and what their experience has been. 
In summary, both softwares are equally good when it comes to quality of mapping detail, although they differ in quality depending on location.
Coverage
Both LakeMaster and Navionics have excellent coverage in North America, and you'll be hard pressed to find any major freshwater lakes or rivers in the USA and Canada that they don't cover (although there are plenty of smaller lakes that aren't covered).
However, our testing showed that Navionics has better coverage when it comes to marine and coastal maps.
So if you're a saltwater angler, this is probably the best choice for you. In addition, Navionics also has better international coverage, which may be a point of interest for you.
In summary, both software are equal in this regard for coverage of North American freshwater locations, but Navionics is better for marine and international locations.
Highlight depth range
This is an extremely useful feature, which allows you to label a certain depth range on your map.
For example, if you want to target walleye between 20 and 30 feet, you can set your map to highlight all areas of the lake that have this depth, and then easily navigate to those areas.
Both softwares have this feature, and are equal in this regard.
Shallow water highlight
This is similar to the previous functionality, but allows you to label all shallow parts of a lake or river, to make sure you avoid them with your boat.
Both softwares have this feature, and are equal in this regard.
Water level adjust
It's very common for the water level of lakes to vary considerably over the year. This obviously affects your hydrographic mapping, and needs to be accounted for.
Both mapping softwares include an easy functionality that allows you to adjust water depth on your map.
Both softwares have this feature, and are equal in this regard.
Satellite overlay
This feature allows you to overlay a satellite photo on top of the topographical map, which can be extremely useful for identifying some geographical features, such as creeks, marshes, river beds, etc..
Both softwares have this feature, and are equal in this regard.
Access to updates
Since the mapping data on both Navionics and LakeMaster is constantly being updated by their companies, an important question is whether you'll get access to those updates after you purchase one of their chips.
In the case of LakeMaster, the answer is no – you have to pay for an updated chip. In the case of Navionics, you do get access to free updates for one year.
Navionics is the winner in this category, giving you free updates for one year.
Chart plotting
Chart plotting functionality allows you to create your own maps, based on the sonar data from your fish finder.
During our testing, we found that there are many small lakes that aren't covered by the available maps, which means you need to create your own custom map of your favorite lakes.
Navionics has this functionality in all packages with the SonarChart Live functionality, but If you want this functionality in LakeMaster, you need to upgrade to the Autochart or Autochart Pro version of it.
Navionics is the winner in this category, since it includes chart plotting functionality in the basic version, while LakeMaster provides it only in more advanced versions.
Pricing
Both softwares are in a similar price category, but the specific price depends on which bundle you want, as well as the bundle quality (such as Navionics Platinum, etc.).
You can check the pricing here:
Navionics:


Lakemaster:


Will Navionics work on Humminbird devices?
Many anglers ask me "is Navionics compatible with my Humminbird Helix 7?"  
The answer is yes: Navionics is compatible with the Helix 7, as well as with most other Humminbird devices.
However, keep in mind that the Navionics Platinum version isn't compatible with all Humminbird devices.
This is an important detail to mention because the Platinum package provides the absolute best quality mapping data, and if you can't use it on your device that means your mapping results won't be as good as they could be. 
In order to check which Humminbird devices are compatible with the regular and the Platinum package, take a look at this compatibility guide.
Does LakeMaster work with Lowrance devices?
No, unfortunately not. LakeMaster chips don't work on Lowrance devices, and if you want to use them, you'll have to purchase a Humminbird instead.
The lack of compatibility with other fish finder brands than Humminbird is one of the biggest weaknesses of LakeMaster.
Final remarks
Are you planning to use a GPS mapping device to find the best fishing spots? In that case one of the key choices you need to make is deciding which mapping chip you're going to use with it.
Many anglers use both Navionics and LakeMaster. In fact many of them use both chips side by side at the same time, on two different devices. 
Based on our testing, it's very hard to point to one of them as the absolute best mapping solution. Instead you should compare them to each other in specific locations, as the quality and the exact amount of detail they offer can vary a lot from location to location, and then choose the best option for your purpose.
Methods and gear used for testing
For consistent testing results we tested both mapping softwares at the same time on the same lakes. For Navionics we used a Humminbird Solix 12 CHIRP MEGA SI+, and for Lakemaster we used a Lowrance HDS Pro 12. Both fish finders were set up on the same boat, a Ranger Z520R bass boat, and this allowed us to compare the mapping quality of both softwares side by side in the same locations.