Shimano Sedona Vs Sahara Reels – What Are The Differences, And Which One Should You Buy?
UPDATED 13 MAY 2022
by Robert Ceran
This article may contain affiliate links. If you make a purchase after clicking on a link we may earn a small commission at no extra cost to you.
Most anglers agree that Shimano makes some of the finest spinning reels on the market, and if you're looking for a new reel in the $70 to $90 price range, then the Sedona and Sahara lineups both come to mind.
In terms of pricing, the two series are similar, with the Sahara costing about 20 dollars more than a Sedona of comparable size. So this begs the question – what are the most important differences between the two lineups, and which one should you buy for your purpose?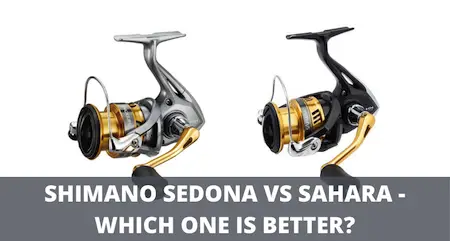 This article compares both reel series side by side, and discusses their main differences in full detail. We focused on the Sedona FI and Sahara FI series, which are the latest versions of both lineups.
Shimano Sedona vs Sahara – what are the differences?
|   | Shimano Sedona FI series | Shimano Sahara FI series |
| --- | --- | --- |
| Image | | |
| Price | | |
| Size range | 500 to 8000 | 500 to 5000 |
| Number of ball bearings | 3 + 1 | 4 + 1 |
| X-Ship gear technology | No | Yes |
| Hagane gear technology | Yes | Yes |
| G-Free body | Yes | Yes |
| Build material | Graphite | Graphite |
| Maximum drag pressure | 7 to 24 lb | 7 to 24 lb |
| Gear ratio | 4.6:1 to 6.2:1 | 4.7:1 to 6.2:1 |
| Weight | 6.30 to 21.70 oz. | 6.90 to 10.60 oz. |
The table above shows the main features and specifications of both lineups side by side.
As you can see, there are many similarities between both series, and we'll have to dive into the details to understand what makes them different.
Let's look at the main differences between the two models in more detail.
The most important differences between Shimano Sedona and Sahara
Size: This is the first area with a difference between the two series. While the Sahara is available in the sizes 500 to 5000, the Sedona covers a wider range, going from 500 to 8000 (if you want to know more about the different sizes, and which one to choose for which application, take a look at our spinning reel size guide).
Bottom line: Both series cover the same sizes at the lightweight end of the scale, but if you're looking for a heavy 6000 to 8000 size, then Sedona is the one for you.
Ball bearings: This is one of the categories with the main differences between the two lineups. The Sahara has one ball bearing more than the Sahara (4+1 vs 3+1 ball bearings, respectively), which makes its retrieval action noticeably smoother when you compare them side by side.
Bottom line: The Sahara has smoother action than the Sedona, due to an additional ball bearing. 
Gear technology: This is the second area with the biggest differences between both lineups. While both of them use Hagane cold forged gears (which is the flagship technology designed by Shimano), the Sahara also has X-Ship technology to enhance stability and durability of the gears. This technology supports the pinion gear on both ends with additional bearings, and as a result, it maintains precise alignment even under intense pressure.
In addition, X-Ship technology reduces friction between the spool shaft and the gears, which improves casting performance.
Bottom line: The Sahara gears perform better and more consistently than those of the Sedona due to X-Ship technology, and are more resistant to warping under pressure.
G-Free body: Both lineups are identical in this category, which is designed to reduce reel weight and move the center of gravity closer to the rod. The G-Free body design reduces the amount of effort required to cast, and helps to avoid casting fatigue.
Maximum drag pressure: Bot lineups are identical in this category, with 7 to 24 lb maximum pressure, providing plenty of drag power to fight big fish.
Gear ratio: Both series are identical in this category, with gear ratios that range from 4.6:1 to 6.2:1. This is a wide range of speeds from slow to fast, which cover almost all important spinning applications.
Weight: The two series are very similar in this regard, due to the fact that they are both built with the same graphite material. The only difference here is that the Sedona series includes larger sizes, which of course are heavier.
Now let's look at each of the lineups in more detail.
Shimano Sedona FI spinning reel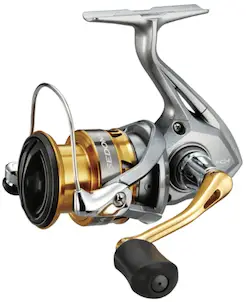 This is a classic spinning reel that is used by thousands of anglers across the world. It's the cheapest Shimano series to include their famous Hagane gear technology, which improves both smoothness of action and durability. 
At its price point, this reel provides excellent value for money and provides high end technology at well below the 100 dollar mark. In addition, it's available in heavier sizes all the way to 8000, which is big enough for heavy saltwater fishing.

Features:
Propulsion line management system
Cold forged hagane gears
Varispeed oscillation
Cross carbon drag
G-free body design
Shimano Sahara FI spinning reel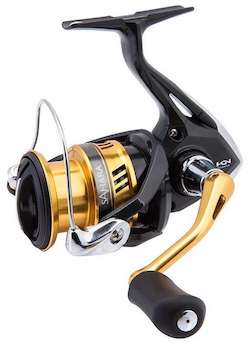 Covering the 500 to 5000 size range, this model is designed for the lighter end of the scale, from ultralight to medium weight spinning applications. The great thing about this reel is that you can even use the light models to target big fish, since it can handle the intense pressure of a long battle without problems.
The X-Ship technology used on the gear system helps to increase stability and durability of the gears, and makes their performance consistent across a wide range of pressures when fighting big fish.

Features:
4 plus 1 ball bearings
X-Ship pinion gear support technology
G-Free body design
Hagane cold forged gears
Conclusion
In summary, both reel lineups provide a very high quality performance, which is why we included both of them in our review of the best spinning reel under 100 dollars.
Both fishing reels run on high end Shimano technology, including cold forged Hagane gears, which are more durable and provide smoother action than those of many other brands.
But when compared head to head, the performance of the Sahara is smoother and more consistent compared to the Sedona. This difference is due to its additional ball bearing, as well as its X-Ship gear technology, which enables reliable performance at a wide range of pressures. So you can be sure that it will perform well even if you hook into a big fish.
Additional resources: