The Best Spinning Reel Under 100 in 2023 Reviewed
UPDATED 09 MAY 2023
by Robert Ceran
This article may contain affiliate links. If you make a purchase after clicking on a link we may earn a small commission at no extra cost to you.
Are you looking for a new spinning reel under $100, but aren't sure which model offers the best value at this price point?
My team and I tested the most popular spinning reels retailing at less than 100 dollars, and evaluated them on their gear ratio, retrieve rate, weight, drag pressure, and overall performance.
Based on our testing, here are our picks for the top spinning reels under 100 in 2023: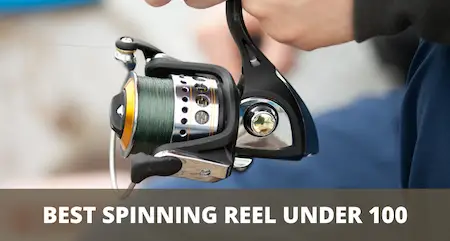 The 11 best spinning reels under 100 in 2023 compared
| Model name | Image | Price | Our verdict | Ball bearings | Gear ratio | Retrieve rate | Max drag (lb) | Weight (oz) |
| --- | --- | --- | --- | --- | --- | --- | --- | --- |
| Daiwa BG | | | Best overall performance | 7 | 5.3:1 - 5.7:1 | 28.3" - 53.3" | 4.4 - 33 | 8.5 - 30 |
| KastKing Sharky III | | | Best budget option | 11 | 5.2:1 | 26.2" - 33.4" | 13 - 39 | 6.9 - 10.5 |
| Pflueger Supreme | | | Best lightweight model | 9 | 5.2:1 - 6.2:1 | 22.8" - 38.6" | 8 - 14 | 6.6 - 9.6 |
| Pflueger President | | | Best option for beginners | 10 | 5.2:1 | 20.2" - 31.6" | 6 - 14 | 7.5 - 11.5 |
| Penn Battle II | | | Best saltwater spinning reel under 100 | 6 | 5.2:1 - 6.2:1 | 22" - 44" | 9 - 30 | 8.1 - 30.2 |
| Shimano Sedona | | | Runner up best overall performance | 4 | 4.6:1 - 6.2:1 | 26" - 41" | 7 - 24 | 7.6 - 10.6 |
| Penn Pursuit III | | | Runner up best budget option | 5 | 5.3:1 - 6.2:1 | 33" - 43" | 10 - 25 | 9.8 - 29.1 |
| Okuma Epixor | | | Solid runner up | 10 | 6.0:1 | 32.6" - 39.8" | 16 - 20 | 10.4 - 14.7 |
| Shimano Sahara | | | Solid runner up | 5 | 5.0:1 - 6.2:1 | 29" - 41" | 2.5 - 11 | 7.6 - 10.6 |
| Penn Fierce III | | | Solid runner up | 5 | 5.2:1 - 6.2:1 | 22" - 44" | 9 - 30 | 7.8 - 28.7 |
| Abu Garcia Elite Max | | | Solid runner up | 7 | 5.6:1 - 6.2:1 | 28.2" - 38" | 14 - 18 | 7.9 - 13.3 |
The table above compares the most important specifications of the top 11 models tha we tested side by side. 
Note: all these reels come in a range of sizes, and some of the largest sizes cost a little more than $100.
So for the purpose of this review, we tested the small to midsize models, since we're assuming that those will cover most spin fishing needs.
If you require an extra large sized spinner reel, you might want to consider models that cost more than $100.
Now let's take a look at each model in more detail:
Detailed review of the best spinning reel under $100
1. Daiwa BG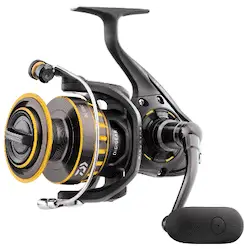 This spinning reel impressed us the most out of all the models we tested for this article. In addition to its smooth action, it has a ton of power behind it to handle big fish.
During our testing, it stood out by casting very smoothly, and retrieving fast, which makes it excellent for high speed spinning.
In addition, our tests showed that the aluminum spool and "Hard Bodyz" construction is highly durable and corrosion resistant, making it one of the best saltwater spinning reels under $100.
Features:
Black anodized aluminium housing ("Hard Bodyz")
High line capacity
Instant anti-reverse gear mechanism
Waterproof carbon drag system
Braided line ready spool

The Daiwa BG line of reels is tough as nails due to the black anodized aluminium construction,  and it's strong enough to handle strong fish, such as tuna and sailfish, making it a favorite for saltwater anglers.
2. Kastking Sharky III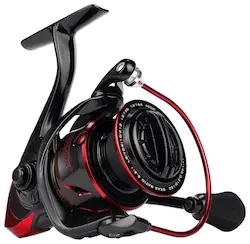 This spinning reel is a little bulkier than most of the others that we tested, but offers excellent value for money.
The construction is highly durable and corrosion resistant, which enables it to withstand regular exposure to saltwater.
Features:
Machined aluminum spool
10 plus 1 rotor bearing
Lightweight and tough graphite construction
Braid ready aluminium spool 
Instant lock anti-reverse mechanism

When we put it to the test, we found that this powerful reel has smooth action as well as being powerful enough to handle fighting big fish.
It's a great spinning reel for anyone who's looking for high quality without breaking the budget.
3. Pflueger Supreme

The 9 ball bearings of the Supreme make line retrieval action buttery smooth, and also give precise speed control for fishing lures at varied speeds, which makes the Pflueger Supreme the best model in this price category.
It's a little lighter than most other spinning reels, and this is very helpful if you want to cast a lot without wearing out your casting arm.
The extremely smooth drag is great for battling strong fish that like to do explosive runs after taking the lure.
Our testing revealed that its lightness of weight combined with the smooth drag action is great for smallmouth bass fishing.
Features:
9 stainless steel ball bearings
Magnesium ultralight body and rotor
Oil and felt drag system with carbon inlay
Braid ready spool 
Aluminium handle

Based on our testing, this reel provided very consistent and easily controlled drag pressure. More and more anglers prefer to use braided line, and the braid ready spool of the Pflueger Supreme allows braid line to be tied directly to the spool.
Together with the featherlight stainless steel body, the aluminium handle is highly durable, which allows the Supreme to handle wear and tear extremely well.
See also: Pflueger Supreme vs President.
4. Pflueger President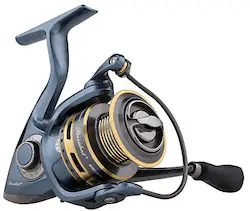 Retailing at a very competitive price point, the Pflueger President series is cheaper than most other reels tested here, and due to it's extremely high value for money, it is perhaps one of the most popular spinning reels for a small budget, and a top choice reel under 100.
During testing we discovered that one of its top qualities is its extremely high durability, enabling it to handle a lot of abuse while keeping its smooth casting and retrieval performance.
Features:
7-10 ball bearings (depending on the model)
Lightweight carbon body and rotor
Multi-disc sealed oil felt drag system
Aluminium handle with soft-touch knob
Braid-ready spool

The high number of ball bearings make the line retrieval operation of this spinning reel super smooth, and the light weight makes it ideal for long days of fishing without experiencing casting fatigue.
All in all, it's hard to go wrong with a Pflueger President. 
5. Penn Battle II

There are good reasons why the Penn Battle II is a favorite among many spin fishers.
The full metal body construction makes it highly durable and corrosion resistant, while its action is both strong and smooth, which is great for fighting big fish.
Features:
Full metal body, sideplate and rotor
5 stainless steel bearings
HT-100 dual force carbon fiber drag
Quick set anti-reverse mechanism
Braid ready superline spool with line capacity rings

The aluminium spool and full metal construction is ideally suited for durability and extreme punishment, including regular saltwater exposure.
In addition, our tests revealed that the carbon fiber drag system is reliable and easily adjustable while battling a strong fish.
For these reasons, many sea anglers swear by the Penn Battle II when it comes to spin fishing.
6. Shimano Sedona FL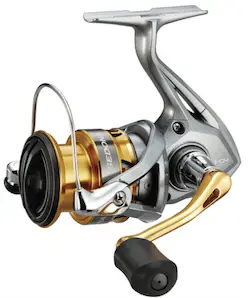 While most Shimano spinning reels cost more than $100, the Sedona FL offers great quality at less than that. It's the only lower end priced Shimano reel that includes Shimano's famous HAGANE gearing.
When we put it to the test, we found that the drag power is beefed up, which allows for the casting of bigger bait and catching bigger fish. In addition, the light weight helps to reduce casting fatigue on long fishing days.
Features:
Cold forged HAGANE gears (normally reserved for Shimano's high end reels)
Aluminum spool
Propulsion line management system for longer casting distances
Super lightweight Magnumlite rotor 

The Sedona FL embodies the core qualities of Shimano spinning reels: high quality materials, light weight, and superior performance.
It casts like a dream due to the propulsion line management mechanism, and retrieves mono line very smoothly.
At this price point, it's harder to get higher value for your money.
7. Penn Pursuit III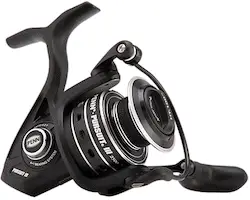 The Penn Pursuit III is a little cheaper than the Pflueger Supreme and the Abu Garcia Revo X, and offers great quality for the price.
Our testing revealed that it is a highly versatile, solid spinning reel with a big line capacity, that can be used both for freshwater and saltwater spin fishing.
Features:
Lightweight graphite frame
High line capacity
Corrosion resistant aluminium handle
Instant anti-reverse bearing

We found that the reel packs a lot of power, which makes the Pursuit III perfect for fighting powerful saltwater fish like tuna or striped bass.
In addition, the anti-reverse mechanism helps to set the hook properly whenever a fish grabs the bait.
8. Okuma Epixor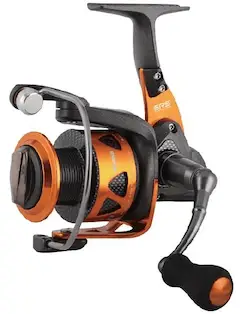 With 9 bearings, this high speed spinning reel feels ultra smooth during line retrieval. The drag is strong, but also sensitive to small adjustments.
Features:
Dual force drag with a multi-disc oiled felt drag system
9 plus 1 bearings
Quick set anti-reverse mechanism
Hybrid aluminium and graphite body design
Corrosion resistant coating

The dual force drag uses both surfaces of the line spool to generate maximum drag pressure, which increases both smoothness and adjustability.
This enables precise modulation of the line pressure to fight strong fish like striped bass and catfish. 
While testing, we discovered that when a big fish takes the bait, the Okuma Trio allows it to run without breaking the line, but when that fish heads for an underwater obstacle, it's easy to use the max drag to steer it away from danger.
The corrosion resistant coating makes it extremely durable even when regularly exposed to saltwater, and one of the best choices for sea anglers. 
9. Abu Garcia Elite Max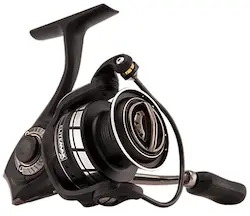 The Abu Garcia Elite Max is extremely fluid to handle, with smooth casting and retrieval action, and the rocket line management system enables both long range casting and high accuracy.
Features:
6 plus 1 bearings
Super light C6 carbon body
Rocket line management system
Carbon matrix hybrid drag system
Aluminium handle

Our testing showed that this spinning reel is both super lightweight and highly durable, as well as being priced highly competitively.
At the same time the carbon matrix is smooth and consistent, and strong enough to handle big fish.
10. Penn Fierce III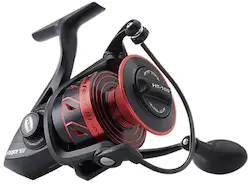 This lightweight reel delivers very solid performance. The 4 + 1 ball bearings give a very smooth line retrieval action, and the metal body is very light which is great for long days of spin fishing.
It's also very user friendly and easy to operate for entry level anglers.
Features:
4 plus 1 bearings
Carbon fiber drag washers
Full metal body and sideplate
Quick-set anti-reverse mechanism
Line control system on the spool

The Penn Fierce 3 spinning reel is a smooth and lightweight spinning reel that's perfect for freshwater and nearshore spinning.
Based on our testing, we found that the drag is smooth and easily controllable, which is great if you do hook a larger fish. At this price point, it offers the best bang for your buck.
11. Shimano Sahara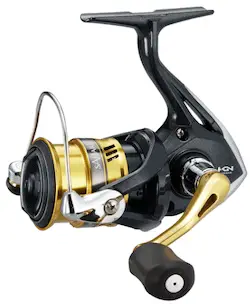 This shimano reel comes with some of the technology that's normally only found in high-end shimano reels, including the propulsion line management system and the one-handed casting system.
Features:
5 shielded stainless steel ball bearings
Quick-fire one handed casting system
Lightweight graphite construction
Propulsion line management system
Varispeed oscillation

A lightweight, smooth and durable reel. It's reliable and tough, and can handle the punishment of saltwater fishing.
It has excellent casting behavior and line management properties, and is great value for money in this price class.
Buying guide: how to choose a spinning reel
If you're looking to treat yourself to a new reel, the first thing you need to do is decide on your budget. 
Following that, the second step is to decide what spinning reel size is best for your purpose.
After that, you can focus on the features you should be looking for in the spinning reel parts.
And once you've bought a reel, you may also want to check out our article on spinning reel maintenance.
Best spinning reel under 100 for bass
Out of all the fishing reels listed above, we found that the Abu Garcia Revo X is our favorite model for bass fishing. 
It's both lightweight and has an incredibly smooth retrieval action, which is great for long sessions of spinning for bass.
Correct gear ratio
The best gear ratio is dependent on what kind of fishing you're looking to do.
To put it simply, gear ratio refers to the number of rotations made by the aluminum bail wire around the reel's spool in a single rotation by the reel handle.
For instance, a reel with a gear ratio of 5:1 means that its bail wire rotates 5 times for every single rotation made by the handle. In case you'd like to use lures requiring faster retrieves, go for reels with a greater gear ration. 
A gear ratio of 4:1 is on the slow side, whereas a gear ratio of 6:1 is on the fast side. For most spin fishing purposes, your best bet would be to go for reels that have a gear ratio of 5:1.
High quality ball bearings
Don't worry – we won't bore you to death with the details. However, keep in mind that the line retrieval actions of a reel usually becomes smoother as the number of ball bearings increases.
Many pros recommend going for a fishing reel that has the maximum number of ball bearings, but this strategy can quickly become costly. Instead, we recommend going for reels that have at least 6-7 ball bearings.
This is the sweet spot – anything more than that is not strictly necessary for most purposes. The difference in smoothness between reels that have more ball bearings than 6 or 7 is often not that dramatic.  
Do you want a freshwater or saltwater spinning reel?
Are you planning to fish in saltwater bodies or freshwater bodies? This is a major factor that should be taken into account when looking for the best spinning reel under $100.
As a rule of thumb, saltwater conditions require more durable and corrosion-resistant reels, compared to freshwater spin fishing.
A saltwater spinning reel should be constructed with highly durable materials, such as stainless steel and forged aluminum.
If you choose a reel that isn't corrosion-resistant, there's a high likelihood that you'll end up with spinning reel problems sooner rather than later.
These fishing reels can take even the toughest punishment during saltwater fishing. However, they are usually more costly compared to freshwater spinning reels.
Quickset anti-reverse mechanism
Go for spinning reels whose handles don't have any backwards rotation. If your handle moves even slightly backward, that can affect your reel's accuracy and power, thus affecting your chances of setting the hook when a fish takes your lure.
There shouldn't be any sort of reverse motion affecting the handle when you try to pause the reel.
You can test this by simply moving the reel's handle forward, followed by reversing it gently. In case the handle starts backing up, put it back where you found it.
Another thing to look for in the reel handle is that it should be long enough and with a large knob. This makes it easier to hold on to even when it gets wet, or your hands are greasy. 
High quality drag
The reel's drag system transmits the line pressure onto the fish, but at the same time helps to release line if you are fighting a fierce fish capable of breaking your line.
A high-quality drag system should work smoothly to release line in a controlled, consistent manner when a fish dives or runs with full power.
Ensure the reel doesn't  jerk or stall while releasing the line. Any drag that stutters is a bad choice.
Many experienced spin fishing pros suggest using a front-drag system, since it makes it easier to adjust your drag settings quickly while battling a big fish.
Once you've purchased your reel, you are ready to add line to it, and for this our step by step guide on spooling a spinning reel might come in handy.
Conclusion
Follow the tips above while choosing the best spinning reel under 100, and you'll soon have a reliable, top-notch spinning reel that's perfect for all your spin fishing requirements!
If you'd like to compare these reels to even more affordably priced models, take a look at our review of the top spinning reel under $50.
Also, if you're interested in lightweight fishing applications, have a look at our review of the top ultralight spinning reels.
Methods and gear used for testing
For consistent testing results, we tested each of these spinning reels under the same conditions on Lake Okeechobee. We paired each spinning reel with a 7′ Medium Light Fast Action St Croix Premier spinning rod. The reels were spooled with 8 lb test Power Pro Braided Line, and we used them to throw 1/8 to 1/4 oz lures (crankbaits, swimbaits, soft plastics, and jigs) in 5 to 15 feet of water.