Find "Trout Fishing Near Me" (Interactive Map)
UPDATED 17 MAY 2023
by Robert Ceran
Are you trying to search for "trout fishing near me", but not sure where to look?
While there are thousands of great trout fishing spots in the US, until recently there hasn't been a convenient directory to help you find the best trout fishing close to you.
But thanks to our partnership with Take Me Fishing, you can now take advantage of the interactive map on this page to find the best trout fishing spots in your area easily and quickly.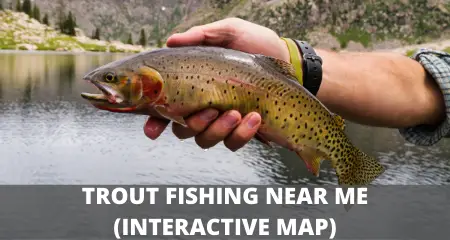 By referring to the map below, you'll also get access to recent catch logs for these locations, with insights on what trout species have been caught there recently.
Try out the "trout fishing near me" interactive map:
The interactive map above allows you to identify trout fishing spots close to your location, as well as the catches that have been logged on those fisheries (represented by the blue icons).
In addition to catch logs, you can also get information about boat ramps, bait and tackle shops, marinas, fishing charters, and fishing license vendors (which are represented by the orange icons that come with a range of different symbols on them).
Now let's cover in more detail how to use the interactive map to find the "best trout fishing near me".
How to use the "trout fishing near me" interactive map
In order to use the interactive map effectively, you need to zoom in on your location.
Normally the map picks up your geolocation automatically, but in case it doesn't, you can either enter the name of your city or county into the search bar, or you can scroll to the correct location on the map.
Let's take a specific example to show you what this would look like. If you happen to be based in Bremerton (Washington state), just enter the city name into the search bar, and you'll immediately see a drop down menu with your city as one of the options.
After you select the correct location from the drop down menu, the map automatically zooms in on that location.
Now look for blue round icons in that area. These blue icons each represent a body of water, and if you click on one of them, this will reveal catch logs for that fishery, with the most recent ones at the top.
You can see an example of this in the photo below: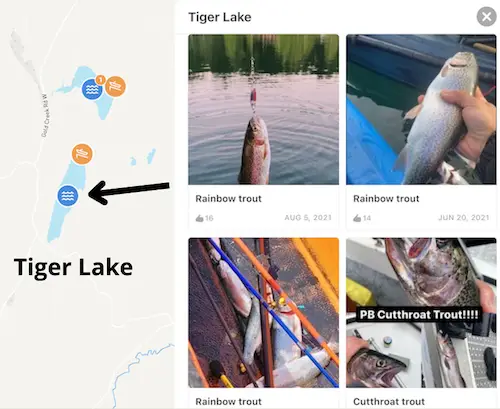 The photo above shows a screenshot of the catch logs for Tiger Lake near Bremerton, WA. As you can see, most logged catches are cutthroat trout, as well as rainbow trout.
This is a great indication that Tiger Lake is an excellent trout fishing lake, since others are regularly catching several different trout species there, making it worth your time to go there to catch trout. 
Also, if you scroll down to the bottom of the catch logs, you'll see another section entitled "people often fish here for":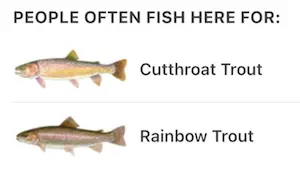 This confirms that Tiger Lake is a great place to fish for trout.
But the main indicator that this particular lake is good for trout fishing are the photos of catch logs associated with it.
So when in doubt, always use the catch log to identify a good place to fish for trout.
How does the "trout fishing near me" interactive map work?
The map is based on an algorithm that crowdsources information from many anglers who regularly log their catches, and then makes this information available on the interactive map, so that other anglers can use it to find the best fishing spots. 
When you use the map, you'll notice that some fisheries are better for some species (such as trout, bass, or catfish), but not for others, while some fisheries are good for catching a wide range of different species.
Another great way to use the interactive map is by checking what others are catching in lakes or rivers that you already know, because you may be surprised to discover that your favorite lake is also good for additional fish species.
Where is the best trout fishing in the US?
Now let's take a quick look at some of the best trout fishing spots in the USA, so you can take advantage of these as well. 
Best trout fishing lakes
Below are 5 of the best trout fishing lakes in the USA:
Shasta Lake (California)
Covering an area of more than 30,000 acres, Shasta Lake is the biggest man-made reservoir in California.
The lake is famous for its population of German brown trout, as well as a quality rainbow trout fishery.
Another attraction is the landlocked population of Chinook (king) salmon, which are regularly caught while trolling for trout.
Lake Taneycomo (Missouri)
Lake Taneycomo not only provides an ideal habitat and food base for trout, but in addition is regularly stocked with more than half a million rainbow and brown trout every year, resulting in some of the best trout fishing in the United States. 
Diamond Lake (Oregon)
Diamond Lake provides ideal conditions for stocked Rainbow trout to reach sizes over 20 inches, which are caught on a daily basis here.
The aquatic conditions are so good for insects and other invertebrates, that trout grow very fast. Diamond Lake also holds brown and tiger trout, but these must be released if caught. 
Pyramid Lake (Nevada)
Pyramid Lake is within easy reach of Reno, and has a maximum depth of up to 370 feet.
It is famous for its cutthroat trout population, which regularly reach gargantuan sizes in Pyramid Lake.
Cutthroat trout weighing over 20 pounds are a common occurrence in Pyramid Lake.
Crowley Lake (California)
Crowley Lake is a man-made reservoir at an altitude of 6,850 feet, which is ideal for trout.
The conditions in Crowley Lake are ideal for trout to thrive, and some of the largest trout in California are regularly caught here, including brown and rainbow trout. 
Best trout fishing rivers and streams
Below are 9 of the best trout fishing rivers in the USA:
Nantahala River (North Carolina)
The Nantahala River produces some of the biggest brown trout in North Carolina, and is the place where the state record brown trout (weighing almost 25 pounds) was caught. In addition to brown trout, it also offers quality rainbow trout fishing.
North Platte River (Wyoming)
The North Platte flows more than 700 miles from its spring in the Southern Rockies all the way to the South Platte River in Nebraska, and is home to some of the finest trout fishing in the country, and is perhaps most famous for the trout fishing in Northgate Canyon.
South Platte River (Colorado)
The great thing about the South Platte rivers is that it not only has excellent trout waters, but is also very accessible via Colorado Springs and Denver, which makes it an ideal spot for a weekend fishing trip. 
Yellowstone River (Montana)
The Yellowstone River is not only famous for the breathtaking scenery surrounding it, but also for having some of the best trout fishing in the world.
The most frequented part of the Yellowstone river is the Paradas Valley stretch, but you'll be hard pressed to find any stretch of the river that doesn't have top notch trout fishing.
Deschutes River (Oregon)
The Deschutes River is a classic trout water that is on the bucket list of every fly fisherman.
In addition to gorgeous brook trout, it also has strong populations of rainbow trout and steelhead.
And if it's steelhead fishing you're looking for, you'll find that in the Deschutes River during the winter. 
Beaverkill River (New York)
The Beaver Kill river originates in the Catskills of upstate New York, and has a long tradition of fly fishing for trout, based on the fact that it houses healthy populations of wild brown and brook trout.
The trout population is augmented by stocked rainbow and brown trout, drawing many trout anglers from miles around.
White River (Arkansas & Missouri)
The White River is famous for its tailwater stretches that offer excellent trout fishing, and produces trophy size brown trout regularly. 
Connecticut River (New Hampshire & Vermont)
The Connecticut River not only houses brown, brook, and rainbow trout in plentiful numbers, but in addition also has an annual run of salmon which makes for amazing fishing.
Great trout fishing spots are found along the River at the border between Vermont and New Hampshire.
Bois Brule River (Wisconsin)
The Bois Brule river runs from Douglas County all the way to Lake Superior, and offers excellent trout fishing for brown and brook trout, as well as steelhead that migrate up the river from Lake Superior.