Types Of Trolling Motors (And How To Choose The Right One)
UPDATED 17 MAY 2023
Trolling motors have become increasingly popular over the past decades, due to the fact that they are relatively inexpensive, quiet, and lightweight. 
Whether you use them for trolling, for keeping your boat in a specific spot with a GPS anchor, or for fine tuning boat control by using a foot pedal while fishing from your boat, trolling motors have been a game changer for recreational fishing.
But what are the different types of trolling motors, and how should you choose the right one for your boat?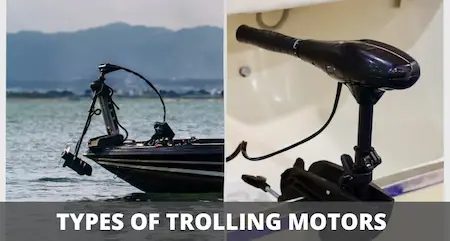 In this article we'll walk you through the main types of trolling motors, as well as their pros and cons, so you can decide which one is right for you.
What are the types of trolling motors?
Trolling motors can be grouped into 5 main categories as follows:
Electric vs gas powered trolling motors
Saltwater vs freshwater trolling motors 
GPS controlled vs regular trolling motors
Transom vs bow mount trolling motors
Hand vs foot controlled trolling motors
So depending on your specific situation, you'll need to choose a trolling motor that falls into one or more of the categories outlined above. For example, you may want to get an electric bow mount trolling motor with GPS anchor functionality, and for use in freshwater.
In addition to these different trolling motor types, you also need to consider the size and power of your trolling motor before you make a buying decision.
Gas trolling motors vs electric
While many people automatically assume that all trolling motors nowadays are electric models, this is far from the truth, as gasoline motors are still widely used for trolling.
Gas powered trolling motors
Gas trolling motors are small versions of outboard motors, which were invented in 1909 by Evinrude. They typically come with a 4 stroke engine, and provide 2 to 6 horsepower, making them stronger than electric trolling motors. Because of this they are also significantly faster than electric trolling motors, with maximum speeds exceeding 4 to 5 knots.
Electric trolling motors
Electric trolling motors were invented in 1934 by O. G. Schmidt in North Dakota (who went on to found Minn Kota the same year).
Electric motors provide up to 120 lb thrust, which corresponds to about 1.5 horsepower. This makes them significantly weaker than gasoline powered models, and hence their maximum speed rarely exceeds 2 to 3 knots.
Pros and cons of gas vs electric trolling motors
So what are the pros and cons of each trolling motor type? As already mentioned, gasoline trolling motors are both faster and more powerful, which makes them better suited for bigger boats. In addition, they also have an increased range compared to electric models.
Electric trolling motors, on the other hand, are much more quiet than their gasoline counterparts, which makes them better suited for many fishing applications, where stealth is the name of the game. This applies especially in freshwater settings, where a gasoline trolling motor is likely to scare fish from a long distance away.
Electric trolling motors are also generally lighter in weight than gas powered models, making them better suited for small boats, and even paddle boards, kayaks and canoes.
Saltwater vs freshwater trolling motors
While saltwater and freshwater trolling motors are similar in overall design and build, saltwater trolling motors come with several distinct features that make them more resistant to saltwater corrosion.
These additional features include fully sealed electrical connections, stainless steel components, and anti-corrosion coating on all exposed surfaces. However, since the overall build is very similar between saltwater and freshwater trolling motors, they can be used interchangeably in both types of environments.
With that being said, if you use a freshwater trolling motor in saltwater, you should keep in mind that this tends to accelerate its corrosion dramatically, and thus have to take adequate precautions to protect and maintain it. 
GPS controlled trolling motors
Traditionally, trolling motors are steered with a tiller that basically requires you to choose the direction in which you want to travel by pointing the motor in the opposite direction. However, during the last 20 years, the market has been revolutionized by trolling motors that are controlled by electronic sensors, which are usually GPS sensors and electronic compasses.
The most well known of these are spot lock trolling motors (also known as GPS anchor trolling motors), which allow you to keep your boat in a specific GPS location without having to drop a physical anchor.
Spot lock trolling motors are made by several different brands, and have become so accurate that they can hold a boat within 3 to 5 feet of a set of GPS coordinates.
Spot lock trolling motors have had a huge impact on the world of professional angling, and are nowadays used by all bass pros, as well as many walleye pros. In addition to this, many recreational anglers also use these trolling motors, which enable you to fish in locations that would otherwise be almost impossible to fish in (such as close to riptides and spillways).
In addition to GPS anchor lock, high end trolling motors can also be networked with mapping devices, which can steer them to specific GPS locations, or along recorded routes or lake contours. 
It's important to point out that these advanced GPS navigation capabilities are only available on electric trolling motors (and only on high end models at that), which explains why they are so popular among anglers. 
If you're currently looking for a GPS controlled trolling motor, check out our article: best spot lock trolling motors reviewed and compared.
Trolling motor mount types
There are two most commonly used types of trolling motor mount are bow mount and transom mount. Let's take a closer look at each of these in turn.
Bow mount
Bow mount trolling motors are most popular among anglers, because they provide the greatest precision and ability to fine tune boat control while fishing from the front of the boat.
For example, spot lock trolling motors are bow mounted, since that allows you to fix the bow of the boat at a specific set of GPS coordinates, and then cast your fishing rod from there. This is extremely useful when targeting a precise fish-holding structure, such as a wreck, spillway, or brush pile.
Another advantage of high end bow mount trolling motors is that they can be controlled by several means, including a remote control, autopilot, or with a foot pedal. Especially the latter option allows anglers to keep their hands free for fishing, while using their feet for boat control.
Transom mount
After bow mounted models, transom mount trolling motors are the most common. Standard trolling motors without GPS or autopilot functionalities are most often mounted on the transom, since that location allows you to control them by moving the tiller back and forth while positioned at the back of the boat.
Transom mount models are most commonly used for actual trolling, where you cover a lot of ground in search of fish. Since they are mounted closer to the water, the shaft of transom mount trolling motors is shorter than that of bow mounts. In addition to this they also tend to be cheaper and easier to mount.
Hand vs foot controlled trolling motors
There are three main ways to steer a trolling motor:
Tiller
Hand-held remote control
Foot pedal
Since a tiller is by far the simplest option, it also comes at the lowest cost, and so cheap trolling motors are usually controlled with a tiller. This option comes with the downside that you need to sit right next to the trolling motor in order to steer it (though you can improve matters a bit by using a tiller extension).
More high end trolling motors usually come with a hand-held remote control that digitally controls the trolling motor in order to steer it. The great thing about this is that you can control your trolling motor from anywhere on the boat, as long as there is a direct line of sight between the remote and the trolling motor. 
Finally, some high end trolling motors come with the option of using a foot pedal instead of a remote control. The big advantage of this option is that it allows you to control the trolling motor with your foot, while keeping your hands free for casting with a fishing rod.
Because of this key advantage of foot pedals, most anglers prefer to use foot controlled trolling motors over hand controlled ones. Just take a look at the bass pro circuit, where pretty much every bass professional uses a foot controlled trolling motor nowadays.