Best Baitcaster For Beginners – 2023 Buyer's Guide
UPDATED 06 MAY 2023
by Robert Ceran
This article may contain affiliate links. If you make a purchase after clicking on a link we may earn a small commission at no extra cost to you.
Are you a novice angler looking for your first baitcaster, but not sure which baitcasting reel is best for beginners?
My team and I tested the most popular baitcasting reels on the market, and evaluated them on their ease of use, affordability, and most importantly, on their anti-backlash technology (as baitcaster backlash is the bane of every beginner).
Based on our testing, here are our picks for the best baitcasting reels for beginners in 2023: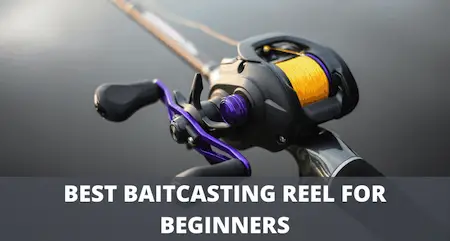 5 best baitcasting reels for beginners tested
| Model name | Image | Price | Our verdict | Ball bearings | Gear ratio | Retrieve rate | Max drag (lb) | Weight (oz) |
| --- | --- | --- | --- | --- | --- | --- | --- | --- |
| Abu Garcia Revo SX | | | Best overall performance | 10 | 6.6:1 to 7.3:1 | 27" to 30" | 24 | 7.8 |
| Piscifun Torrent | | | Best budget option | 6 | 6.3:1 | 26.8" | 18.5 | 8.0 |
| Kastking Spartacus | | | Most durable model | 11 | 6.3:1 | 28.3" | 25 | 9.4 |
| Piscifun Phantom | | | Best lightweight option | 7 | 7.0:1 | 30.3" | 17 | 5.7 |
| KastKing Speed Demon | | | Best high speed model | 13 | 9.3:1 | 39.1" | 13.2 | 6.5 |
The table above compares the most important features of the best beginner baitcasters that we tested side by side. 
All of the reels that we tested have a dual brake system, which helps beginners to avoid backlash formation completely (even if you've never used a baitcaster before).
Now let's dive into the details and take a closer look at each of the models above.
1. Abu Garcia Revo SX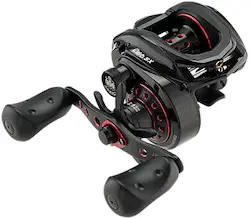 This reel continues to be one of the most popular models used by many bass anglers.
It's a very sleek and elegant low-profile baitcaster, and due to the Abu Garcia Infini dual brake system, it's easy to cast without generating backlash.
The Infini dual braking system of this reel combines centrifugal and magnetic brakes, and based on our testing, this allows beginners to start casting without generating the dreaded baitcaster birds nest.
The best part is that you don't need to use your thumb to control spool rotation, since the reel takes care of that.
Most beginners don't know how to use thumb pressure to control spool rotation, and so spend most of their early fishing trips trying to untangle a nasty birds nest or two.
The reel body consists of an alloy frame plus graphite side plates, which helps to make it more lightweight than many other models. Indeed, if this is your first baitcaster, you'll be pleasantly surprised by how light it is compared to spinning reels.
The lightness and ergonomic design of the Revo SX as it sits nestled on top of your rod handle make it a pure joy to cast with all day long, without becoming tired or getting arm fatigue.
During our testing, we found that the the ability of this reel to cast without backlash makes it a top choice for beginners.
Combined with its overall high performance, reliability, and ease of use it's also one of the most popular baitcasters among experienced anglers as well, which is why we included it in our review of the best Abu Garcia baitcaster reel.

Features:
Left or right handed
Infini anti-backlash braking technology
DuraClutch design
9 plus 1 ball bearings
Powerful carbon matrix drag
2. Piscifun Torrent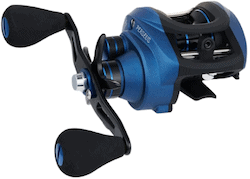 The Piscifun Perseus is the best budget option when it comes to baitcasters that have a dual brake system.
At around $50, our testing revealed that it also enables beginners to cast without backlash due to the combined action of centrifugal and magnetic brakes.
And while it doesn't offer all the high end features of the Revo SX, when we put it to the test, we found that it still delivers a strong performance, including a powerful 18 lb high grade drag system, plus a relatively low speed gear ratio of 6.3:1. This is ideal for casting large lures and rigs in the pursuit of big bass.
The extra large 4.33 inch aluminum handle is great for winching big fish to the boat, and combined with the powerful drag, makes it a good choice when fishing close to cover.
In those situations you need a powerful reel to help you haul big fish away from structure before they can get the line snagged on it.
When we tested it, we found that it has an overall very smooth performance, plus a solid build that relies on anti-corrosion ball bearings and pinion shaft.

Features:
Left or right handed
3-layer carbon fiber drag
Adjustable magnetic and centrifugal brakes
Easy access for maintenance
3. Kastking Spartacus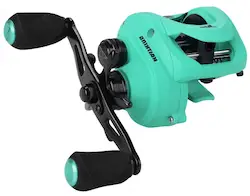 This is a phenomenal baitcaster that allows beginners to cast easily without generating backlash, and without having to use your thumb to slow down the spool, which is why we included it in our review of the best baitcaster under 100.
The superior casting performance is due to its dual centrifugal and magnetic brakes that can be individually adjusted to provide exactly the right amount of resistance to slow down spool rotation.
In addition to its superior casting performance, our testing also revealed that it has incredibly smooth retrieval action due to a whopping 12 ball bearings.
And while the Spartacus is a little on the heavy side with 9.4 ounces, this is due to its 100% metal build, making it the most durable model tested here.
The metal construction makes it tough enough to withstand the punishing environment of the ocean, which makes it an ideal choice for saltwater fishing, such as targeting redfish or snook.
Finally, the 25 lb carbon fiber drag makes this the most powerful reel that we tested for this article, which means it's a great choice if you're expecting to battle big fish.

Features:
Left or right handed
Machined aluminum frame and spool
Precision matched brass gears
Ceramic line guide
11 corrosion resistant ball bearings
4. Piscifun Phantom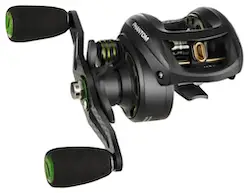 With a weight of 5.7 ounces, this is the lightest model in this list, which makes it an ideal choice for casting lightweight lures in ponds and creeks. And in spite of its lightweight build, it has enough power to handle strong fish with an 18 lb carbon fiber drag. 
Similar to the Perseus, the Phantom also has an easily accessible oil port helping to make maintenance a breeze, even if you don't know anything about baitcasters.
And like all the other reels that we tested, it boasts a dual centrifugal and magnetic brake system which can be precisely fine tuned, which enables novice anglers to cast effortlessly without dreaded birds nest formation.
Overall, this is the best option for lightweight applications – it's a great beginner's baitcaster for summer pond and creek fishing.
The ease of the casting performance means you can focus on enjoying the fishing experience, without having to constantly struggle with your equipment.

Features:
Right and left handed
Ergonomic grip on thumb bar
Titanium line guide
Anodized aluminum main gear and spool
5. KastKing Speed Demon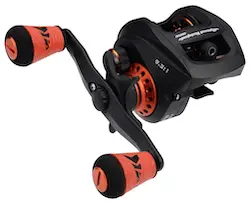 With 39 inches retrieve rate for each turn of its handle, the KastKing Speed Demon is the fastest reel that we tested.
The high speed is partially due to the high gear ratio of 9.3:1, which makes it ideal for high speed lure retrieval (for example, when you're skipping a lure across the surface of the water).
While testing the Speed Demon, we found that its high speed really helps to take in slack as fast as possible when you need to crank a big fish away from cover.
Taken together, this makes it a great choice for flipping, pitching, or jigging for bass. And at 6.5 ounces, it's relatively lightweight, which is ideal if you're going to be casting all day long.
Also, with 12 plus one bearings, it has the highest ball bearing count of any model that we tested, which help to make its retrieval action incredibly smooth.
During our testing, we found that the star drag is very easy to adjust, and has a clicking mechanism that allows you to hear how many notches you turn it. Because of this, it can be easily adjusted even while fighting a fish.

Features:
Left or right handed
Lightweight carbon frame and side plates
Double shielded ball bearings
Oversized handle ideal for fast retrieval
Ergonomic thick polymer grips
How to choose the best baitcasting reel for beginners
As a beginner, it's essential to choose a model with the following key characteristics:
It should be affordable
It should be easy to use
It should have effective anti-backlash technology
As already mentioned, the biggest challenge that beginners face with baitcaster fishing reels is learning how to cast effectively without generating backlash. For more details on this issue, check out our article are baitcasting reels difficult to use?
It used to be that every beginner would spend most of their time on the first few fishing trips untangling tangled birds nests, while doing very little actual fishing. This has made them much harder to master than other types of fishing reels.
Fortunately, technology has improved significantly over the past years, and modern reels now enable novice anglers to learn how to cast easily, due to advanced braking technology that slows down the spool while casting.
So now, in order to avoid frustration on your first fishing trips, it's highly recommended to choose a baitcaster with dual braking technology, which will allow you to cast readily without getting any backlash.
Look for effective anti-backlash technology
The most important feature of a baitcasting reel for beginners is a dual brake system that combines centrifugal and magnetic brakes, which can be adjusted individually. In addition, every reel also has a spool tension control, which also helps to control spool rotation.
How to adjust the braking system as a beginner
As a beginner it's best to start by setting both brakes to their maximum before you try to cast.
That way you won't be able to cast very far, but you'll also avoid getting backlash. Once you start to feel comfortable with these settings, you can then slowly reduce the settings, which will allow the spool to rotate faster.
Make sure you do this gradually, so you can avoid generating a line tangle due to backlash.
As you get more and more proficient at casting, you can start experimenting with releasing the brakes even more, and instead using thumb pressure to control spool rotation. 
Spool tension knob
The spool tension knob is located next to the reel handle, and can be adjusted to allow the spool to rotate freely, or to apply pressure to it, causing it to rotate much more slowly.
This is the first thing you need to adjust, and as a beginner try to start by tightening it, which will prevent the spool from rotating too fast on your first cast.
Magnetic braking system
Depending on the model, this is a system that relies on 6 to 10 magnets that slow down the spool. It can be adjusted by pulling the magnets in or out, thus placing them closer to the spool, or further away from it.
The magnets slow down the spool during the casting process. If you're a beginner, it's best to slide all magnets in to get a maxim slowing down of the spool rotation.
This system is usually adjusted externally, with a dial on the side of the reel opposite to the handle, that has settings ranging from 1 to 10.
Centrifugal braking system
This system uses centrifugal force to slow down the spool during rotation, and can be adjusted to apply more or less resistance to spool.
While the magnetic system acts more during the late phase of the cast, the centrifugal system has its greatest effect during the early part of the cast.
In order to adjust this system, you usually need to open the side plate of the reel, and then adjust the gauge.
Many anglers like to argue about which one of these braking systems is more effective and better to use.
But in recent years this debate has been made unnecessary by the production of baitcasters that have both systems.
Thumb pressure
Most experienced anglers rely much more on thumb pressure to slow down spool rotation while casting with a baitcaster.
The reason for this is that it allows you to modulate pressure during the casting process, which results in much higher casting accuracy.
However, this is not advisable for beginners, since it's almost impossible to get it right at first, which means you'll end up very frustrated on your first few fishing trips.
Instead we recommend relying on the braking system of the models discussed here, until you're proficient enough to switch to thumb control.
Final remarks
This concludes our review on the best baitcasting reel for beginners. So which model should you buy? All of the models that we put to the test for this article are high quality, and so you can't really go wrong with any of them.
Traditionally, baitcasting reels have been very challenging to master, due to the fact that their spool rotates rapidly while you cast. This often results in backlash and birds nest formation, if you don't know how to control spool rotation correctly.
However, in recent years, several manufacturers have developed advanced spool braking technology that minimizes, or even eliminates this problem. This makes these models an ideal choice for beginners.
If you want the best possible experience with your first baitcasting reel, then the Abu Garcia Revo SX is the best choice, since it's not only easy to use for a beginner, but also continues to deliver high end performance as you become more adept at fishing with it.
If you're on a budget, however, then the Piscifun Perseus offers great performance at a lower price. And if you want a high speed reel, then the KastKing Speed Demon is the ideal choice for you.
Whichever model you choose, I wish you tight lines and see you on the water!
Methods and gear used for testing
For consistent testing results, we tested each of these baitcasters under the same conditions on Lake Okeechobee. We paired each baitcaster with a 6'10" medium heavy Abu Garcia Veritas casting rod. The reels were spooled with 16 lb test Power Pro Braid, and we used them to throw 1/4 to 1/2 oz swim jigs in 5 to 15 feet of water.
To test rigorously for anti-backlash capabilities (which is the most important feature for beginners) we used the baitcasters to throw lures while facing into the wind during a day with about 15 to 20 mph wind. Casting into the wind with a baitcaster is notoriously hard, and often results in backlash formation, and we used this as a benchmark to determine how good these models are for beginners.