Best Baitcaster Under $100 – What Is The Best Baitcasting Reel For The Money?
UPDATED 09 MAY 2023
by Robert Ceran
This article may contain affiliate links. If you make a purchase after clicking on a link we may earn a small commission at no extra cost to you.
Are you looking for the best $99 baitcaster, but aren't sure which model offers the best value at this price point?
My team and I tested the most popular baitcasting reels retailing under 100 dollars, and evaluated them on their gear ratio, retrieve rate, weight, drag pressure, and overall performance.
Based on our testing, here are our picks for the best baitcasters that cost less than $100: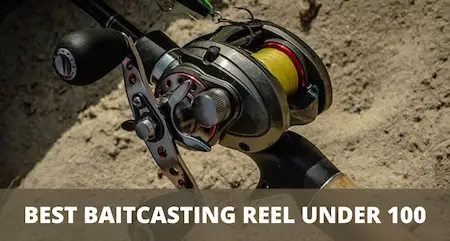 10 Best Baitcasting Reels Under $100 In 2023 Reviewed
| Model name | Image | Price | Our verdict | Ball bearings | Gear ratio | Retrieve rate | Max drag (lb) | Weight (oz) |
| --- | --- | --- | --- | --- | --- | --- | --- | --- |
| Abu Garcia Revo X | | | Best overall performance | 8 | 5.4:1 to 7.3:1 | 22" to 30" | 18 | 7.9 |
| KastKing Royale Legend | | | Best budget option | 12 | 5.3:1 to 8.1:1 | 22.4" to 34" | 17.6 | 7.2 |
| Lews Speed Spool | | | Best model for beginners | 10 | 5.6:1 to 7.5:1 | 23" to 31" | 15 | 7.1 to 7.2 |
| Shimano SLX | | | Runner up best overall performance | 4 | 6.3:1 to 8.2:1 | 25" to 32" | 11 or 12 | 6.9 |
| KastKing Speed Demon | | | Best high speed model | 13 | 9.3:1 | 39.1" | 13.2 | 6.5 |
| KastKing Crixus Armor X | | | Best medium speed model | 10 | 7.2:1 | 29.8" | 17.6 | 6.8 |
| Piscifun Phantom Carbon | | | Best lightweight model | 7 | 7.0:1 | 30.3" | 17 | 5.7 |
| KastKing Spartacus | | | Best option for saltwater | 11 | 6.3:1 | 28.3" | 25 | 9.4 |
| Abu Garcia Pro Max | | | Runner up best medium speed model | 8 | 7.1:1 | 29" | 18 | 7.3 |
| KastKing MegaJaws | | | Best runner up high speed model | 12 | 5.4:1 to 9.1:1 | 22.4" to 38" | 17.6 | 7.5 |
The table above compares the most important specifications and features of the top 10 models that we tested side by side.
Now let's dive into the details and take a closer look at each of these models:
1. Abu Garcia Revo X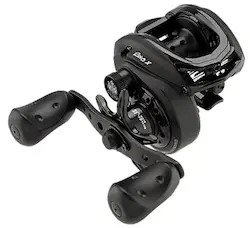 This stylish reel features a graphite frame and side plates, which makes it incredibly lightweight compared to aluminum baitcasters, and especially light compared to spinning reels.
If you intend to spend a lot of time casting during a long day of spin fishing, then arm fatigue and reel weight can become a real issue.
In that case, our testing showed that the lightness of this baitcasting reel makes it worth checking out. 
Apart from its ultralight one-piece graphite body, it runs very smoothly with 7 stainless steel bearings, which makes lure retrieval a buttery-smooth affair.
The MagTrax brake system is great for controlling spool rotation during casting. This is essential in order to avoid birds nests, which tend to plague many baitcaster reels.
Additionally, during our testing its smooth drag system performed consistently over a range of pressures, ensuring reliable drag performance that doesn't stutter or get stuck.
If you are searching for a great inshore baitcasting reel, the Abu Garcia Revo X might be the right choice for you.
Based on our testing, this is a well-rounded reel that provides a lot of bang for the buck, and is an ideal reel for beginners looking for their first baitcaster. As it's relatively easy to operate, it's a great reel to start your baitcasting adventures.
Finally, its lightweight construction is great for handling very light lures, making it a good choice for light spin fishing.

Advantages:
Ultra lightweight
Easy to handle
Stylish black and red design
Great value for money 
Disadvantages:
2. Kastking Royale Legend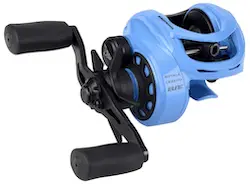 This baitcaster reel has an amazing low-profile design that makes it highly elegant and stylish to look at. And true to Kastking tradition, it also comes with a high power drag which will assist you in fighting and landing strong fish. And for people who like precision fine-tuning the drag, it features multiple points that serve for adjustment.
The Royale Legend  also has a very solid build plus an overall smooth performance. It boasts corrosion-resistant ball bearings, which contribute both to its durability and smooth casting performance. A high quality thumb bar and clutch are great for controlling both distance and accuracy of casting with this bait caster. 
But our tests showed that the most striking feature about this fishing reel is the sheer amount of raw power it comes with – the drag system can handle up to 17.5 pounds of force, which is enough to fight big bass or medium sized catfish. 

Advantages:
Durable design and build
Double braking system avoids backlash during casting
High drag power capacity with 17.5 lbs force
Stainless steel ball bearings 
Disadvantages:
The spool has a little too much play if you turn off the brake system
3. Lews Speed Spool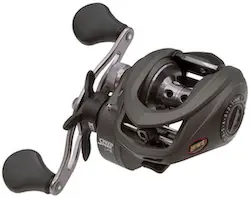 Since the Lews Speed Spool LFS came out it has been a favorite for many anglers. Lews has been producing high quality baitcast reels for the past 50 years, so they definitely have a lot of experience in this area. The Speed Spool LFS is an excellent baitcaster, and provides top notch performance in all main areas.
Our testing revealed that one of the best features of this reel is its ergonomic low profile design – it fits perfectly in your hand, and with 6.9 ounces it feels light and is an absolute joy to handle.
This is one of the few baitcasters in the $100 class that has a solid aluminum frame plus aluminum side plates, which is great for extending the longevity of the reel, in contrast to some of its counterparts made of carbon.
It is equipped with a powerful 5 magnet braking mechanism that can be easily adjusted in order to avoid backlash and birds nests. 
When we tested this Lews baitcaster we found that it's very easy to master for a beginner. Everything, from the thumb bar, to the star drag, to the brake adjustment is absolutely intuitive and easy to use. 
Overall, our tests showed that this is a very solid fishing reel that doesn't haveI any fancy features that some other reels sport. While some tend to see this as a weakness, we see it as a strength.
The Lews Speed is one of the most reliable and easy to use baitcaster that comes at an affordable price, which makes it great for beginners and for experienced anglers alike. 

Advantages:
Tough aluminum frame and side plates make it extremely durable
Best baitcasting reel for beginners
Ergonomic low profile design
A ton of drag power
Disadvantages:
The handle is smaller compared to other baitcasters
4. Shimano SLX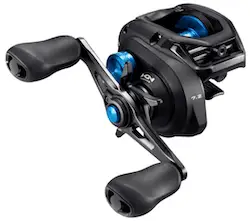 When Shimano unveiled the SLX baitcasting reel series a few years ago, it brought multiple innovative features to the table. This fishing reel belongs among the best of the Shimano baitcasting reel, and is considered by many anglers to be part of an elite group of fishing reels that include the best baitcasting reels available on the market today. 
This reel has a top notch clutch with an ergonomic thumb bar, that together enhance the casting performance, and a line guide with ceramic lining to reduce friction during casting and line retrieval. In addition, the aluminium spool is highly durable, and the ergonomic handle is easy to grip, and very user friendly. The maximum drag force is 11 pounds, which is fine for most freshwater spin fishing applications.
Overall, our testing showed that this Shimano casting reel  is an absolute pleasure to use, and performs well in all categories. If you are looking for a reliable, affordable, and stylish baitcast reel, the Shimano SLX is definitely worth checking out.

Advantages:
High quality clutch with ergonomic thumb bar
Comes in two high speed gear variants: 6:3:1 and 7:2:1 gear ratio
User friendly ergonomic handle 
Stylish and sporty design
Disadvantages:
5. KastKing Speed Demon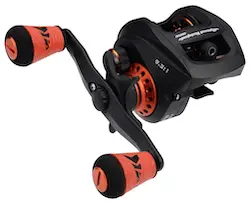 KastKing has a reputation of making some of the best bait casters available, and it gets yet several mentions on our list, the first of which is the New Speed Demon baitcasting reel. This reel has an enlarged but lightweight spool, increasing its line capacity. And as its name implies, the Speed Demon has a very high speed gear ratio of 9:3:1. These features are ideal for long distance casting and retrieval, which makes it a great reel for surf fishing and heavy lure casting.
Thanks to the awesome casting performance of the New Speed Demon when put to the test, we found that you can easily use it with heavy lures and rigs without breaking a sweat. It's also a great baitcast reel for the challenging wind and weather conditions that you might encounter during surf fishing.
The star drag system is very easy to adjust even while you're fighting a big fish. It has a star handle with four arms that makes a clicking sound when you adjust it, which is ideal if you need to make small adjustments rapidly without having to change hands. Additionally, it also has a control knob that regulates the magnetic braking mechanisms, which can be easily used even by complete newbies.
The 12 plus 1 ball bearings make retrieval action incredibly smooth on this fishing reel, All in all the New Speed Demon is a top notch KastKing baitcaster that provides a lot of high end features despite being priced below $100, which is why we also included it in our review of the best baitcasting reel for beginners.

Advantages:
Comfortable thick super polymer grips
Very high gear ratio of 9:3:1
Ultra smooth activity generated by 12 plus 1 ball bearings
Oversized handle is great for fast retrieval 
Disadvantages:
6. Kastking Crixus Armor X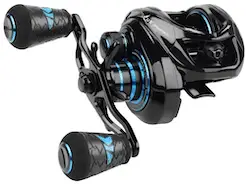 The KastKing Crixus Armor X has a very lightweight design – with a weight of 6.8 ounces, it's significantly lighter than most other baitcasters, which tend to be closer to 8 ounces in weight. And in spite of its low weight, it has a powerful drag that can handle up to 17.6 pounds pressure. These features make it ideal for long days of light spin fishing with a chance of running into some very strong fish.
Arm fatigue is a common problem if you spend a lot of time casting with heavy fishing gear, which isn't exactly fun if you've ever run into that problem. So, with its low weight and high quality features, the Kastking Crixus Armor X is a great choice for any anglers who are looking for a fishing reel that helps them cast for an extended period of time without fatigue. 
The lightweight design of this reel is based on a graphite carbon frame, which is not only light, but also very durable, and can hold its own against aluminum-based counterparts. In addition, this baitcast reel provides 17.6 lbs of drag power, which we discovered is plenty to power through battles even with very strong fish, and features a 4-layer disc drag, supporting smooth performance at a wide range of pressures. 
With 9 + 1 bearings the retrieval and casting action of the Kastking Crixus Armor X is as smooth as that of many high end reels. At this price point, this is a powerful lightweight reel that provides excellent value for money.

Advantages:
High quality brake system easily avoids backlash even with very light lures
9 ball bearings + 1 roller bearing provide ultra smooth action
Comfortable ergonomic grips on handle
Medium speed 7:2:1 gear ratio works for most scenarios
Disadvantages:
7. Piscifun Phantom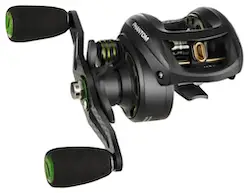 Looking for a powerful reel that can handle strong fish? The Piscifun Phantom has a carbon fiber drag with 18 pounds maximum pressure, thus making it capable of handling some of the bigger and stronger species. 
This reel also boasts a medium speed 7:0:1 gear ratio, which actually performs better for fast retrieval purposes than some more expensive fishing reels. It has an innovative oil port on the side that makes maintenance an easy affair. And finally, our tests showed that the magnetic brake system is very effective at preventing backlash, and is easily adjustable.
Another great feature of this reel is its attractive price – the Piscifun Phantom is one of the most budget friendly fishing reels on this list.

Advantages:
High quality magnetic brake system prevents backlash
Powerful and smooth drag performance
5 + 1 shielded ball bearings increase smoothness and durability
Easy maintenance
Weather-resistant and durable design
Disadvantages:
Some of the features are lower quality than of the other reels on this list
8. KastKing Spartacus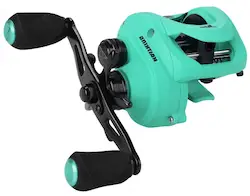 This tough baitcasting reel has been designed to perform well in punishing environments, such as saltwater fishing, and to handle extended battles with strong fish. It comes with a sturdy non-corroding aluminum alloy frame and spool, plus a primary shaft made of stainless steel, which together help to make it more powerful and durable than many other baitcasters. 
The spool has a high-quality centrifugal braking system that enhances casting accuracy, and the increased line capacity helps to improve overall casting distance. The gear ratio is 6:3:1, providing all the retrieval speed you might need. 
During testing, we found that its carbon fiber drag can handle an incredible 25 pounds of force, which is perfect for long battles with big fish. If you're planning to catch species that fight hard, like tuna or striped bass, this fishing reel is equipped with the power you'll need to land them successfully.
Most anglers find it difficult to believe that such a powerful baitcast reel costs less than $100, which is a testament to its premium quality.

Advantages:
Sturdy and highly durable 
High performance drag with incredible 25 lbs force
Centrifugal braking system
Ideal for saltwater fishing
Increased line capacity
Comes in right handed and left handed variants
Disadvantages:
Can be a little noisy during casting and retrieval
9. Abu Garcia Pro Max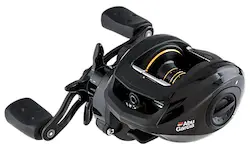 The Abu Garcia Pro Max is the second Abu Garcia baitcaster in this list, and is a great low profile bait caster that's designed to nestle right on top of a rod with a recessed reel foot. The lightweight graphite body feels great resting comfortably in the hand for long days of constant casting. The designers prioritized lightness and smooth performance, which immediately becomes clear when you pick it up and hold it in your palm. 
While testing, we found that one of the best features of this reel is that it comes with magnetic casting brakes that can be finely adjusted to enable a great degree of control over the casting speed.
The spool rotation is so responsive to the MagTrax brake that adjusting the braking system by just one point already results in a noticeably different casting distance. Apart from this, it has 7+1 stainless steel ball bearings that generate a smooth retrieval action. 
The large easy grip handle of this Abu Garcia reel comes with big knobs made of EVA foam, which ensures maximum control and amazing cranking power, which is great when you're casting close to cover, and want to pull up the fish as fast as possible.
Another significant feature is the reel's double-anodized stainless steel aluminum spool that's both durable and user-friendly. 
Overall, our tests showed that the Abu Garcia Pro Max is a great low profile baitcasting reel that has been specifically engineered for comfort and lightness. It is ideal for anglers who are looking for a baitcasting reel that's easy to use, and has a compact and lightweight design. 

Advantages
Lightweight 1-piece graphite frame
Smooth casting performance due to MagTrax brake system
Star drag system is strong and easy to adjust
Ergonomic and comfortable design
Disadvantages
Tends to generate irritating sounds during retrieval after a while
10. Kastking MegaJaws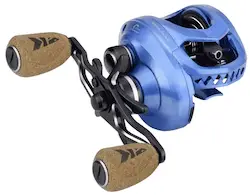 The Kastking MegaJaws is a powerful baitcasting reel made of non corrosive aluminum which make it a powerful but very lightweight baitcasting reel. In spite of its lightness, the aluminum frame is extremely hard and durable, thus ensuring it can overcome all kinds of punishment without an issue. Because of its lightness, you can cast with it for long periods of time at a stretch without becoming fatigued.
This reel also features a dual braking mechanism that incorporates both centrifugal and magnetic brakes, which we discovered is ideal for fine tuned adjustment of spool rotation speed, which is extremely useful for avoiding backlash and birds nests, especially when using more lightweight lures.
The carbon fiber drag system supports a maximum pressure of 17.6 pounds, which is plenty to ensure you can battle strong and aggressive fish without any issues. 
The stainless steel aluminum spool is enlarged for increased line capacity, which enables long casting distances.
In addition, the large spool of the Kastking MegaJaws works well with braided line, which is another feature that makes it great for catching strong species that fight hard.
Finally, it features an impressive finish that makes it very sleek and elegant, if you're a fan of great aesthetics.

Advantages
Ultra durable build
Smooth and quiet action
Strong drag performance
Sleek and stylish design
Disadvantages
The line guide is on the weak side
How to choose a baitcasting reel?
At this point you may be asking yourself, what makes a good baitcasting reel? Don't worry too much about making a bad choice, since all of the reels reviewed here are high quality, and just follow the guidelines below to pick the best baitcasting reel under $100, by understanding what features you should look for in the baitcaster reel parts.
If you're interested in getting a lightweight baitcaster, check out our article on what is the smallest baitcasting reel?
Baitcaster Variants
Baitcasting reels come in 2 main variants – the low profile design and the round spool design. The round spool profile is designed for increased line capacity, which is great for long distance casting, whereas the low profile baitcasting reel has been designed for light spin fishing applications, and can also be used for hours on end without casting fatigue. Thanks to their lightweight, compact and ergonomic design, they're usually a pure joy to operate.
Choosing the right baitcaster variant
Round profile baitcasting reels have a larger fishing line capacity compared to low-profile reels. In fact, the largest round profile baitcasting reels can hold more fishing line than any other reel type. So, your preferred fishing style should influence which baitcaster reel variant you buy. If you're a fan of surf casting or deep water fishing, you'll need a lot more line capacity, and should choose a round profile baitcaster reel. On the other hand, if you intend to do light spin fishing, go for a low profile baitcaster reel.
Graphite vs. Aluminum
When it comes to materials, there are 2 main materials that are used for producing most baitcasting reels. Expensive baitcasting reels are usually made with aluminum. On the other hand, more affordable baitcasting reels predominantly utilize graphite, although they often incorporate some aluminum materials for certain parts, such as the spool. And keep in mind that, while aluminum is definitely harder and more durable than graphite, graphite is strong enough for most applications, and has the advantage of being lighter than aluminum.
What features to look for in the braking system
Most baitcasting reels on the market either sport a magnetic or centrifugal braking system, though recently some models use both of these in a combined system. The braking mechanism reduces the rotation speed of the spool during the cast, which is important to prevent backlash that can occur if the spool rotates faster than the lure pulls off line.
The tension of the braking system is used for slowing down the reel's spool in an efficient manner that prevents baitcaster birds nest from being generated during casting, especially when casting with light lures. Look for a braking system that works efficiently to stop backlash, and that can be easily and accurately adjusted as you change your lure, line, or other fishing conditions. 
Choosing the right gear ratio
Now, this is an extremely important aspect that you should understand properly before you buy a baitcasting reel. A baitcaster's gear ratio is usually represented by numbers like 7.1:1 or 8.2:1. The first number (plus the decimal point behind it) tells you how many times the spool rotates for each turn of the reel handle. So, baitcasters with gear ratios of 7.1:1 or 8.2:1 deliver 7.1 and 8.2 spool rotations for each turn of the handle, respectively. In other words, the speed of the spool rotation is directly proportional to the reel's gear ratio. 
In general, a baitcaster gear ratio around 7 is considered as medium speed, while those above it are fast, and those below it are slow. For most applications, a gear ratio around 7 is perfect, while you may want a higher speed if you intend to fish close to cover.
What features to look for in the drag system
The drag system of a reel controls how easily a fish can pull line from the spool. If it is set correctly, it allows a large fish to pull off line when it does a powerful run, but if it's set too tight, it could break the line. A strong drag mechanism is important for catching big fish that fight hard, and can be identified by the maximum pound pressure. It should also be easy to adjust, and usually comes with a star adjustment knob on baitcasters.
What is the best baitcasting reel for beginners?
Since baitcasters can be a little tricky to master when you're just getting started, look for a reel that has a simple & solid design that's easy to operate intuitively. Out of the 10 models reviewed above, the Lews baitcaster reel is the best option in this regard.
What is the best saltwater baitcaster?
If you're looking for a good saltwater casting reel, then we recommend the KastKing Spartacus Maximus as the best baitcaster reel due to its non-corrosive aluminum design, which makes it one of the most durable baitcasting reel out there, and the Abu Garcia Revo X for inshore saltwater fishing. Both of these reels are great salt water casting reels.
What is the best baitcaster for the money?
In my opinion by far the best baitcasting reel for the money is the KastKing Royale Legend. Retailing at under $40 it is not only an incredibly cheap baitcaster, but also has a surprisingly smooth action, and comes with a magnet braking system that enables beginners to cast effectively without generating backlash.
Also, more than 5000 user ratings on Amazon give the Royale Legend scores 4.5 stars out of 5 stars, which suggests that I'm not the only one who is inspired by the sheer value of this reel.
Best baitcaster for light lures
In general, if you're planning to do finesse fishing, you should consider buying a spinning reel instead, since baitcasters are not really suitable for finesse techniques. However, some baitcasters can cast relatively light lures. We recommend the Shimano baitcaster reel for this purpose, since it performs best with light lures.
Conclusion
This concludes our review of the best baitcasting reel under $100. Let us know if you have additional experience with this topic, so we can keep the list up to date. 
Also, if you're in the market for a new reel, check out our comparison of baitcasters vs spinning reels.
Methods and gear used for testing
For consistent testing results, we tested each of these baitcasters under the same conditions on Lake Okeechobee. We paired each baitcaster with a 6'10" medium heavy Abu Garcia Veritas casting rod. The reels were spooled with 16 lb test Power Pro Braid, and we used them to throw 1/4 to 1/2 oz swim jigs in 4 to 12 feet of water.