What Is The Best Abu Garcia Baitcasting Reel, And Which One Should You Buy?
UPDATED 21 NOVEMBER 2022
by Robert Ceran
This article may contain affiliate links. If you make a purchase after clicking on a link we may earn a small commission at no extra cost to you.
Abu Garcia makes some of the fines fishing reels in the world, and here at Sport Fishing Buddy we've featured many of their models at the top of our product reviews.
And due to their high quality fishing reels, some anglers have changed the question "which reel should I buy?" into "which Abu Garcia reel should I buy?"
However, finding the right Abu Garcia reel isn't that easy, since they have so many great models to choose from.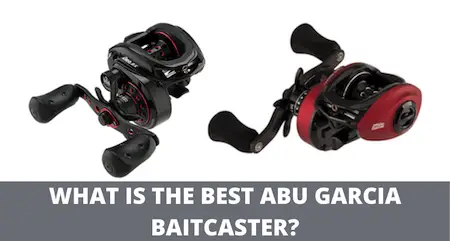 Especially when it comes to baitcasters, you have to choose between 26 low profile baitcasters, plus 12 round baitcasting reels in their lineup.
In order to make this choice a little easier, we selected the 7 best Abu Garcia baitcasters, and reviewed their most important features side by side.
Best Abu Garcia baitcaster reviewed
| Model name | Image | Price | Ball bearings | Gear ratio | Retrieve rate | Max drag (lb) | Weight (oz) | Our verdict |
| --- | --- | --- | --- | --- | --- | --- | --- | --- |
| Revo SX | | | 10 | 6.6:1 to 7.3:1 | 27" to 30" | 24 | 7.8 | Best overall performance |
| Black Max | | | 5 | 6.4:1 | 26" | 18 | 7.3 | Best under $50 |
| Revo X | | | 8 | 5.4:1 to 7.3:1 | 22" to 30" | 18 | 7.9 | Best under $100 |
| Revo Rocket | | | 11 | 10.1:1 | 41" | 18 | 7.3 | Best high speed option |
| Revo Beast | | | 8 | 6.6:1 | 27" | 18 | 8.3 | Best for saltwater |
| Revo EXD | | | 11 | 5.4:1 to 8.0:1 | 23" to 35" | 20 | 6.7 | Best lightweight option |
| Ambassadeur C4 | | | 5 | 6.3:1 | 30" | 15 | 10.0 | Best round baitcaster |
The table above compares the most important specs and features of our selection of the top 7 Abu Garcia baitcasting reels (6 low profile models, and one round model).
As you can see, they cover quite a range of features and strengths. Now let's take a closer look at each of these models.
1. Revo SX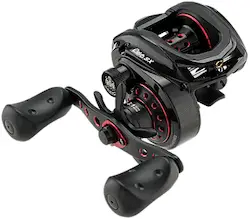 This reel is undoubtedly one of the most popular low profile baitcasters among dedicated bass anglers, perhaps only rivaled by the Daiwa Tatula series.
But unlike the Tatula series, the Revo SX has lower backlash tendency due to its dual braking system. 
The Infini dual braking system was developed by Abu Garcia to combine both magnetic and centrifugal brakes, which can be independently adjusted to avoid backlash almost completely, even without using your thumb to slow down the spool while casting. 
This anti-backlash technology is revolutionary for casting reels, and makes the Revo SX much easier to master for beginners, compared to traditional baitcasters.
This is why we also chose the Revo SX as the winner of our review on the best baitcaster for beginners. 
In addition to the Infini brakes, another hallmark of the Revo SX is the extremely smooth retrieval action, powered by its 10 ball bearings (which puts it within 1 ball bearing of the higher end Revo Rocket and EXD models).
And with 25 lb max drag, the Revo SX also has the most powerful drag system among Abu Garcia casting reels. All in all, the superior quality of this reel makes it one the best baitcasters you can get, and at a very competitive price.

Features:
All brass gears
Carbon matrix drag
Aluminum frame
Anti-backlash dual braking system
Lube port
2. Black Max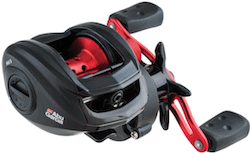 This is a very poplular baitcaster among beginners, since it combines high quality and reliability with an affordable price. In fact, I don't think it's possible to find comparable quality at a similar price point, lower than 50 dollars. 
Due to its attractive pricing and ease of use, this is a great entry level model. You just need to be aware that it doesn't come with the dual braking system of the Revo SX, and instead relies only on MagTrax magnetic brakes.
This means it's not quite as backlash proof, which is a slight disadvantage for beginners. But with a little practice you will get wonderful results out of this model.
Another strength of the Black Max is its lightness of weight, which is due to its all-graphite construction.
The body consists of a one-piece graphite frame, combined with graphite side plates. And while the main body is graphite, the gears are made of brass, which makes them more durable. 

Features:
Brass gears
MaxTrax braking system
Graphite frame
Felt drag
Recessed reel foot
3. Revo X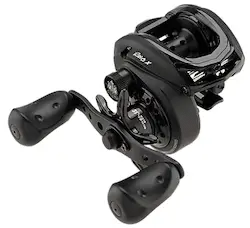 This reel is the winner of our best baitcaster under $100 review, and for good reason. It's the best all-round baitcaster that covers both slow and medium speed gear ratios, and comes with a retrieve rate of 22" to 30" per turn of the handle.
This means you can use it for pretty much any casting technique (except for high speed applications). 
It comes with 8 stainless steel ball bearings, which guarantees very smooth retrieval action, and is built with the same aluminum alloy frame as the Revo SX, resulting in much higher durability and resistance to warping under pressure, compared to graphite reels. 
Overall, it's very hard to beat the quality and reliability of the Revo X at this price point.
The main differences to the Revo SX are two ball bearings less, and no dual braking system. If you can live with that, this reel is a top performer.

Features:
Aluminum frame
Carbon matrix drag
Brass gears
Lube port 
4. Revo Rocket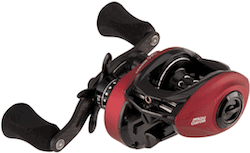 This is the fastest Abu Garcia baitcaster, which explains its name. With an incredibly high gear ratio of 10.1:1, it's even faster than the KastKing Speed Demon, which has a gear ratio of 9.3:1. So even when it comes to high speed baitcasters, Abu Garcia is once again best in class. 
Its unheard-of high speed retrieval speed of 41 inches per turn of the handle comes with buttery smooth action, powered by the 10 plus one ball bearings, which definitely puts this reel at the high end of Abu Garcia reel lineups.
So if you're looking for a high speed reel, then the Rocket is currently the top performer in this category. High speed reels are great if you're casting long distances, and need to retrieve your lure fast from the strike zone, so you can cast again.
For more information on the benefits of high speed reels, check out our article on baitcaster gear ratio.

Features:
11 ball bearings
Aluminum frame and sideplates
Anti-backlash dual braking system
Lube port
5. Revo Beast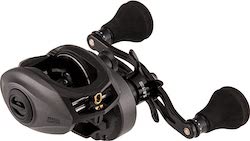 If you're planning to use your baitcaster for inshore fishing, then the Revo Beast baitcaster is a great choice to consider. Basically, this reel comes with all the same features as the Revo X, but in addition it also has 3 HPCS bearings in strategic locations that enhance durability, and guarantee reliable performance under pressure. 
HPCR stands for "high-performance corrosion resistant" ball bearings.
One of the challenges of saltwater fishing is that you're a lot more likely to hook into bigger and stronger fish than in freshwater, and reels made of graphite components often warp under that kind of pressure. 
In addition to its high-performance gears, the Revo Beast also comes with an extra large aluminum handle, which is also helpful for fighting big saltwater fish.

Features:
3 high-performance ball bearings in addition to 4 regular ones
95mm super sized aluminum handle
Aluminum frame
MagTrax magnetic brake
6. Revo EXD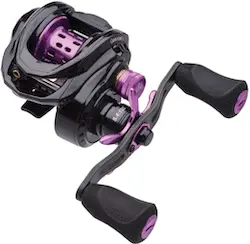 This is the most recent addition to the Revo lineups. It has several additional features that puts it among the most high end Abu Garcia baitcaster reels, together with the Revo Rocket.
The most notable feature of the EXD are its two EXD ball bearings positioned on the spool shaft. EXD stands for "Extra Casting Distance," and these ball bearings were developed to improve spool rotation during casting, which leads to increased casting distance.
This is called a "frictionless spool" design, and makes the Revo EXD extremely interesting for any anglers that like to cast far.
In addition to its long distance casting performance, the EXD also comes as a high speed version, which again is helpful if you're casting a long way to the strike zone, and then need to retrieve your lure as fast as possible to cast again.
Finally, with 6.7 ounces, the EXD is also the lightest model in this review, and while it's not the lightest baitcaster on the market, that does make it a lot more attractive if you want to avoid arm fatigue from casting a lot.

Features:
11 ball bearings
EXD ball bearings increase casting distance
Comes with an additional "finesse" spool
Extra light Infini spool
7. Ambassadeur C4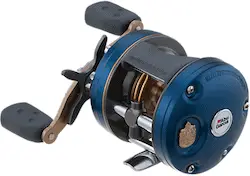 While all the baitcasters reviewed above are low profile models, the Ambassadeur is a round baitcaster. This is the traditional design of casting reels (which is why they're  also referred to as conventional reels).
The advantage of this round reel design is that the spool is significantly larger, and can hold a greater length of stronger pound test line.
Round casting reels are therefore ideal for catching larger fish, such as catfish, salmon, and muskie, and the Ambassadeur C4 is one of the best models for this purpose.
In fact it's one of the most popular round casting reels on the market, which is one of the reasons we chose it as the winner of our best round baitcasting reel review.
The Ambassadeur C4 comes with a level wind system that features a moving line guide, and ensures that line is spooled evenly during retrieval.
The build of the frame is aluminum, and together with the brass gears and aluminum handle this makes the Ambassadeur one of the most durable models on the market. 

Features:
Carbon fiber drag
Durable aluminum frame plus handle
Brass gears
High line capacity
Abu Garcia Revo X vs SX
Since these two reel types have many similarities, anglers often ask what distinguishes them, and which one is better? And while they appear to be broadly similar, there are several significant differences.
The most important difference between the two reels is that the Revo SX comes with the Infini dual braking system (combining both magnetic and centrifugal brakes), while the Revo X only has magnetic brakes.
This makes the SX much better in terms of anti-backlash technology, and its ability to avoid baitcaster birds nest, which is especially important for beginners.
Secondly, the SX has a much stronger drag system, powered by its Power Stack carbon matrix drag, which can handle up to 24 lb max drag pressure, while the Revo X has a regular carbon matrix drag that can only handle up to 18 lb. 
Finally, the SX has two additional ball bearings, which makes its retrieval action smoother than that of the Revo X.
Abu Garcia Black Max vs Silver Max
We only included the Black Max model in this review as the best budget baitcaster under $50. But Abu Garcia produces another low budget model, the Silver Max, which is about $10 more expensive than the Black Max.
So what are the differences between these two models, and which one is better?
The two reels are almost identical in most regards, but the key difference between them is that the Silver Max additionally has the Rocket Clutch system, which enables you to engage or disengage the spool with one hand.
The Black Max, on the other hand, has a regular clutch, and requires both hands for engaging or disengaging the spool. 
The Rocket Clutch system makes the Silver Max much better suited for applications such as pitching and flipping, where you need to hold the line in one hand, and the rod & reel in the other hand while casting, which is not possible with a regular clutch.
Is Abu Garcia a good brand?
Yes, Abu Garcia is one of the top fishing gear brands on the market today, and their rods and reels are used by bass pro fishing legend Mike Iaconelli, as well as other professional anglers.
Personally, I've found their reels to be as good as any of the other top brands out there, and one of my Abu Garcia baitcasting reels is almost 25 years old now, and still works like a charm.
Final remarks
This concludes our review of the best Abu Garcia casting reel. So which model should you choose?
Well, if budget is not a major consideration, and you want an excellent all-round baitcaster, then the Revo SX is undoubtedly one of the best reels on the market.
On the other hand, if you're on a smaller budget, then the Black Max or Revo X are great choices. 
If you're looking for speed, then the Revo Rocket is currently the fastest reel on the market, while the Revo X Inshore is perfect for inshore saltwater fishing.
Finally, the Ambassadeur C4 is a great choice if you need a round baitcaster to target larger fish, both in freshwater or saltwater.