Best Round Baitcaster In 2023 Reviewed
UPDATED 15 MAY 2023
by Robert Ceran
This article may contain affiliate links. If you make a purchase after clicking on a link we may earn a small commission at no extra cost to you.
Are you looking for a round baitcaster, but aren't sure what the best models are on the market?
My team and I tested the most popular round baitcasting reels on the market, and evaluated them on their gear ratio, retrieve rate, weight, drag pressure, and overall performance.
Based on our testing, here are our picks for the best round baitcasters in 2023: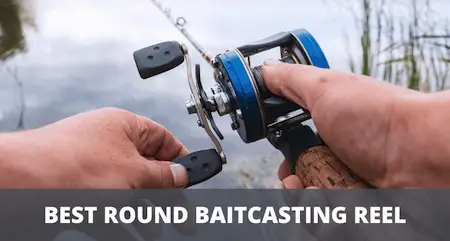 Best round baitcasting reel in 2023 reviewed
| Model name | Image | Price | Our verdict | Gear ratio | Retrieve rate | Ball bearings | Max drag (lb) | Weight (oz) |
| --- | --- | --- | --- | --- | --- | --- | --- | --- |
| Abu Garcia Ambassadeur C4 | | | Best overall performance | 6.3:1 | 30" | 5 | 15 | 10.0 |
| KastKing Rover | | | Best budget option | 4.2:1 to 5.3:1 | 24.9" to 25.9" | 5 or 7 | 15 to 30 | 11.6 to 19.0 |
| Shimano Cardiff | | | Best lightweight option | 5.2:1 | 22" | 5 | 10 | 8.6 |
| Lews Speed Cast | | | Most durable model | 5.3:1 | 23" | 5 | 15 | 11.8 |
| Piscifun Chaos | | | Runner up budget option | 5.3:1 | 24.8" | 7 | 18 to 20 | 11.2 to 12.0 |
The table above compares the most important features and specs of the top 5 models that we tested side by side.
Let's take a closer look at each of these models.
1. Abu Garcia Ambassadeur C4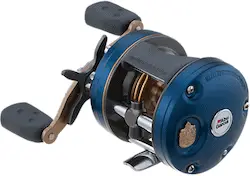 This classic model has been a market leader in this category for many years, and for good reasons. With 10 ounces, it is the second lightest model that we tested for this review, which is due to its compact build plus lightweight spool design.
In addition to being lightweight, our testing revealed that it also comes with plenty of power to handle big fish, as evidenced by its max drag of 15 lb.
Finally, the Ambassadeur C4 is one of the fastest round casting reels on the market, which is why we included it in our review of the best Abu Garcia baitcaster. Its speed is due to its high gear ratio of 6:.3:1, which results in an amazing retrieve speed of 30" per turn of the handle. 
When we put it to the test, we found that its high speed, combined with its lightness, makes this model ideal for casting large lures, which is why many salmon, muskie and striper anglers love it, in addition to bass anglers who want to cast extra large swimbaits or crankbaits.
Features:
Carbon matrix drag system
6-pin centrifugal brake
Aluminum line guide
Synchronized level wind
Star drag
2. KastKing Rover

This is the most popular model in this category, due to the fact that it is hands down the best round baitcasting reel for the money. The smallest model retails at less than $50, which makes it the top budget option on the market.
One of its distinguishing features is high durability, due to anodized aluminum side plates, brass gears, machined aluminum spool, and shielded stainless steel ball bearings. It also comes with a bait clicker mechanism, and during our testing we found that this makes it ideal for live lining, or night fishing for catfish.
In addition to durability and smoothness, when we put it to the test, we found that this model also comes with plenty of power due to its carbon fiber drag system that generates up to 30 lb of max drag power on the larger models.
All in all, it's extremely hard to beat the qualities of this reel at its retail price.
Features:
7 shielded ball bearings (on smaller sizes)
Bait Clicker 
Oversized handle with EVA grips
Level wind
3. Shimano Cardiff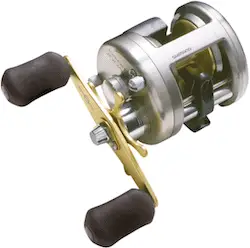 This is the lightest model in this review, and it also has a recessed reel foot similar to low profile models. This makes it perfect for casting lures, since it combines the best of both casting reel variants. 
At the same time, when we tested it, we found that its large spool with increased line capacity is perfect for casting farther, and for fighting big fish. If you're fishing for channel catfish, but with the possibility of running into a big blue cat, this model is a great choice, since it'll have you covered for both of those options.
Features:
Level wind system
Recessed foot
Bait clicker (on large sizes)
One-piece aluminum frame
4. Lew's Speed Cast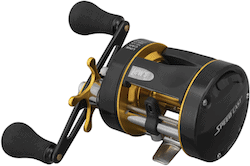 This is one of the most durable models on the market, due to its anodized frame, side plates and spool, plus brass main gear and shaft. During our testing we found that its toughness and durable build make it ideal for saltwater applications, where it can readily withstand the punishing effects of saltwater exposure.
The smooth carbon fiber drag can handle up to 15 lb of max pressure, and when we put it to the test, we found that it is plenty to fight strong fish, including salmon and tuna. In addition, the 6-pin centrifugal brakes enable highly precise casting control, which means you can also use it for casting lures.
The oversized 100mm Handle with thick EVA grips is perfect for putting pressure on big fish during extended battles
Features:
Aluminum frame and side plates
Anodized aluminum spool
6-pin centrifugal brakes
Bait clicker
5. Piscifun Chaos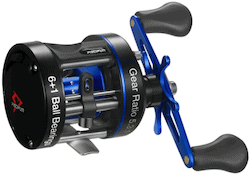 This is the runner up budget option on this list, which retails just above the $50 price point. It's the only model on this list which is built with a graphite frame, while the spool is made of aluminum.
Just like the Shimano Cardiff, it has a recessed foot, which is designed to make it more ergonomic, and easier to palm. However, with 11.2 to 12 ounces, it's a little heavier than the Cardiff.
During our testing we found that one of the strengths of this model is its impressive drag power, which can handle up to 20 lb of drag pressure, making it ideal for the pursuit of trophy sized fish.
Features:
Machined aluminum spool
6 + 1 ball bearings
Recessed foot
What are round baitcasting reels used for?
Round baitcasting reels are most often used for saltwater fishing, or for targeting large fish species in freshwater (such as salmon, catfish, or muskie). The reason for this is that their large round spool has a bigger line capacity than low profile baitcasters, which is ideal for spooling heavier line.
The large spool size of round baitcast reels is also better for casting longer distances, as well as for trolling, where it's necessary to let out a lot of line behind the boat. Because of this, most trolling applications use round baitcaster reels.
Round baitcast reels vs low profile
If you're a novice angler, you might be asking yourself whether you should choose a round casting reel (also called conventional reel) or a low profile model. While each of these baitcaster variants has its own pros and cons, the one you should choose depends on the type of fishing you plan to do.
Let's take a quick look at the main advantages of round baitcasting reels:
Bigger spool size
Due to their shape, the spool size of round baitcasters is significantly larger than that of low profile models. This enables anglers to load them with a lot more line, as well as stronger pound test line, which is an advantage if you want to catch big fish that fight hard (such as catfish, pike and muskie in freshwater, or salmon and tuna in saltwater).
For example, if you're fighting a big tuna, this will allow the fish to do long runs without exhausting your line reserve. In fact, their extra large spool size is the reason why conventional reels are the top choice for most forms of offshore fishing, including deep sea fishing, which often requires dropping your bait to a depth of 200 or 300 feet below the boat.
More power
In general, round casting reels are built for power, while low profile models are built for lightness and ease of handling. 
Case in point: round models usually have a much lower gear ratio compared to low profile models. As a result, their retrieve rate is slower, but this also gives you a lot more power to winch in big fish.
In addition, their maximum drag power tends to be significantly higher, which further helps to win the battle with big fighters without risking tackle breakage. And finally, they usually come with oversized handles that enable you to put a lot of pressure on fish while hauling them in.
Casting distance
Especially when it comes to bank fishing or surf fishing, round baitcasters are the absolute top choice for achieving the longest casting distances. In this category they outperform both low profile models as well as spinning reels.
In fact, the casting world record was achieved by using a round baitcasting reel paired with an extra long casting rod.
In addition, conventional reels perform better when casting large baits, such as oversized swimbaits or crankbaits, which is why some bass anglers also like to use them.
Durability
Since conventional reels are designed to catch big fish in punishing environments, they are usually built to be more durable than low profile models. The most durable models can readily withstand saltwater conditions for years and years on end without impairment of their performance.
Pricing
Especially when it comes to saltwater friendly models, conventional reels tend to be more competitively priced than their low profile alternatives. This is due to the fact that their overall design is simpler, and because manufacturers don't need to worry about building a model that is super light. So, if you don't mind a few extra ounces in weight, you'll be able to get a more durable model at a lower price.
What to look for in the best round baitcasting reel
When buying your reel, our testing showed that you should pay attention to the following features:
Gear ratio
The gear ratio of a baitcaster reel describes the number of times that the spool rotates when you turn its handle once. For example, a 5.3:1 gear ratio means that the spool rotates 5.3 times when you rotate the handle once.
Our testing showed that a high gear ratio of 5.3:1 or more is best if you plan to use the reel for casting lures, since it's often necessary to retrieve your lure as fast as possible to entice fish to strike. And it's very hard to speed up the retrieve speed with a low gear ratio, while it's quite easy to slow down a reel with a high gear ratio.
Also, if you're planning to do surf casting, you may want to choose a gear ratio of 5.3:1 or higher, since you'll need to retrieve your tackle over long distances without wasting too much time.
On the other hand, if you plan to do trolling or bank fishing, a lower gear ratio could be more beneficial, since you don't need to retrieve your tackle quickly, and the low gear ratio will give you more torque to fight big fish.
Ball bearings
There's a common myth among anglers that having more ball bearings automatically translates into smoother retrieval action. While this can definitely be the case with high end models, a larger number of low quality ball bearings makes no difference at all.
So it's actually more important to look at ball bearing quality than quantity. In general, you'll want them to be stainless steel, and ideally they should be shielded or sealed, which dramatically improves their durability in punishing environments.
Braking system
One of the strengths of baitcasters is that their spool rotates freely during the casting process, which enables greater casting distance compared to other types of fishing reels. However, this also makes them very challenging to master for novice anglers. If you don't know how to slow down spool rotation during the cast, this will instantly cause backlash and birds nest formation.
In order to avoid baitcaster backlash, look for a model with a good braking system. Most baitcasters either have a magnetic or a centrifugal braking system, while some of the more recent models have both.
All of the models tested for this article have high end braking systems that are relatively simple for a novice angler to master.
Material
The two main types of material used for fishing reels are aluminum and graphite. While aluminum is harder and more durable, graphite is lighter and less expensive. Most high quality baitcasters are made with a one-piece forged aluminum frame.
Conclusion
This wraps up our review of the best round baitcasting reel – so which model should you choose? 
If budget is not an important factor for you, the Abu Garcia Ambassadeur C4 will give you the best performance across a wide range of applications.
On the other hand, if you're on a tight budget the KastKing Rover is the best choice, or if you're looking for a great lightweight model, the Shimano Cardiff will have you covered.
Finally, in case you're also interested in getting a low profile casting reel, check out our review of the best baitcaster under $100.
Methods and gear that we used for testing
For consistent testing results, we tested each of these reels under the same conditions and paired each round baitcasting reel with a 7'6″ medium heavy Abu Garcia Veritas casting rod and used it to target large flathead and blue catfish in Ross Barnett Reservoir in Mississippi.