Best Cheap Spinning Reel – What's The Best Reel For The Money?
UPDATED 09 MAY 2023
by Robert Ceran
This article may contain affiliate links. If you make a purchase after clicking on a link we may earn a small commission at no extra cost to you.
Are you looking for an affordable spinning reel retailing under the $50 price point, but aren't sure which model offers the best value in this category?
My team and I tested the most popular inexpensive spinning reels, and evaluated them on their gear ratio, retrieve rate, weight, drag pressure, and overall performance.
Based on our testing, here are our picks for the best spinning reels under 50 in 2023: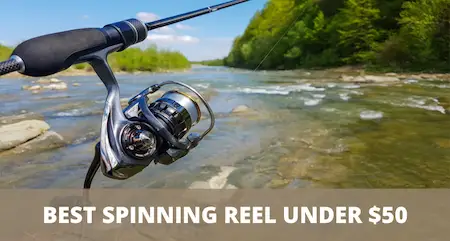 Best Spinning Reels Under $50:
| Model name | Image | Price | Our verdict | Ball bearings | Gear ratio | Retrieve rate | Max drag (lb) | Weight (oz) |
| --- | --- | --- | --- | --- | --- | --- | --- | --- |
| Okuma Ceymar | | | Best overall performance | 8 | 5.0:1 | 22" - 31" | 6 - 11 | 6 |
| Penn Pursuit III | | | Best budget option | 5 | 5.3:1 | 33" - 43" | 10 - 25 | 9.8 - 29.1 |
| Pflueger President | | | Best option for beginners | 10 | 5.2:1 | 20.2" - 31.6" | 6 - 14 | 7.5 - 11.5 |
| Mitchell 300 | | | Best saltwater options | 8 | 5.2:1 | 21" - 29" | 6 - 14 | 6.8 - 9.9 |
| Pflueger Trion | | | Solid runner up | 7 | 5.2:1 | 21" - 32" | 6 - 14 | 6.3 - 11.3 |
| Piscifun Viper X | | | Solid runner up | 11 | 6.2:1 | 28" - 32" | 13 - 26 | 8.4 - 9.9 |
| Okuma ROX combo | | | Best combo option | 7 | 5.3:1 | 26" - 32" | 7 - 12 | 7.2 - 8.9 |
The table above compares the most important specs of the top 7 models.
Now let's examine each of these models in more detail.
1. Okuma Ceymar Lightweight Spinning Reel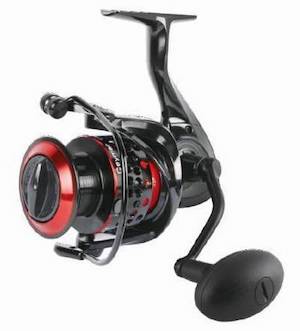 This spinning reel is not only within everyone's budget, but it also offers a lot more features than its price suggests.
The Okuma Ceymar c-10 is the smallest in the Ceymar series. With its unique design and characteristics, this spinning reel is a delight to use.
With a total of 8 stainless steel ball-bearings combined with its Okuma precision elliptical design system, your fishing experience becomes smoother both during casting and retrieval.
During our testing we found that it combines a very solid construction with a lightweight design, which means you can easily carry and use this spinning reel for long periods of time without experiencing fatigue. 
Finally, our tests showed that the Okuma Ceymar c 10  also has a high performance drag system that allows the user to make easy and fast adjustments while fighting a fish. 
Overall, the Okuma Ceymar offers smooth performance and many high end features at a great price.
Among the spinning reels under 50, our testing revealed that this remarkable reel produces an excellent user experience and is suitable for most types of fishing, depending on which size you choose.

Pros
Tough build offers maximum durability.
Includes many features of higher end reels.
Super smooth action supported by 8 ball bearings.
Great value on a small budget.
Cons
The oil felts of the drag system tend to dry out
2. Penn Pursuit 3 Spinning Reel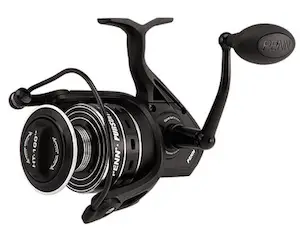 If you are looking for cheap spinning reels that are still high quality, then the Penn Pursuit 3 may be a good choice.
Due to its lightweight construction and smooth action, we found that it's a real pleasure  to use on the water when we put it to the test.
It comes with a high precision gear system, making its retrieval performance more fluid than that of many of its competitors in this price class.
Plus, thanks to its oiled-felt drag system, the drag performance is both powerful and easily adjustable. 
The ball bearings of the Penn Pursuit iii spinning fishing reel are made from shielded stainless steel, making it ideal when it comes to enduring corrosive saltwater conditions.
This great Penn spinning reel is available in five size classes, ranging from light freshwater applications to more heavy marine spin fishing. 
The manufacturers of the Penn Pursuit III have put in a lot of effort into the design and features of this spinning reel, including a lot of features normally found in more high end reels.
It comes with a reinforced stainless steel aluminum spool plus aluminum handle, making it a highly durable and tough spinning reel.
Its impressive performance is finished off by a brilliant black design with silver trimmings that add to the positive user experience.
Overall, our testing revealed that the Penn Pursuit 3 is one of the best reels in this price category.

Pros 
Highly durable stainless steel build.
Ergonomic design results in great user experience.
Smooth action supported by high performance ball bearings.
Great value for money.
Cons
The bail arm tends to get stuck after extended use.
3. Pflueger President Spinning Reel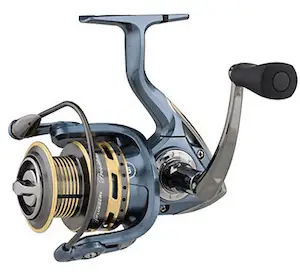 Pflueger reels are among the most popular brands on the market, and the Pflueger President series is perhaps the most popular among Pflueger reels for a good reason.
It has excellent characteristics and features that are highly appreciated by any angler, while at the same time offering great value at a low price point.
This elegant spinning reel is highly versatile, and can be used for both freshwater and saltwater spin fishing applications.
It is made up of a graphite body with an innovative rotor design, making it lightweight and corrosion resistant.
The aluminium bail comes with a sure-click system that helps to improve performance. 
Moreover, during our testing we found that one of this fishing reels best features is that it comes with a multi-disc drag system that enables a powerful and smooth drag action.
If you're looking for the best spinning reel under 50, the Pflueger President PRESSP20 is an excellent choice for both beginners and expert anglers, as it provides excellent quality at a budget friendly price.

Pros
Anti-reverse mechanism powered by an anti-reverse ball bearing system.
Tough and durable build.
Lightweight graphite body.
It comes in an elegant and sleek design.
Cons
The grip of the handle tends to come loose after extended use.
4. Mitchell 300 Reel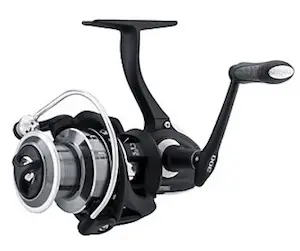 This spinning reel comes with a remarkable design and looks wonderful from the moment you see it. A great feature of this reel that will surely be noticed by any angler is its ability to provide a very smooth retrieval action. 
Its anti-reverse function is instant and one of its best features when it comes to setting the hook quickly and efficiently.
While testing this spinning reel, we noticed its silent quality during line retrieval, and while working the bail arm. This is in contrast to other reels that generate a lot of noise making your fishing experience less enjoyable.
Despite its power and ability to handle larger fish, this spinning reel is made up of a lightweight graphite body, making it an easy-to-handle spinning reel.
While we tested it, it felt a little less powerful compared to some other reels, but we found that it's more powerful than it seems to be, and will probably win you over if you get a chance to fight a big fish with it.

Pros
Smooth retrieval action. 
Great casting performance.
User friendly design makes it easy to use.
Lightweight graphite body.
Cons
The quick set anti-reverse mechanism doesn't always work reliably.
5. Pflueger Trion Spinning Reel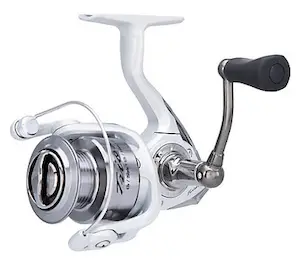 The Pflueger Trion is yet another budget reel produced by Pflueger. The spool is made of double anodized aluminum, and the frame is made of lightweight graphite, offering a combination of  durability and lightness. 
The 7 ball bearings  serve to give this reel a smooth retrieval action, and the stainless steel oil felt drag system provides solid power to fight strong fish.
Overall, our testing showed thatthis is a solid reel, but doesn't offer the same dependability and user satisfaction as the other models discussed above.
Out of all the spinning reels under 50 that we tested, this is the one that impressed us the least.

Pros
7 stainless steel ball bearings
Gear system with slow oscillation
Lightweight graphite frame
Powerful oil felt drag system
Cons
No reverse rotation possible on the handle
Low line capacity
6. Piscifun Viper X Spinning Reel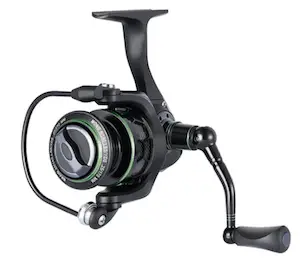 The Piscifun Viper 2 Spinning Reel is an attractive option for anglers who are looking for a high-quality reel that comes with an elegant design.
This sleek spinning reel gives a great user experience whether you are out at sea, on river, or on lake. Thanks to its precision engineering, you experience an innovative performance when it comes to spinning reel performance. 
It is made up of a tough aluminum body plus aluminum spool, making it highly durable and strong for a reliable user experience.
Moreover, when we put it to the test, we found that it comes with a drag system made with carbon-fiber providing its user with maximum control when it comes to controlling the drag system while fighting with bigger fish, and delivering powerful and smooth pressure. 
All in all, our tests showed that these features make it one of the best spinning reel under 50.

Pros
Tough aluminium body.
Ergonomic carbon handle.
Super sleek design.
Great line capacity.
Powerful carbon fiber drag system.
Cons
Some of the materials appear to be of a cheaper quality
7. Okuma ROX Spinning Combo

If you are looking for a reliable spinning reel and rod combo to start your angling journey, while at the same time enjoying an affordable price, then you may want to consider the Okuma ROX Spinning Combo.
Thanks to its innovative construction, the spinning reel of this combo consists of numerous advanced features, which makes it a very high value reel at the price point under 50 dollars.
It's created using high-quality materials and is lightweight, which makes it perfect for long fishing trips.
While this is definitely a budget friendly reel, our testing showed that its performance is similar to some of its expensive counterparts.
Moreover, this spinning reel's size makes it ideal for catching fish that are more powerful and larger in size, for example tuna, or striped bass.
Furthermore, this spinning reel also comes with a multi-disc drag system with oil felt making it highly efficient and resulting in a smooth drag action.
Thanks to its foam grips, holding this spinning reel is quite comfortable, and the user is able to enjoy their fishing experience.
Moreover, it comes with a rod made with glass fiber that we found is surprisingly durable and can handle large fish.

Pros
Great value rod and reel combo
Comes with a drag system that is smooth to use.
It has an efficient and convenient design.
Ease of use makes it user friendly
Cons
Not as durable as more high end reels
What To Look For When Purchasing A Budget Spinning Reel
If you are asking yourself, "what spinning reel should I buy?" you'll have to choose from a bewildering array of different brands with different features, which come at a wide range of prices.
It's important to note that some spinning reels deliver much better performance compared to others, and that a high price does not always guarantee high quality. 
Because of steady technological evolution over the past decades, even cheap spinning reels can deliver top performance, and reliably cover your main angling needs.
But before choosing the best spinning reel for the money, there are a few factors to think about, including which size reel is best for your purpose, which you can determine by checking our spinning reel size chart.
Listed below are some of the most important features that you should pay attention to in the parts of a spinning reel. 
Choosing the right reel size
When looking for the right size of the spinning reel, take a look at the spool for the information regarding the line capacity, and match it with the line strength you intend to use.
This is going to help you in determining the exact size of the reel. If you're shopping online for your reel, then you can check its product chart.
What to look for in build and material
When it comes to the reel body, handle, and spool, it's essential to think about the materials used to make it, and to choose a durable design, which is one of the advantages we mentioned in the Penn Pursuit 2 review, or in the Mitchell 300 review.
An aluminum frame tends to be stronger and more durable, while a spinning reel with a graphite frame is more lightweight, making it convenient for long fishing trips.
You'll need to decide if you want a spinning reel that is more lightweight, or one that has more strength.
Likewise, an aluminum handle and aluminum spool are also more durable and shock resistant than ones made of graphite, but remember that an aluminum spool adds to the overall weight of the reel.
Choosing the right gear ratio
Another of the important features to look for is the gear ratio of the reel, which is the amount of times its bail revolves around its spool with a single turn of the handle.
The difference between a spinning reel and a casting reel is that in spinning reels the spool is fixed and the bail is wrapped on the spool when the handle is turned. 
A reel with a slower speed has a gear ratio of 4:1. Due to the slower speed gear ratio, there is more torque, which is helpful when it comes to reeling in big fish. In contrast, a high-speed retrieve has a gear ratio of 6:1 or higher, which is helpful for fast retrieval of your lure.
If you're not sure what your exact needs are, pick a 5:1 ratio, which is in the middle of the range, and serves well for most kinds of fishing. 
Look for ease of use
Comfort and convenience are among the most essential features when looking for the best cheap fishing reel.
The majority of anglers like to spend long hours fishing on end, so when you decide what spinning reel under 50 to buy,  one of the key features to look for is an ergonomic lightweight design that's comfortable to handle for long hours without fatigue.
If you'd like to look at more high end reels, check out our review on the best spinning reels under 100 dollars.
Alternatively, if you're interested in lightweight applications, have a look at our review on the best ultralight spinning reels.
Finally, if you're in the market for a new reel, you may also be interested in our comparison of baitcaster vs spinning reel.
Are more ball bearings in a reel better?
Ball bearings are one of the most important features of a good reel, and as a rule of thumb, more ball bearings in a reel deliver a better performance.
They are usually made of stainless steel, and are located in the gearbox inside the reel body, and help to make rotation of the handle smoother.
In general, reels with more ball bearings tend to be more expensive, but there are some notable exceptions. For example, as mentioned above, the Okuma Ceymar c10 has a whopping 8 ball bearings, which is great for a fishing reel under 50.
What is the difference between cheap fishing reels and expensive ones?
In general, cheap fishing reels are built with lower quality materials, and come with fewer features than more high end models.
For example, most cheap fishing reels are made mostly with graphite parts, which is less expensive than aluminum or magnesium.
Also, in contrast to high end models, more affordable fishing reels don't come with advanced corrosion resistance features, such as sealed ball bearings, or watertight sealing of the frame.
These features cost a lot more to produce, and therefore drive the price up. 
Finally, the quality of the machining and the durability of the parts is usually lower in low cost models compared to high end models.
However, since they come at a much more affordable price, this makes them easier to replace if they break.
Are expensive reels worth it?
There is no simple answer to this question, since the best spinning reels for your fishing purposes could be quite different from those of other anglers.
If you are just getting started, or if you're not really sure how committed you are, then an expensive reel is definitely not necessary.
However, if you are extremely committed to fishing, and will continue to be for a long time, an expensive reel can be a good investment.
On the whole, more expensive reels offer more high end features, higher quality, and greater durability. Once you have a little experience, you'll be able to tell the difference right away.
Also, if you are a committed angler planning to buy a secondary reel for fishing applications that are not your main focus, then you may want to choose a good inexpensive spinning reel under 50 for this purpose.
What is the best value spinning reel?
For me there can be no doubt that the Okuma Ceymar is the best value spinning reel. With the c-10 retailing at just over $40, it provides a surprisingly high quality performance at this low cost.
And if you want a slightly larger reel size, the price of the c-20 is just over $50, and so won't break your bank either. 
The great thing about the Ceymar is that it not only comes with a very smooth retrieve action (due to its 8 ball bearings), but is also highly robust, and will perform reliably for years if you take care of it properly.
This makes it an excellent work horse reel that can be used for most standard fishing applications, and even for many advanced ones.
I never go fishing without several Ceymars in my tackle box.
Nowadays, spinning reels have become the most popular type of fishing reel, and that for a good reason.
Spinning reels have revolutionized the whole game when it comes to fishing.
Not only can they be mastered with great ease, they also offer excellent performance and high reliability.
Methods and gear used for testing
For consistent testing results, we put each of these spinning reels to the test under similar conditions on Lake Tarpon. We paired each spinning reel with a 7′ Medium Light power, Fast action St Croix Premier spinning rod. The reels were spooled with 6 lb test Berkeley Trilene Fluorocarbon, and we used them to throw 1/16 to 1/4 oz lures (swimbaits, crankbaits, jigs and soft plastics) in 5 to 15 feet of water.