The 5 Top Ultralight Spinning Reels In 2022 Reviewed
UPDATED 21 NOVEMBER 2022
by Robert Ceran
This article may contain affiliate links. If you make a purchase after clicking on a link we may earn a small commission at no extra cost to you.
Small spinning reels are ideal for ultralight fishing, since they can cast very light lures and handle lightweight line, which baitcasters are not so good at.
So, if you are planning to put together a lightweight fishing combo, your best bet is to do it with a spinning reel and rod. 
We've tested the lightest spinning reels on the market, and below are our top 5 picks for the best ultra light reels in 2022.
5 best ultralight spinning reels in 2022 reviewed
| Model name | Image | Price | Ball bearings | Gear ratio | Retrieve rate | Max drag (lb) | Weight (oz) | Our verdict |
| --- | --- | --- | --- | --- | --- | --- | --- | --- |
| Shimano Stradic FL | | | 7 | 6.0:1 | 31" | 7 | 5.6 | Best overall performance |
| Okuma Ceymar 10 | | | 7 | 5.0:1 | 22" | 6 | 6 | Best budget option |
| Abu Garcia Revo SX | | | 9 | 6.2:1 | 30" | 10 | 7.2 | Best high speed model |
| Shimano Sedona FL | | | 4 | 5.0:1 | 26" | 7 | 7.6 | Best option for beginners |
| Pflueger President XT | | | 10 | 5.2:1 | 21" | 6 | 5.6 | Most durable model |
The table above compares the most important specs of the top 5 models side by side. Now let's take a look at each model in more detail.
1. Shimano Stradic FL 1000HGFL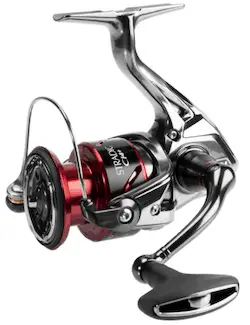 The Shimano Stradic FL is one of the best ultralight spinning reels on the market.
The smallest model in this series is the 1000HGFL, which is actually one of their lightest models. In fact, weighing in at 5.6 ounces it's the lightest reel that we tested for this review.
What really impressed us about this Shimano ultralight reel is that it doesn't sacrifice durability for lightness, since it's built with their flagship hagane technology.
Both the body and the gears are made with hagane cold forged steel, which makes them virtually indestructible, and helps to create the extremely smooth line retrieval action of the gears and rotor.
While ultra light reels often tend to be on the flimsy side, the Stradic FL further impressed us with it's powerful drag system, which can handle up to 7 pounds drag pressure.
With a 6.0:1 gear ratio it retrieves 31 inches of line for every turn of the handle, which is faster than most other models in this category.
Advantages
Ultra lightweight (5.6 oz)
Very durable
Lots of drag power
Top of the line Shimano technology delivers buttery smooth line retrieval action
High speed gear ratio enables fast line retrieval


Overall verdict: The Stradic FL is the best ultra light spinning reel that we tested. It's not only an extremely lightweight reel, it also combines impressive drag power with silky smooth action and durability.
While most ultralight spinning reels are used for freshwater fishing, the Stradic FL is also strong enough to handle saltwater conditions.
Overall, the Stradic Fl is the best 1000 size spinning reel we tested, and if we had to choose just one reel for lightweight fishing, this would be it.
2. Okuma Ceymar c-10


The Okuma Ceymar is a completely different experience to the Stradic Ci4.
Instead of aluminum it's body is made of corrosion-resistant graphite, and the knob of the handle is made with thick EVA foam.
In terms of lightweight fishing, both the Okuma Ceymar c-10 and c-20 sizes are suitable for this style of fishing.
And while graphite is lighter than aluminum, the Okuma Ceymar c-10 is actually a little heavier than the Stradic Ci4 1000HGFB, weighing in at 6 ounces.
And, while one of the strongest points of this reel is definitely its budget friendly price, it does come with additional strengths, including a strong multi-disc, oil felt drag system that can handle up to 5 pounds drag pressure.
The consistency of the drag pressure is improved by the precision elliptical gearing technology.
While the reel frame is made of graphite, the spool is constructed with 2-tone anodized aluminium, which makes it durable enough for corrosive conditions.
Corrosion resistance is further increased by the cyclonic airflow rotors, which ensure that air flows through the rotors, thereby promoting fast drying if the reel becomes wet.
Finally, the smooth retrieval action enabled by its 7 ball bearings plus 1 roller bearing make this one of the best micro spinning reels on the market.
Advantages
Very lightweight (6 oz)
Combination of graphite and aluminum makes it durable
Medium speed gear ratio
Excellent line capacity
Smooth gear action
Budget friendly price


Overall verdict: this is the best budget ultra light reel that we tested.
While it's a little heavier and not as smooth and durable as the Stradic Ci4 and the Revo SX, it still performs at a very high level, making it the ideal budget choice for lightweight fishing.
3. Abu Garcia Revo SX


The smallest ultralight spinning reel in the Abu Garcia Revo SX series is the X10 size.
Weighing in at 7.2 ounces, it's a little heavier than both the Shimano Stradic FL (5.6 oz) and the Okuma Ceymar c 10 (6 oz).
However, what it lacks in lightness compared to the other models, the Revo SX makes up in sheer quality of build, design, and durability.
The Amgearing system is machined out of anodized aluminum with computer guided precision, resulting in extremely smooth action.
The smoothness is further enhanced by the 8 stainless steel ball bearing plus 1 roller bearing, which also result in a high level of corrosion resistance.
With 6.2:1 it has a gear ratio that is higher than the Okuma Ceymar, fast enough for high speed retrieval.
The sheer power of the drag system of this Abu Garcia is one of the most impressive qualities of this reel: it can handle up to 10 pounds of drag pressure, which is twice as much as the Okuma Ceymar.
The power and smoothness of the drag is based on carbon matrix hybrid technology. Together with its durable design, this makes it the best ul spinning reel for saltwater conditions.
Finally, the casting performance is enhanced both by the rocket line management system, plus the rocket spool lip design, which helps to cast light lures at record distances.


Advantages
Medium lightweight (7.2 oz)
Highly durable and strong build that can handle saltwater conditions
Extremely powerful drag system suitable for large fish
Impressive line management system and line capacity
Buttery smooth line retrieval action eanbled by 8 + 1 stainless steel bearings
High speed gear ratio
4. Shimano Sedona FI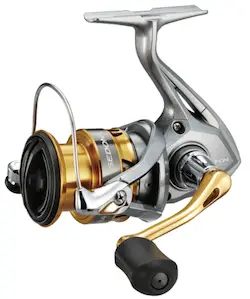 The Sedona is placed at the lower end of the Shimano line up, and is their only low end spinning reel that incorporates the flagship hagane technology.
As such, it's a great choice if you want to get access to superior Shimano technology without paying the premium price required for their other models. It's almost like getting an upgrade without paying extra.
The lightest model in this series is the Sedona 1000FI. At 7.6 ounces, it's a little heavier than the other models reviewed on this list.
But this is still light enough to handle lightweight line and lures such as small jigs, and to spend long days casting without fatigue.
The gear ratio of this ultralight reel is medium speed at 5.0:1, and retrieves 26 inches per turn of the handle.
The cross carbon drag system delivers very smooth line retrieval action with a maximum force of 7 pounds drag pressure, which is plenty of power for a mini fishing reel. 
Shimano reduced the number of ball bearings to a bare minimum of 3 + 1 in order to create a lightweight reel that is more budget friendly than their other models.
However, don't make the mistake of assuming that the resulting action is not smooth.
The superior Shimano hagane technology still manages to create a smoother line retrieval action with 3 ball bearings than many other models with 8.
Advantages
Medium lightweight (7.6 oz)
Smooth line retrieval action delivered by 3 + 1 cold forged hagane gears
Powerful drag with 7 pounds max pressure
Extremely durable build, enabling it to handle saltwater conditions
Budget friendly high quality lightweight reel


Overall verdict: this is the best ultralight reel from Shimano on a small budget.
It delivers superior hagane technology at a lower price, and is an excellent choice if your budget isn't big enough for the Stradic Ci4 or the Revo SX.
It's also a great choice as a backup reel if you want to use a higher quality reel as your mainstay.
5. Pflueger President XT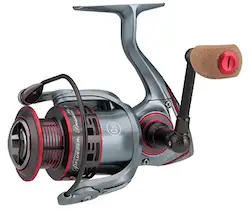 It's hard to write a review on this topic without mentioning at least one Pflueger model, since Pflueger has become synonymous with high quality and dependability over the past decades.
The President XT series takes the original President series to the next level with improved gear system technology and more lightweight construction. 
The smallest model in this series is the SP20X. Since it's a size 20 spinning reel, it sounds larger than the other micro reels reviewed here, which are all size 10 models.
But at 5.6 ounces, it's just as lightweight as the Shimano Stradic Ci4, which definitely puts it in the ultralight reels category. The lightness of this reel is due to a graphite body and rotor design, and make it one of the best small spinning reels.
The SP20X has 6 + 1 stainless steel ball bearings, and combined with an aluminum main shaft and aluminum pinion gears, this results in very smooth line retrieval action plus durability.
The 5.0:1 gear ratio is medium speed, retrieving 21 inches per turn of the handle.
The aluminum spool is braid ready, saving you the hassle of having to use a monofilament backing if you want to spool it with braided line.
The sealed drag system can handle up to 6lb of pressure, which is plenty for light fishing.

Advantages
Extremely lightweight (5.6 oz)
Smooth line retrieval action delivered by 6 + 1 ball bearings
Strong drag with 6 pounds max pressure
Great line management 
Very durable build, strong enough for saltwater fishing
Mid-range price
Factors to consider before purchasing an ultralight spinning reel
What is ultralight fishing?
Ultralight fishing refers to fishing with extremely lightweight gear.
An ultralight fishing setup includes includes lightweight rods, reels and lines, as well as lightweight lures, which all need to be matched with each other.
In most cases, this type of fishing is done with spinning reels, since they can cast lighter lures than baitcasting reels.
Traditionally, sport fishing evokes the image of catching large game fish with big reels and heavy rods.
However, in recent years ultralight spinning has become increasingly popular for many freshwater applications, and even for some saltwater applications.
Maybe the reason for this can be traced to the recent development of finesse techniques by bass and trout anglers, in which they present smaller and lighter lures to entice fish to bite when other methods don't work.
A second reason is probably due to the fact that fishing for smaller species such as crappie and bluegill has become very popular.
But whatever the reason for the increased popularity of ultra light fishing – if you're thinking of trying it out for yourself, the first thing you need to do is get the right gear for it, and among the different fishing reel types, spinning reels are best suited for this type of fishing.
What reel sizes are used for ultralight fishing?
The small spinning reels used for this type of fishing are usually size 10 or size 20 (which correspond to size 1000 or 2000 for some manufacturers – you can compare the different reel sizes on our spinning reel size chart).
This reel size is ideal for handling 2-6lb strength monofilament line or fluorocarbon line, which is the line usually used for this type of fishing.
What is the best spinning reel for crappie?
While it's possible for crappies to weigh up to 3 or 4 pounds, normally their weight is in the quarter to half pound range.
Because of this, lightweight fishing gear is ideal for crappie fishing.
We recommend the Shimano Stradic FL 1000HGFL as the best light spinning reel for crappie, due to its extreme light weight and superior performance with light gear.
If you are looking for a low budget alternative, then the Okuma Ceymar c-10 would be a great choice.
What is the top ultralight spinning reel under $50?
After testing 15 different ultralight reels for this review, the Okuma Ceymar gets our vote as the best ul spinning reel under $50. 
While it's not as lightweight and durable as the more high end models, overall it's performance is still very satisfactory, making it great value at a low price.
What is the best ultralight spinning reel under $100?
Based on our experience with 15 models tested for this review, the Shimano Sedona SE1000FL is the best ul spinning reel under $100.
It delivers the superior performance of Shimano cold forged hagane gears at a price that is usually reserved for models of much lower quality, which means you can upgrade your fishing experience with very little extra cost.
Conclusion
This concludes our review of the best lightweight spinning reel.
If you want to check some additional high quality models, take a look at our review on the best spinning reel under 100 dollars.
And if you want to focus on budget friendly reels, check out our review on the best spinning reel under 50 dollars.