Buddy Heater Run Time (Detailed Chart Covering All Models)
UPDATED 18 MAY 2023
by Robert Ceran
Are you wondering how long your Buddy heater will last on a single propane tank?
Keep in mind that the runtime of a Buddy heater varies not only depending on the model you use, but also on the size of the gas tank, and the heat setting you choose. 
So, in order to fully address this question, we tested the run time of all portable Buddy heater models both at high and at low setting, and with two different gas tank sizes.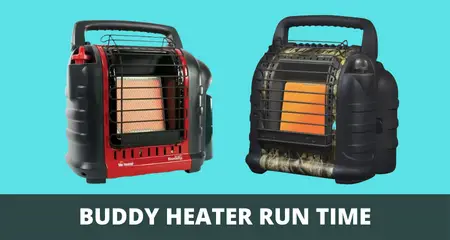 In this article, we'll provide you with a detailed chart covering the run times of all Buddy heater models, so you'll know what run time you can expect from your specific Buddy heater.
How long will a Buddy heater run on a 1lb or 20 lb gas tank?
Image
Run time with 1 lb propane tank
Run time with 20 lb propane tank
BTU per hour
Mr Heater Little Buddy
5.6 hrs
N/A
3,800 BTU
Mr Heater Portable Buddy
3 hrs (high)
6 hrs (low)
51 hrs (high)
105 hrs (low)
4,000 or 9,000 BTU
Mr Heater Big Buddy
2.8 hrs (high)
5 hrs (medium)
11 hrs (low)
25 hrs (high)
50 hrs (medium)
103 hrs (low)
4,000, 9,000 or 18,000 BTU
Mr Heater Hunting Buddy
1.8 hrs (high)
3.5 hrs (low)
37 hrs (high)
75 hrs (low)
6,000 or 12,000 BTU
Mr Heater Buddy Flex
2 hrs (high)
3.5 hrs (low)
39 hrs (high)
61 hrs (high)

8,000 or 11,000 BTU
The table above compares the run times of all Mr Heater Buddy models, either on a 1lb gas tank, or on a 20 lb tank.
We tested all Buddy heater models both at low and at high settings, to compare their runtimes under these different conditions.
This test was performed indoors in a garage with an ambient temperature of 54 degrees Fahrenheit. 
Little Buddy run time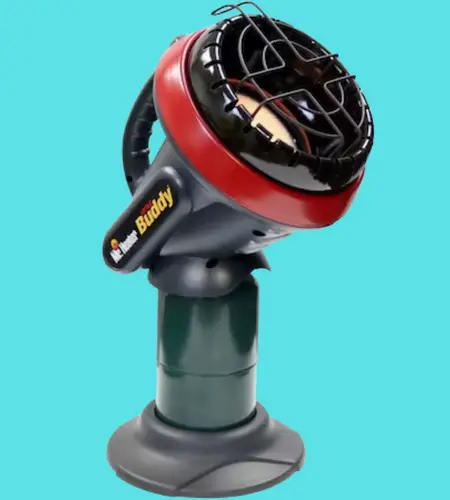 As the smallest entry level Buddy unit, the Mr Heater Little Buddy can heat up to 95 square feet, according to the manufacturer.
It has a single heat setting and the Little Buddy can run for about 5.6 hours with a single 1-lb propane cylinder.
The Little Buddy heater can't be connected to a 20 lb propane tank, as it doesn't have the required regulator for attaching the hose that hooks up to a larger tank (which all bigger Buddy heaters have).
I'd like to add that in my experience, the Little Buddy is better suited for providing direct heat to one person, rather than warming an entire room.
In terms of safety, it has an oxygen depletion sensor (ODS) and an accidental tip-over shutoff, but the latter can be too sensitive and turn the heater off if it's used on an uneven surface.
It's also important to ensure good ventilation when using the Little Buddy in a confined space, as the ODS will shut off the propane heater if there's not enough oxygen.
Despite its small size, the Little Buddy is relatively heavy at almost 6 lbs, but it does come with a convenient carrying handle.
Overall, it's an affordable and easy-to-use option for small-scale heating.
Related: What to do if your Mr Heater won't light
Portable Buddy run time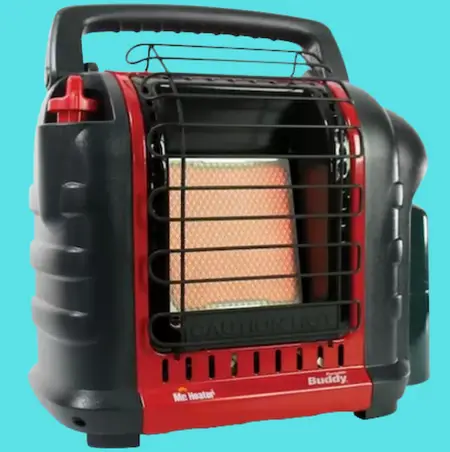 The Mr. Heater Portable Buddy is a significantly bigger heater than the Little Buddy, and comes with two heat settings. According to the manufacturer, it can heat a room up to 225 square feet.
A clean-burning and efficient propane heater, the Portable Buddy heater is capable of running for 3 hours at high setting, and up to 6 hours at low setting when using a 1 lb propane tank.
The Portable Buddy heater can be connected to a 20 lb gas tank, and if you choose this option, it can run for 51 hours at high setting, or 105 hours at low setting.
The Portable Buddy is designed with portability in mind, featuring a fold-down handle that reduces its storage space (which is a big plus when transporting it on an ice fishing trip).
It also has a low-oxygen safety shutoff, allowing you to leave it on overnight without worrying about depleting the oxygen levels in the room.
Its heating surface is made of a durable ceramic burner tile that helps distribute radiant heat evenly.
The Portable Buddy is a great heater for an ice fishing shelter or tent, allowing you to focus on fishing. 
However, it may not be powerful enough to heat a larger space, such as an ice fishing house or wheelhouse, so you may need to use multiple units or a larger Buddy model.
Big Buddy heater run time
The Mr. Heater Big Buddy heater is one of the most effective portable heaters on the market, as it can heat a 420 square foot room in as little as 15 minutes on its high setting. This is faster than any electric heaters I've ever used.
As this is the most popular of the Buddy heaters, I often hear the question, how long will a Big Buddy heater run?
Its run time depends on the size of the propane tank, and it will also last longer at low setting.
With two 1-lb propane cylinders, the Big Buddy heater generally lasts about 3 hours on its high setting, 5 hours on medium, and up to 11 hours on the low setting.
Hooked up to a 20-lb propane tank with a hose, the Big Buddy heater can be used for 25 hours at high setting, 50 hours at medium setting, and 103 hours at low setting.
While it doesn't have a thermostat, it does have 3 temperature settings (low, medium, and high), so you need to calculate the run time based on the setting you choose.
The 3 settings of this Buddy heater give you more flexibility in choosing the amount of heat you want it to produce.
Overall, the Big Buddy portable heater is a great option for heating a Fish House RV or permanent ice fishing house, as well as for heating a garage, cabin, or hunting blind.
It can also help conserve your vehicle battery and will save you money when using a propane heater instead of an electric heater.
Hunting Buddy run time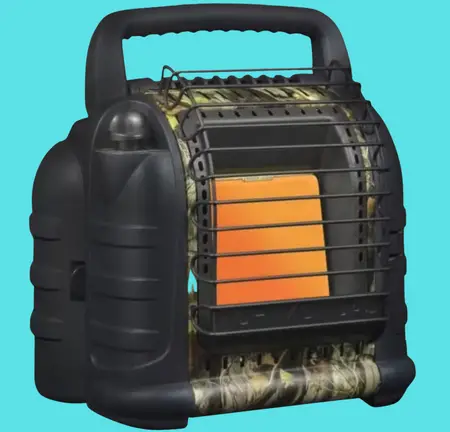 The Mr. Heater Hunting Buddy is a surprisingly powerful little propane heater that can crank out 6,000 to 12,000 BTU per hour.
This propene heater is designed to heat small enclosed spaces like hunting cabins up to 300 square feet.
While this space heater is primarily intended for use with a 1 lb liquid propane cylinder, you can also buy a hose and filter and use those to connect it to a remote 20lb tank.
The swivel regulator of the Hunting Buddy makes it super easy to use with either of these fuel options.
When using a 1 pound propane tank, the Hunting Buddy heater can run up to 1.8 hours on high setting, and 3.5 hours on low setting. 
If you use a 20 lb propane tank with a hose, this heater can run up to 37 hours on high setting, and up to 75 hours on low setting.
To light it, just push and rotate the knob, and the built-in silent electric ignition will do the rest. 
Plus, this propane heater has safety features that shut it off in case of accidental tip-overs or low oxygen, so you don't have to worry about anything.
Overall, it's a handy little propane heater that's both easy and safe to use.
Buddy Flex run time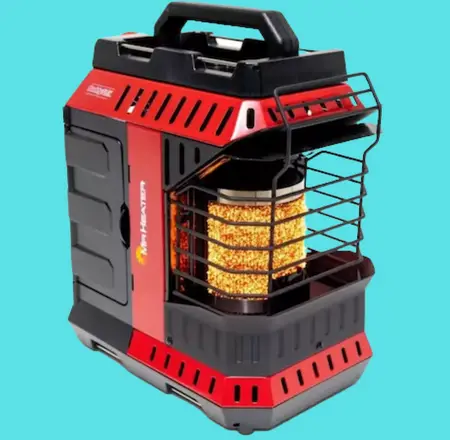 The Mr. Heater Buddy Flex system has a 360-degree burner that radiates heat in all directions. 
You can use it with either a small propane cylinder or big gas tank. When hooked up to a small gas cylinder, the Buddy Flex heater can run for about 2 hours on high setting and 3.5 hours on low setting.
But if you connect it to a big gas tank with a propane hose, it can run for 39 hours at high setting, and 61 hours at low setting.
The Buddy Flex has electrical ignition instead of piezo ignition, and also comes with a wind protection shield to keep the pilot flame lit in windy conditions.
It's designed for both indoor and outdoor use and has up to 11,000 BTU of output energy. And like all the other Buddy heaters, it has a tip-over shut-off switch that turns it off if it falls over on your shelter floor.
But what really sets it apart from the other models is that it's not just a heater – it also has an optional cooking component, so you can cook a warm meal in your ice shanty without affecting your heat source. 
Final remarks
Buddy heaters are very popular portable propane heaters that can be used to heat small spaces such as ice fishing shelters, fish houses, RVs, or even as temporary heating solutions at home during a power outage.
These propane heaters are not only easy to use, but are cheaper than electric heaters, while providing a reliable source of heat in cold environments.
So whether you're ice fishing, hunting, or camping in the winter, we hope our chart with Buddy heater run times will help you get an idea of how long your Buddy heater will last on a single tank of propane (either a 1lb or 20lb tank).
That way, you can plan in advance how many propane tanks you need to bring along on your trip to make sure you don't run out of propane.