Types Of Ice Fishing House (And How To Choose The Right One)
UPDATED 18 MAY 2023
by Robert Ceran
If you plan to spend a significant amount of time ice fishing, it's probably a good idea to invest in an ice fishing house or shelter to protect you from the elements. 
But the problem with this is that there is a huge variety of different options on the market, ranging from one man pop-ups to 32 foot fish houses, making it hard to choose the right one.
To help you with this challenge, we'll walk you through the most important types of ice fishing houses and ice shelters in this article.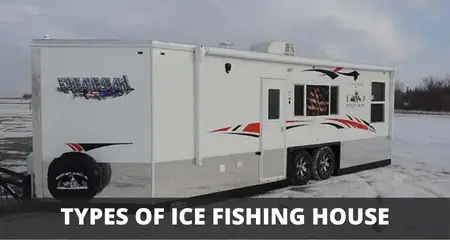 We'll also cover the strengths and weaknesses of each, in order to help you decide which one is best for your purposes.
What are the different types of ice fishing houses and shelters?
The three most important types of fish houses are:
Portable ice shelters
Permanent ice fishing houses
Fish house RVs
While these are the main categories of ice houses, each of them also come in a wide variety of different sizes and shapes.
That means you should probably start by choosing one category, and then figure out which features and sizes are right for you. 
Let's dive into the details and take a close look at each of these types. 
Portable ice shelters
Portable ice shelters (also called pop-up shelters) are the most commonly used shelter type among ice anglers, as they are relatively inexpensive, easy to transport on a sled or snowmobile, and can be set up quickly anywhere on the ice.
Among the most popular brands for portable ice fishing shelters are Eskimo, Clam, Otter, Frabill, and Thunder Bay.
All of these companies make excellent shelters that can protect you and keep you warm on the ice, and which one you choose comes down to comparing the details.
If you spend a lot of time inside the shelter, you should also consider putting in an ice fishing shelter floor to prevent getting drenched and frozen by the slush.
Since these ice fishing shelters are basically insulated tents, their key advantage is portability, allowing you to stay mobile and move around the ice until you find fish.
And unless you already know the lake where you're ice fishing very well, it's likely you'll have to do extensive hole hopping before you find the best ice fishing locations. Having a portable pop-up shelter helps a lot with that, since you can stow it on a large sled.
The largest portable shelters can hold up to 10 people, while the smallest ones are designed to hold just one person (see photo above).
But keep in mind the smaller the shelter, the easier it is to transport on the ice.
Permanent ice fishing houses
While permanent ice fishing houses are not "permanent" in the sense that they can also be moved around, they are so large that moving them takes a lot more effort, so many anglers tend to leave them in the same location for a longer period of time.
Traditionally, a permanent shelter would be an ice fishing shanty, which is basically a small, rectangular wooden shack that is built on top of a wide sled, and towed onto the ice when it becomes thick enough.
In most cases, shanties (also called skid houses or ice shacks)  are custom built or homemade, and they are usually put on the ice at the start of the ice fishing season, and then removed at the end of it, thus staying in the same location all winter.
However, in recent years, ice houses with wheels (such as the fish houses made by Yetti, see photo below), have become increasingly popular, and are gradually replacing traditional ice shanties on many lakes.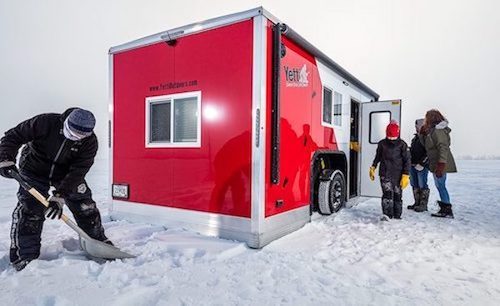 These fish houses on wheels are obviously easier to move around and tow on the road, making them relatively simple to move to a different lake if the need arises.
In addition to Yetti, Clam and Ice Castle also make popular wheel houses that come in sizes ranging from 10 feet to 32 feet. 
Ice fishing wheel houses represent an almost perfect compromise between mobility and maximum comfort on the ice.
They usually come with a full suite of features that allow you to spend the night on the ice while experiencing a high level of comfort.
Their features include a fully equipped kitchen with refrigerator and stove, as well as propane heaters, cupboards, chairs, tables, bunks, or beds that make you feel like you're fishing inside the comfort of your own home. 
Ice fishing wheel houses generally come with 4 to 8 large holes in the floor that have a removable rubber cover.
When you remove one of these covers, that gives you direct access to the ice below. You can then drill through the ice with your ice auger and start fishing through the ice.
Another advantage of wheelhouses is that you can attach rattle reels to the walls next to each ice hole, allowing you to fish with set lines inside of the house.
Since rattle reels produce a loud sound when a fish takes the bait, you can even use them to continue fishing when you're sleeping inside the house.
Fish house RVs for ice fishing
The largest wheelhouses for ice fishing are called Fish House RVs, since they are large enough to live in, and can also be used as campers during the summer.
The main difference that distinguishes fish house RVs vs regular wheelhouses is that they come with a water package which includes a shower, toilet, and kitchen sink, and 30 gallon water tank.
Having these amenities makes a huge difference, as it basically allows you to live inside your ice house for several days without problems.
And in spite of their huge size, fish houseRVs also come with wheels, and can be towed with an SUV or pickup truck, making them just as mobile as smaller models. 
They use a hydraulic mechanism to lower the entire house down to the ice after it has been towed into place. That way you minimize the space between the house and the ice, giving you direct access to the ice through the holes in the floor.
After lowering the ice house RV to the ice, it's generally a good idea to pile some snow around the edges, since this prevents wind from blowing through the holes in the floor. Using Ice hole sleeves is another way to deal with this.
Luxury ice fishing houses
Large wheelhouses and fish house RVs come in deluxe editions that offer even more space and comfort to ice fishers than smaller models. The most famous brand of luxury ice houses is Ice Castle. 
In addition to being significantly larger to begin with, luxury ice fishing houses often have slide outs that further increase their space inside, as well as home entertainment systems, winter toilets and showers, and security cameras.
High end ice fishing houses usually also come with camera ports and pre-wiring for one or more underwater cameras, as well as multiple flat screen televisions.
This allows you to hook up your Marcum or Aqua-Vu underwater camera to the flat screen TV, and then watch fish in full technicolor as they approach your bait or lure underneath the ice fishing holes in the floor.
Another advantage of these fish houses is that some fish finder display units can also be connected to the TVs, allowing you to watch sonar returns on a huge screen while fishing through the ice.
This kind of setup is especially useful if you're using live sonar, such as Humminbird MegaLive or Garmin Livescope, which gives you a wide cone angle to cover everything that happens in a wide radius underneath your ice house.
How to choose the right ice fishing house
When choosing the ideal ice fishing house for your purposes you need to consider the following key factors:
Cost
Ice thickness
Mobility
Insulation
Amenities/comfort
Let's take a closer look at each of these.
The first of these is one of the most important for most anglers: while portable shelters are generally very affordable, large wheelhouses can cost anywhere from $10,000 to $50,000, which is prohibitively expensive for the majority of ice anglers. 
Secondly, in order to use large fish house RVs, you need at least 12 inches of ice (and preferably more than 15 inches). This means you can't use them until mid-winter in many locations, as the ice simply isn't thick enough for them.
Next, if you want to be mobile on the ice, you should aim for a portable pop-up shelter or at least a wheelhouse that can be towed to a different location relatively easily. That way you won't be stuck with the location where you put your house at the start of the ice fishing season.
Depending on the temperature, and how long you want to stay on the ice, the degree of insulation that an ice fishing house provides is also important.
While a portable shelter is good enough on warm days, an insulated shack or wheelhouse is essential on cold days, or if you want to fish through the night. 
Finally, you also need to consider the level of comfort and the amenities that you want to have during your ice fishing trip.