Lowrance Elite 9 Ti Review – Detailed Buyer's Guide
UPDATED 15 MAY 2023
by Robert Ceran
This article may contain affiliate links. If you make a purchase after clicking on a link we may earn a small commission at no extra cost to you.
Overview
The Lowrance Elite 9 Ti is the second largest model in the Elite line up of Lowrance fish finders. With a 9 inch touchscreen, it provides ample screen size to comfortably run several sonar technologies in parallel.
It includes WiFi connectivity for networking with your other electronics, a mapping/chartplotting function with preloaded maps, and a TotalScan transducer, which combines 4 major Lowrance sonar technologies in one device.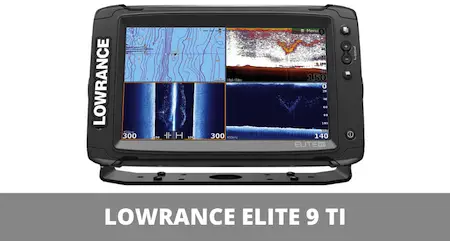 My teram and I tested the Lowrance Elite 9 Ti, and found that overall, this is an excellent medium-sized fish finder on the market that covers all important functions that a high end model needs to provide: state of the art sonar signaling, GPS with advanced mapping, wireless networking, and ease of use with a large touchscreen interface.
Based on our testing, this is one of the best 1000 dollar fish finder on the market, outperforming the similar (but more expensive) Garmin echoMAP 93SV.

Main features:
Display Size: 9"
Touchscreen: Yes
Screen Resolution: 800X480 pixels
2D Sonar: 50/200 kHz or 83/200 kHz
CHIRP: Mid and high frequency
DownScan: 455/800 kHz
StructureScan: 455/800 kHz
Transmit Power: 500 W
Integrated GPS: Yes
Preloaded Maps: C-Map
Chartplotting: Yes
Maximum Depth: 1,000 ft. (83 kHz) or 3,000 ft. (50 kHz)
MicroSD: Yes
Wireless/Bluetooth: Yes
Lowrance Elite 9 ti review
Overall user experience:
The large 9" display with touchscreen functionality gives a really satisfying user experience, since it enables you to master complex sonar readings quickly and almost intuitively, which is essential for ease of use.
Once you know how to work the touchscreen, you can easily switch back and forth between different display modes. You can also easily adjust the color and contrast settings to generate the best results for your specific application.
If you've ever used a Lowrance fish finder model of the HDS series, then the Elite 9 will seem very familiar to you, since it includes many of the same features, but at a significantly lower cost.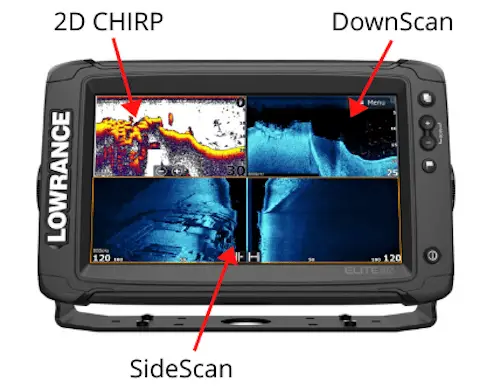 3 in 1 split screen display

When we put it to the test, we found that another advantage of the large screen is that you can easily display all 3 major sonar readings (2D CHIRP, DownScan, and StructureScan) next to each other in split screen functionality. You can also choose to combine them with a 4th panel showing GPS/mapping data.
Mapping functionality
During our testing we found that it comes with preloaded high detail C-Map Insight Pro mapping, which includes 4,000 US lake and river maps, plus coastal waters down to 1,000 ft. depth.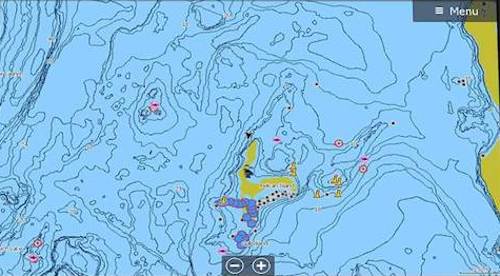 Mapping feature

You can use the charts to search for promising underwater topography with a bird's eye view setting with 1-foot contours, and you can use them for your own GPS mapping. There's also a MicroSD slot that you can use for additional map cards, and it comes with Navionics Platinum.
If you want to learn more about the features of Navionics, check out our article on Navionics vs LakeMaster.
Sonar technology
When we tested it, we found that the Lowrance Elite 9 TI combines 3 of the most advanced Lowrance sonar technologies: 2D CHIRP, DownScan, and StructureScan HD. 
CHIRP
The mid/high frequency Lowrance CHIRP powers both the 2D, DownScan and StructureScan readings. It relies on sending many pulses of different wavelengths that combine to generate a more complete image with better object separation. 
DownScan
DownScan is Lowrance's version of down imaging, which gives the highest object resolution, since it focuses on a narrow section right under the boat. When we tested it, we found that it's best to view it side by side with 2D CHIRP, since the 2D returns stronger signals, while DownScan enables better target resolution to identify individual fish even when they are close together, or close to other structures.
StructureScan 
This is Lowrance's version of side imaging, and on the 9ti it provides a 140 ft. view to both sides of your boat, and during our testing we found that this is excellent for getting an overview of the underwater topography as you're moving across the water.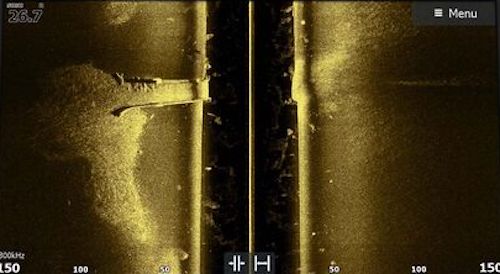 SideScan imaging

Once you spot an interesting structure, you can then investigate it in more detail with DownScan. You can also place waypoints on prominent spots, such as underwater ledges, wrecks, and other cover, to include them on the GPS map.
For more information on how these powerful sonar technologies work, take a look at our article on how fish finders work,  and if you want to learn how to take full advantage of them, check out our article on how to read a fish finder screen.
Trackback feature
While testing the Elite 9 Ti, we found that this is a really nifty feature that lets you scroll back to your sonar readings at a later time point. For example, if you're too busy fishing while you're out on the water, you can review your sonar history when you're back home, and use it to place waypoints on important structures, so you can easily find them again on your next fishing trip.
FishReveal functionality
The FishReveal feature creates an overlay of a 2D CHIRP reading on top of a DownScan reading.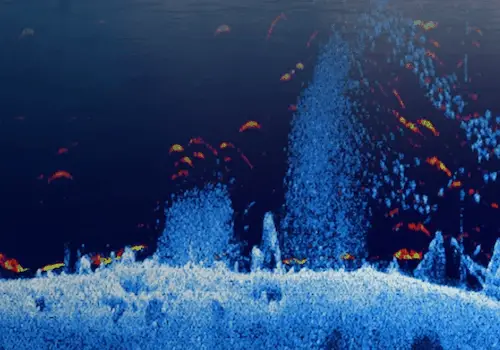 FishReveal imaging

This combines the strength of 2D CHIRP to readily identify fish as arches, with the crystal clear resolution of DownScan imaging, combining more data on a single screen.
Can you network Lowrance Elite TI units?
Yes, one of the great features of the Elite series is that it's easy to network with other devices. For example, you can use the Lowrance elite 9 ti bluetooth to connect it to your smartphone or tablet, and to connect it to your other boat electronics. While testing it, we found that this enables you to use it to control your trolling motor or power pole shallow water anchor. Finally, you can also share mapping data between several Elite ti devices by using the wireless function (but not bluetooth).
Is the Elite 9 TI compatible with Insight Genesis maps?
Yes, during our testing we found that you can upload your sonar recordings to the online map creation software to create a custom underwater map from your sonar data. Once you're done, you can then transfer the map back to your 9 ti via bluetooth, and use it the next time you go back to that location.
What transducer comes with the Lowrance Elite 9 TI?
The Elite 9ti is sold without a transducer, so you'll need to buy that separately. You can choose from these 4 top Lowrance transducers:
TotalScan transducer: 3 in 1 solution, combining CHIRP, DownScan, and StructureScan   
Skimmer transducer: single transducer, uses mid/high frequency CHIRP for 2D sonar readings
HDI transducer: 2 in 1 solution, combining CHIRP and DownScan
LSS-HD transducer: 2 in 1 solution, combining DownScan, and StructureScan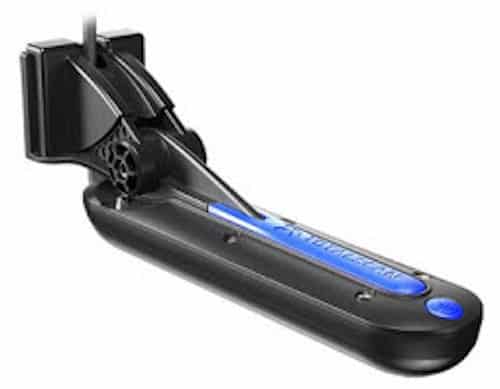 TotalScan transducer
Based on our testing, we recommend the Lowrance Elite 9 TI TotalScan transducer (click here to check all transducers compatible with this Lowrance unit), since it covers all sonar signaling options required to get the full benefit of the 9TI (2D CHIRP, DownScan, and SideScan).
Another advantage of using the TotalScan is that you only need to mount a single transducer on your boat or kayak. 
If you have a transducer, but aren't sure if it's working correctly, check our article on how to tell if your transducer is bad.
What is the difference between Lowrance Elite TI and TI2?
At the time of writing, Lowrance is in the process of replacing the TI series with the updated TI2 series. When we tested it, we found that the main difference is that the TI2 series is enabled for the new Lowrance Active Imaging transducer, which uses their latest generation of 3 in 1 imaging technology, including high resolution sidescan, downscan, and CHIRP. Active Imaging generates even better target contrast and clarity compared to TotalScan.
What are the advantages and disadvantages of the Elite 9 TI?

Advantages: 
Provides some of the finest sonar technology available on the market, including 2D CHIRP, DownScan, and SideScan HD, and FishReveal overlay
Large 9 inch display with touchscreen functionality enables great user experience, ease of use, and the ability to use several sonar technologies in parallel without screen clutter
Affordably priced in this class of fish finders. It looks and feels like a high end fish finder, but comes at a mid-range price.
Ideal for inland applications, especially for bass boats.
Disadvantages: 
While it's ideal for inland applications, it lacks the power for fishing in deeper water, including most saltwater applications. 
Conclusion 
Based on our testing, the Lowrance Elite 9ti is an excellent fish finder for kayaks and small to medium sized boats, and is currently one of the best fish finders for bass boats on the market.
It provides a combination of all state of the art imaging, mapping and networking features, while still being affordably priced. However, if you need a model for deepwater fishing, you should consider a more powerful alternative. 
If you need a battery for your Elite 9ti, check out our review on the top fish finder battery.
Methods and gear used for testing
For consistent testing results, we paired the Lowrance Elite 9 Ti with a Lowrance TotalScan transducer transom mounted on a Ranger Z520R bass boat. We tested all features of the Elite 9 Ti by imaging structure and schools of panfish and bass relating to structure in 7 to 21 feet of water.