Pflueger President 20 Or 25 – What Are The Differences, And Which One Should You Buy?
UPDATED 12 MAY 2023
by Robert Ceran
This article may contain affiliate links. If you make a purchase after clicking on a link we may earn a small commission at no extra cost to you.
If you're looking for a small President spinning reel, then you'll have to choose between the 20 and 25 sizes, and while they are similar in many respects, there are several key differences that will affect your decision.
For this article we tested the most important features of the Pflueger President 20 vs Pflueger President 25 reels, and will cover their main differences, to help you choose the best one for your purpose.
Pflueger President 20 vs 25 – what are the differences?
| | President size 20 (PRESSP20X) | President size 25 (PRESSP25X) |
| --- | --- | --- |
| Price | | |
| Weight | 6.20 oz | 7.50 oz |
| Ball bearings | 7 | 10 |
| Max drag pressure | 6 lb | 8 lb |
| Mono capacity (yd/lb) | 200/2, 100/4, 80/6 | 220/2, 110/4, 90/6 |
| Braid capacity (yd/lb) | 180/4, 125/6, 100/8 | 200/4, 140/6, 110/8 |
| Retrieve rate per turn of handle | 20.2" | 22.4" |
The table above compares the specs of the two spinning reels that we tested side by side.
As you can see, they are similar in most respects, but there are several key differences that we'll examine in full detail below.
Most important differences between Pflueger President 20 and 25
Weight: As one would expect, the 20 is lighter than the 25. But the difference in weight between the two is surprisingly large – the 20 weighs 6.2 oz, while the 25 weighs 7.5 oz.
That's a 1.3 oz weight difference, which means the smaller sized model is definitely ultralight, making it ideal for the most lightweight fishing applications.
Ball bearings: One reason why President reels have such a buttery smooth retrieve action is because of their high quality ball bearings.
All models in the President lineup have a whopping 10 ball bearings, except for the 20 size, which only has 7. Comparing the retrieve action of both models next to each other, you can feel that the 25 is slightly smoother.
And while this seems to be a minor detail, our testing showed that it can make quite a big difference if you spend the whole day casting lures.
Drag power: The 25 has stronger drag power with 8 lb maximum pressure, while the 20 only has 6 lb maximum pressure.
While this seems like a big difference, when we put it to the test we found that it doesn't matter all that much, since you would only use the smaller model for catching relatively small fish such as trout and panfish.
Line capacity: The 25 has about 10% more line capacity compared to the 20, which is not a big deal, especially if you use 2 or 4 pound test lines, since you'll still get plenty of yards spooled onto the reel.
However, the smaller spool also results in reduced casting distance, and during testing we found that this can be an important factor for casting lures.
Gear ratio: This is identical on both models, with a 5.2:1 medium speed gear ratio. 
Retrieve rate: While both models have the same gear ratio, the smaller spool of the 20 results in a slower retrieve rate (20.2") compared to the 25 (22.4").
And again, while this doesn't seem like a big deal, when we tested it we found that it can make a big difference if you spend a lot of time casting lures.
So if you're planning to spinfish with lures all day long, you should keep this difference in mind.
What should you use the Pflueger President spinning reel 20 for?
During testing we found that the small size of this Pflueger ultralight reel makes it ideal for ultralight fishing.
Several fishing applications that instantly come to mind for it are creek fishing for trout, or pond fishing for bluegills, crappie, or sunfish.
These fishing styles rely on very sensitive rods, lines, and lures, and having an ultralight reel to use with this kind of tackle is ideal. 
This model is also a great choice for ice fishing for perch and panfish, and works very well with some of the ultralight ice fishing rods for panfish on the market.
Just keep in mind that you're sacrificing several ball bearings, some drag power, plus retrieval speed in order to get the reduced size of this reel.
Because of this, I would only recommend using it for the very lightest of applications, where any heavier model would feel clunky.
If you're specifically interested in lightweight fishing gear, check out our review of the best ultralight spinning reels.
What should you use the Pflueger President spinning reel 25 for?
While this model is also great for very lightweight applications, it has enough drag power to handle some bigger fish, and based on our testing this makes it a good choice if you expect to run into some decent sized bass or a walleye or two.
The technical advantages of this model make it the best choice for any spinning applications where you want to throw lures all day long, since the larger spool gives you greater casting distance, and the greater retrieval speed means you don't have to crank the handle like crazy.
Also, the additional ball bearings generate smoother retrieval action.
I would use this model for bass fishing if I'm not expecting fish bigger than 3-4 pounds, since it's a lot of fun to fight them on sensitive gear. 
In addition, this reel is a good choice for walleye ice fishing. This is because walleye are finicky biters, so you want to use sensitive gear to catch them through the ice, plus they aren't big fighters, so you can handle them on this size reel.
For more information on how to use the different sizes, check out our article on spinning reel sizes.
Now let's look at each of the sizes in more detail.
Pflueger President 20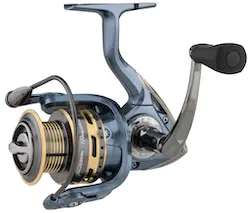 This is one of the smallest spinning reels on the market, and compares to a size 5 or 10 Shimano.
As such, it's ideal for ultralight applications where you don't need to achieve very long casting distances, such as fishing in small creeks.
Features:
7 ball bearings
Lightweight graphite body and rotor
Braid ready spool
Pflueger President 25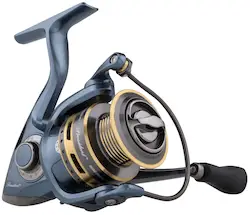 While this is also a small sized fishing reel, during our testing we found that it still has the power to handle medium sized fish, which means you can use it for slightly heavier applications, such as fishing for bass and walleye.
And the 10 ball bearings make this one of the smoothest spinning reels available. 
Features:
10 ball bearings
Sealed drag system
Slow oscillation gearing
Conclusion
Pflueger President spinning reels are among the best models on the market, which is why we included the President in our review of the best spinning reel under $100.
Of the two models reviewed here, we found that the 20 is a good choice for the lightest applications, where its low weight help to make it more fun catching relatively small fish on sensitive gear.
However, the small size of the reel comes at the price of reducing the number of ball bearings, less drag power, and a slower retrieve rate.
So unless you really want to go super lightweight, I recommend choosing the 25, since that will give you a lot more performance at just a slightly heavier weight.
Gear used for testing
For consistent testing results, we paired both reels with the same rod, a 7'0" St Croix Premier Ultralight spinning rod. We spooled the reels with 6 lb test Berkeley Trilene Fluorocarbon, and used them with 1/16 to 1/4 oz fishing lures, including micro jigs, soft plastics, and swimbaits.