Pflueger President Vs Trion Reels – What Are The Differences, And Which One Should You Buy?
UPDATED 15 MAY 2023
by Robert Ceran
This article may contain affiliate links. If you make a purchase after clicking on a link we may earn a small commission at no extra cost to you.
Are you thinking about getting a new Pflueger President or Trion spinning reel, but not sure which model is right for you?
My team and I tested the most important features of the Pflueger President vs Trion reels side by side, and will cover their main differences, to help you choose the best one for your purpose.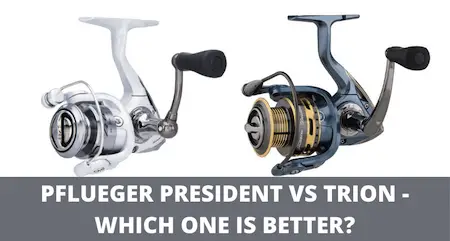 Pflueger President vs Trion – what are the differences?
| | President reel series | Trion reel series |
| --- | --- | --- |
| Image | | |
| Price | | |
| Size range | 2000 to 4000 | 2000 to 4000 |
| Number of ball bearings | 7 to 10 | 7 |
| Drag system | Sealed drag | Oil felt drag |
| Braid ready spool | Yes | No |
| Material of body and rotor | Graphite | Graphite |
| Maximum drag pressure | 6 to 14 lb | 6 to 14 lb |
| Gear ratio | 5.2:1 | 5.2:1 |
| Anti reverse switch | Yes | Yes |
| Weight | 6.20 to 11.50 oz. | 6.30 to 11.30 oz. |
Above is a table summarizing the key features and specifications of the two lineups that we tested.
Both lineups come in exactly the same sizes, and so can be used for broadly the same applications. 
As you can see, they are similar in most categories, and so you have to look at the key differences more closely to understand what makes them different.
Let's take a look at their most important differences as revealed by our testing.
The most important differences between the President and Trion series
Ball bearings: This is the first category with major differences between the two lineups. The President series has 10 stainless steel bearings, except the smallest size (2000), which has 7. In contrast, all Trion models only have 7 regular steel bearings.
Bottom line: The President lineup has more ball bearings than the Trion lineup, as well as higher quality stainless steel bearings. As a result, our testing showed that the retrieval action of the President is a lot smoother, and the ball bearings are also more durable.
Drag system: The President lineup has a sealed drag system, while the Trion lineup has an oil felt drag. The sealed system provides more consistent pressure, resulting in better drag performance. Also, oil felt drags tend to compress over time, and so are less durable.
Bottom line: Based don our testing, the drag system of the President series is better and more durable than that of the Trion series.
Spool: Both lineups have spools made of aluminum. However, the President has a braid ready spool, while the Trion doesn't. 
Braid ready means that you can tie braided line directly to the spool, and then fill the spool entirely with braid. If you want to fill a regular spool with braid, you have to start with monofilament backing, which is a lot more work (for more details, check out our article on how to spool a spinning reel). 
Bottom line: When we tested it, we found that the braid ready spool of the President is a lot more convenient if you want to use braid.
Appearance: There's no doubt that the dark blue body of the President, combined with the dark bronze spool with golden accents is more attractive and elegant than the Trion, which looks a little plain with it's uniform white body combined with a silver spool.
Size: Both lineups come in the same size range, from 2000 to 4000, which are ideal sizes for light spinning applications (for more details on which size to choose, check out our article on spinning reel sizes).
Body and rotor: Both lineups are made with a graphite body and rotor, and so there's no real difference in this category.
Maximum drag pressure: Both reels are identical in this category (6 to 14 lb max pressure). This pressure range is absolutely sufficient for most light to medium sized fish, and can even handle a trophy fish, should you hook into one.
Gear ratio: Both reels are identical in this category. They both have a 5.2:1 ratio, which is a medium reel speed that can be used for many different spinning applications.
Anti reverse switch: Both reels have this.
Weight: Both reels are very similar in this category, ranging from 6.20 to 11.50 oz. The weight differences between them are so small that you can ignore them.
As you can see, our testing revealed that the biggest differences are found in the ball bearing systems and the drag systems, as well as the braid ready spool.
Now let's look at each lineup in more detail.
Pflueger President review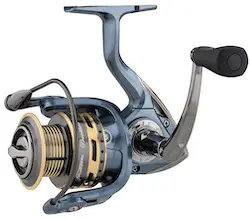 This reel is one of the top models in our article on the best spinning reel under 100 dollars. It is the most popular series produced by Pflueger, and there are few anglers that don't have at least one President in their tackle collection.
Overall, this model provides very high value at an affordable price. During our testing we found that the retrieval action is very smooth, and fighting a big fish with the smooth drag system is pure fun.
Because of its reliability and durability, this series is used by many as their go-to choice, and some anglers get all the sizes and use them for different applications.
Features:
7-10 stainless steel bearings
Slow oscillation gearing
Soft touch knob
Aluminum bail
Aluminum handle
Pflueger Trion review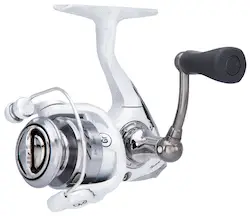 This series provides excellent value at a lower price point, which is why we included it in our shortlist of the best spinning reel under 50.
It is an ideal choice if you're a beginner or a moderate angler who won't be using it all that much. And if you're a dedicated angler, it makes a great choice for your secondary rod.
Our testing showed that this is a classic workhorse reel, and the great thing about all Pflueger series is that even the low end models are very reliable and durable.
Features:
7 ball bearings
Slow oscillation gearing
Aluminum handle
Soft touch know
Conclusion
Pflueger is famous for producing high quality fishing reels that cover a wide range of price classes. So if you're looking to buy a new Pflueger, there are several series that you can choose from.
To summarize our test results, the President series provides higher quality due to the greater number and higher quality of their ball bearings, which generate a noticeably smoother retrieval action.
Together with the higher quality drag system and the braid ready spool, this makes them the top choice for dedicated anglers. The Trion is a great choice for beginners, or as a secondary reel.
If you're interested in a more high end model, check out our review of the Pflueger Supreme vs President.
Gear and methods used for testing
For consistent testing results, we paired both reel series with the same rod, a 7'0" St Croix Premier Light power Fast action spinning rod. We spooled the reels with 12 lb test Berkeley Trilene Fluorocarbon, and used them with 1/8 to 1/2 oz fishing lures, including swimbaits, soft plastics and jigs.