What Are The Top Rod And Reel Combos For Catfish In 2023?
UPDATED 09 MAY 2023
by Robert Ceran
This article may contain affiliate links. If you make a purchase after clicking on a link we may earn a small commission at no extra cost to you.
If you're  looking for a good rod and reel combo for catfish, make sure you choose gear that's heavy enough for the job.
You need extra power for this kind of fishing, even if you're just targeting small 3-4 pound channel cats, since there's always a chance of running into a 30 pound blue or flathead cat.
My team and I tested the most popular catfish combos on the market, and evaluated them on their ability to catch both smaller channel cats and large flatheads and blue catfish.
Based on our testing, here are our picks for the best rod and reel combos for catfish: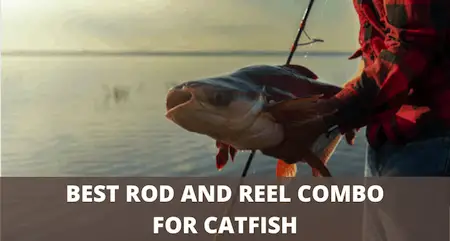 Best rod and reel combo for catfish in 2023 reviewed
| Brand | Image | Price | Our verdict | Rod size | Reel size |
| --- | --- | --- | --- | --- | --- |
| Abu Garcia Catfish Commando combo | | | Best lightweight option for channel cats | 7' medium heavy | 6000 |
| Shakespeare Ugly Stik GX2 combo | | | Best budget lightweight option | 7' medium heavy | 5000 |
| Penn Battle III combo | | | Best all round option | 7' medium heavy | 5000 |
| Abu Garcia Ambassadeur S combo | | | Best medium weight option with baitcaster | 8.6' medium heavy | 6500 |
| Penn Passion spinning combo | | | Best for beginners | 8' medium heavy | 5000 |
| Zebco Big Cat spinning combo | | | Best heavy option for big catfish | 7' heavy | 5000 |
While all of the combinations above are strong enough to handle catfish, some of them are on the light side, and thus best for smaller fish, and some are heavier, and thus ideal for targeting bigger fish. 
Let's dive into the details and take a closer look at these differences.
1. Abu Garcia Catfish Commando combo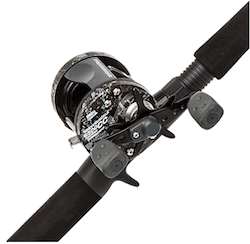 This combination by Abu Garcia comes with either a baitcaster or a spinning reel. Many anglers prefer baitcasters, since they enable longer casting distances than spinners. 
In addition, our testing showed that the round spool baitcaster design can hold more line than a spinner of comparable size, which can be very helpful if you want to make sure that a big fish doesn't take all your line during the battle.
On the downside, however, baitcasters are a lot harder to master for beginners (for more details on this, check out our article comparing the pros and cons of baitcasters vs spinning reels).
So if you're just getting started, it's probably better to get the combination with a spinner, so you can focus on catching fish.
The 7 foot pole has moderate fast action which results in excellent casting performance.
Our testing revealed that the 6000 size spinner, or the 6500 size baitcaster (depending on which variant you choose), have plenty of drag power and line capacity to handle strong fish.
Overall, this is the best lightweight catfish option that works very well for catching small to medium sized fish.

Features:
1-piece 7' rod
Medium heavy pole with moderate fast action
Composite material
Split grip EVA handle
Up to 11 lb drag power
Recommended size:
7 foot medium heavy power
2. Shakespeare Ugly Stik GX2 rod and spinning reel combo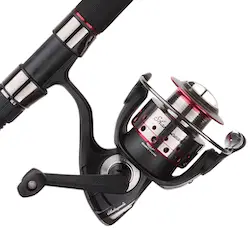 If you want to use the Ugly Stik GX2 to target cats, you should choose the 7 foot medium heavy size, which is the heaviest option in this series.
Our test showed that the 7' medium heavy is a one-piece graphite and fiberglass combination that has a sensitive tip plus strong backbone. The sensitive tip is great if you're fishing for small channel cats, since you'll still be able to feel them put up a fight. 
At the same time, the backbone of the pole is strong enough to handle fairly big fish, and can even deadlift a 30 pound object without breaking.
With that kind of power, you don't need to worry about breaking your gear if you hook into a trophy sized fish, though this isn't the best option for that purpose.
The medium heavy size comes with a 5000 size spinning that has 3 ball bearings, and works well with either 6-15 lb braid or 6-10 lb mono (for more info on the ideal pound test to use, check our spinning reel size guide).
The 5.2:1 gear ratio is medium speed, which is perfect for fighting strong fish that don't want to come to the net.
Overall, our testing revealed that this is the best budget lightweight option for catching small catfish. It's ideal if you want to focus on channel cats, since it offers enough sensitivity for this species, while still being strong enough just in case you run into a big fish. 
For more details on the rod of this combination, check out our review on Ugly Stik GX2 vs Elite.

Features:
1-piece rod with enough backbone to handle big catfish
Graphite & fiberglass combination results in strength plus sensitivity
Clear tip is useful for spotting bites
3 ball bearings
5.2:1 medium gear ratio
Recommended size:
7 foot medium heavy size with 3500 spinning reel
3. Penn Battle III combo with 5000 reel and 7 foot rod

The Penn Battle 3 reel is part of of our selection for the best spinning reel under 100, and its superior quality is part of the reason why this is such a great combination.
It was actually designed for surf fishing, but provides exactly the right combination of power and casting ability required for catching medium to big catfish from the shore.
Our testing showed that the Penn Battle 3 combination is ideal for catching strong fish. It comes with a powerful two-piece 7 foot pole with moderate fast action.
This combination of length and action are excellent for long range casting, which is essential if you want to cast a large bait for cats from shore. 
This combo provides you with the high quality of Penn spinning reels, and comes with 5 plus 1 stainless steel ball bearings and instant anti reverse.
When we put it to the test, the carbon fiber drag system showed that it has enough power to handle extended battles with trophy sized fish, and the 5000 size is ideal for loading braided line up to 30 pounds test, so you'll have all the strength you need for the task.
Overall, our tests showed that this is the best medium weight combination that performs reasonably well for catching both small and large fish, and thus is the best allround option on this list.

Features:
2-piece 7' spinning rod
Graphite composite blank
Full metal body, side plate and rotor are highly durable
Braid ready spool
Powerful carbon fiber drag
Recommended size:
7 foot medium power with 400 spinning reel
4. Abu Garcia Ambassadeur S Combo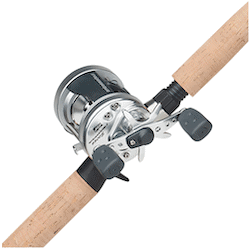 Similar to the Penn Battle 2, this is another medium weight combination that works well for both small and large fish, but it comes with a baitcaster instead of a spinner.
As mentioned above, some anglers prefer baitcasters, and so we tested this setup because we wanted to give you a second option in the medium size class with a baitcaster. 
See also: Best round baitcasting reel.
The Abu Garcia round baitcaster comes with 2 stainless steel ball bearings, and delivers superior performance with a powerful drag system that can handle up to 11 lb pressure.
You should choose the following size combination: 8.6 foot rood with the 6500 baitcaster, which is an excellent medium weight solution.

Features:
2-piece 8.6' casting rod
24 ton graphite composite blank
Cork handle
Braid ready spool
Powerful drag system 
Recommended size:
8.6 foot medium heavy size with 6500 baitcaster
5. Penn Passion spinning combo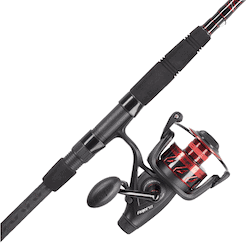 This is another great combo from Penn that was originally designed for saltwater fishing, but it's also perfect for catching catfish.
Blue cats  and flatheads are the biggest freshwater fish species found in North America, and on top of that they are strong fighters that like to put up a determined and prolonged struggle before you can land them.
Because of this, you need to upgrade to heavy gear if you want to pursue them successfully.
The 8 foot pole combined with the 5000 reel make this a great all around combo, which is ideal for beginners.
So if you are new to this type of fishing, and are looking to catch your first catfish, then this is the right combination for you.
Our tests showed that the long pole enables increased casting distance, and also helps to control a really big fish on the other end of the line, should you hook into a monster.
The 5000 size spinner can easily handle up to 40 pound test braid, which is necessary for battling monster sized fish.
Overall, this is the best option for beginners.

Features:
2-piece 10' casting rod
Graphite composite blank
Split grip EVA handle
4 stainless steel ball bearings
Braid ready spool
HT-100 carbon fiber drag
Recommended size:
10 foot heavy power size combined with 8000 spinning reel
6. Zebco Big Cat spinning combo with 7 foot rod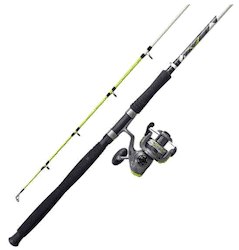 This is the heaviest combo on our list, and is ideal for catching big fish, and while it's not quite as impressive as the Penn Passion when we tested both in parallel, it also comes at a much lower price, making it the best budget option for pursuing big catfish.
You can choose four different sizes when you get this combination, but if you want to use it for big cats, be sure to choose the 5000 size reel with the 7 foot pole.
This gives you a similar amount of power to the Penn Fierce III Live Liner, but at less than half the price.
You can also use this combination for saltwater applications, like striper fishing. The rod comes with a high visibility glow tip, which helps to notice even subtle bites.
The gear ratio of the 5000 size is 5.0:1, and it can handle up to 50 pound test braid. 
Overall, this is the best budget option if you want to target big cats.

Features:
2-piece 10' casting rod
High visibility glow tip
Split grip EVA handle
1 ball bearing
Stainless steel rod guides
Recommended size:
7 foot heavy power combined with 5000 spinning reel
What to look for in catfishing rods and reels
If you're looking to buy a catfish rod and reel, it's important to familiarize yourself with the features and specs that you should look for.
Catfish fishing is very different from fishing for other freshwater species (such as fishing for trout), and cat fishing rods and reels thus also need to have distinct features.
Let's take a look at the main characteristics of catfish rods and reels that you should pay attention to when choosing the right setup for your purposes.
Catfish rods
Catfish are usually bigger than other freshwater species, and thus it's important to choose a catfish rod that's strong enough for the job.
Rod power: Since catfish can grow very large (especially flatheads and blues), and tend to put up a determined fight after being hooked, it's important to use a rod with at least medium power rating, although medium-heavy rod power is preferable.
The latter will give you enough rod backbone to handle potential trophy sized catfish, if there's a chance of running into one of these.
Rod action: In general, you don't want to use a rod with too fast action (which means it only bends at the tip), since a rod that flexes further down into its backbone is better at absorbing the fight of a strong catfish.
Because of this, moderate or moderate-fast rod action is ideal for catfish.
Rod length: The ideal rod length to look for is between 7 and 9 feet, though you can choose even longer models.
Catfish rods are usually longer than rods for other fish species, since a longer rod can absorb more energy when fighting a big catfish, and longer rods also work better for casting big catfish rigs over large distances.
Rod material: The ideal rod material to look for is a graphite fiberglass composite. Pure graphite rods are much lighter, but they are also more brittle and can snap when put to the test by a trophy sized catfish.
And while pure glass rods are even stronger than composites, they are also heavier and less sensitive, which takes all the fun out of catching regular size catfish.
Keep in mind that many catfish rods and reels on the market tend to be on the heavier side, which is great if you specifically want to target big flatheads or blues, but this may detract from the fun if you're going after regular sized catfish.
A 5 pound channel catfish can put up a good fight on a medium or medium heavy power rod, and is lots of fun to catch that way, but you'll hardly notice the same fish when fighting it on a rod that's too heavy.
Catfish reels
When it comes to catfish reels, you can go with a wide variety of options, but make sure that the reel is big enough for spooling heavy line.
Reel size: The ideal reel size for catfish ranges from size 3500 to 8000 for spinning reels (with the optimum around 5000), or size 6000 to 7000 for baitcasting reels. These big reel sizes provide sufficient line capacity for heavy power lines of 30 lb test, or even heavier.
Drag system: Look for a high quality drag with a minimum of 10 pounds of drag power, which is necessary to handle the fight that strong catfish put up. 
Gear ratio: Look for a minimum gear ratio of 5.1:1 to 6.1:1, which allows you to retrieve a lot of line quickly after making a long cast. 
Baitcasting vs spinning reel: Either reel type works very well for catching catfish, and which one you choose depends more on your personal preference.
That being said, a spinning reel is usually preferable for beginners, as it's a lot easier to operate even if you don't have a lot of experience.
Conclusion
This concludes our review of the best rod and reel combo for catfish. Which one is best for your purpose depends a lot on which species you want to target, what size you want to focus on, as well as your budget of course. 
If you're going to be catching mostly channel cats, then one of the lighter options is good for you. But if you want to pull in some of the monster blues or flatheads, then you definitely need to go for one of the heavy options.
Tight lines and see you on the water!
Gear and methods used for testing
For consistent results we tested each catfish combo in the same locations on Ross Barnett Reservoir in Mississippi, which has abundant populations of all three catfish species found in North America (blue, flathead and channel cats). We spooled each combo with 20 lb test monofilament, and used the same terminal tackle on each: a Texas rig baited with cut fish. We repeated the tests until we caught multiple fish of different size classes on each combo, so that we could compare them in action while fighting strong fish.