Garmin Panoptix Vs Livescope (Key Differences Explained)
UPDATED 16 SEPTEMBER 2023
by Robert Ceran
This article may contain affiliate links. If you make a purchase after clicking on a link we may earn a small commission at no extra cost to you.
Garmin massively disrupted the sonar market when it introduced Panoptix in 2015, followed by LiveScope in 2018, which were the first live sonars on the market, and quickly became game changers for anglers everywhere.
But if you're thinking about getting a Garmin live sonar for your boat, you'll first need to decide whether you want to go with Panoptix or LiveScope.
For this article we tested Garmin Panoptix vs LiveScope transducers side by side, and will discuss the results of our testing. We'll also cover their main differences and advantages, so you can decide which one is right for you.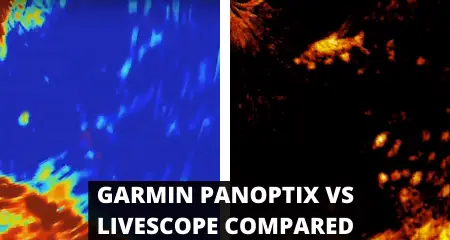 Is Panoptix the same thing as LiveScope?
No, Panoptix and LiveScope are different kinds of Garmin live sonar.
The original Panoptix was Garmin's first live sonar released in 2015, while LiveScope is an improved version of live sonar released in 2018.
However, both are currently available on the market, and so we tested them under similar conditions, so you can decide which one is better for your purposes.
What is the difference between Garmin Panoptix and LiveScope?
While Panoptix has a longer range (up to 300 feet), during our testing we found that it comes with relatively low resolution. In contrast, LiveScope has a shorter range (up to 200 feet), but while testing it we found that it comes with a much higher resolution.
Indeed, the resolution of LiveScope is so high that it allows you to see individual fins on fish that are bigger than 10 inches (for example, check the tarpon fish in the lower panel of the image below).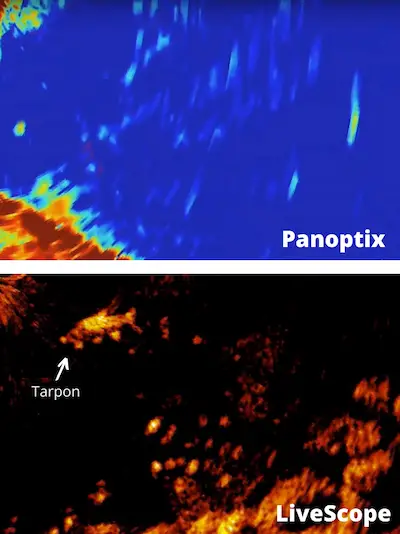 This explains why Garmin LiveScope has taken the recreational fishing world by storm over the past years. 
So, while both Garmin Panoptix and LiveScope are live sonars, they are built with different transducer technologies, and each comes with its own pros and cons.
As a result of this, each is better suited for slightly different purposes.
Now let's dive into the details, and compare the testing performance and key specs of Panoptix vs LiveScope transducers.
Garmin LiveScope vs Panoptix transducers – key specs compared
| Transducer model | Image | Price | Target resolution | Range | Beamwidth (degrees) | Mounting type |
| --- | --- | --- | --- | --- | --- | --- |
| LiveScope System (with LVS32 transducer) | | | Very high | 200 ft | 135 x 20 | Trolling motor |
| LiveScope LVS12 transducer | | | Very high | 200 ft | 30 x 20 | Trolling motor |
| Panoptix PS22-TR | | | Low | 300 ft | 120 x 20 | Trolling motor |
| Panoptix PS51-TH | | | Low | 300 ft | 120 x 20 | Thru-hull |
| Panoptix PS30 | | | Low | 300 ft | 120 x 20 | Transom |
| Panoptix PS31 | | | Low | 300 ft | 120 x 60 | Transom or trolling motor |
The table above compares the key specs of Garmin Panoptix vs LiveScope transducers.
Now let's take a closer look at the main differences between Panoptix and Livescope:
Target resolution: Our testing showed that Garmin Panoptix transducers provide relatively low target resolution, and as a result, fish and other objects underwater tend to show up as "blobs" without a lot of detail.
When we tested LiveScope however, we found that it comes with an amazing level of resolution, enabling us to identify different species of fish easily, and even revealing individual details on bigger fish.
This is the main advantage of LiveScope, and explains why it's far ahead of Panoptix in terms of popularity.
Range: Our testing revealed that with 300 feet maximum range, Garmin Panoptix has a significantly wider range than LiveScope, which has a maximum range of 200 feet.
Also, when considering the range at which you can see your lure or bait on the sonar, keep in mind that you'll need to subtract 100 to 150 feet from the maximum range of each transducer.
Beamwidth: With 135 x 20 degrees, the Garmin LiveScope system has the largest sonar cone, while Panoptix transducers follow closely behind this with 120 x 20 degrees.
However, in contrast to this, the LiveScope LVS12 transducer only comes with 30 x 20 degrees, which means it has a much smaller sonar cone than the other transducers. 
Mounting type: While Garmin LiveScope transducers are exclusively designed to be mounted on trolling motors (either on the barrel or shaft), Panoptix transducers come with a wider variety of mounting options, including a thru-hull and transom mounting option.
However, it's also possible to mount LiveScope transducers on a stick designed for this purpose.
Pricing: While the most affordable Garmin Panoptix transducer (the PS22) is significantly cheaper than the LiveScope system, more high end models retail at a similar price.
Currently the cheapest option is the LiveScope LVS12 transducer, but keep in mind that it comes with a much smaller sonar cone, which reduces the effectiveness of live sonar. 
Which is better – Panoptix or LiveScope?
While our testing showed that the resolution provided by Garmin LiveScope transducers is much better than that of Panoptix transducers, they each have their pros and cons, and are suited for slightly different purposes.
In our experience, when fishing from a boat (especially when fishing for bass or crappie close to cover), Garmin LiveScope is the best option, since it provides much better target separation.
This allows you to identify individual fish even if they are swimming right in the middle of dense cover, or if they are close to the bottom.
In situations like that, the same fish would tend to merge with their surroundings on a Panoptix, making them hard to identify. 
On the downside, the range of Garmin LiveScope is not as high as that of Panoptix, which means it doesn't allow you to spot fish far from your location.
While testing both live sonars, we found that this ability becomes important if you want to cast your lure to a remote spot while keeping your distance (to avoid spooking the fish).
In situations like that, Garmin Panoptix will serve you better, as it allows you to see both fish and your lure in the water at a longer distance from the boat. 
Another use case where Garmin Panoptix outperforms LiveScope is when trying to find suspended schools of crappie under the ice.
When we tested it for this purpose, we found that Panoptix allows you to scan a bigger area of water from a single ice hole, due to its longer range.
This is currently one of the most effective methods to find crappie for ice fishing. The long range of Panoptix also currently makes it the best live sonar for trolling. 
Now let's review each of the transducer models listed above, and cover their strengths and weaknesses. 
In case you're also interested in the live sonars produced by the competition, check out our side by side comparison of LiveScope vs Active Target vs MEGA Live.
Garmin Panoptix LiveScope System review

The Panoptix LiveScope system is Garmin's top performing live sonar technology, and is currently one of their best selling products in the fishing sonar vertical.
It comes with an LVS32 transducer and a black box, which needs to be plugged into a LiveScope compatible chartplotter unit. 
Anglers using the Garmin LiveScope system have coined the term "video game fishing," since LiveScope allows you to see and target individual fish, as well revealing how they react to your lure.
During testing, we found that this not only helps you to cast your lure to exactly the right location, but also provides valuable information about what lures perform best.
For example, if you notice on your Garmin LiveScope that the fish don't like a particular lure, you can quickly exchange it for another one, to get a sense of what they are keyed in on at that particular time. 
Features:
Excellent target separation
Can be used as either forward or down facing

See also: Is LiveScope Plus worth it?
Garmin LiveScope LVS12 Transducer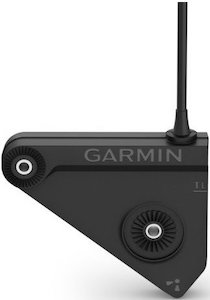 The Garmin LiveScope LVS12 transducer is the cheapest option to get Garmin live sonar on your boat, but comes with the drawback of having a much more narrow sonar cone covering only 30 degrees (in contrast to the 135 degrees covered by the LVS32 transducer).
Also, another disadvantage of the LVS12 is that it's only compatible with Garmin Echomap Ultra units or GPSmap 8000 series units, but not with any of the smaller Garmin chartplotters.
On the upside, however, the LVS12 is very competitively priced at 500 dollars, which allows you to add live sonar to your boat at a very reasonable cost.
Features:
Doesn't require black box
Not necessary to rotate transducer in order to switch from forward to down view
Can show both forward and downward view simultaneously
Garmin Panoptix PS22-TR Transducer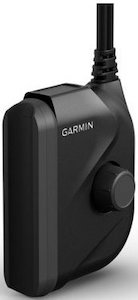 The PS22 is the most commonly used Panoptix transducer, and retailing at around 1000 dollars, it is significantly cheaper than the LiveScope System.
Its extended range of 300 feet allows you to see your lure plus fish in the water even at a great distance.
Another advantage of the PS22 is that it is compatible with all Garmin Echomap and GPSmap units, and doesn't require a black box, which makes it incredibly easy to set up.
So if you already have a Garmin chartplotter, you don't have to worry about compatibility issues, and can just plug in the PS22 in order to get live sonar on your boat. 
Features:
Up to 300 feet range
Can rotate transducer to change from forward to downward facing
Trolling motor shaft or barrel mount
Garmin Panoptix PS51-TH Transducer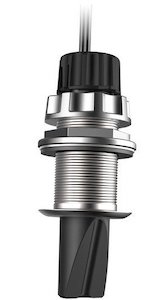 The PS51 is designed to be mounted as a thru-hull transducer, and was specifically designed for oceangoing vessels, as it can be kept mounted permanently without risk of being damaged. 
By using the PS51 as a forward looking live sonar, you can use it both for navigation in shallow water, as well as for fishing.
Yacht owners use this transducer to navigate around rocks in shallow water. 
Features:
AHRS sensor provides stabilization in rough conditions
Can be used at up to 8 knots speed
Feature c
Garmin Panoptix PS30 Transducer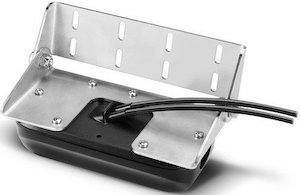 The PS30 transducer comes with a transom mounting bracket, and is designed specifically for trolling, as you can use it at the back of your boat to watch your downrigger or lure in real time, as well as seeing any fish that swim up to the lure. 
A really nice feature is that you can adjust the angle of the sonar beam via the menu, which allows you to find exactly the right angle to see your downrigger balls and lure in the water.
Many great lakes anglers love to use this for trolling, as they can see how fish react to their lures, and adjust them accordingly. 
Features:
RealVu 3-D live imaging
RealVu 3-D historical imaging
0 to 70 degrees transom angles supported
Garmin Panoptix PS31 Transducer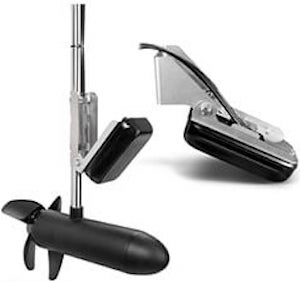 Just like the PS30, the PS31 transducer comes with RealVu 3-D imaging functionality, which scans a larger area and processes the data into a 3D image that is updated every 1 to 4 seconds.
This combines the advantages of live sonar with the ability to scan bigger areas at once. 
Another advantage of the PS31 is that it comes with both a transom and a trolling motor mount, so you can decide where you want to point it, and switch it back and forth as needed.
Finally, just like all other Panoptix transducers, the PS31 is compatible with all GPSmap or Echomap units. 
Features:
Transom or trolling motor mount possible
120 x 60 degrees sonar cone width
0 to 70 degrees transom angles supported
Final remarks
This concludes our review comparing Garmin LiveScope vs Panoptix, which hopefully helps you decide which one is right for you. Tight lines and see you on the water!
Gear and methods used for testing
For consistent testing results, we tested both of the transducers reviewed above on a MotorGuide Xi5 trolling motor on the bow of a Ranger Z520R bass boat. We tested both transducers on the same day on Lake Tarpon, to make sure we could compare their performance side by side under similar conditions. Testing was performed by imaging schools of largemouth bass, crappie, and bluegill relating to structure in 5 to 20 feet of water.